Like a swarm of prairie mosquitos, the injury bug can pop up fast and bite hard.
It's bitten the Winnipeg Jets' blue line recently, putting the Jets' depth blueliners to their first real test of the season. Lately, it's been up to them be the antidote that soothes the pain and the repellent that keeps the squad from falling behind.
A Rash of Recent Injuries
Prior to late November, the Jets were one of the NHL's healthiest teams and their defensive pairings — Jacob Trouba – Josh Morrissey, Dustin Byfuglien – Ben Chiarot, and Tyler Myers – Joe Morrow — remained mostly intact.
Through Nov. 23, they had only lost eight man-games to injury, second-fewest in the league to only the Minnesota Wild (Byfuglien missed two games in October, and Dmitry Kulikov has been out since suffering an upper-body injury on Nov. 9).
While replacing Kulikov with Morrow was an easy fix (Kulikov only played six games prior to his injury, anyhow), two more injuries have made things more complicated for the Jets' blue-line.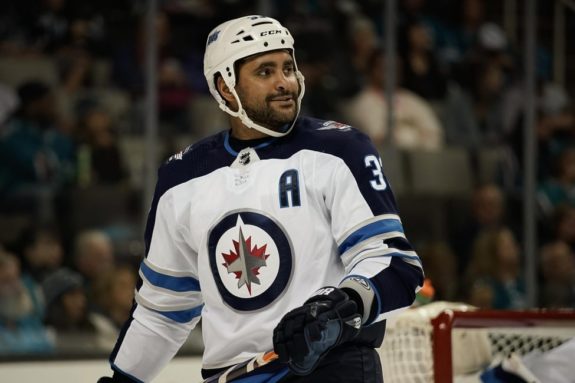 Byfuglien suffered a concussion after a big collision with 6-foot-7, 225-pound Jamie Oleksiak on Nov. 29 and has missed the Jets' past three games. He's out for at least a week, but with concussions, timetables for returns are never certain. Joe Morrow also suffered an injury on Nov. 29 and was placed on the IR with a lower-body injury on Saturday. He's considered week-to-week.
Calling for Backup
Having three defensemen on the shelf has caused the Jets to call up some farmhands from the Manitoba Moose. Even that, though, has been complicated. Tucker Poolman — who was quietly steady in 24 games for the Jets last season — would have been the first man up, but was injured in a game against the Iowa Wild on Nov. 23 and hasn't played since.
Therefore, in addition to playing 2017-18 AHL outstanding defenseman award-winner Sami Niku for his first stretch of games since his early November recall, the Jets also called up AHL veteran Cameron Schilling to fill in.
Replacements Surviving, not Thriving, Thus Far
The first three games for the duo have garnered mixed results. Against the Chicago Blackhawks on Thursday, Niku and Schilling — who had a combined seven games of NHL experience heading into the contest but had played together with the Moose last season— were paired together.
Niku was forced to play the right side in just his second career NHL game and struggled mightily.
I'll preface this by saying I can't wait to see what Sami Niku becomes, but if you need evidence for why he's not ready for full-time NHL duty, see Chicago goals 2 and 4 tonight. Admittedly it's a small sample size, but Maurice won't be filled with confidence…for good reason.

— Jeff Palson (@jaykaypee14) November 30, 2018
The normally smooth-skating and dynamic Finn allowed David Kampf to blow by him on the Blackhawks' second goal, and on their fourth goal, got beaten by John Hayden in the corner and was slow to cover Dominik Kahun — who banged the puck home seconds later — in front of the net.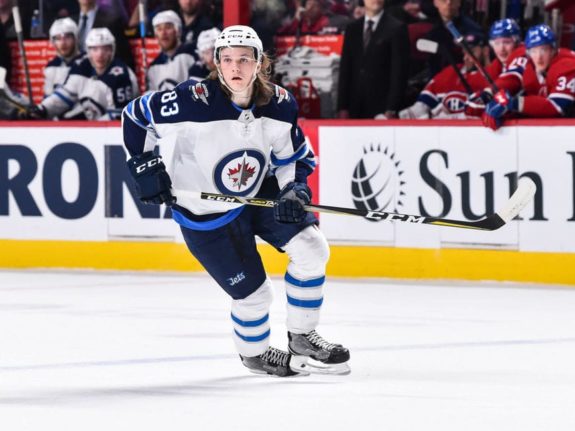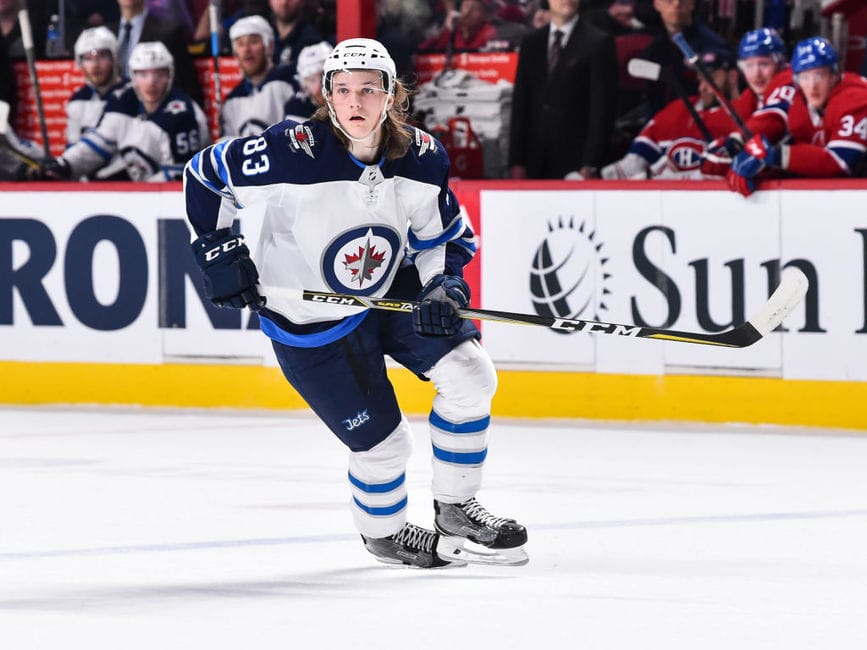 Niku didn't mince words when assessing his performance postgame, saying "I wasn't good. That's all. I did everything wrong," and "I didn't move. My passes weren't there. I did nothing." He acknowledged it was tough getting his legs back after sitting for three weeks, but said that didn't excuse his performance.
Schilling, meanwhile, looked better. The 30-year-old, while playing in his first big-league game since 2015, has seven years of pro hockey under his belt. He played just over 13 minutes and tallied his first NHL point on a Nikolaj Ehlers goal, but was minus-one.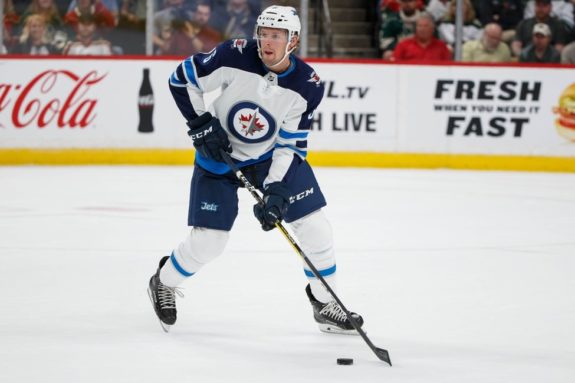 "I felt pretty comfortable right away," Schilling said postgame. "It didn't take long to settle in."
Since then, the pair has been split up. Niku has been paired with Ben Chiarot and didn't look as out of sorts in against the New Jersey Devils and the New York Rangers. He hasn't seen much ice time, though — On Saturday, he played just seven minutes, and on Sunday, he played 7:54.
While Niku is undoubtedly one of the Jets' best defensive prospects and has huge potential, the steep learning curve he faces is obvious. At six-foot-one and just 176 pounds, the slight Niku has looked outmatched physically.
Related: Niku on Track to Be Jets' Next Prospect Success
His Corsi and Fenwick at even strength numbers are both well below 50 percent and he has been on the ice for quite a number of high-danger chances.
Schilling, meanwhile, has played primarily with Tyler Myers. He logged 11:08 against the Devils and was plus-one, and played 9:33 against the Rangers and was even.
Jets' Top Four Bearing a Heavy Burden
The fact Niku, and to a lesser extent, Schilling, have been deployed in sheltered roles — neither saw any action in the latter part of third periods against the Devils or Rangers, for example — has forced the Jets' top-four to shoulder even more responsibility.
Josh Morrissey has played nearly half of every game since Byfuglien and Morrow went down, logging 28:59, 29:02, and 28:11 in the three games, respectively.
We try to take on some of those minutes, keep it simple, and as a player – I think everybody wants more ice-time," Morrissey said in a recent Q & A with The Hockey Writers' own Dan Rice. "That's really all you can want as a player, so when your name is called and you jump over the boards a few more times you try to make the most of it and do what you can to help the team win.
Jacob Trouba has logged similar ice time, with 24:11, 28:09, and 26:52.
#NHLJets D Josh Morrissey was singled out post-game by HC Paul Maurice and for good reason. Morrissey played 28:59, finished with two shots on goal, two takeaways and three blocked shots and was excellent defensively. Jacob Trouba also solid, with 1 G, 1 A in 24:11 of ice time

— Ken Wiebe (@WiebesWorld) November 30, 2018
Forcing even ultra-capable and competitive defensemen like Morrissey and Trouba to play such heavy minutes is alright for a short stretch, but not sustainable long-term. It will wear them down sooner than later.
Tyler Myers' ice time is also up as a result — he played 26:20 against the Devils and 28:10 against the Rangers — a season high. Myers has been subpar even in a third-pairing role this year, so having to ask him to do even more is far from ideal.
Jets Replacements Must Keep Battling
The Jets are 3-0 since Byfuglien and Morrow have been out, so it's not like the sky is falling. They are still a strong team with plenty of weapons, especially on offence. However, they would greatly benefit from seeing their defense get healthy sooner than later, even if just to take the pressure off Morrissey, Trouba, and Myers.
Last year, the Jets' blue line was even more of a battered battalion than they are right now, but their defensive depth kept them afloat. The depth personnel is different this year, but their goal should be the same: to battle hard and contribute as best they can until the injury bug buzzes off.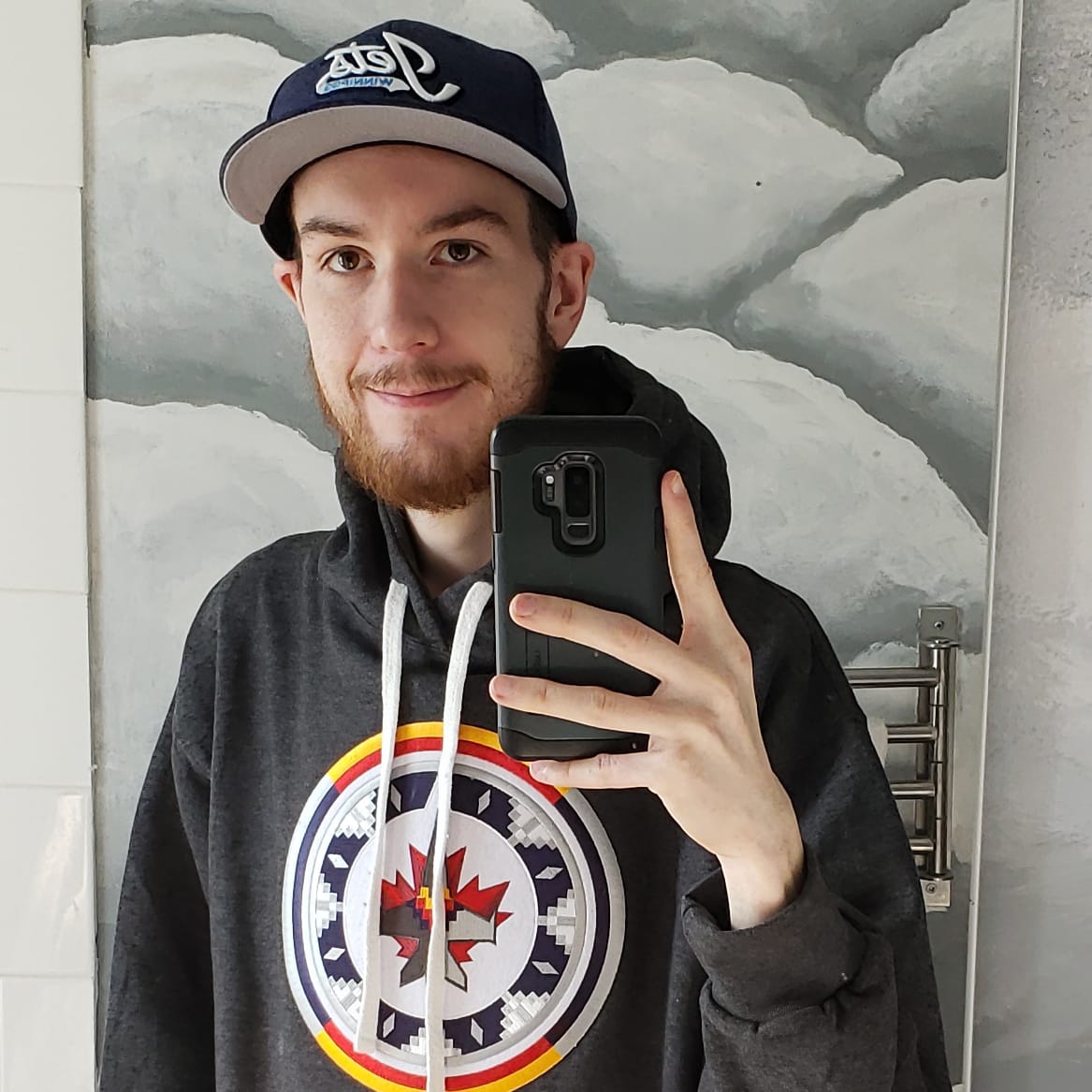 Declan Schroeder is a 27-year-old communications specialist and freelance journalist in Winnipeg, Manitoba. He holds a diploma in Creative Communications with a major in journalism from Red River College and a bachelors in Rhetoric and Communications from the University of Winnipeg.
Deeply rooted in the city's hockey culture, the original Jets skipped town when he was two and the 2.0 version came onto the scene when he was 17.