With injuries galore on their blueline, the Winnipeg Jets have recently pushed heavy minutes on Josh Morrissey, and the 23-year-old has elevated his game to what the franchise expected when they selected him 13th overall at the 2013 NHL Draft. Over his last three games (vs. Chicago, at New Jersey, at New York) with Dustin Byfuglien out of the lineup Morrissey is averaging over 28 minutes and Winnipeg has won all three contests.
Morrissey played a game-high 29:02 in the win against New Jersey, the next night in New York he played a game-high 28:11. He's 10 games away from 200 for his career and probably just scratching the surface of his potential, like many of his current Jets teammates. Barring major injuries this team is going to be a force for years to come in the Western Conference.
Morrissey was the fifth defender taken during his draft year, behind Seth Jones (4th), Darnell Nurse (7th), Rasmus Ristolainen (8th), and Samuel Morin (11th) and after his fantastic career in the WHL with Prince Albert and Kelowna he has been a fixture on the Jets defense since the start of the 2016-17 season. In addition to Byfuglien's absence, Winnipeg has also missed Dmitry Kulikov and Joe Morrow due to injuries this season, but Morrissey and Jacob Trouba have really been stabilizers at both sides of the rink from the blueline.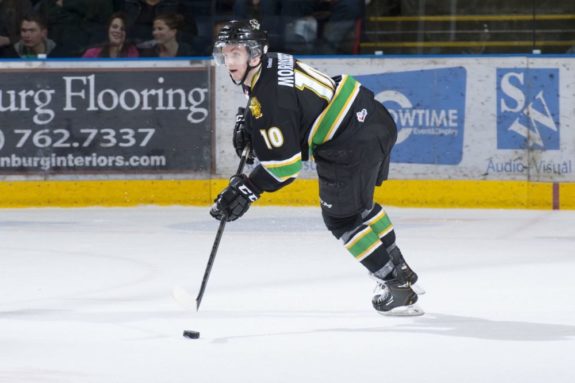 Following the Jets 4-3 overtime win in New Jersey, The Hockey Writers caught up with Morrissey who had a goal in the game and currently has 12 points (2g-12a) in 26 games this season, helping Winnipeg to a 16-8-2 record (3rd in the Central Division/West, 6th in the NHL standings). 
The Hockey Writers: Do you enjoy playing in these types of overtime games? Uptempo, back and forth action. Your coaches probably aren't fans of it, but was that fun?
Josh Morrissey: Yeah (laughs). Obviously, with a 3-1 lead, we'd love to close that out and score an empty-netter, make it 4-1 and be out of here like that. But credit to the Devils, they never gave up; they scored a PP goal and then on a 6-on-5. Every time we play New Jersey – they're fast, they're pesky, and they're hard to play against in that way. I more liked how we responded. We've had some tough ones where we've given up some leads in the third, and at that point, you have to turn the page, let's go win a game. Our leaders really took off. It's fun. I'm sure (head coach) Paul (Maurice), the coaches and everyone else maybe have a few more grey hairs from those types of games (grins) but at the same time, it's a big road win to start us off here (on this three-game road trip). Finding a way to win in this league is always a good thing.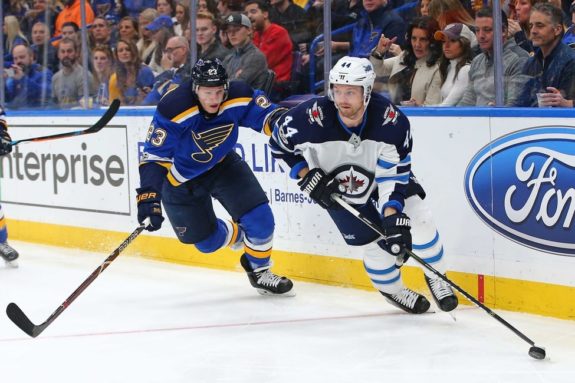 THW: This team was really close to making the Stanley Cup Final last season, do you guys build off of that or do you start from scratch – new year, new team?
JM: I think we build off of it. I think as you go into the summer and off-season you look back at some of the things that got you to where you were and you learn from those experiences. Once training camp starts it's a new year and we have a lot of new players in here. I think we have an even younger team than we did last year. So I think the biggest thing that we talked about from day one was we can learn and take a lot of those things from last year into this year, but really find our own identity this season with our team, the team we have here and we're starting to find that. The NHL is a tough league every single night, but we're coming along and just trying to get better every day.
THW: As a defenseman with a guy like Byfuglien out of the lineup with an injury do you take it upon yourself to step up and be more of a leader than you normally are with him around?
JM: Yeah I do. Buff is a huge part of this team, he plays a lot of minutes every night. You can't replace Dustin Byfuglien but as a group, we can collectively try to take some of those minutes. Having Joe Morrow, who's a regular, and Dmitry Kulikov both out of the lineup – I think the young guys who have come up from the minors have done a great job. We try to take on some of those minutes, keep it simple, and as a player – I think everybody wants more ice-time (smiles). That's really all you can want as a player, so when your name is called and you jump over the boards a few more times you try to make the most of it and do what you can to help the team win.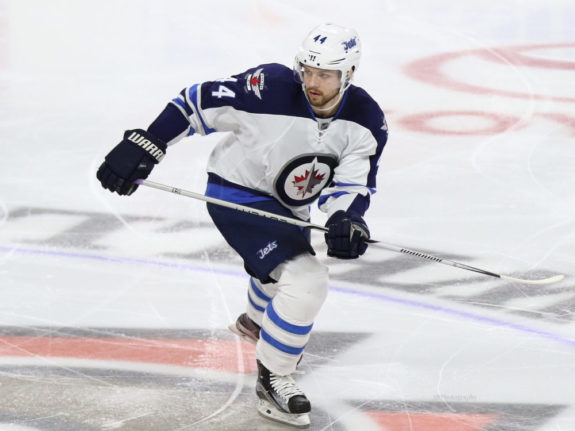 THW: Mark Scheifele wins the game in overtime, and has his eighth multi-point game this season for you guys, what can you say about him?
JM: We look at Mark and Blake (Wheeler) as drivers on our team, and again tonight – just like every other night – they're driving. That play (on our first goal) Wheels just makes an unbelievable pull-up and threads a pass to Scheif where he's going to bury that. In overtime, Scheif hustles back and makes an unbelievable play to limit what that chance was against and goes hards into the boards. It probably scared everybody and every Jets fan, everyone within our organization. That's the type of character guy he is, gets back up, wants to be back out there right away, and then he makes a huge play to score that (winning) goal. That's what Mark does.
FAR SIDE!

🚨: Josh Morrissey
🍎: @JRoslovic96
🍏: Mathieu Perreault #GoJetsGo | #WPGvsNJD pic.twitter.com/HytYzMx2uS

— Winnipeg Jets (@NHLJets) December 2, 2018
THW: You get your second goal of the season tonight, what do you recall about the play?
JM: Rosy (Jack Roslovic) was skating from the drop of the puck tonight and when he's skating – we see it in practice all the time, we see it in games – he's a scary player and he's going to be an unbelievable player in this league. He just circled the wagons, used what he had and found me (with a pass). I just basically had to put it in the net. That line with Rosy, Frenchy (Matthieu Perreault), and Mason (Appleton), it was huge the way they played for us today.
Dan Rice is in his 9th year of reporting for THW & has covered NJ Devils home games for 15+ years at various websites. He began his journey working for legendary broadcaster/writer Stan Fischler from 2002-04 & completed an internship at the ECHL; he also has been writing features for the NWHL (nwhl.zone) website since 2016.