WINNIPEG — Mark Scheifele scored twice and added an assist to help the Winnipeg Jets to a 5-2 victory over the New Jersey Devils on Sunday.
Jack Roslovic, Nikolaj Ehlers and Mathieu Perreault also had goals for the Jets (10-5-1). Ehlers picked up one assist.
Captain Blake Wheeler contributed a pair of assists, extending his point streak to 10 games (two goals, 17 assists).
Brett Seney, with his first NHL goal, and Blake Coleman replied for New Jersey (6-8-1). Damon Severson had two assists.
Connor Hellebuyck made 34 saves for Winnipeg, which plays the third game of a four-game homestand Wednesday against Washington.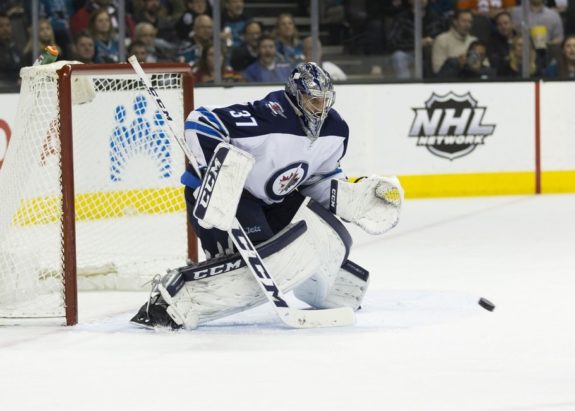 Cory Schneider stopped 23 shots for the Devils, who were playing the last game of a season-high seven-game road trip. They only picked up one victory (1-6-0) and were outscored 18-6 in their last three games.
The Jets led 2-1 after the first period and 5-2 following the second.
Winnipeg grabbed a 2-0 lead with a pair of goals 29 seconds apart.
Dustin Byfuglien started it off when he stopped a New Jersey clearing attempt. Roslovic got the loose puck and fired in his first goal of the season at 3:02. With the assist, Byfuglien extended his point streak to six games (one goal, seven assists).
Wheeler set Scheifele up for his eighth goal of the season, a one-timer from the slot that beat Schneider on the glove side at 3:31.
Seney, who hails from London, Ont., and was playing his fifth career game, closed the gap 2-1 at 7:15 with a one-timer off a Jesper Bratt backhand pass.
Scheifele's team-leading ninth goal made it 3-1 at 2:58 of the middle frame, but the Devils responded with Coleman's fifth goal 47 seconds later.
With a delayed penalty coming to the Devils, Winnipeg pulled Hellebuyck for an extra attacker. Ehlers used a rebound off a Scheifele shot to score his fourth goal of the season, giving him a goal in three straight games.
Perreault made it 5-2 at 12:47 of the second to finish the game's scoring.
Devils forward Nico Hischier left the game in the second period. New Jersey hosts Pittsburgh on Tuesday.
Judy Owen, The Canadian Press