The 2017-18 season is coming to a close, and it's time for the Chicago Blackhawks to focus on how to improve in the offseason. One of the many questions is which free agents are going to stick around for next season. Due to the salary cap, the Hawks can't afford to keep them all.
Only Stan Bowman and higher up members of the organization know what is going to happen, but here is my take on it.
Restricted Free Agents
Anthony Duclair
Duclair came to the Hawks as a product of the Richard Panik trade to the Arizona Coyotes back in January. Since his arrival, he has recorded two goals and six assists in 23 games. His numbers aren't the best, certainly not as good as they were when he played for the Coyotes, but he needs more time to prove himself. At 22, he's still young and has plenty of time left to make a good career in the NHL. His fate entirely depends on his performance in the last few games of the season. If he wants to stay with the Hawks, he needs to take advantage of this opportunity.
Vinnie Hinostroza
Since being recalled from Rockford in December, Hinostroza has tallied seven goals and 17 assists in 42 games with the Hawks. The question when he was called up was whether or not he could make it in the NHL, and he's certainly proven himself to be valuable.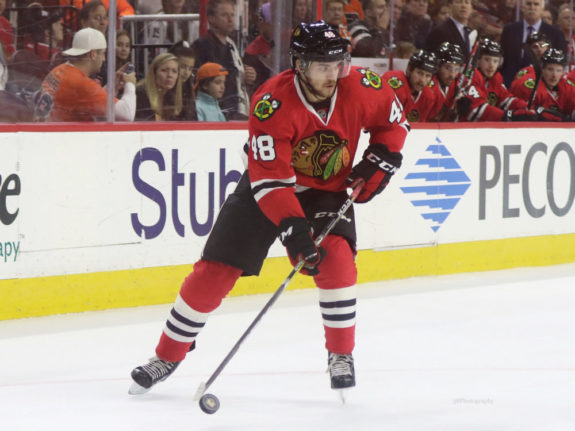 Out of all the free agents, he seems to be the one most likely to re-sign with the Hawks next season — in fact, I haven't heard anyone speculate that the Hawks could get rid of him. There is no reason to get rid of such a young player (Hinostroza will be 24 in April) with such potential to help turn the team around.
Tomas Jurco
Since his call-up from Rockford, Jurco has recorded four goals and four assists in 23 games. He doesn't have the strongest numbers, and it's been that way most of his NHL career. He seems to thrive in the AHL, but unlike players like Hinostroza, he has yet to prove that he can succeed in the NHL similar to how he does in the AHL. Unless Jurco can pull off a miracle in the last few games of the season, he's most likely going to another team next year.
John Hayden
It seems unfair to send Hayden into free agency since he hasn't had much time to prove if he can make it in the NHL. He spent a few months in Rockford, where he tallied five goals and nine assists in 22 games, and with the Hawks this season, he has tallied four goals and nine assists in 45 games.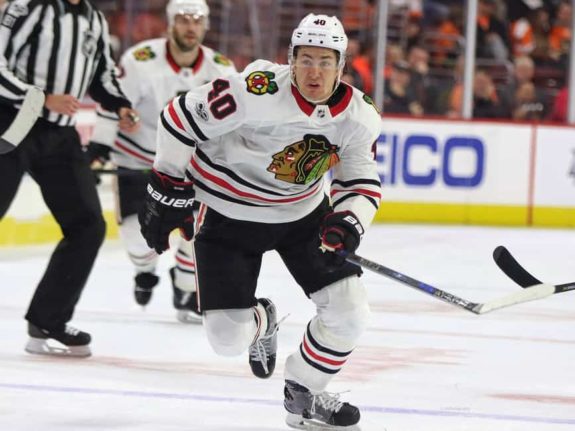 Hayden has qualities the Hawks need such as speed and physicality. Since Ryan Hartman was traded to the Nashville Predators and Tommy Wingels was traded to the Boston Bruins, the Hawks have lacked physicality. They need a physical player on the roster, and Hayden is exactly that.
Unrestricted Free Agents
Patrick Sharp
Sharp came back to the Hawks during free agency last summer in hopes of winning one more Stanley Cup with the Hawks before retiring. With nine goals and ten assists in 62 games this year, his numbers aren't nearly as strong as they were in his prime.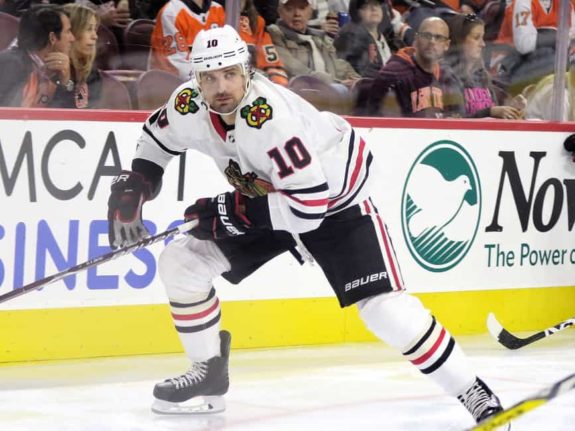 It is probably best for Sharp to retire at the end of the season since he isn't the most popular player on the free agent market and he isn't as strong as he used to be. However, he will be retiring with three Stanley Cups to his resume, which is much more than most players retire with.
Andreas Martinsen
Considering he has only played one game, Martinsen needs the rest of the season to prove if he's a good fit for the Hawks. He has a short amount of time, but he'll have to take advantage of the time he has. Given that he tallied 12 goals and 14 assists in 61 games in Rockford, his numbers certainly don't hurt him. Though I think it's unlikely, if he can perform well the rest of the season, he can earn a chance for a spot on the roster next season.
After a very disappointing season, this is going to be an interesting offseason for the Blackhawks. When it comes to their free agents, some are almost guaranteed to stay like Hinostroza, while some of their fates (such as Duclair's) are to be decided in the remaining few games. Only time will tell, but it will be an offseason unlike ever before.