Chicago Blackhawks defenseman Duncan Keith is more than just a hard-hitter and has really proved that even out of the hockey world, he really is a great guy. Chicago Blackhawks Charities announced that Keith will hold a charity concert to help raise money for his cause, Keith Relief. The big event will be held on Tuesday, Jan. 13, 2015 from 6:30-10 p.m. at at Joe's Bar on Weed Street. Country tunes will be featured from musical group Eli Young Band. All proceeds will go to helping Keith Relief and also Ronald McDonald House Charities of Chicagoland and Northwest Indiana. Last year, approximately $175,000 had been raised through the benefit concert and 2015's will be its third time around to try to make the event an even bigger hit.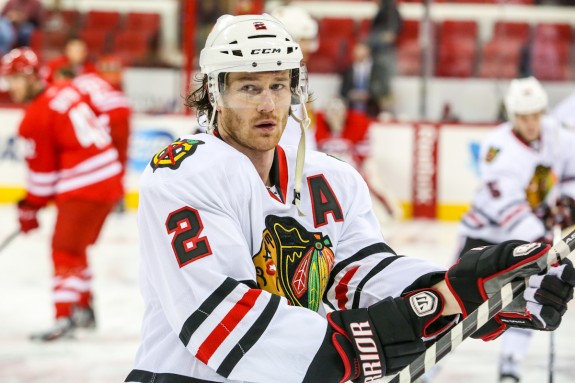 Keith is not only exceptional on the ice but he even devotes time to helping out tons of families who could really use the extra assistance so he has all the right to be more than ecstatic for the upcoming concert.
"Thanks to the incredible charity of the Chicago community, this event has continued to grow each year, raising over $300,000 to help families challenged by the financial burdens caused by medical bills," he said in a press release. "It's an honor to have such amazing support from our fans, my teammates and the entire organization, and I look forward to enjoying another successful evening with everyone."
Event details
There will be a VIP reception before the actual concert from 6:30-7:30 p.m. and should not be missed as it will feature a number of current Blackhawks players. Eli Young Band will perform from 8:30-10 p.m. and a silent auction will be held throughout the event along with a live auction before the concert. General admission tickets are going for $60 each while VIP ones will be $250 each and will be available on Friday, Dec. 5.
Tickets will go quickly as it will be fun and rewarding to everyone involved so fans interested in attending can purchase them here.
.@DuncanKeith will be hosting his annual Keith Relief concert in January. Details: http://t.co/MozU0KC60o #HawksTalk pic.twitter.com/Gvv1npf81G

— NBC Sports Chicago (@NBCSChicago) December 3, 2014
A bit of Keith Relief history
Keith Relief was founded in 2011 by Duncan and his wife. The entire point of the charity is its dedication to help relieve financial burdens and the emotional distress that comes along with loved ones going through any medical crisis. The idea of the charity was created when Keith's wife, Kelly-Rae, had knee surgery performed in the US and received the bill. The result of the bill compared to the publicly funded healthcare system in Canada was astonishing.
Because of the current issues with the economy, the Keith's were troubled that a high number of families were suffering and struggling to get by due to medical expenses. To help the people of Chicago, Keith Relief was born. The foundation has developed so much since the start that it even supports a special transplant floor for pediatric transplant patients and their families at the Ronald McDonald House near Lurie's Children.
I'm from the sunny sides of Anaheim, CA. I currently go to college and am majoring in journalism. I talk hockey in other places so check out my Twitter.