When the 2017-18 season ended, one of the many thoughts on Chicago Blackhawks fans' minds was which free agents would be returning for the 2018-19 season. John Hayden and Vinnie Hinostroza were without a doubt the two players fans wanted to return the most. On June 15, the Hawks released statements that both Hayden and Hinostroza signed two-year contract extensions.
Many fans breathed a sigh of relief when the news was released, mainly because of what these two young players bring to the table and the potential they have to help the Hawks get back to being playoff contenders.
What Hayden Brings
Hayden played 47 games with the Hawks this season and tallied four goals and nine assists. He spent the rest of the season with the Rockford IceHogs where he had five goals and 12 assists in 24 games. He played in the Calder Cup Playoffs as well, where he had three goals in 13 games.
Hayden showed promise at the start of the 2017-18 season as head coach Joel Quenneville told Mark Lazerus of the Chicago Sun-Times, ''One thing we've noticed this year is his patience and play recognition with the puck,'' coach Joel Quenneville said. ''Hopefully, he gets more comfortable with the puck and [more] confident taking it to the net. It's not easy to teach that, but he's willing to do that. That's a big step forward in his game.''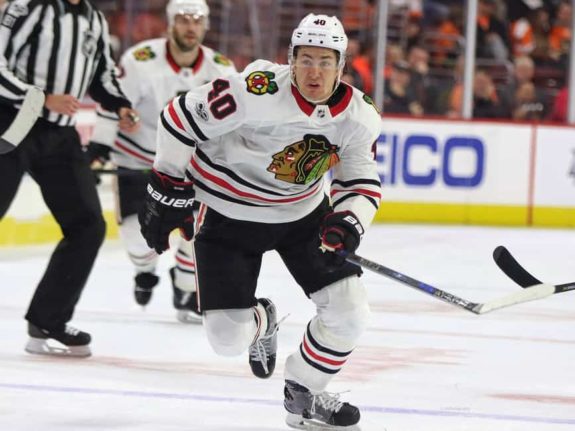 Out of everything he brings to the table, his physical style of play stands out the most. After trading physical players such as Andrew Shaw, Ryan Hartman, and Tommy Wingels, the Hawks need a strong physical player and an enforcer on the roster. Hayden is without a doubt that player.
Besides physicality, he also brings speed to the game. He likes to merge the two and believes "fights happen" as he told Lazerus, "Hockey's a speed and skill game these days, and if you want to be here, you've got to play that kind of game," Hayden said. "That's what I work on all summer. [But] sometimes things come up in competitive games."
What Hinostroza Brings
Hinostroza started the season with the IceHogs where he tallied nine goals and 13 assists in 23 games. He came to the Hawks in December where he added seven goals and 18 assists in 50 games. One of his goals was a game winner.
2017-18 was a breakout year for Hinostroza, despite starting off with the IceHogs. Prior to the start of the season, he was determined to be the best player he could be, as he told Lazerus, "Over half the game is mental. If you have that intact, now you're just going to be able to go out there and play. I think last year, mentally, I was all over the place as a younger player. I just want to stay in a good place now and let my skill and speed take over."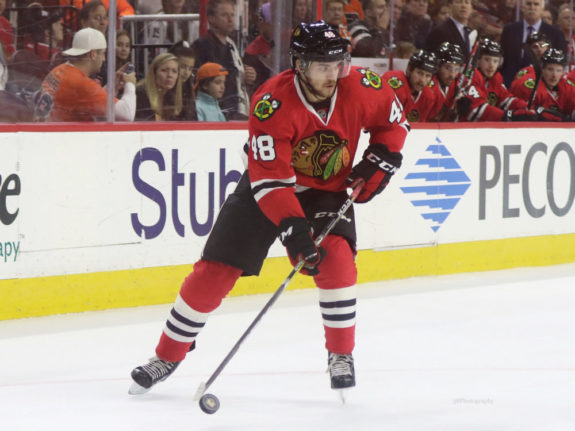 When he returned to the Blackhawks, he relied not only on his skill but also confidence, as he told Lazerus, "It's just self-belief," Hinostroza said. "You've got to be confident in yourself, and I was confident in myself and came to the rink every day, and it drove me to work harder in the weight room and on the ice. I did that. If you go to the rink when you get sent down, and every day you're kind of a bum and don't work hard, nothing good is going to come out of it. You're not going to come back up. I just wanted to get back here."
He may not be the most prolific goal-scorer on the team, but his improvement from previous NHL seasons shows promise for growth. One thing that makes him unique is his speed. With his smaller stature, he is able to move past larger players and get to the puck to get the job done. In a game that gets faster every year, his skills with speed cannot go unnoticed.
Final Thoughts
The re-signings of both Hayden and Hinostroza are definitely steps in the right direction for the Hawks to become playoff contenders again. There are plenty of moves still to be made in the offseason for a successful season in October, but upcoming events such as the draft and free agency will likely show the direction the team is going. Offseason moves have been great so far, and fans can only hope they will continue to be that way.