The 2020-21 season is fast approaching for the Chicago Blackhawks on Jan. 13. There are a lot of reasons to feel disheartened with Jonathan Toews, Kirby Dach, and Alex Nylander ruled out. However, there are some reasons to remain hopeful. Not because the team is going to be good, per se, but because it's going to be a learning season.
Players have to step up with the three absences. It's a perfect opportunity for players to seize the moment and show that they belong on this team. When big positions are vacant, every single player on the Blackhawks has something to prove. But, there are a few players in particular that have to make 2020-21 their year.
1. Adam Boqvist
20-year-old defenseman, Adam Boqvist, is a player to watch this season. Last season was the first time that we got a glimpse of what he can do. He has so much skill and the potential for him is sky-high. He doesn't draw Erik Karlsson comparisons for nothing. His strengths include offensive capabilities along with smooth skating ability. Remember, he was the Blackhawks' first-round pick in 2018.
But his draft status doesn't automatically mean his job is safe. He has a big test in front of him because of the fact that he will be competing with a very crowded blue line. He will be joined by names like Ian Mitchell, Lucas Carlsson, Nicolas Beaudin, Alec Regula, and Wyatt Kalynuk.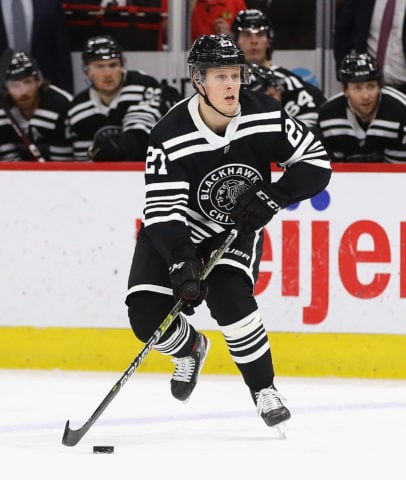 Boqvist struggled at times last season, which was expected. Defensemen, in particular, take longer to develop than forwards. But considering how big this defensive group is, it seems like the margin for error is very slim. For his stats last season, he had four goals, 13 points, and was a minus-3 in 41 games. In the playoffs, he was a minus-5 in eight games.
He can really use this opportunity to showcase his strengths on a consistent basis. He is young and I have no doubt that we will see improvement from last year. He can and should cement himself as the Blackhawks' defenseman of the future with a strong showing. It will be exciting to see his growth.
2. Andrew Shaw
It's the news we have all been waiting for. General manager Stan Bowman stated that 29-year-old center/right wing, Shaw, is healthy and will be ready for training camp. His reunion with the Blackhawks' didn't go as planned last season. He suffered a concussion in Nov. 2019 and missed most of the season. His stats last season were three goals and 10 points in 26 games. While he has been out, the center group has suddenly become crowded with the additions of Carl Söderberg, Mattias Janmark, and Lucas Wallmark.
With Toews and Dach out, it's Shaw's time to shine. The center group in particular needs stability and security throughout the season. It's unclear if the team is planning to use him at center or wing, but regardless, he can be an anchor at both positions if he can play like himself pre-injury.
He provides a lot of qualities that the Blackhawks were missing last season: net-front presence, power-play asset, grit, and depth scoring. Needless to say, we need him to make his mark this season if the team is going to have success. I think fans should feel optimistic about that notion since Bowman had this to say about him on Dec. 30:
He's looking great. I think he's excited as ever to be back. I've never seen him so energized.
Like my colleague, Gail Kauchak said, "Good gosh that's saying something when it comes to him." I agree! We're excited to have you back too, Shawzy!
3. Alex DeBrincat
We are all aware that we have to turn the page on 23-year-old left wing, DeBrincat's 2019-20 season. His snake-bitten year couldn't have come at a worse time because he had just signed a three-year, $19.2 million extension in Oct. 2019.
Last season was his worst out of the three years he has been in Chicago. He went from a career-high 41 goals in 2018-19 to 18 goals the following year. But it wasn't from a lack of trying. The puck just wouldn't find the back of the net for him. Hockey can be cruel that way.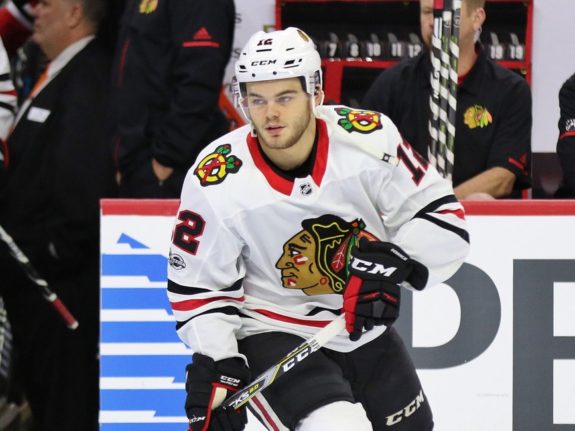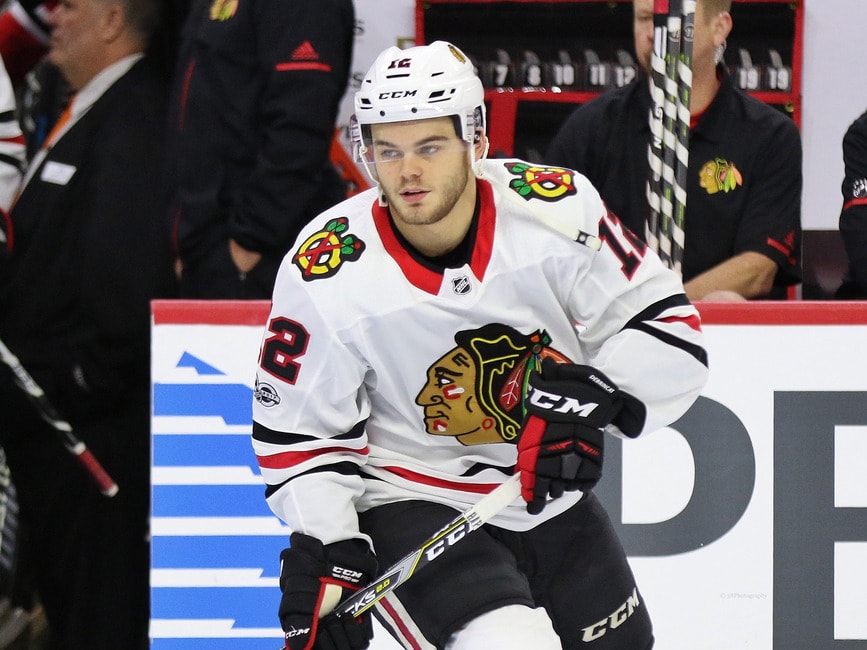 I'm not worried about him not being able to bounce back. I think he has proved that he is not a fluke. But considering his contract, I think he may be feeling the heat. He is one of our most important goal-scorers. With being down three goal-scorers, Kane is going to need DeBrincat as his wing-man now more than ever. So there is no better time to regain his footing than this upcoming season. Kane not only needs him but the Blackhawks, in general, need him too. The team does better when he is at his peak.
4. Nikita Zadorov
25-year-old defenseman, Zadorov, was acquired in October from the Colorado Avalanche in exchange for forward Brandon Saad. The Blackhawks signed him to a one-year, $3.2 million deal. That is a "prove-it" deal if I ever did see one. The main thing with him is that with big trades come big expectations. We have heard that his strengths include the physical element of his game, which is a welcomed component.
But the defense is a puzzle that the Blackhawks haven't been able to figure out. The Hawks will most likely use this trying season to figure out the best defensive pairings for team success. That is where he fits in.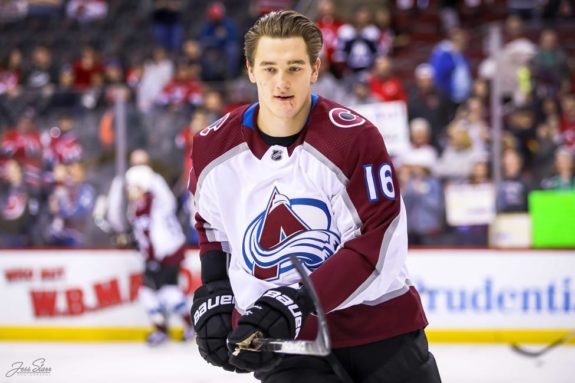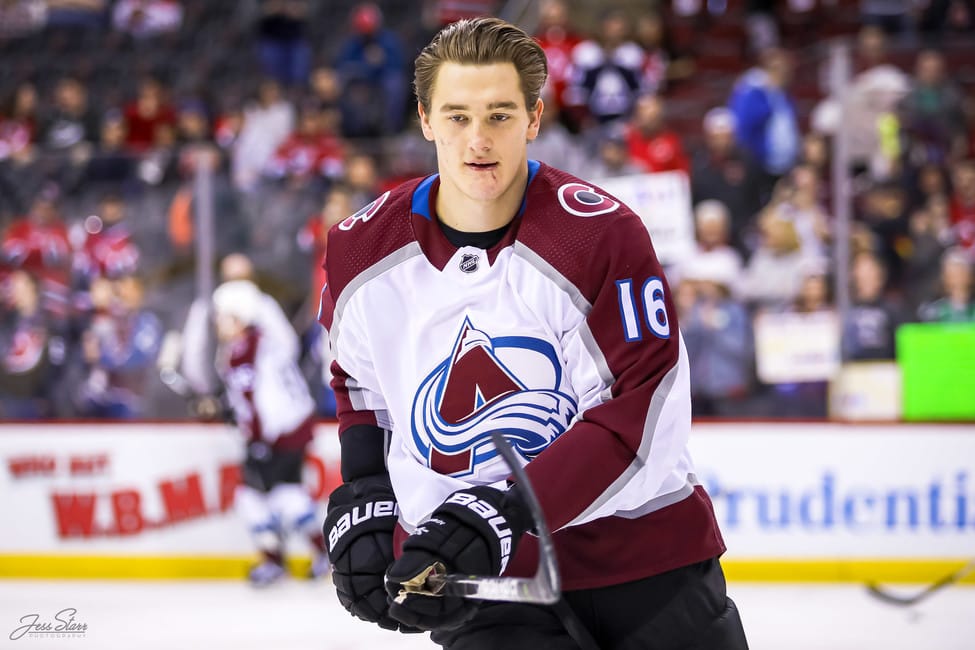 Last year with the Avalanche, Zadorov's stats were four goals, 13 points and was a plus-6 in 64 games. In the playoffs, he had three goals, five points, and was a plus-5 in 15 games. So we know he can bring an offensive punch and a physical punch that can make our back end stronger. But we need him to show out this season.
I really want him to prove Bowman right with the decision to trade for him. If he lives up to expectations, then look out. Our defense could be better than most expect. If not, that could spell trouble.
Final Thoughts
The Blackhawks have some good components to their team. But, if the team is going rise to the occasion, we need the veteran players to lead the way and the prospects to follow suit. Players making their mark in the upcoming season will be significant because it could factor into how the Blackhawks' future will look. Players could shape up or be shipped out. Chicago needs everyone at their best this season. And at this point, I think the player's "best" is all that we can hope for with circumstances like these.
Looking for more Blackhawks' content? Tune in on Monday nights for our weekly 'Blackhawks Banter' show on Youtube and Facebook. We talk about everything related to the team. We stream live at 7:00 PM CST on The Hockey Writers Youtube Channel. Be sure to like, follow, and subscribe so you don't miss out! You can check out our latest show below.
---
---