Despite the disappointing season the Chicago Blackhawks are having, there are a lot of players that have been stepping up to the plate as of late: Seth Jones, Taylor Raddysh, Tyler Johnson, and others have sustained point streaks, which has helped them to win five of their last six games. However, when diving deeper into the top line combinations the Blackhawks have deployed this season that generate the most chances and goals, one player's name continuously lights up like a Christmas tree: Philipp Kurashev.
Kurashev's Lines Are Blackhawks' Strongest
Kurashev is having a successful season. He is now sixth-best on the Blackhawks in points, scoring 19 in 43 games. The 36-point pace he is on would be a career-best for him, as his number to beat from last season was 21 points in 67 games. But it's not just the points that stand out; it's about how he affects the lineup. The Blackhawks are not a good offensive team. They are second-worst in the NHL, averaging 2.37 goals per game, but the offense they are generating, Kurashev plays a big part in that.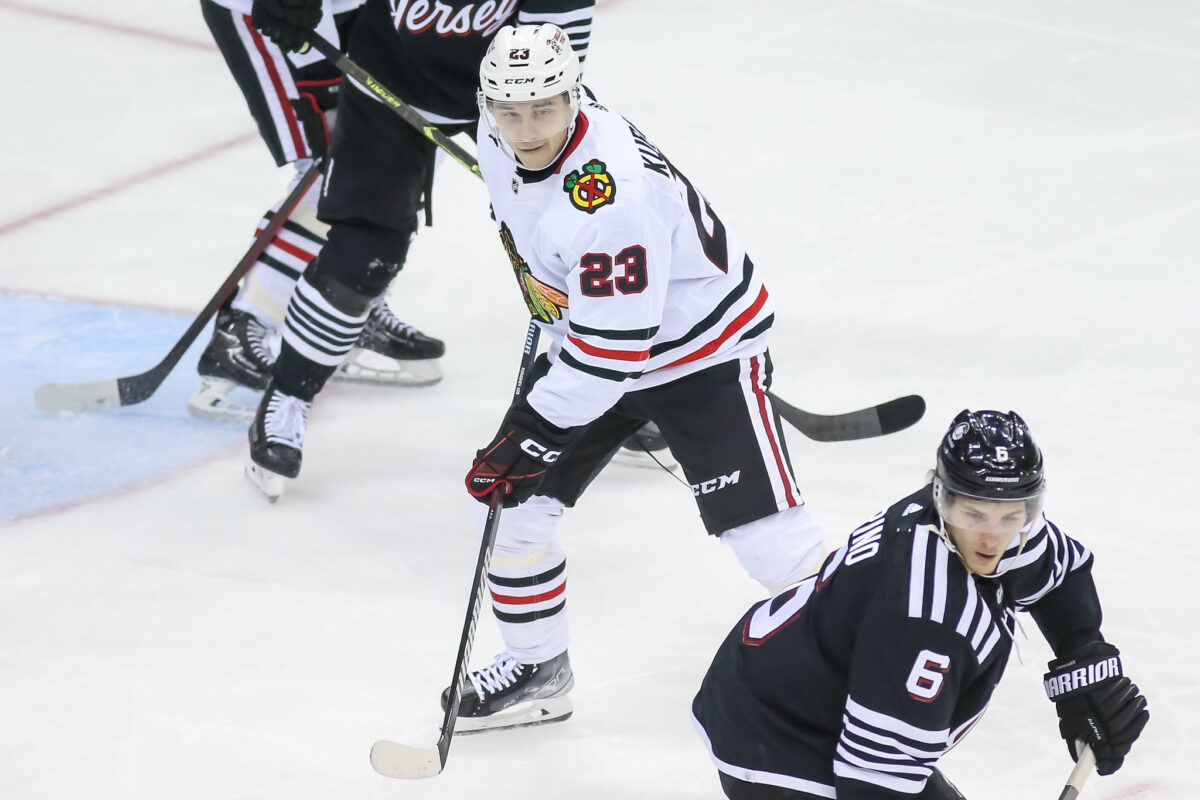 The Blackhawks' line combinations have been hit-and-miss, but when a line has clicked this season, it is usually because Kurashev is on it. Regarding the top-10 line combinations that generate the most scoring chances on the team, his name pops up the most (four times). According to Natural Stat Trick, here is how the rankings shake out with him included.
1. Kurashev – Jonathan Toews – Taylor Raddysh (225)
8. Kurashev – Max Domi – Raddysh (44)
9. Lukas Reichel – Domi – Kurashev (41)
10. Sam Lafferty – Jason Dickinson – Kurashev (39)
The Kurashev-Toews-Raddysh line leads the team in chances-for and goals-for (9). Ben Pope of the Chicago Sun-Times mentioned how much success Kurashev was having with the Toews and Dickinson line when the Blackhawks were nine games into the season. It's impressive that now 43 games in, two more lines have been added to the list. The other thing that stands out about these pairings is that each line has been deployed as either a first, second, or third line. Again, it shows Kurashev's versatility and how his presence, whether playing in the top-six or bottom-six, makes the Blackhawks stronger.
Kurashev's Game Complements Everyone
When thinking of players that instantly make any line better, no matter who they play with, the first name that comes to mind is Patrick Kane. He is a player who can play with anyone and still perform at an elite level, and in return, he encourages his linemates to do the same. He can do that so well because of his vision and adaptability. He instinctively knows how to set players up at the right time and gets the best out of everyone. Although Kurashev has only been in Chicago for three seasons, he shows a similar hockey IQ trait to Kane, in which his game perfectly complements his teammates. When the Blackhawks drafted him in 2018, words like creativity, versatility, and playmaking ability were often repeated. This past month, he has shown a lot of those attributes.
Related: Blackhawks' Reichel, Domi, & Kurashev's Line Hints at Bright Future
---
Latest News & Highlights
---
During the Blackhawks' game against the Buffalo Sabres on Jan. 17, he had the first three-point game of his career (one goal, two assists), and one of the plays that encompass Kurashev's game perfectly came from defenseman Connor Murphy's goal in the first period. Toews, Raddysh, and Kurashev were skating in the offensive zone, so naturally, it drew all the Sabres' attention toward them. Kurashev seemed to recognize that, and after receiving a pass from Toews, he found Murphy standing on the right side and got the puck to him. It allowed Murphy to take the puck in and score a goal virtually untouched to give the team a 1-0 lead. Plays like that are why he helps generate so many scoring chances. Being able to see the ice and knowing how to find players at the right time when they're in prime positions to score is essential, and he has done that quite well this season.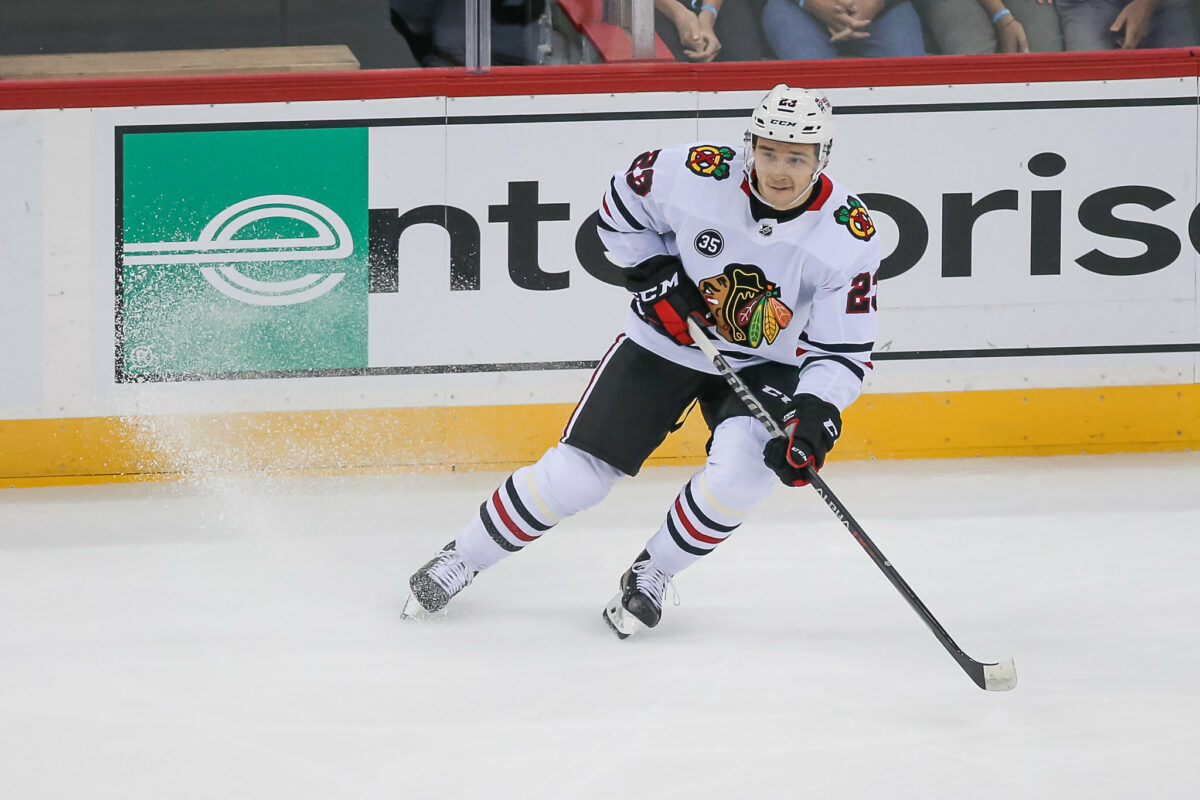 Creativity aside, he is capable of scoring on his own as well. He can make the most out of opportunities for himself off of the rush or anywhere in the offensive zone. His speed makes it easier for him to evade defenders and gives him more time to generate offense, and he is likely one of the best forecheckers on the team. When you combine speed, offense, creativity, and versatility, those skills fit seamlessly with anyone's game style. Having that extra punch on a line will make it instantly better, and it makes sense why he gets the results he does.
Kurashev Is Who The Blackhawks Hoped He Would Be
This season for Kurashev was all about growth and proving he belonged with the team long-term. The Hawks re-signed the 23-year-old to a one-year, $750,000 contract because they believed in what he could become. He had moments of offensive greatness but then would go cold for long stretches. This season started the same way as he had six points in his first nine games but then only three points in his next 17. He has five points in his last five games (three goals, two assists) and is currently playing some of his best hockey.
The Blackhawks kept preaching consistency when it came to his offensive production because they always hoped he would be a top-six forward, but then referenced that they didn't feel his hot and cold streaks made him an ideal fit for that spot. But, now something has changed. Fifteen of his 19 points this season have come from playing in the top-six, and since the second-line of Kurashev, Toews, and Raddysh has been the best on the team, it is unlikely he gets moved anytime soon. So, he is showing everything the Blackhawks expected him to, and even more so now that he is on the top two lines.
Related: Blackhawks Need These 4 Forwards to Begin Stepping Up
Individual production aside, Kurashev has positively influenced his linemates, which might mean more than the scoresheet. Toews and Raddysh are both on four-game point streaks, and no matter where Kurashev is placed, that outcome follows him. But, conversely, his linemates seemingly get the best out of him as well. It says a lot about a player if they can come into a "lost" season and end up being the glue that holds every line together. That is something that can make a team even more dangerous when they are in a playoff position, and it's precisely why the Blackhawks should make him a building block for the future.
---
---
Just a small-town girl with Midwestern charm, combined with a love of dogs, writing, frappuccinos, Chicago-isms, sports, and a whole lot of Blackhawks hockey. I have covered the Chicago Blackhawks since 2020 and am passionate about sharing in-depth analysis within the team and highlighting the fun because, after all, hockey is fun! You can quickly connect with me on Twitter: @brooke_lofo.