The NHL trade deadline is a mere 16 days away. The Chicago Blackhawks, just like every other club, are skating on pins and needles as they await the fate of the team and their teammates as Mar. 3 approaches. The Blackhawks, especially, could suffer enormous changes and numerous player losses. But time moves on, and there are still games to be played and schedules to be kept. Let's check in with some of the latest Blackhawks' news and rumors.
Seth Jones Hits 700 Games
The Blackhawks' 28-year-old top defensemen is one of the only members of the team that's pretty much a guarantee to stay in Chicago. General manager Kyle Davidson will listen to almost any offer on most of his players. But Jones is in his first season of an eight-year contract with a $9.5 million average annual cap hit. Most general managers around the league don't want to touch that kind of money and term.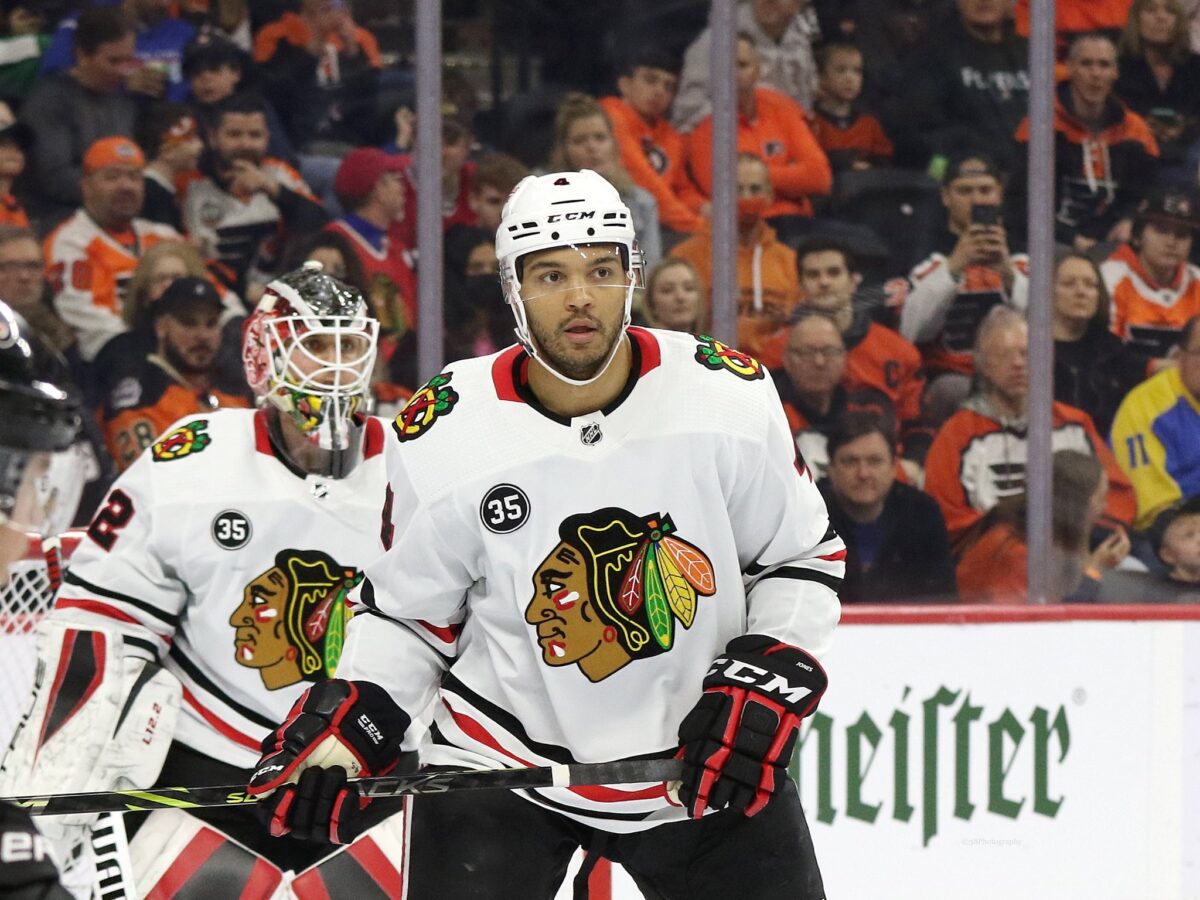 So yeah, even if he wanted out, Jones is pretty much stuck. He's doing his best to make the most of it.
Yeah, I'm becoming more mentally prepared now. It's not easy, obviously. This is my 10th year in the league and I haven't really won much. I've been in the second round one time. That's what we play for. I play to play in the playoffs and to have a chance to win in the postseason.

(from 'Seth Jones bears it as Blackhawk continue dismantling the team he signed up for', The AthleticCHI – 2/15/23)
Well, that's probably not going to happen for a while. Jones quietly played in his 700th career contest on Feb.14 against the Montreal Canadiens. 700 games is a lot of hockey, and it certainly is a milestone. But it was a bittersweet one, especially as the Blackhawks were shut out 4-0, and are currently basement-dwellers in the league.
However, Jones is finding his game in Chicago. After a slow start to the season and then an injury to his right thumb, the Arlington, TX native has enjoyed a much more productive stretch in January and so far in February. In the last 17 games, Jones has contributed five goals and nine assists. He's becoming much more reliable defensively as well, as he finds his comfort zone.
Related – Blackhawks Have a Great Option for Next Captain in Seth Jones
---
Latest News & Highlights
---
Jones is expected to be a leader in the rebuild. It's even rumored he could be the next captain. So, he will keep chugging along. Like the rest of us, he's hoping for a shorter rebuilt than predicted. "I know Kyle says four or five years, but I'm hoping two or three."
Let's hope he's right. In the meantime, congrats on 700 games; and counting!
Blackhawks Injury Updates & Transactions
The team made a plethora of roster moves on Feb. 15 before their contest against the Toronto Maple Leafs. This came in the wake of getting banged up the night before against the Canadiens. In that 4-0 clobbering, the Blackhawks lost defenseman Jarred Tinordi to a lower body injury (knee) just one game after he returned from a facial fracture. MacKenzie Entwistle also left the game in the third period after reaggravating a wrist injury. Jason Dickinson, Max Domi and Andreas Athanasiou all dealt with some issues that kept them off the ice for short periods of time.
As a result, Tinordi was put on injured reserve and Entwistle didn't suit up against the Maple Leafs. In addition, goaltender Alex Stalock was put on IR due to "ocular dysfunction". Jonathan Toews (illness) was also put on IR to make room for some call ups from the Rockford IceHogs.
Big wave of Blackhawks transactions:

Called up from Rockford:
F Cole Guttman, F Brett Seney, D Isaak Phillips

Placed on injured reserve:
D Jarred Tinordi, F Jonathan Toews (retroactive to Feb 7), G Alex Stalock (retroactive to Jan 16)

— Ben Pope (@BenPopeCST) February 15, 2023
It should be noted that Stalock and Toews can return at any time. Although the continued absence of Toews is of ongoing concern, which I will address below.
Guttman's NHL Debut
While Brett Seney and Isaak Phillips were healthy scratches against the Maple Leafs, 23-year-old Cole Guttman made his NHL debut. Surprisingly, head coach Luke Richardson decided to shake up the forward lines a little bit. He deployed Guttman on the second line, centering Tyler Johnson and Taylor Raddysh.
Richardson stuck to the game plan in the 5-2 loss. He didn't shelter Guttman, giving him a healthy 12:09 minutes of ice time. He finished the night a minus-1, with one shot on goal, three takeaways, one hit, one giveaway and going 5-of-13 in the faceoff circle (38%). All and all, it was a decent debut for the youngster.
Here's what Richardson had to say about the Northridge, CA native after the game.
Luke Richardson on Cole Guttman's NHL debut: "I thought he played with smart hockey players and they did some good things out there and I thought he was very responsible. For his first game, in Toronto, on the big stage, I thought he did really well."

— Mark Lazerus (@MarkLazerus) February 16, 2023
We'll see whether Guttman gets another game or two, or if this was a one-time call up. It all probably hinges on Toews' situation. Which we should discuss.
Toews' Absence a Growing Concern
Wednesday's game against Toronto was Toews' fifth consecutive game missed due to illness. He was also out sick for two contests on Dec. 6 and Jan. 26. The Blackhawks are calling Toews' illness the flu. But it's hard to believe the captain is missing upwards of three weeks with just the flu.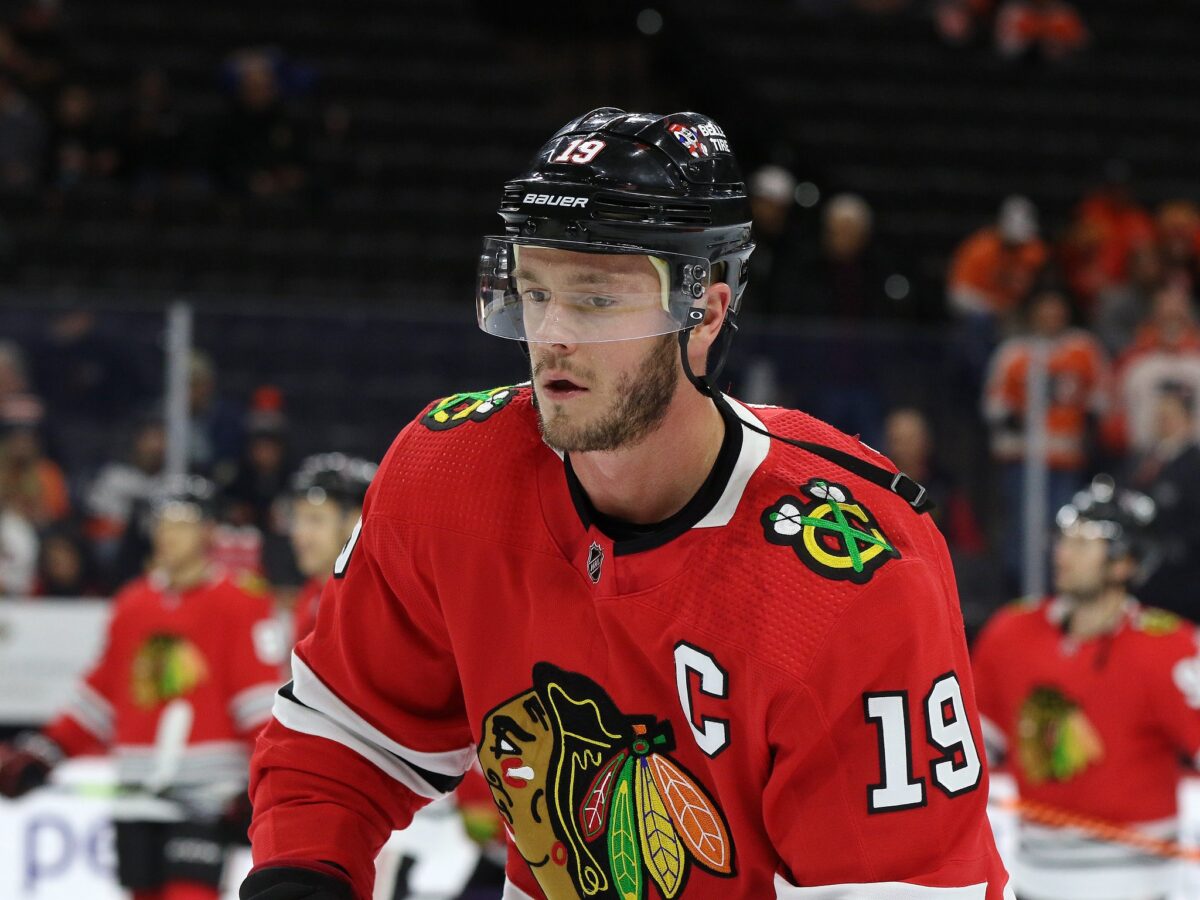 Now in all fairness, we don't know the whole situation. We can only speculate on what we're being told. But Toews' health definitely seems to be an issue. His body has gone through some major wear and tear in his illustrious hockey career. Said body might just be telling him he's done.
This is obviously hurting Toews' trade value as well. I guess we'll know more in the coming days. But we've been waiting to hear more for a couple weeks now. Something just doesn't seem to be right. But let's keep things in perspective; Toews' health is much more important than games played and potential trades.
Related – Blackhawks Q&A: Effects of Kane & Toews Staying or Leaving
That'll do it for this edition of Blackhawks news and rumors. Be sure to keep it here at The Hockey Writers for all the latest! I'm sure we'll have plenty to talk about with the Mar. 3 trade deadline looming.