Jim Neveau, Blackhawks Correspondent
With the seventh overall pick in the 2005 NHL Entry Draft, the Chicago Blackhawks selected forward Jack Skille. He was an immensely talented young forward, and he was one of the top prospects available in that year's class.
Skille had a history of winning, picking up a silver medal in 2004 and a gold medal in 2005 in the IIHF World U18 Championships. He scored 17 goals and added 20 assists in his two years with the US National Development team.
When he joined the Wisconsin Badgers for the 05-06 season, he contributed immediately, scoring 13 goals and helping his team to its first national championship since 1990. With teammates like Joe Pavelski, Tom Gilbert, and Adam Burish, Skille got an early taste of what it was like to play with great players, and to play in situations that really matter.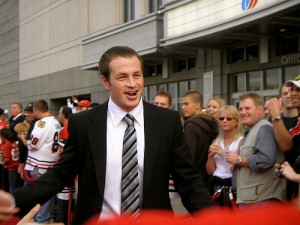 Nowadays, Mr. Skille is playing for the Blackhawks' AHL affiliate in Rockford, Illinois. He has spent time with the parent club over the past couple of years, including some notable bouncing back and forth because of salary cap reasons this season, but even with the constant shipping in and out he has played well enough to earn a spot in the AHL All-Star Game.
I had an opportunity to ask Skille some questions after the Hogs' morning skate yesterday, including some questions that had been suggested by fans.
Jim Neveau: Jack, your first career goal in the NHL was against Cristobal Huet out in Los Angeles when he was with the Kings. Have you ever brought that up to Cris and if so how did he react?
Jack Skille: I mentioned something this year, but actually Huey came up to me in the locker room, and he goes "Hey, where did you score your first NHL goal?" I said  'do you really wanna know the answer to that question?' and he goes 'it was against me, wasn't it?' So it was a pretty good joke.
JN: Going with the joking around theme, you were teammates at the University of Wisconsin with Adam Burish, who has developed a reputation on the Blackhawks as a bit of a prankster. Was he that kind of guy at Wisconsin, or was he a bit more serious because he had the captain role?
JS: He wasn't much of a prankster, but he was definitely one of those guys who would run his mouth in the locker room, get under the guys' skin a little bit. He was great in the room, a great leader, and that's what he does even with the Blackhawks. Even when he's not playing, he's still in the locker room, tweaking guys and keeping everybody honest.
JN: You had gone through a situation earlier in the season where you were bouncing back and forth between Chicago and Rockford because of cap concerns. Bryan Bickell is going through something similar to that now. What was it like practicing in Rockford and playing with the big club in Chicago?
JS: I knew that they're in a bind right now, and obviously as players we do what we're told. In Bickell's case, he's doing the same thing I did, but we're happy to play in the NHL whenever we get our opportunities, so those business decisions are their decisions and not ours.
JN: Since the team is likely going to have to make some cap moves in the off-season, do you find yourself peeking occasionally toward the big stage since you're probably one of the guys who's going to be counted on to provide some scoring punch?
JS: Yeah I do. I definitely feel like I'm ready right now. We're all waiting down here and see what happens, and you can't help but wonder what will happen at the trade deadline. Like I said though, those are their decisions, and you can't read into it too much and you've got to worry about playing hockey down here.
JN: In the NHL, you see teams occasionally play two games in a row, but in the AHL you guys sometimes have to play three games in a row. How difficult is it to go through that?
JS: It's really a grind. That Sunday game is really hard, but even the Saturday game is hard going back-to-back like that. Even in the NHL you see teams go back-to-back and that's a grind. That third game is sometimes a kick in the teeth. That Sunday game is a little bit slower and both teams are really tired. It's definitely a grind, you can say that.
JN: You left the University of Wisconsin after your sophomore year. What's the biggest difference between hockey at the college level and hockey in the pro ranks?
JS: I'd say just the control of the game. Guys are just smarter in pro hockey, and they know where they're going to put the puck before they get it, and it's quicker play. When you get the puck on your stick, you have to make a quick play and it's got to be a good play. In college, it's more of a run and gun style, especially in the WCHA. A lot of guys hitting and skating as fast they could. In pro hockey, guys only go hard when they have to, and that is part of the intelligent part of the game. When you go fast in the NHL, you get out of position and you end up in trouble.
JN: Can you describe what it was like winning a National Championship your freshman year at Wisconsin?
JS: It was unbelievable. Especially being a freshman back in my hometown, and knowing it was 15 years since they'd last won a championship, it was huge. We had a great team, and it was a lot of fun to be around, especially when we walked down the center of the street with the trophy. It was a great party, a great atmosphere, and a ton of fun to be around.
JN: Last question, and a couple of people wanted to know this: what's your favorite thing to do in Rockford? It's a smaller town, so it'd be interesting to hear what you do for fun here.
JS: For me, I'm the kind of guy when I have time to rest I just rest. I'm really low-key guy, I really don't do much. Maybe I go to a movie here and there, but you have to take advantage of the time you have to rest up and get prepared for the next day.
Many thanks to Jack for being a great interview, and we wish him luck at the All-Star Game. My thanks also go out to the fans who submitted questions for Jack as well.
Look for more interviews with IceHogs players in the coming months, and if you have any questions you would like to ask an IceHog, feel free to email me at jamesneveau@hotmail.com.