When it comes to the Chicago Blackhawks, there are two words that describe the team at this moment: learning and growing. It has made this process fun because the rookies are making progress. However, the growing pains are evident in every game. This is where the veterans come in. When you have a young team like the Blackhawks do, knowledge is power, and 35-year-old center, Carl Söderberg, made that clear during his triumphant week. Here is a recap of why he is my pick for the team's Star of the Week.
Background
Söderberg signed a one-year deal in December as a free agent. The notion behind the signing was justifiable as he is a nine-year veteran that could complement a young squad. He could also complement players like Patrick Kane and Duncan Keith.
He missed some time to start the season because of visa issues. When he finally made his debut on Jan. 24 against the Detroit Red Wings, he was invisible. In fact, he went his first 10 games with only one point. But, his faceoff percentage (FO%) was 47%, which was encouraging. He did mention that it took him longer than he expected to get up to speed. Thankfully, that quote aged like fine wine because that very night, against the Columbus Blue Jackets, he finally broke out.
Columbus & Beyond
The series against the Blue Jackets Feb. 11-13 was particularly kind to Söderberg. On Feb. 11, although he didn't get on the scoreboard, his FO% was 75%. He was able to feed off of that going into the following game on Feb. 13, when he had a strong outing from top to bottom. His FO% was 80%, which was his highest of the season. But nothing was more valuable than what he was able to accomplish towards the end of the game.
The Blackhawks had lost the previous game against the Jackets, 6-5, and were headed towards another loss. They trailed 2-1 with less than four minutes left in the game. Chicago doesn't have a good record of winning a game when trailing in the third period, and Columbus hadn't lost a game this season when leading in the third period. It seemed like it was an automatic loss considering the Hawks weren't playing particularly well in that period, either. But, Söderberg showed up. He was able to read Columbus' defense clearly when they failed to clear the puck and with one shot, buried a goal to tie the game at 2-2. Look at this thing of beauty:
This is exactly the type of play that was expected from Söderberg when he was signed – late-game heroics from a player that knows how to take control of the game. When I was watching that play unfold, my first thought came back to a quote that defenseman Ian Mitchell said when they had lost the previous game, "[Head coach Jeremy Colliton] just said we've got to learn from it and try not to let it happen again. It definitely got away from us but you've just got to learn how to win games, and that's the biggest thing."
The main point from that quote is learning to win games. That is exactly what Söderberg did – he helped the team to learn how to win that game, as they won 3-2 in overtime. Columbus is a team that has good veterans that know how to win games as well. In a close game like that, it's a learning curve for the rookies. It could have gone sideways with how good the Jackets were playing defensively, but Chicago's veterans are able to do what they do best. He led the way to bring the team back.
Players like Söderberg know what do and how to react in those situations. As you can see, he was in the right place at the right time. Sequences like that are great examples for the Blackhawks' rookies. That way, during the rest of the season, they can recreate something similar. It helps so much with the team trying to rebuild a winning culture.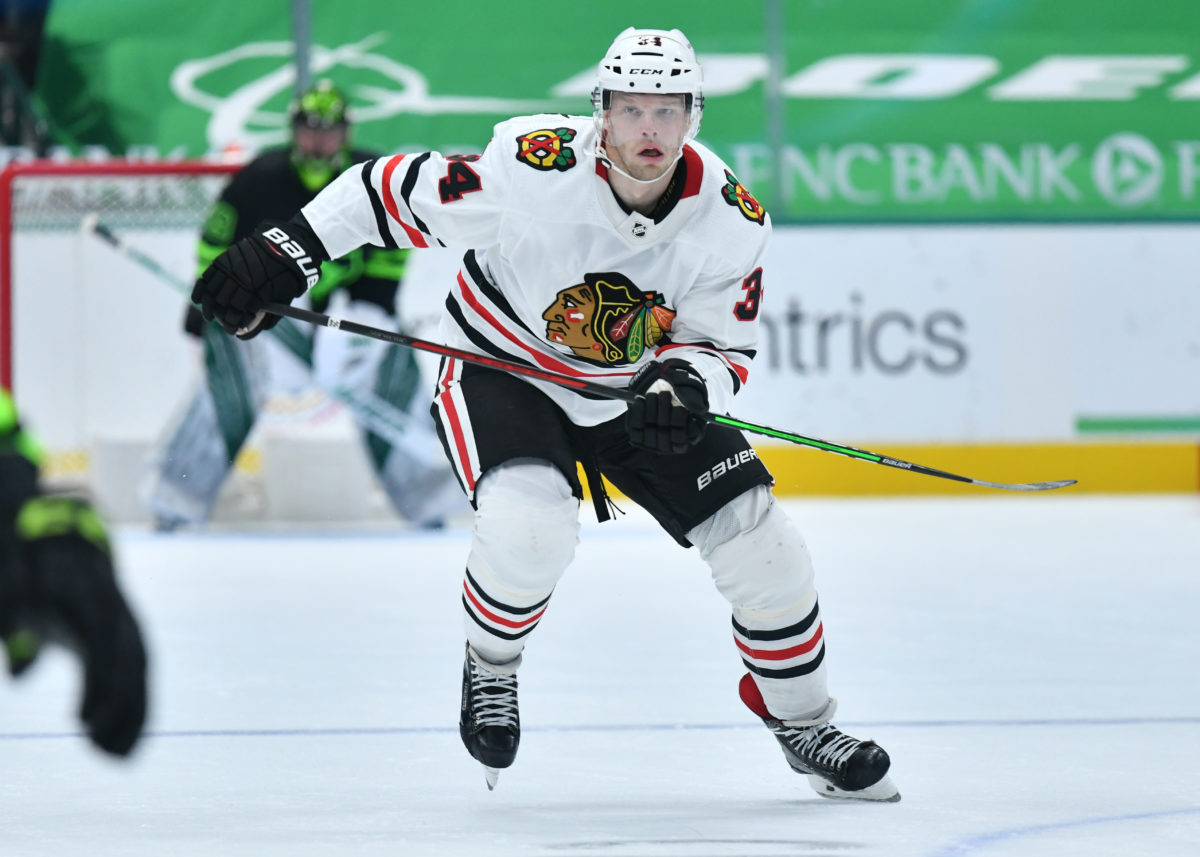 Since then, Söderberg has continued to be a strong presence. Moreover, Colliton seems comfortable with upping his ice time and role with the team on the third and fourth lines.
With players like Andrew Shaw out due to a concussion, Söderberg has also been a good option for the special-teams units. We saw the benefits of him on the power play during their game against the Carolina Hurricanes on Feb. 19. He screened the goalie and tipped the puck in off of a feed by Kane. Although they lost that game 5-3, that was a positive.
Final Thoughts
Four points in 14 games for Söderberg may not sound great, but it's more than encouraging with his play as of late. Seeing his potential unfold is not only a very good thing for him, it's great for the team as well. If the Blackhawks want to sustain success going forward, they're going to need his contributions. There was no better time than now for him to get going. He had a solid week, and I'm looking forward to seeing how this will play out the rest of the season.
Looking for more Blackhawks' content? Make sure you like, follow and subscribe to our Youtube Channel and Facebook so you never miss an episode of our weekly show, 'Blackhawks Banter'. We talk about everything related to the team. Here is our latest show:
---
---
Just a small-town girl with Midwestern charm, combined with a love of dogs, writing, frappuccinos, Chicago-isms, sports, and a whole lot of Blackhawks hockey. I have covered the Chicago Blackhawks since 2020 and am passionate about sharing in-depth analysis within the team and highlighting the fun because, after all, hockey is fun! You can quickly connect with me on Twitter: @brooke_lofo.