When this season began, I felt we might have problems picking a Star of the Week because there wouldn't be enough big-time performances. The assumption that this would be a difficult task was correct, but it is because there are too many great showings, not too few.
The Chicago Blackhawks won two out of their three games last week, earning four out of a possible six points. They beat the Dallas Stars 2-1 in overtime on Tuesday, before coming back home to split a two-game set with the Columbus Blue Jackets.
Pius Suter had a pair of goals, including the game-winner in Dallas. Nicolas Beaudin scored the first two goals of his NHL career in back-to-back games against the Blue Jackets and added an assist for good measure. Patrick Kane did Patrick Kane things and finished the week with a goal and five points.
But, for the second week in a row, Alex DeBrincat will get the Star of the Week honors again.
A Rare Occurrence in Dallas
Tuesday night's 2-1 overtime win versus the Stars was the only game of the week the DeBrincat did not earn a point. In fact, it was the only game since he returned from COVID protocol on Feb. 2 where he didn't find the scoresheet.
Related – Toughest Blackhawks Trivia Quiz You'll Ever Attempt
Despite having his five-game point streak snapped, he still had three shots on goal along with a blocked shot and two takeaways. Debrincat's 23:21 of ice time was second to only Kane among all the forwards. He and Calvin de Haan had the highest Corsi for number on the team at 21. That means the Blackhawks had 21 shot attempts for while No. 12 was on the ice. Unfortunately, he was on the ice for 23 shot attempts against to finish a minus-2 Corsi.
More of That Home Cooking
DeBrincat got back to his ways in Thursday night's heartbreaking loss to Columbus. He factored in three of the five Blackhawks' goals. He had the secondary assist on Beaudin's first career goal and then set up Kane's early third-period power-play goal.
His goal in the third period gave the Blackhawks a 5-4 lead with 6:30 to play, but it wasn't meant to be. DeBrincat showed that he is becoming a complete player as he forced a turnover in the neutral zone then rushed back in the zone to blast home a great backhand pass from Kane.
In Saturday's rematch, he scored the game-winning goal in overtime by reminding us all of Marian Hossa and batting the puck out of mid-air. DeBrincat now leads the team with eight goals and three game-winning goals, despite missing four games.
He also reminded us of Hossa with the way he played without the puck. He had a couple of great stick lifts and was very noticeable on the backcheck. Will he ever be a Selke Trophy-winning defender? Probably not. But he is doing the little things on defense and becoming more than just a one-dimensional goal-scorer many think he is. He leads the team in takeaways and is fourth among forwards in blocked shots.
Proving the Doubters Wrong
DeBrincat seems to have had a chip on his shoulder for much of his career and he excels when he has something to prove. During his junior career with the Erie Otters, people said his numbers were inflated by being on the same line as Connor McDavid. However, his numbers in the two seasons without McDavid were just as good or better than the one with him.
In his draft year, he was cut from Team USA just before the start of the World Junior Championship. There was a lot of chatter about his attitude and his size which led him to fall into the second round of the 2016 NHL Entry Draft. Stan Bowman used one of the two picks (39th overall) acquired from the Montreal Canadiens for Andrew Shaw to select him.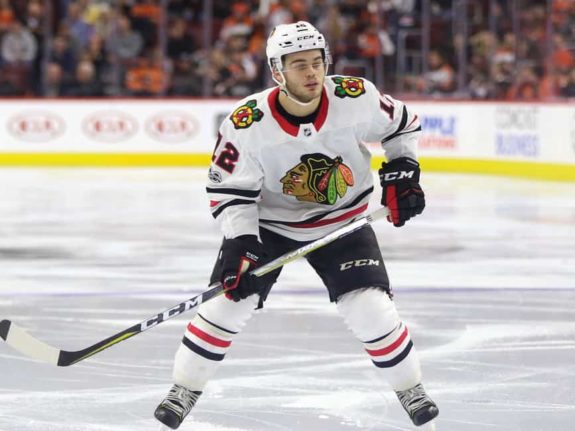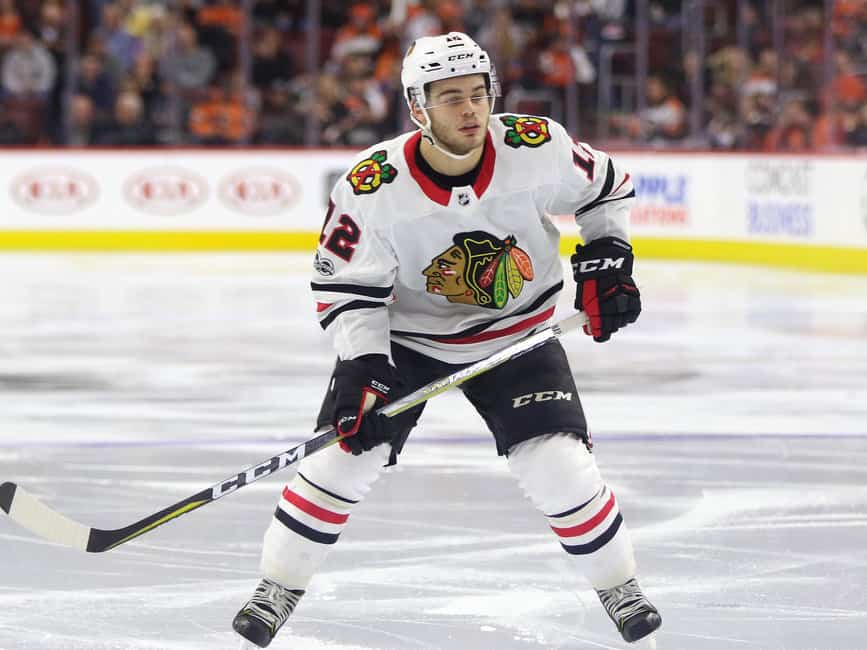 Heading into his rookie season, there were a lot of people who thought DeBricat should start the season with the Rockford IceHogs in the American Hockey League. He responded with 28 goals. He followed that up with 41 goals during the 2018-19 season. At the start of the 2019-20 season, he signed a three-year contract extension worth $19.2 million. The doubters came out in droves when he struggled to score 18 goals before the season was paused in March.
This the first season of his new contract and he is proving to be worth every penny of it. He isn't too small. He doesn't have a bad attitude and he is proving that his 41-goal season was not a fluke. We could be witnessing a very good player taking the jump to become a superstar. I am sure he will be a big topic on tonight's episode of Blackhawks Banter.
---
---
Looking for more Blackhawks content? Tune in to The Hockey Writers YouTube Channel for Blackhawks Banter every Monday night at 7:00 p.m. CST (8:00 p.m. EST), or on our Facebook Page. Episode 13 is featured below.