The merits and shortcomings of the NHL All Star Game are a constant source of debate, but one thing is clear if you're a fan of the Winnipeg Jets: Blake Wheeler is well out of it.
The NHL invited Wheeler as a replacement for Blackhawks captain Jonathan  Toews, but he declined for family reasons and will not attend.
You can argue all day and part of the evening about the game itself, and certainly it has been much debated and discussed, what with the John Scott situation and the NHL's putrid, cringe-worthy response to it. You could argue that, given that his 48 points have him seventh in NHL scoring, he ought to have been there in the first place. You could argue that the All Star Game is a futile exercise, and some have argued that and more, in far more condemning language.
From Jets fans, the mostly agreed upon point is this: Blake Wheeler being absent from the festivities in Nashville can only be counted as a good thing. After all, he's too big a part of their offense to risk losing in such a meaningless publicity stunt.
With those four points tonight, #NHLJets RW Blake Wheeler has 13 goals, 49 points in 49 games this season. 5-1 Jets after two periods

— Ken Wiebe (@WiebesWorld) January 27, 2016
Wheeler's production for the Jets this year has surpassed even his best years, some of which have been excellent statistically. His sudden meshing with new linemates Nikolaj Ehlers and Mark Scheifele, marked by Ehlers' hat trick against Arizona, only underscores how important he is to the Jets.
Whether you think the Jets are doomed to tank or bound for a playoff push is irrelevant in this. In either case, losing Wheeler for any stretch of time greatly hurts the team. If the Jets do try to push for the playoffs, a seemingly impossible task with Colorado sitting ten points up on them and Nashville right behind the Avs, the impact of Wheeler's loss, or even him being tired out from the game, is obvious. Teams, no matter how deep (and the Jets are not deep) will always suffer when their best player isn't at his best in the stretch run.
The impact on the tank is less obvious, but still there. Even if the Jets do end up losing more than they win for the rest of the season, the season cannot be a total waste. Players like Ehlers and Scheifele need to grow so that next year and years beyond can be more successful, and their chemistry with Wheeler proves he can only help this. Getting their young players some confidence and letting them grow should be goal number one if the playoffs are unattainable. Wheeler can help achieve that goal.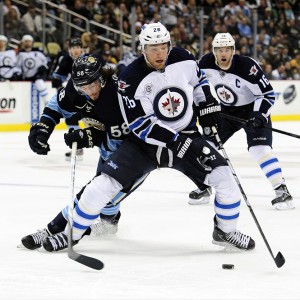 Whatever the Jets decide to do, they can now be certain (or at least more certain) that they will have alongside them the player who in many ways has become their leader. Wheeler is the clear choice to replace Andrew Ladd as captain if Ladd should leave via trade or free agency, and he's the one guy the Jets need to keep on board.
You can argue that Blake Wheeler should stay out of the ASG because the game is a joke. You can argue he's well shot of it because it has no bearing on the rest of the season. Whatever you want to argue, one thing is clear. The ASG is worse for missing Blake Wheeler, but he and the Winnipeg Jets are not worse for him getting the break.
A long time hockey fan and player from Winnipeg, Manitoba. Play-by-play man with the SJHL's Estevan Bruins. Graduate of Red River College's Creative Communications program with a major in journalism. Former PxP man for the University of Manitoba Bisons. Lover of all things Jets and Avs related and always looking for a good hockey debate.