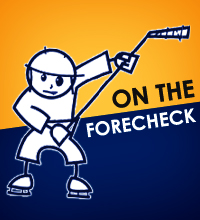 Blog: On the Forecheck
Writers: Dirk Hoag (Manager); Chris Burton (resident Mucker); and Sam Page, Aditya T, Seth Lake, Admirals ShortShifts, Anthony Neal, and Marc Torrence (the Grinders)
Team: Nashville Predators
Strength: Incredibly thorough and consistent quality.
Weakness: Nashville hockey fans just don't get the respect they deserve and, sometimes, it seems writers and commenters have a bit of a chip on their shoulder because of it.
Warning: No warning – just straight up hockey analysis and commentary.
Hidden Gem: Good, ol' Southern hospitality from commenters.
I originally found On the Forecheck on SB Nation because I was already a reader of Second City Hockey.  After taking the plunge into season ticket holder-dom with the Predators, I was looking for a blog to keep me posted on my new "home team."  Shortly after finding OtF, I ended up in need of a topic for a research paper and decided to combine my loves of history and hockey.
Last fall, I posted a request for information on any of the former minor pro teams that used to call Nashville home (yes, there has been hockey off and on in Nashville since 1962 – something many people omit or simply just don't know when the topic of Nashville enters a hockey discussion).  A number of fans offered their stories and resources – especially OtF commenters, NashCub and Hockey Hillbilly.  It turned into a great paper and an amazing experience. Plus, I got to meet some really awesome hockey fans in Nashville.  Do not ever let anyone tell you that Nashville is not a hockey town.
The OtF writers stay on the pulse of the Predators.  From breaking news to updates from practice and on to game-day analysis, Dirk Hoag and his crew dive into Predator-hockey head first every day.  The writing is professional and interesting to read.  In addition to the usual (game-day threads, previews, and recaps), they offer readers a wide enough variety of information that daily readers will not get bored.  One of the things I really like about the game recaps is that OtF writers provide links to both video highlights and the audio for post-game player and coach interviews.
From a reader's standpoint, the daily news full of links to articles around the web is a great service.  OtF always includes news from around the NHL in addition to the usual team-related information.  While Dirk is focused on a stats project (check out "Analyzing the Nashville Predators Defensive Pairs"), Resident "Mucker" Chris Burton has recently taken over the duties of providing the daily news.  Chris's style is a little more "short and sweet" than Dirk's was – Dirk used to provide a sentence or so to let you know what to expect from the article mixed in with a little opinion or humor.   This is nothing against Chris, I suppose it is simply a personal preference for Dirk's style of presenting the daily news and links.
The editorial posts, like Chris's "The Joke's On Us: The Tale of the Team Who Wouldn't Listen" from April 1, 2011, provide readers with the combination of great analysis and good writing.  There has also been plenty, "c'mon guys, lets get it together and play like we want to go to the playoffs" type posts this season, both from the writers and the commenters.  In addition, Sam Page's inspired post, "The Damnedest Trade You Ever Saw: When Mr. Carrie Underwood Came to Nash Vegas," typifies some of the frustration locals have over being taken seriously.
Recently, in the spirit of bracketology that sweeps the nation every spring, Marc Torrence introduced the "It's March Madness – On the Forecheck Style" to determine the OtF readers favorite players.  According to Marc's initial post, the matchups were determined by stats and general player popularity.  Readers could then vote on the matchups and see which players would survive from the Sweet 16 to the Final Four and finally, determining the readers' favorite player.
Although not one of my favorite series of posts, it seemed to be popular with the readers.  Each round of the "tourney" saw participation from around 40-70 readers rec'ing their vote.  Ultimately, goaltender Pekka Rinne beat out captain Shea Weber for the fan favorite.  I will admit that I did not vote, nor did I see either of my favorite players win the tourney – as a matter of fact one of them wasn't even among the first round of voting.  Regardless, it was still interesting to watch the level of participation.
Newcomers are welcome, even when they announce themselves as fans of other teams – like I did when I started gathering research for my paper.  I don't know if it is just Southern hospitality (Dirk, I know you're from Michigan) or a genuinely nice group of commenters, but I have not seen people really gang up on someone or get overly rude.
Final Thought: Although I already know there are very knowledgeable hockey fans in Nashville, for some reason many outside the city just cannot fathom this idea.  Check out On the Forecheck, you won't be disappointed and you'll probably learn something.
So, that's the On the Forecheck blog in my words.  I also wanted to let Dirk give you a few thoughts in his.
Four Questions for On the Forecheck:
Rebecca: How long have you been writing for OtF?
Dirk Hoag: I started OtF on the Blogger platform back in the summer of 2005, as I wanted to get back into writing about hockey. I had originally written for a couple of websites back in the mid-1990s, but fell out of the habit while living in Indiana for eight years. A relocation to Nashville, however, brought back the opportunity to be around an NHL team once again, and one thing led to another from there. At the start of the 2008-9 season I was invited to join the Kukla's Korner stable of bloggers, and about six months after I made the switch to SB Nation, which offered the chance to have a professionally designed, dedicated site within which I could cover the Nashville Predators, while also participating within a broad network of hockey sites.
Rebecca: Why did you decide to start OtF?
Dirk: When I first came to Nashville, I was struck by how little coverage the Preds and the NHL at large were receiving, so there was a lot of room available to offer commentary. In particular, what Nashville really lacks in the print media is that figure which offers informed opinion and analysis about hockey, the columnist. The beat writers have done a fine job over the years, but you really need that other voice out there to stir the pot and get people thinking about the game and how the Preds fit within the hockey world.
Rebecca: What do you think OtF offers readers that differs from other blogs?
Dirk: First, I'd say that we have a vibrant community of hockey fans with which you can interact on the site, it's not all about the writing team and what we're saying. The comment sections and FanPosts which the readers contribute make OtF much more than a straightforward blog, it's more like a community of Nashville Predators fans. Secondly, we've fleshed out the main writing team over the last year so that we've always got a constant feed of the latest news, opinion and analysis about the Preds. When a transaction breaks, we'll have that news along with some insight about what it means in a broader sense, and we aim to keep folks fully engaged on game days, from a preview post that sets the table, to a lively in-game discussion in the Game Thread, and a recap available shortly after the game concludes, with video highlights, reaction, and (usually) some of the advanced stats from that game. We also get occasional updates and features from the Preds' AHL affiliate in Milwaukee, to help folks keep an eye on the prospects who are working their way up the organizational ladder.
Rebecca: Once the off-season starts, why should readers continue visiting OtF?
Dirk: There's plenty that will still be going on over the summer, whether it's reviewing the year gone by at a team and individual level, anticipating and covering the NHL Entry Draft and Free Agency season, or the annual Development Camp which brings the Preds' draftees into Nashville for a week in July. Personally I plan on getting back into some of the unique advanced hockey stats analysis – which I used to do in years past – this summer, as I've spent a considerable amount of time lately gathering the data for that work.