The second month of the 2020-21 NHL season was not good for the Columbus Blue Jackets, nor were the Blue Jackets good for the month. In 13 games, they earned only 10 points in the standings. Seven of those 10 points came in the first six games, and the team earned only one of 10 possible points in the last five games of February. It's hard to find "stars" in such a miserable month.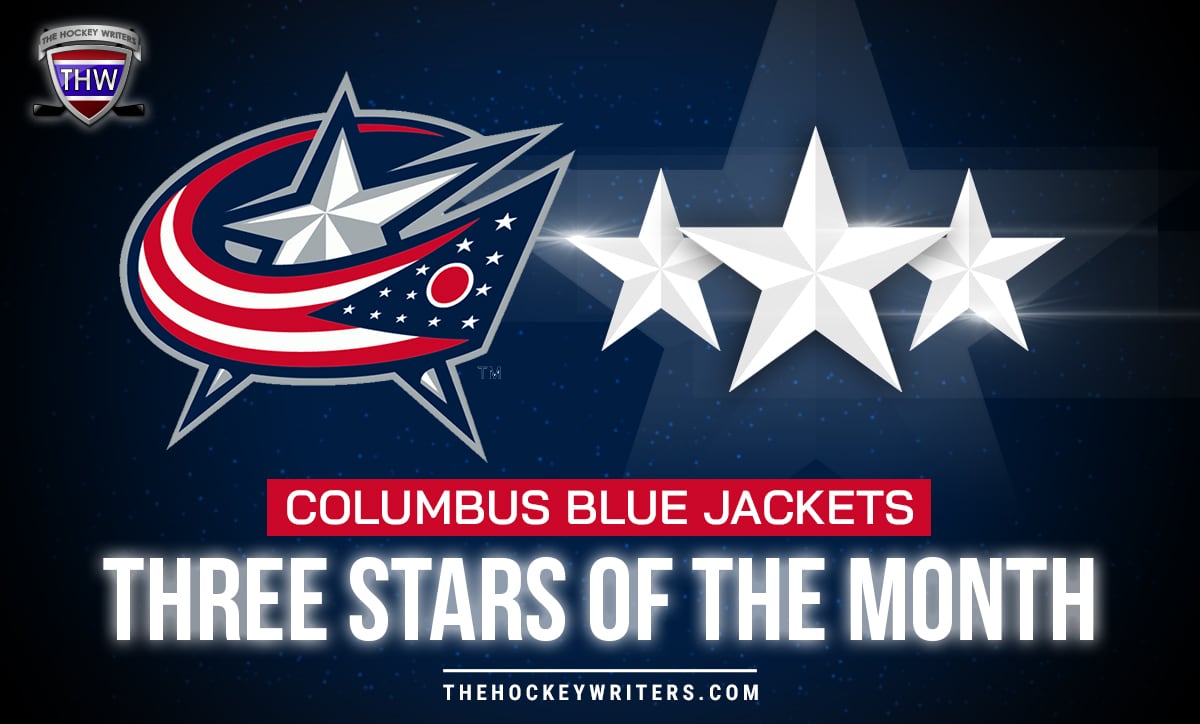 Let's start this report card with a look back at my predictions for February from the article naming the Blue Jackets' three stars for January:
"There should be little doubt that everyone in the Columbus Blue Jackets organization is hoping that, a month from now, the hands-down First Star will be Patrik Laine." Laine had a good enough month to be named one of the stars. Read on to see which star.
"It would be nice to see defensemen Seth Jones and Zach Werenski fighting for a star after forgettable Januarys." Due to injury, Werenski played only six games in February, recording a pair of assists. Jones, however, looked more like himself in all three zones in most of the 13 games.
"And for the Blue Jackets to be successful in February, one or both goalies likely will need to perform at a "Star" level." Nope. Elvis Merzlikins lost most of the month to injury and Joonas Korpisalo had a record of 3-7-2 for February, with a.871 save percentage and a 3.80 goals-against-average.
I'd say my predictions (or, perhaps more properly "hopes") for February were about a 50/50 split. And with the Blue Jackets' overall performance for the month, even that might be a stretch of the imagination.
Third Star: Seth Jones
At this point, Jones is not in the discussion for the James Norris Memorial Trophy, nor should he be. The trophy is awarded to "the defenseman who demonstrates throughout the season [emphasis added] the greatest all-around ability in the position." His performance in January cannot be ignored. No Norris for Jones this year.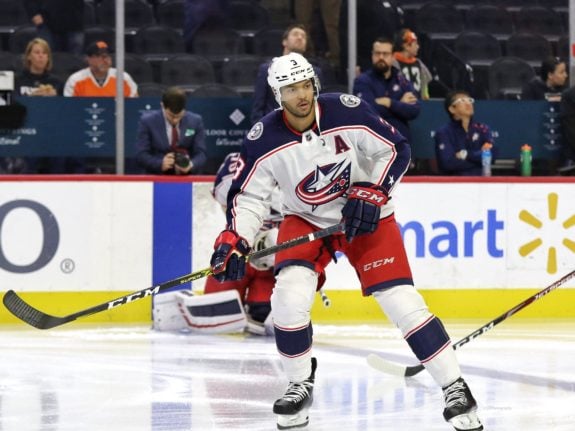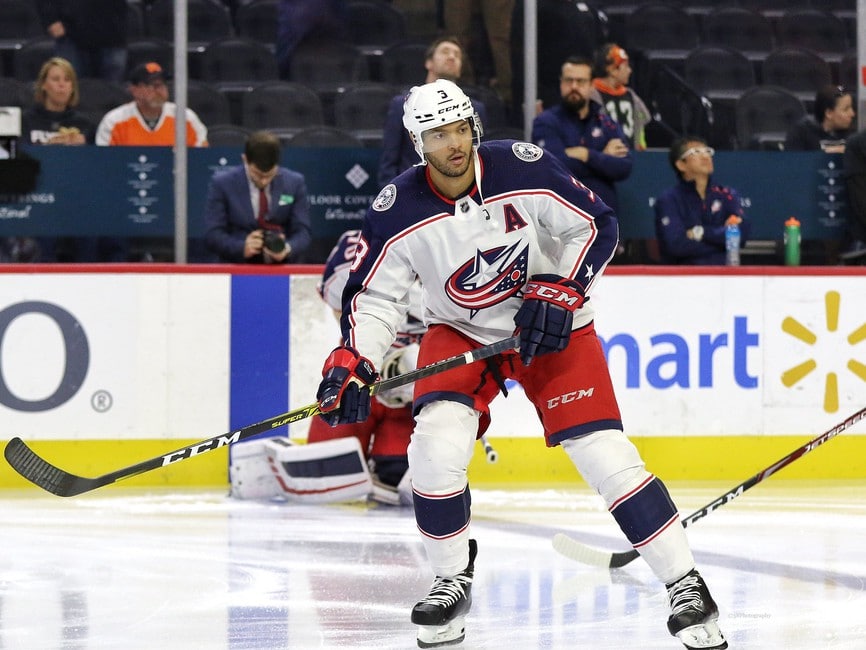 However, he does get a star for the month of February. He looked much more like the player we have come to expect. His performance in all three zones was generally improved, although he still lacked consistency from game to game and, in several games, from shift to shift. 
Nonetheless, a goal and 10 assists in 13 games weren't shabby. Brian Hedger of The Columbus Dispatch agrees, saying "Seth Jones is playing more like himself for the Blue Jackets lately." ("After sluggish start, Seth Jones is returning to his usual level of play for the Blue Jackets," Feb. 20, 2021.). I should note, however, that seven of his 11 points came in the first half of the month.
Second Star: Patrik Laine
Six goals and 10 points in 13 games earned Laine a star in his first full month as a Blue Jacket. He showed intensity during most shifts during most games. (He was, however, benched for a large part of one game, reportedly after giving some lip to an assistant coach.)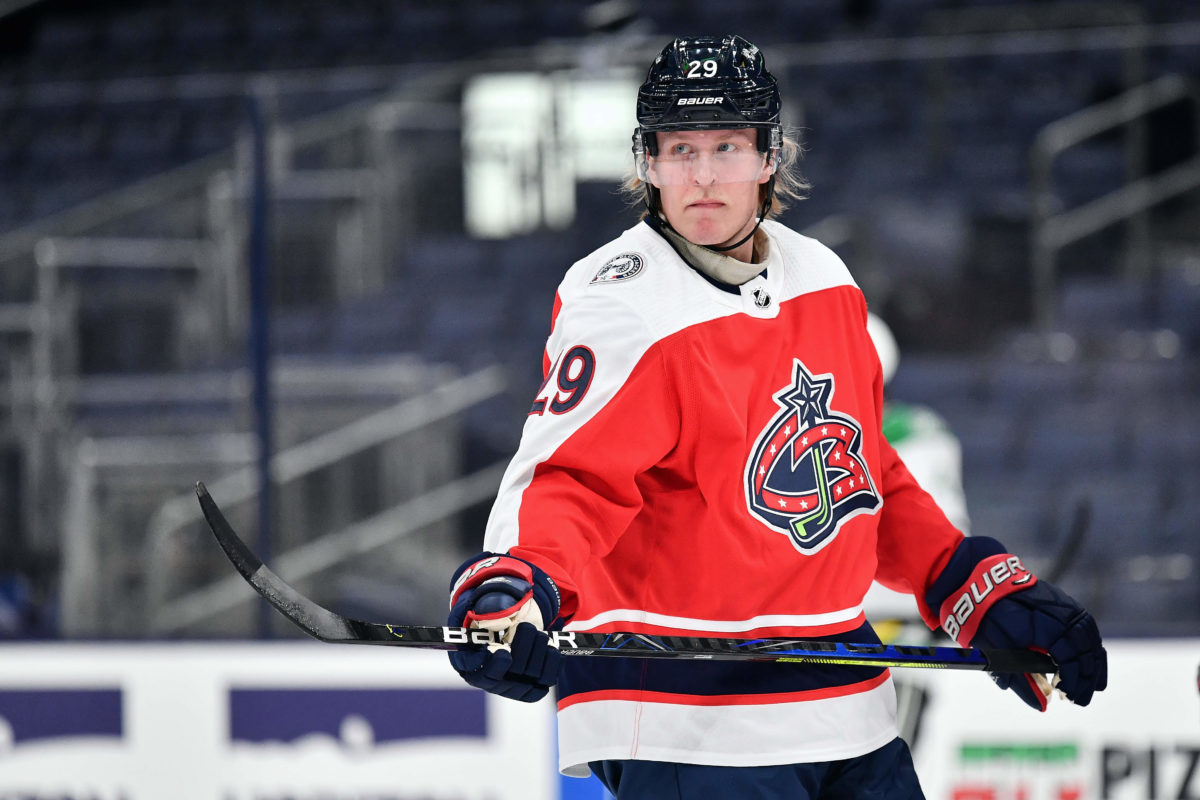 Perhaps most telling is that Laine's goals were spread throughout the month. During the dreadful second half of February, he was one of few Blue Jackets who continued to score.
First Star: Cam Atkinson
He's alive and awake! If he continues to score the way he did in February, we can officially say that Atkinson has bounced back from last season's sub-par performance. In 44 games during 2019-20, he scored 12 goals and 26 points. This season, at the end of February, he stands at nine goals and 17 points in only 23 games. In an 82-game season, that would be on pace for 32 goals and 63 points, above his career average of 29 goals and 53 points per 82 games. In February, his stat line showed eight goals and five assists for 13 points.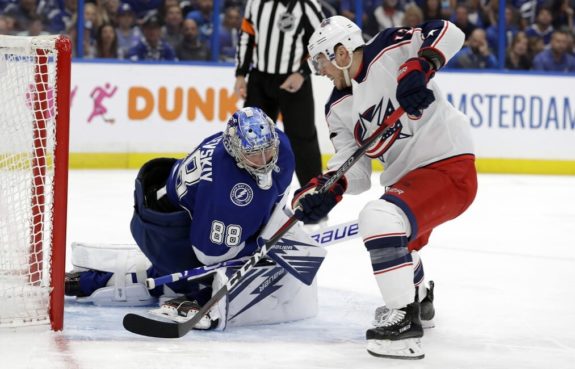 Atkinson's eight goals included a pair of power-play scores, as well as his second and third shorthanded goals of the season. (His three shorties lead the league, and he now holds the Blue Jackets' team record for shorthanded goals.) But while his goals were spread throughout the month, four of his five assists came in the first half of the month – and three were in a single game. More helpers from Atkinson depends, of course, on other players actually scoring goals. 
Honorable Mention
Jack Roslovic tallied 4-8-12 in February, but eight of his 12 points came in the first half of the month. And his faceoff win percentage was one of the absolute worst in the league. He earns this spot based more on energy and enthusiasm than on scoring. He seems to be working hard, shift after shift. And the harder he works, the more he'll produce. Maybe next month he moves up this list? We'll see.
Predicting March
During the month of March, the Blue Jackets face the Carolina Hurricanes and Dallas Stars four times, the Detroit Red Wings three times, the Florida Panthers twice, and the Tampa Bay Lightning once. I know this will sound strange but, among those teams, the Blue Jackets have a losing record against only Carolina (1-2-0). Against the other four teams, they have split a pair of games each and earned a "loser point" (for a loss in OT or a shootout) in three of the four losses.
Related: Blue Jackets Struggles Start In the Defensive Zone This Season
However, of the five teams they face in March, only the Red Wings have a worse points percentage. They are also the only team to surrender more goals than the Blue Jackets (78 in 24 games, compared to 77 in 23 games). Goals scored? Only Detroit has a lower goals-per-game average. It will not be an easy month. My prediction for the Three Stars in March?  Ha! I can only hope that there are three stars. Hopefully, though, enough Blue Jackets will play well enough in March to make next month's column even more difficult to write.
---
---
Pete Bauer is both a hockey fan and player. As a columnist for The Hockey Writers.com, he covers the Columbus Blue Jackets, NCAA hockey, and NHL trends, statistics, and history. He's considered the go-to guy for info on the NHL's Collective Bargaining Agreement with the NHL Players' Association and other hockey-related legal mumbo-jumbo. He's a frequent guest on a variety of podcasts.  You'll find all of his THW columns here. Pete is also the author of over a dozen books on photography, digital imaging, and graphics, including "Photoshop CC for Dummies."