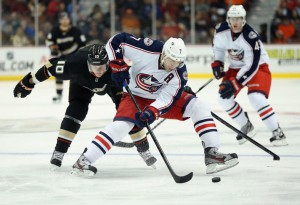 Watching Columbus native Jack Nicklaus dissect his beloved Augusta National golf course in the 1965 Masters, golf legend and Augusta founder Bobby Jones reportedly observed that "He [Nicklaus] plays a game with which I am not familiar", referring to the unique blend of raw power and deft putting that Nicklaus used to garner the green jacket that year.  48 years later, Columbus fans are watching the Blue Jackets make a playoff charge reminiscent of Nicklaus' chief rival — Arnold Palmer — utilizing a combination of attitude, skill and simple stubbornness that defy both logic and description.  It is something to behold, and has earned not only local attention, but the grudging admiration of NHL pundits across the league — many of whom projected the club to finish dead last this season.
Sharks Are Just Giant Bait
Sunday night's contest at the Shark Tank in San Jose served as an apt metaphor for the entire experience that Columbus fans have enjoyed since March 1 — when chemistry and identity began to slowly emerge from the primordial ooze of January and February.  During that span, the Blue Jackets are 17-5-4, including 6-2 and 4-0 wins over the Sharks.  However, those victories both came at Nationwide Arena, and San Jose is a vastly different club at home.  Entering last night's contest, the Sharks were a ridiculous 16-1-5 under home cooking, and with the Blue Jackets in the midst of a brutal six game road trip, to say that there was a bit of consternation among the Blue Jackets faithful would be an understatement of significant proportions.
However, the Blue Jackets this season have displayed an attitude that remarkably disregards convention, adversity, expectations or predictions.  While every team — in every sport — intones the mantra of "playing one game at a time", this club appears to be able to actually do that, and sometimes play just one period or one minute at a time.  All of that came into play last night.
If there has been a consistent flaw in the Columbus game of late, it has been the tendency to start slowly.  Not so last night.  They skated hard and fast, using a relentless forecheck and active sticks to create opportunities and frustrate San Jose — who were trying to clinch their own playoff berth.  Jack Johnson — who may have played the best period of hockey a Blue Jacket defenseman has ever played in the 1st stanza — feathered a picture perfect feed to a driving Mark Letestu for the game's initial goal, and Letestu similarly converted a blue line turnover into a Vinny Prospal breakaway goal for a 2 – 0 lead.  The gap was narrowed when Dalton Prout was suckered into charging below the line to defend, leaving a gap for Martin Havlat to deposit the puck in the back of the net from point-blank range.  Undaunted, the Blue Jackets converted a power play opportunity when Letestu again found the mark from the left point — aided considerably by a suffocating screen from Marion Gaborik.  Thus, it was 3 – 1 after two, and the Shark fans were uncharacteristically booing the home squad, who were unable to defeat Columbus pressure, and were frankly made to look a bit silly at times, as Columbus was able to maintain possession in the offensive zone for protracted periods, even while changing lines.
These are the San Jose Sharks, however, and you had to suspect that things would be different in the third.  They were.  While the Blue Jackets did not come out flat, nor did they lack for effort, they simply did not have that "edge" they maintained for the first two periods, and simple mistakes became big problems.  Jack Johnson was caught flat-footed at his own blue line, and Desjardins took advantage of the ensuing chaos to again narrow the gap to one.  At the 13:36 mark, Jack Johnson took an interference penalty — another instance of the club's  recent trend of taking late penalties.  Just as it appeared the Blue Jackets were well on their way to a successful penalty kill, a perfect feed to a driving Joe Pavelski resulted in the tying score with just 5:03 left in the contest.
While the Shark fans smelled blood in the water, and the more squeamish of the Columbus contingent were mentally calculating the impact of a single point on the playoff hopes, the squad itself once again displayed that uncanny ability to disregard adversity and take advantage of opportunities when presented.  This time, R.J. Umberger and Ryan Johansen combined to force a turnover at the Sharks' blue line, and Johansen zipped a wicked wrist shot past Niemi for the game winner.  Observe:
Thus, the Blue Jackets extended their record to 4-1-0 on the current road trip, extended their lead over idle Detroit and Dallas for the eighth slot in the West, and are tied in points with Minnesota for seventh, though the Wild have a game in hand.   Still, to have successfully navigated this significant hurdle was no mean feat, and certainly did a lot to advance the playoff cause.  However, perhaps more impressive was the fact that the Blue Jackets were missing some key pieces in notching this victory.  Matt Calvert was out after suffering a broken finger against Los Angeles.  Nikita Nikitin missed the contest due to nagging injuries, and Artem Anisimov remained out, nursing his post-concussion symptoms.  Adrian Aucoin was held together with duct tape, but played a gutsy role.   But such is the way for the Blue Jackets, who constantly find another hero to step in and get the job done.  Entering the game, most figured that Sergei Bobrovsky would need to be stellar to get a victory.  Nope.  While Bob was very good, he was not spectacular, and yet the club found a way to win.
Small Numbers Loom Large
So, how has Columbus done it?  Lots of reasons come into it.  Todd Richards and his staff have done a terrific job of getting the club working on the same page, playing a simple but dynamic game, and being brutally responsible in all three zones.  Guys like Adrian Aucoin and Vinny Prospal have provided that veteran leadership that every club needs, and a host of newcomers have provided skill, tenacity and  — perhaps most significantly — none of the psychological burdens that have afflicted prior incarnations.
All of those intangibles, however, have to ultimately translate into numbers, and those numbers provide some interesting insights.  Offensively, the Blue Jackets sit far down the list at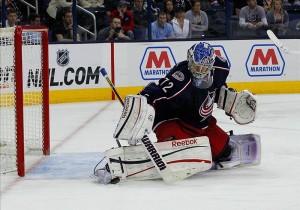 26th in the NHL, with a 2.37 goals per game average.  However, that same average has been 2.60 since April 1st, which would rank a far more respectable 16th.  That's near the top of all time Columbus goal scoring, which has never exceeded 2.68 goals in a season. Not coincidentally, that mark was set in the 2008-09 campaign — the only playoff appearance for the franchise.  On the flip side, the club ranks 11th in Goals Against Average, allowing just 2.46 goals per game.  Again, the timing here is interesting, as the Blue Jackets had a significantly worse 2.75 GAA for January and February.  Since March 1, the club has allowed a miserly 2.038 goals per game.  They've scored at a clip of 2.46 over the same time frame, providing one of the few instances of a positive differential in club history.  The closest defensive numbers came in 2007-08, Ken Hitchcock's first full year as coach, when the club allowed 2.56 goals per game.
Special teams factor into things as well.  The penalty kill has been outstanding, and currently sits at 83.0%, good for 11th in the NHL.  That helps offset the league worst power play, which converts at a mere 12.8% clip.  Ironically, the prior playoff appearance also came in spite of an anemic power play, which stood last in the league at 12.7%.   It's an interesting side note to observe that the current PK pace ranks tied for fourth in club history in terms of efficiency.  The club had penalty kill percentages of 83.0, 85.3 and 85.1 from 2001 through 2004.  However, those same numbers were only good for 22nd, 8th and 9th place NHL rankings at the time, a testament to the greater degree of manhandling that was permitted prior to Lockout I.
The comparisons to the 2008-09 playoff season are inevitable, and are particularly attractive due to the pre-eminent role of the goaltender in each season.  Rookie Steve Mason earned the Calder Trophy for his performance in 08-09, and Bobrovsky is widely considered to be a serious contender for the Vezina Trophy this year.  So how do they compare?   Adjusting for games played, as Bobrovsky necessarily has had fewer chances, due to the abridged season, the numbers are eye-opening. Teams playing in front of Mason earned at least a point in 65.5% of those games.  This season, the Blue Jackets have notched at least a point in 71.4% of the games Bobrovsky has played.  Mason has the edge over Bob in shutouts, earning those at a .163 clip, while Bobrovsky has a shutout rate of .114.  However, Sergei has significant edges in both save percentage (.930 vs .916) and GAA (2.06 vs. 2.29).
The picture that emerges from this tale of the tape is one of a club dominated by defensive responsibility, but developing offensive prowess at an increasing rate.  Of course, numbers cannot adequately express the intangibles of effort and resiliency, for which this club has carved a niche all its own.
Nail Biting Time
The final week of the regular season is upon us, and the West is typically a quagmire.  While Columbus could theoretically finish as high as fifth, the mathematical permutations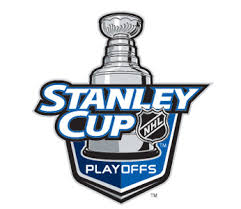 required for that to happen are beyond the length limits for this piece.  At 51 points with two games remaining, the club holds a three-point lead over both Detroit and Dallas, and a five point lead over Phoenix.  Phoenix and Detroit have four games remaining, while Dallas has three.  Minnesota, also with 51 points, but with three games left, holds down the seventh slot, but is in peril of falling completely out of the picture.
If Detroit wins all of their remaining games, they will earn a playoff spot with 56 points.  Period.  However, with Phoenix, Los Angeles, Nashville and Dallas on the schedule, that is not a foregone conclusion.  Phoenix faces Detroit, San Jose, Colorado and Anaheim, and has to be nearly perfect to be a factor.  Dallas similarly has an arduous task, with San Jose, Columbus and Detroit on the docket.  Minnesota faces Los Angeles, Edmonton and Colorado, none of which promises to be easy.
It is a fool's errand to try to predict all of the ramifications of various results.  Suffice it to say that the Blue Jackets have placed themselves in just about the best position possible heading into the home stretch.  If they win out in regulation, with 55 points and 19 non-shootout wins, Phoenix and Dallas are automatically toast, as they max out at 54 points.  Sure Detroit could win out and Minnesota could win 2 out of 3 or better and possibly deny Columbus a slot, but then San Jose could lose its final three, the CBJ could win out and San Jose would be out on the first tiebreaker.
Obviously, this is quickly deteriorating into silliness. However, the real point is that the Columbus hockey community is in a position at this point in the season that few who were sane or sober had any right to expect at the beginning of the year.  That in itself is a cause for celebration, and if the club can muster two more efforts like the one last night in San Jose, we'll more than likely be attending games in May for the first time in franchise history.  Good stuff.