The pandemic is impacting many things beyond the scope of the hockey world. Imagine being a business that depends on the hockey season in this current environment.
In Columbus, the famous R-Bar Arena along with several businesses around Nationwide Arena are feeling the effects of not having the Blue Jackets playing games. With no games come no fans. With no fans come a sharp downtick in business. The cumulative effect is leading to questions about how they can even stay in operation.
Cam Atkinson: A Community Giant
Enter Blue Jackets' forward Cam Atkinson. He is already known as a community champion for everything he's done in Columbus. He's back at it again helping out these local businesses.
Atkinson joined our live show The Hockey Writers Live on Wednesday night to discuss what all he's doing to help the community as well as how he's preparing for the upcoming season. You can watch the full interview below.
What Atkinson is doing now and has been doing in Columbus deserves a lot more attention than it's getting. From helping to raise funds for local businesses to making an impact in the healthcare industry, Atkinson has made it his life's mission to give back to the city that helped him land a successful NHL career. But that's not nearly all.
Atkinson's work with First Responders through the Force Network Fund is well documented. But now he's doing multiple things in a time where we could all use some good news and hope. Let's revisit his Virtual 5K that took place in June.
Virtual 5K Impact
"We weren't looking for record numbers," Atkinson said of the 5K. "We just wanted you to feel like you accomplished something and knowing that all that money, 100% was going toward a rapid-Covid machine that is being used in Riverside hospital."
Within the last few days, Atkinson received some data about the machine he and those that participated in the 5K helped to fund.
Since day one, they are able to test between 50 and 150 people daily.
To date since the machine was put in place, they have run approximately 20,250 tests.
The cost for each test including the necessary reagents and supplies is $51.00.
Test results are available within 15 minutes.
Results are 95-99% accurate.
The machine has gone a long way to help keep both the front-line workers and patients safe.
Cameo With Cam
Another thing Atkinson is doing is making himself available on the app Cameo. In case you aren't familiar with this app, it is a way for fans to connect with celebrities. Atkinson is using this opportunity to help local businesses.
For $74.99, fans can request Atkinson. He will interact with you and you can get to know him on a more personal level. Whether it's just a conversation or a shoutout, Atkinson will make it work. Like the virtual 5K, 100% of funds raised stay local and will help businesses in this tough time. In the last week, Atkinson said they've raised around $3,500 through this.
If you want to have a Cameo with Cam, you will need to download the app Cameo. Then once you create a log in, you can search for Atkinson. Then from his home page, you can follow the links.
CA13 Apparel
Atkinson has a line of apparel from shirts to hats and more that help combine all the work he is doing including with the Force Network Fund. Like his other work, 100% of funds raised stay in Columbus and help local businesses and restaurants.
You can visit the site camatkinson13.com to see what all they have available. Notice the star has CA13 included in the design.
As you can see, Atkinson is a true community champion especially at a time where we could all use good news. And as Atkinson said during our interview, the plan is for his family to make Columbus their permanent home well after his NHL career is over. When his career does end, he will be remembered as one of the greatest Blue Jackets ever both on and off the ice.
Quick Hits
We also talked about preparing for an upcoming season. Here are a few interesting things that came up during the interview.
As for talk of an upcoming season, Atkinson is just like us. He admitted not hearing anything in about a week. We are all eagerly waiting for any substantial update.
Nationwide Arena opened for the players only about a month ago. Before that, Atkinson was using the Battery Hockey Academy to skate and do his workouts.
Atkinson has been skating 3-4 times a week while waiting for word on the season.
Atkinson says "a little less than half" of the team is back in town. Elvis Merzlikins and Zach Werenski each just joined the team in Columbus. Some others included in the group are Nick Foligno, Riley Nash, Oliver Bjorkstrand, Mikhail Grigorenko, David Savard, and Liam Foudy.
Atkinson said he went home for a week after the playoffs ended, but then came back and started training.
Related: Cam Atkinson Knows His Time is Now
On Atkinson's ankle injury, he says it still bothers him. But it doesn't affect him on the ice when skating. He admitted the pause definitely helped him as he would not have been ready in a regular scenario.
On Max Domi, Atkinson says he's looking forward to playing with someone who has that fire and edge who can help "bring him into the fight."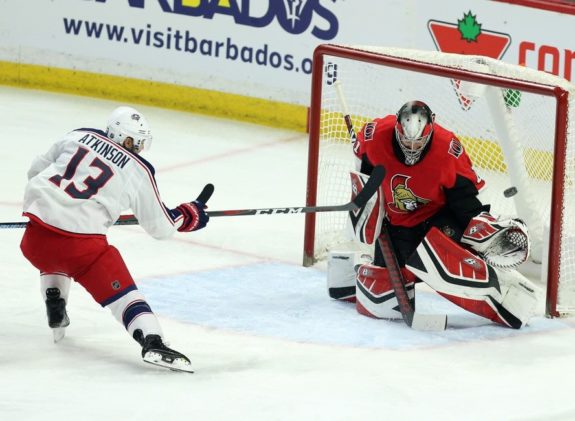 Links to Atkinson's Work
We thank Atkinson for his time in talking with us. Here are links to the various things he is involved with.
---
---