We have plenty to catch you up on in this edition of Blue Jackets' News & Notes. We have a new injury to discuss, an NHL debut on the horizon and then some good news on other players.
Laine's Latest Injury
Patrik Laine practiced with the Blue Jackets on Thursday as expected. There didn't seem to be anything going on out of the ordinary when we left to meet with the team for media availablity.
Then suddenly on Friday morning, the morning skate began without Laine on the ice. The Blue Jackets then shared an update on him just before 10:30 A.M. eastern.
According to head coach Brad Larsen, Laine suffered the injury during the last drill of practice while taking a shot. If that doesn't summarize the Blue Jackets' season, I'm not sure what will.
Laine recently began to play center at his request. He even got the chance to play as the top-line center next to Johnny Gaudreau and Kirill Marchenko. He was in line to play center Friday night against the New York Islanders. As a result, the lines got mixed up at the morning skate. Here's how they skated.
Johnny Gaudreau – Boone Jenner – Kirill Marchenko
Kent Johnson – Jack Roslovic – Liam Foudy
Eric Robinson – Sean Kuraly – Mathieu Olivier
Lane Pederson – Hunter McKown – Emil Bemstrom
Adam Boqvist – Eric Gudbranson
Tim Berni – Andrew Peeke
Gavin Bayreuther – Nick Blankenburg
Michael Hutchinson starts in net.
Larsen spoke about Laine's performance in the two games before the injury. Despite being away from the team due to a death in the family, Larsen was able to watch the games. He liked a lot of what he saw.
"I did watch it and you know, there was some real good things in there for him," Larsen said. "And again, it's way too small a sample size at two games. I was really looking forward to having this stretch, especially the teams we're playing."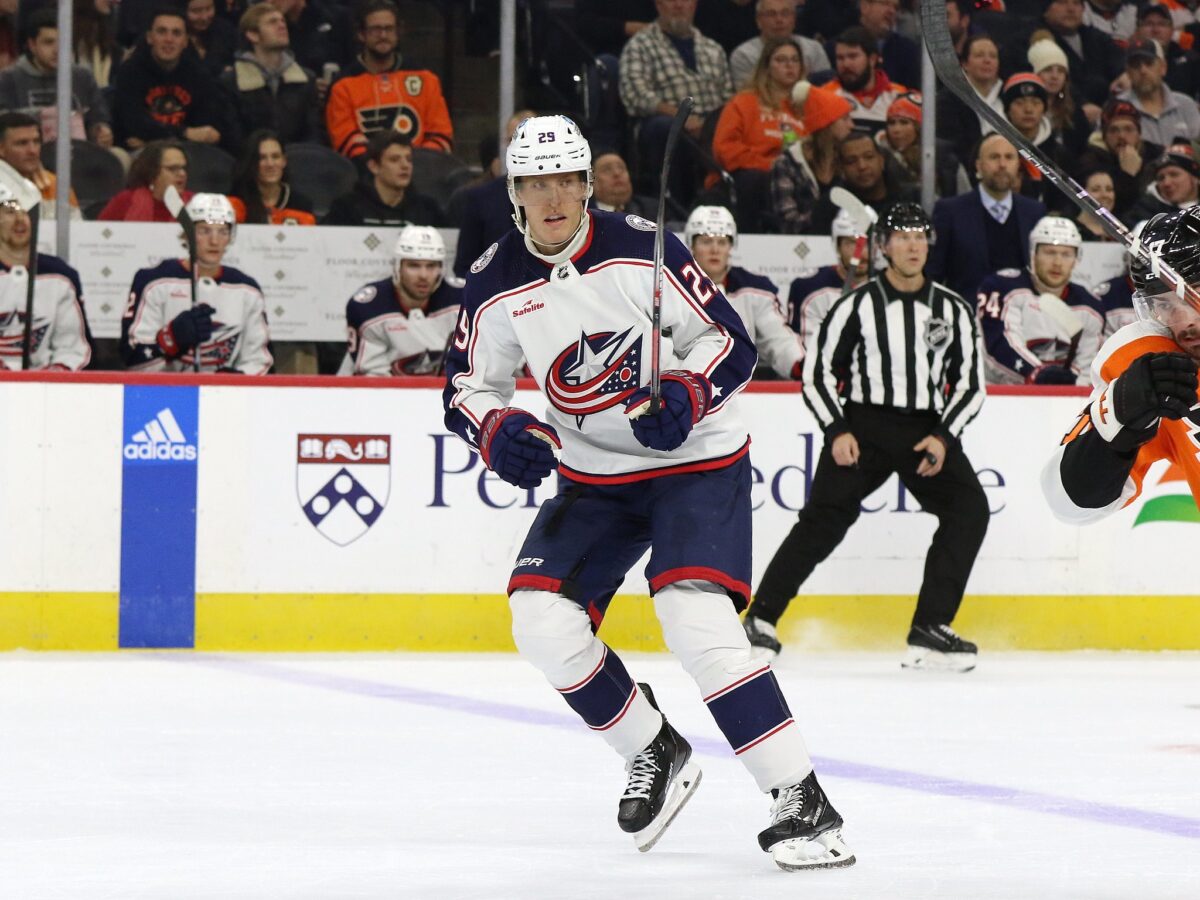 With the 2-4 week timeframe, it's possible Laine's season could be over. It will depend on his recovery with just three weeks left in the regular season.
McKown's NHL Debut
The Blue Jackets were able to land one of the best college free agents available in Colorado College's Hunter McKown. Although he went undrafted, he took it upon himself this season to improve to put himself in the conversation. According to him, confidence was the biggest improvement for him this season.
---
Latest News & Highlights
---
McKown had many suitors interested in his services. But he chose the Blue Jackets. For him, it just felt like the right place to be.
"The bottom line is it just felt like the right fit for me," McKown said. "I really liked my talks with the team and obviously the city of Columbus is a great spot to be. It was really a feeling thing. I really bonded well with the organization and I'm excited to be here."
You Might Also Like
The Blue Jackets had multiple scouts watch McKown's games throughout the year. Basil McRae was among the group in that process. They came away impressed with what he was able to do.
"They watched me a couple times throughout the year and they were excited about my abilities. They felt I could come right in right away and make an impact and long term be somebody that really thrives in Columbus."
As for what you can expect to see on the ice, McKown says he wants to be a power forward. With his 6-foot-1 frame and over 200 pounds, he can use his size and skating to his advantage in the NHL.
"I think I want to come in here and try and be a power forward. Use that size and skating ability that I have and hopefully contribute offensively a bit. I'm trying to be a good defensive forward off the start here and earn the trust of my teammates and coaches that way."
With Laine out, McKown will make his NHL debut Friday night against the Islanders and should see some power-play time according to Larsen. His parents are expected to be in attendance to watch him play.
Side Dishes
Cole Sillinger was assigned to the AHL on Thursday by the Blue Jackets. It was an expected move eventually. The team approached him about it and everyone was on the same page about what they hoped would happen. Thanks to Covid, Sillinger has never played in a postseason before. This gives him an opportunity to play meaningful games while helping the Monsters get into the playoffs. It's the same path Zach Werenski took before joining the Blue Jackets. This should help him and get some of his confidence back.
Let's talk good injury news. Sean Kuraly is back ahead of schedule. According to him, the prognosis was worse than what it was. He was expected to miss six weeks but will be back in three. There was no magic formula to a speedy recovery. Okay maybe except for the water in the Olentangy River (I'm kidding, maybe.)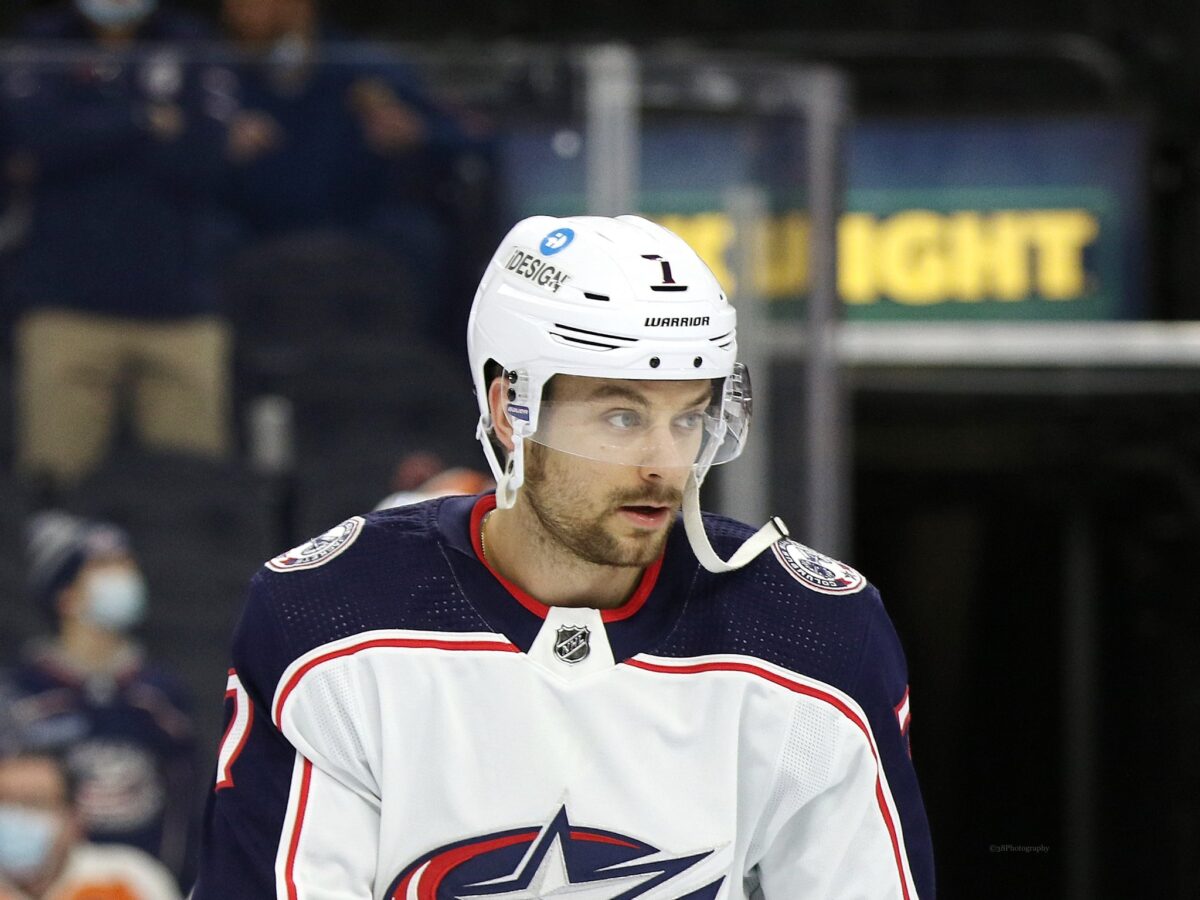 Justin Danforth took part in the full morning skate. He is aiming to be back before the end of the regular season. He seems well on his way to that goal.
Jake Bean also skated today before the morning skate along with Zach Werenski. Bean had been skating for a while but is now starting to ramp it up. He did drills and took some shots while out there.
Larsen wouldn't commit to a goalie Saturday night in Montreal, but did admit Elvis Merzlikins could get that start. This will depend on how Friday night goes. "The plan would be hopefully tomorrow night here. We'll just see."