At the start of the 2013-14 campaign, I wrote a Blue Jackets wish list for the season. As we near the holidays, I feel it is a good time to revisit this wish list, and take a look at where we stand for the remainder of the season, as well as add a couple new items for Blue Jackets fans out there. Let's start off with the original list and a status update, shall we?
Wish 1: Keep Bob Going
First on the Blue Jackets wish list from earlier this season was that Sergei Bobrovsky maintain his momentum from last year, when he won the Vezina trophy. This was only going to be done with a strong defensive corps on paper, which we thought would be no problem. As it turns out, the defensive corps has had a few lapses, but overall Bob was playing very well.
That is, until this move and gorgeous save against the Tampa Bay Lightning on December 3rd.
Before his injury, Bob was playing a smidge below his torrid pace that won him the 2013 Vezina Trophy: 2.71 GAA versus 2.00 last season and a save percentage of .909 against his .932 number last year. With a record of 10-11-2, Bob hasn't yet hit his stride in the 2013-14 campaign. Last year, remember that the Jackets caught fire for the last 20 games of the season and this is where Bob's stats really improved.
According to the team, Bob will likely miss 4-5 weeks with this groin injury and Curtis McElhinney is expected… Wait a minute… Mike McKenna is expected to fill in. This actually brings us to our next point on the original Blue Jackets wish list.
Wish 2: Avoid the Injury Bug
This season, we we asked for continued health for the team and a quick recovery for Nathan Horton. This is a bit of a good news, bad news situation. But lean heavily on the bad news.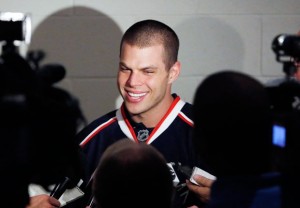 On one front, Horton has been practicing with the team for a few weeks already. With his original timeline expected to be a "mid-December" return, Horton may suit up for his first game as a Blue Jacket at any moment. Everyone is on the edge of their seats awaiting his debut. Horton has missed 31 games, but this was expected coming in to the season. The rest of the injuries sustained, however, have had a significant impact on the team.
Now for the bad news: Columbus is 5th in the league in "man-games missed" with 119 games missed due to injury through December 12th (behind Anaheim (175), Edmonton (162), Carolina (158) and Pittsburgh (146)). Not exactly the picture of health I wished for at the start of the season.
Let's start with Bobrovsky, who went down on December 3rd. He is scheduled to be out 4-5 weeks and Curtis McElhinney then assumed the #1 goalie spot. McElhinney then played every minute in net while Bob was out, and went an impressive 3-1 and allowed just 7 goals in those 4+ games (including the 2 periods he played on 12/3 in relief of Bob). McKenna will now get the majority of minutes while McElhinney gets the "day-to-day" tag for a while. McElhinney isn't expected to be placed on IR, but Jeremy Smith has been recalled from Springfield for emergency duty.
Other notables that have missed time:
James Wisniewski is out for about another week with a back injury sustained in the 12/6 win over Minnesota
Marian Gaborik has been out since mid-November and has now missed 14 games
Jared Boll is out with a bruised foot – another "day-to-day" guy that is on Injured Reserve
Brandon Dubinsky missed 6 games with a foot injury, and has been back since 12/2
Derek MacKenzie missed 5 games with a strained back
There is hope on the horizon, however. In fact, as I sat down to write, news broke that Gaborik is expecting to return to the lineup this week, after being out since November 17th with a knee sprain.
Wish 3: Develop Talent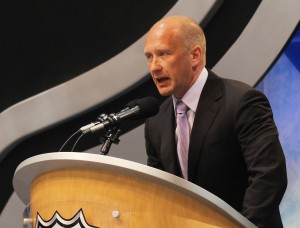 In October, we asked that John Davidson and Jarmo Kekalainen need to continue to develop that young talent pool and start by getting Ryan Murray on the ice.
While Boone Jenner is still a work in progress and is muddling on the 3rd and 4th lines, Ryan Murray is averaging 19:42 in ice time so far this year, and has been earning praise around the league for his consistent play. Playing with James Wisniewski on the top defensive pairing and also the power play, Murray may get some consideration for the Calder Trophy. I don't expect him to be in the running to win it with guys like the Sharks' Thomas Hertl and others playing out of their minds, but he has been rock solid on defense.
The thing that I haven't been impressed with is the call ups from the AHL club. For the 2013 strike-shortened season, every player called up made significant contributions. This year, we haven't been seeing such contributions. Jack Skille has arguably been the best call-up, but has just 2 goals in 7 games, and has been recalled to Springfield. To keep the "super duo" tag, John and Jarmo may need to make a few splashes at the trade deadline, and get additional help from Springfield.
Wish 4: Develop a Power Play
This was my letter to the coach at the start of the season:
Dear Todd Richards,
Please develop a power play.
XOXO,
Blue Jackets Fans
Through 15 games, the Jackets were the 18th best power play unit. Over the last 17 games, however, they have improved the power play and are now 9th in the league, functioning at 19.8%. I'll give them a B+ grade for now, as a top-10 power play unit in the NHL is something to be proud of. Improvement is the key on the power play, and if the Jackets can get to the 21-22% range, I'd improve my grade to an A for the power play.
Wish 5: Honorably Discharged
Unfortunately, Rick Nash didn't make the trip to Columbus on November 7th, as he was recovering from a concussion. Just this week, the Blue Jackets traveled to New York and took 2 very important points from the Rangers in a 4-2 win over their divisional foe. We'll have to look ahead to March 21st for Nash's return and hope that Columbus does as well with their tribute as the Flames did with Jarome Iginla's return to Calgary.
Christmas Wish List: New additions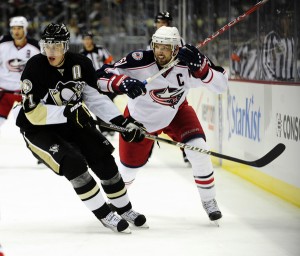 With the holiday season upon us, here are a couple quick additions to the 2013-14 wish list.
Beat the Penguins. Just once. The Jackets are 0-3-0 this year against Pittsburgh, with 2 more matchups coming in Columbus on December 29th and March 28th.
Be consistent. The November "Canadian swing" was some of the most inconsistent hockey I may have ever seen. After a 3-2 shootout loss at home to Montreal, the Jackets won at Ottawa 4-1, lost in Edmonton 7-0, won in Calgary 2-1 (OT), lost 6-2 in Vancover and then crushed Toronto 6-0. They finished the stretch with a 4-0 thrashing of Nashville and solid 4-2 win over Edmonton, both at home.
The games averaged nearly a 4-goal differential, and one team was out of it in every game but the OT win at Calgary. The effort was extremely inconsistent and the Jackets have to learn to overcome an early defecits and play better from behind if they want to make the playoffs. The routs have to stop.
As it stands, the Jackets just came off of a streak where they won 4 out of 5 games, including wins over their division rivals the New Jersey Devils (5-4) and the aforementioned win over Rick Nash and the Rangers. The upcoming schedule includes 7 of the next 10 games on the road, and the Jackets are just 3 points out of the 3rd playoff spot available to Metropolitan division teams (Carolina) and 5 points out of the final Wild Card position. My final wish for the season (a playoff berth) is within reach and a strong finish to the first half of the year will be critical to their playoff chances.