The St. Louis Blues used their first pick of the draft on a forward, one that could fit into the system in the future.
Jake Neighbours, Left Wing (Pick No. 26) (6-foot-0, 195 lbs.)
CS Ranking (NA): 26 / Larry Fisher (THW) Ranking: 51
With their first pick in the draft, the Blues made their first choice, winger Jake Neighbours from the Edmonton Oil Kings of the WHL. GM Doug Armstrong says that they "coveted" Neighbours in the first round, so they took him here rather than trading up or down for him or another player they liked.
Overview: What He Does Well
Neighbours has been described as "a power forward with skill," and says he models his game after Calgary Flames' star Matthew Tkachuk. That could excite Blues fans, as many have wanted Tkachuk in St. Louis since he arrived in the NHL. Now, they've drafted a player who plays like him.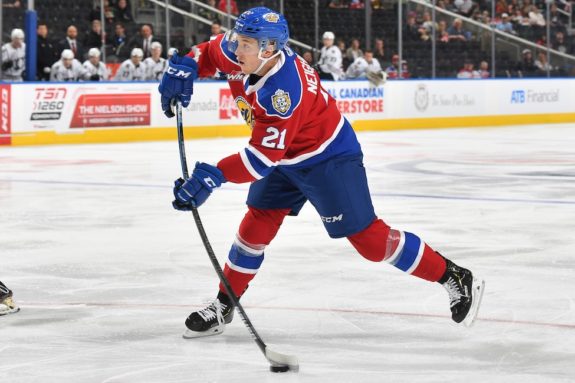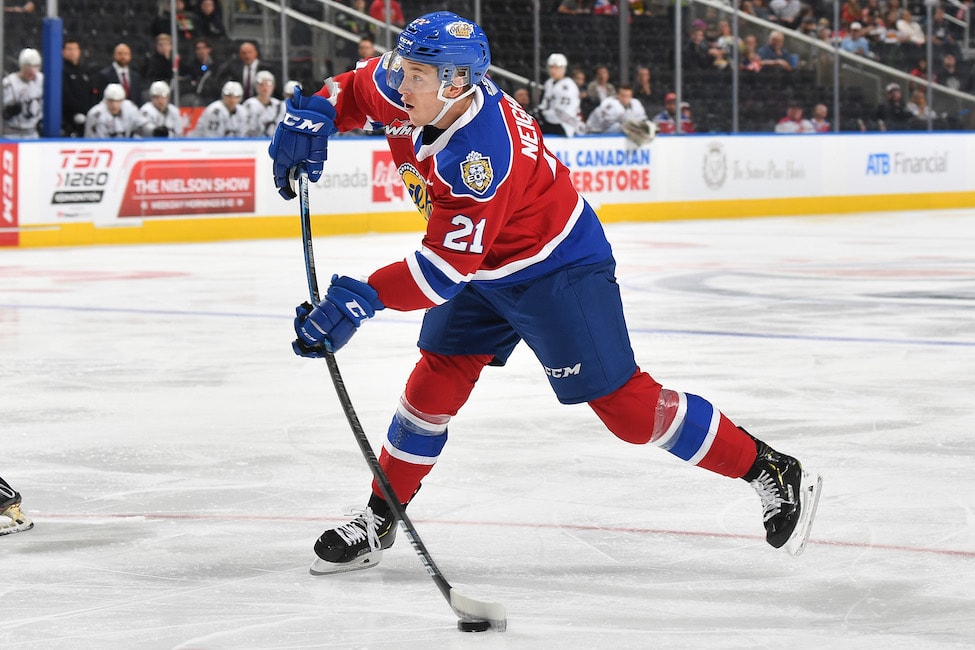 Neighbours has developed his game well in three seasons with the Oil Kings. He had 11 goals and 13 assists in 47 games in 2018-19 and only got better from there. He tallied 23 goals and 47 assists for 70 points in 64 games, which was over a point-per-game for 2019-20.
The best part of his game is the edge he plays with, combined with the skill that he brings to the table.
Overview: What He Needs to Work On
There are a few parts to his game that he needs to work on to be able to reach the NHL level.
The first thing he needs to improve would be his overall skating. You hear that with a lot of draft prospects, but it would be a good thing for him to work on his skating. As of now, he gets where he needs to be at the junior level, but it needs to reach a whole new level in the pros.
Next up would be getting better defensively. He already plays a solid enough two-way game at the junior level, but once again, it has to get better when you take the next step.
Overall, skating and defense are the two things he needs to work on to get to the next level. Those are general things for players that get drafted, especially after the first few players are off the board. If he develops well, he should find himself on the NHL club eventually.
Scout and Draft Analyst Thoughts
Here are some quotes from scouts and draft evaluators from various sources:
Tony Ferrari, Dobber Prospects: "Neighbours' is a deceptively fast player who likes to get in on the forecheck. He plays with an edge and knows how to operate in any role offensively."
The Hockey Writers' Josh Bell: "He has the skill to be a top-six guy and the strength and physicality to play anywhere in the lineup. He's a player that could one day be used up and down the roster." "Neighbours plays a 200-foot game and has a gritty, nasty side to him. He has a quick first step and he is quick to get in on the forecheck and he loves to play with physicality."
Chris Peters, ESPN: "Neighbours is a sturdy player who is tough to take off the puck. His skating stride is a bit clunky, but he gets where he needs to be, delivers body checks and makes things more difficult on opposing players in all zones."
Overall Upside
As far as his upside is concerned, as the quotes above say, he has the skill to be a top-six forward. He projects as a middle-six forward, likely to play on the second or third lines.
I believe that when Neighbours is NHL-ready, the Blues would be likely to start him on a bottom-six line, and he can move up from there.
He isn't the star prospect like Tkachuk was with the Flames — he models his game after him — but that doesn't mean he will be the exact same player with the same career path.
I think that Neighbours' earliest chance to play with the Blues would be 2021-22, and that is if the Blues lose some depth at forward. He should be in the lineup by 2022-23 without a doubt.
Some look at him as a big-game performer and could be key in the playoffs in his career. It's possible that the Blues see that and plug him into the lineup in the playoffs in a few years, and that is how his career starts.
He had 12 points in 16 playoff games with the Oil Kings in 2019. But don't be surprised if it takes him a few years to have a chance to crack the roster for the Blues.
---
---