With the 26th Pick in the 2020 NHL Entry Draft, the St. Louis Blues Have Selected Jake Neighbours From the Edmonton Oil Kings of the Western Hockey League
About Jake Neighbours
While it was unknown whether or not Jake Neighbours would be selected in the first round, the St. Louis Blues added a solid forward to their organization.
The 5-foot-11, 201-pound left winger plays an old-style type of game. He loves to use his body to gain positioning and is not afraid to hit. He will need a few years to develop but could make some noise when he finally makes it to the league.
THW Prospect Profile Excerpt
"Two years ago, Jake Neighbours was one of the hottest prospects in the WHL. He had improved drastically since the Edmonton Oil Kings had taken him fourth overall in the 2017 Bantam Draft and seemed likely to claim the Rookie of the Year the following season. His play style combined high offensive abilities and relentless physicality, making him a dangerous competitive forward all over the ice. Those skills made him a big target for the 2020 NHL Draft, as well, and scouts eagerly anticipated how he would handle the junior ranks.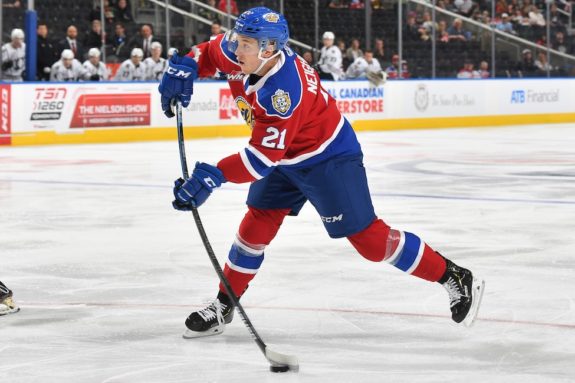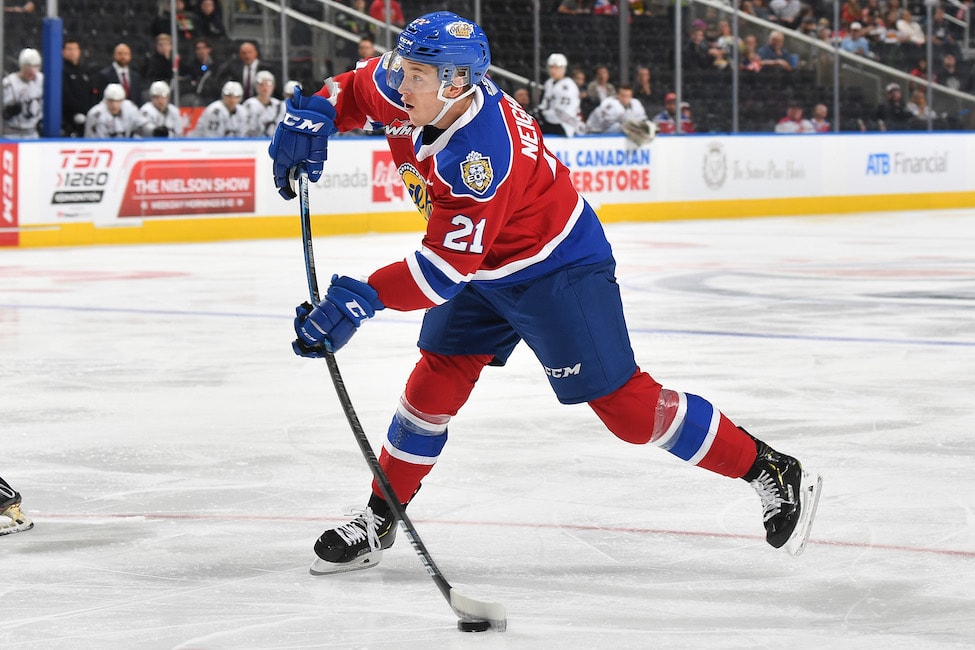 While Neighbours may not be among the top prospects of 2020, he is far from a disappointment. His physicality is one of the most developed parts of his game. Despite his smaller 5-foot-11 frame, he has a bullish presence on the ice, throwing big hits and often choosing to go through opponents instead of around them. His strength makes him a puck-possession master, often taking two or three guys to knock him off the puck, and making him especially dangerous right in front of the net. He also is not afraid to get into the corners and battle for the puck, which he wins more often than not.
Neighbours' blend of physicality and scoring prowess has some comparing him to Matthew Tkachuk. His offensive ceiling might not be as high, but his hockey IQ and vision are definitely assets that could help him achieve that level of success in the NHL. He is very smart when throwing hits and rarely takes bad penalties — he ended the 2019-20 season with just 39 minutes. Few players can get under opponents' skin like him, and he always will be in their faces, making him a valuable asset on any team he plays for."
How This Affects the Blues' Plans
With the addition of Neighbours to the mix, the Blues get another really solid prospect to add to their system. With really promising players such as Klim Kostin, Jordan Kyrou and Scott Perunovich, Neighbours is another name added to the pipeline.
Related: THW 2020 Draft Guide
During Sportsnet's coverage of the NHL Draft, Brian Burke said that Neighbours plays an old-style game. He loves to hit and is not afraid to go up against bigger opponents in the corners. Every team loves to get players with grit, and Blues fans should be excited to see Neighbours in the lineup in the future.
---
---