The Calgary Flames have signed Chris Tanev to a four-year deal worth $4. 5 million annually.
Flames Lose one D-Man, Add Another
The Flames, who lost long-time blue-liner and top-four mainstay T.J. Brodie to the Toronto Maple Leafs, replaced him within hours Friday night with the comparable-in-quality Tanev.
Tanev, 30, is known as a strong and stingy two-way defenceman who relies on sound positioning to limit his opponents' scoring chances. He's also known as a dedicated player with a warrior's heart who will jump in front of any shot, any time. Like Brodie did for a decade with the Flames, Tanev plays the right side.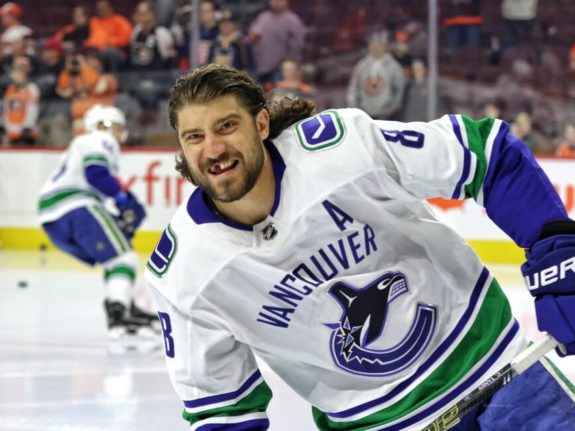 Originally signed as an undrafted free agent by the Vancouver Canucks in 2010, the Toronto-born Tanev has spent his entire 10-year, 514-game NHL career with the squad, recording 22 goals, 98 assists, 1050 blocked shots, 201 hits, and an average ice time of 19:44.
In 2019-20, he recoded two goals and 18 assists for 20 points — tied for his best points production ever — and registered one goal and six assists during the Canucks' surprising playoff run this summer.
Signing Tanev Long-Term Comes with Risk
However, the addition isn't without risk for Flames' GM Brad Treliving. Some pundits have pointed out that Tanev is on the decline and is not the elite defensive defenseman he once was. His Corsi, Fenwick, and expected goals for and goals against numbers, for example, have all declined in recent seasons.
Tanev has also struggled with injuries throughout his career, suiting up for only 53, 42, 55, and 69 games over the past four seasons respectively.
Despite these issues, expect Tanev — as long as he can stay healthy — to be a Flames' top-four fixture for 2020-21 and beyond.
The Canucks, meanwhile, will have to either swing a trade or look internally to replace the former alternate captain.
---
---