The St. Louis Blues' 2022-23 season was a shocking disappointment for fans and management alike, leading to the team becoming sellers at the trade deadline and ultimately finishing in a draft lottery position outside the playoffs. So who bears the blames for the team's failings? And who succeeded despite the team's struggles? That's what we'll look to identify in our 2022-23 Blues' Report Cards series.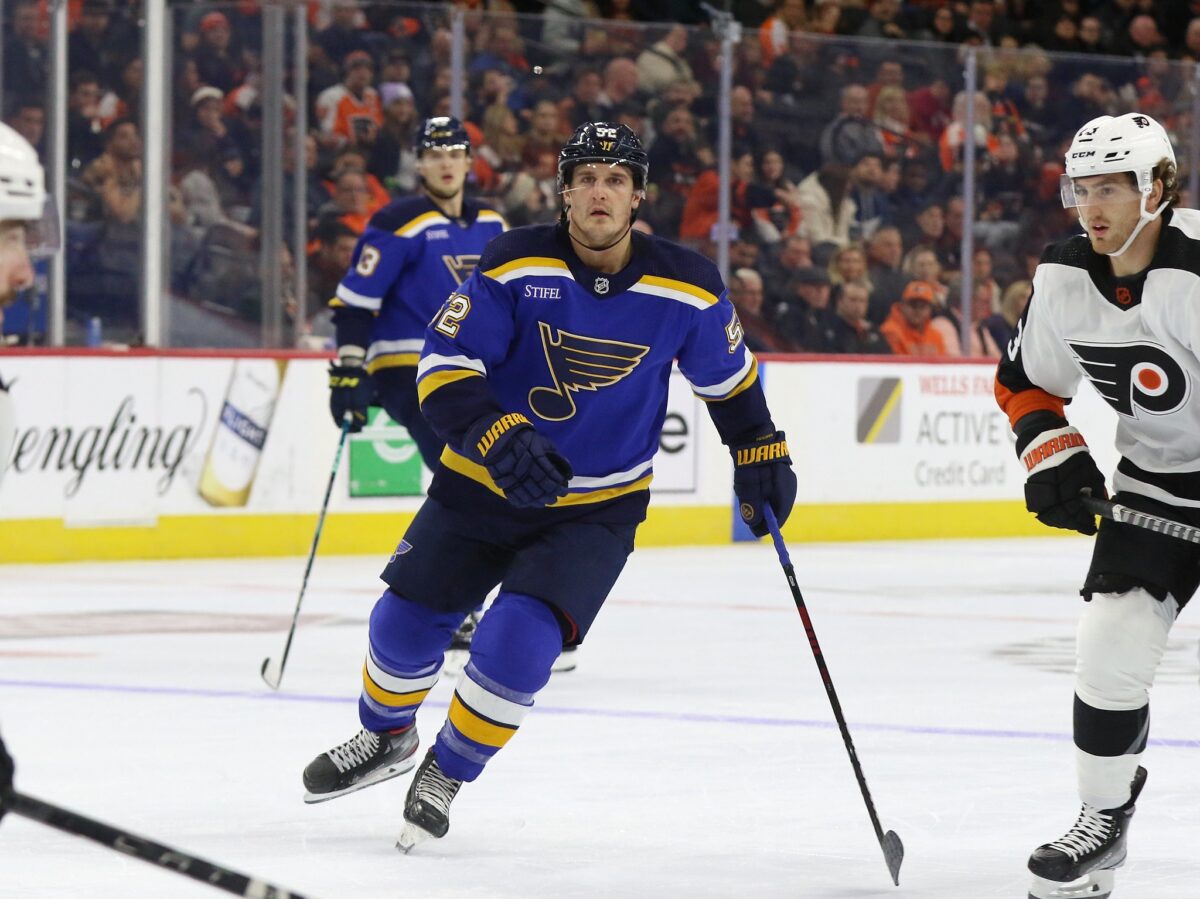 It's another report card for a traded player. Noel Acciari signed a one-year deal with the Blues before the 2022-23 season. He was traded to the Toronto Maple Leafs with Ryan O'Reilly in February. The expectations weren't high going into the season for him. He was a depth signing. Let's get into how the season unfolded for him.
What Went Right: Versatility in the Lineup
The Blues used Acciari in several ways. He moved all over the lineup as the team struggled, but he excelled in multiple roles. He played both center and wing for the Blues. He's the perfect example of the type of versatile forward that every NHL team needs. That's why his style works in every type of game, including the playoffs.
Related: Blues 2022-23 Report Cards: Brayden Schenn
---
Latest News & Highlights
---
In 54 games before the trade, Acciari tallied 10 goals and eight assists for 18 points. There was no consistency in linemates for him either, which makes these numbers more impressive given the average time on ice that he played. He got over two more minutes of average ice time (14:35) than he had in 2021-22 with the Florida Panthers. He played a career-high total of 77 games, his most since 72 games with the Boston Bruins in 2018-19. It was a terrific, but limited run for Acciari with the Blues.
What Went Wrong: Blues Trading Him
This was about the Blues having to trade him. The trade was a good move for Acciari, as he and the Maple Leafs are in the second round. He's played a big role for the Maple Leafs as well. He had had two goals in their six-game series against the Tampa Bay Lightning. He has 61 career playoff games under his belt, so it made sense for the Blues to add him to the O'Reilly deal.
I think the Blues could add him back in the summer. However, their main free-agent target should be a true middle-six center, such as O'Reilly or J.T. Compher. Acciari is more of a bottom-six versatile forward, and I think the Blues need to stay in-house with those roles next season. Either way, he played well in his limited time with the team, and having to trade him was an unfortunate reality of the 2022-23 season in St. Louis.
Key Stats
23 points (second-most in career)
Career best 53.8 percent in the faceoff circle
244 hits in 77 games
23 takeaways to six giveaways with Blues
Final Grade: B+
His overall offensive output wasn't enough for me to give him the same grade that I gave Sammy Blais. He was good overall though. It's not like the Blues expected offense out of him, but I'm giving him a grade worse than Blais out of principle. I liked what Acciari did for the Blues.
What's Next for Acciari?
As mentioned earlier, free agency is up next for Acciari. I wouldn't be surprised to see the Maple Leafs bring him back on a friendly deal. He played well for them in the regular season and has contributed in the playoffs so far. He will receive plenty of interest throughout the NHL after his production went up in 2022-23. I will be interested to see where he is playing next season.