The 2023 NHL Entry Draft is seen as being one of the deepest in many years. Judging by the quality of play at the Under 18 World Junior Championships (WJC), as well as the 2022 and 2023 WJC, this draft class is not likely to disappoint. With names at the top of the class, such as Adam Fantilli, Leo Carlsson and Will Smith in a tier just behind Connor Bedard, gives a small hint of the sheer depth of high-end talent available to NHL general managers.
Related: 2023 NHL Draft Guide
The Quebec Major Junior Hockey League (QMJHL) has seen a decline in players selected in the first round, going from five in 2020 to four in 2021, two in 2022 and 2023 is expected to provide only one. With such a deep draft class, one NHL general manager told ESPN, "Sounds like you can even get first-round talent in the second round, too, and those picks may be stronger than first-round picks [in 2024].". With Russian and Belarusian players excluded from international events, many will slide down the draft board or fall out of the first round altogether, and this will open the door for players from the QMJHL to move up. With that in mind, we will break down the top ten QMJHL prospects heading into the 2023 NHL Entry Draft.
10. Quentin Miller, Goaltender, Quebec Remparts
Quentin Miller enters the draft as the highest ranked goaltender in the QMJHL, sitting ninth on the NHL Central Scouting list among North American goaltenders. The 6-foot-3, 18-year-old goaltender played the role of backup for the Quebec Ramparts this season, and his numbers were strong with a 14-4-0 record, a .911 save percentage and a 2.11 goals-against average. Miller plays an athletic style and displays a calm approach to the game with an ability to close off the bottom of the ice in his butterfly style.
Developing under experienced goaltending coach Pascal Lizotte, Miller improved over the course of his rookie QMJHL season. However, adding some expert pointers from Hockey Hall of Fame goaltender and Ramparts head coach Patrick Roy has helped him develop his approach and preparation. Miller would be a good candidate to be a late round selection for a team that needs a goaltender with a high upside, but will be a long-term project.
9. Luke Coughlin, Defense, Rimouski Oceanic
The 5-foot-10, 172-pound, left-handed defenseman is undersized by NHL standards. However, his style is based on transitional play and not physically punishing his opponents. His skating is good but not great, and he needs to improve in certain areas. He can change directions quickly and has a good top speed, but will need to improve on his first step so he can create some separation moving up ice. Also, he will need to refine his backward skating for better gap control. With the puck in his zone, he tends to dump it away. With some added composure, he would take advantage of the time and space his opponent gives him.
Offensively is where he is most comfortable, showing confidence with the puck on his stick and creating scoring opportunities regularly. Despite missing a significant part of the season recovering from surgery, his point total increased from last season in 18 games less (37) than last season. His seven points in nine playoff games should help his draft stock.
8. Jordan Tourigny, Defense, Shawinigan Cataractes
Jordan Tourigny, younger brother of Montreal Canadiens 2022 draft pick Miguel Tourigny, has an offensive style game as well. The 5-foot-11, 168-pound, right-handed defenseman played a top pairing role in all situations, finishing fifth in team scoring with 41 points.
His strength is puck retrieval and transitional play, using strong crossovers and good vision to pick up speed and make an accurate first pass. He is aggressive on defence, closing gaps quickly, but this approach tends to beat him wide by a forward with good speed. He defends well, thanks to his positioning and stick placement. Offensively, he has a good shot that he uses to create rebounds, is adept at walking the blueline, using movement to open passing lanes.
7. Matteo Mann, Defense, Chicoutimi Saguenéens
Matteo Mann is a massive 6-foot-5, 225-pound, right-handed defenseman. His frame alone will grab the attention of NHL scouts, but what will keep them watching is his mobility. He has a long and heavy stride that allows him to keep pace with anyone in the QMJHL.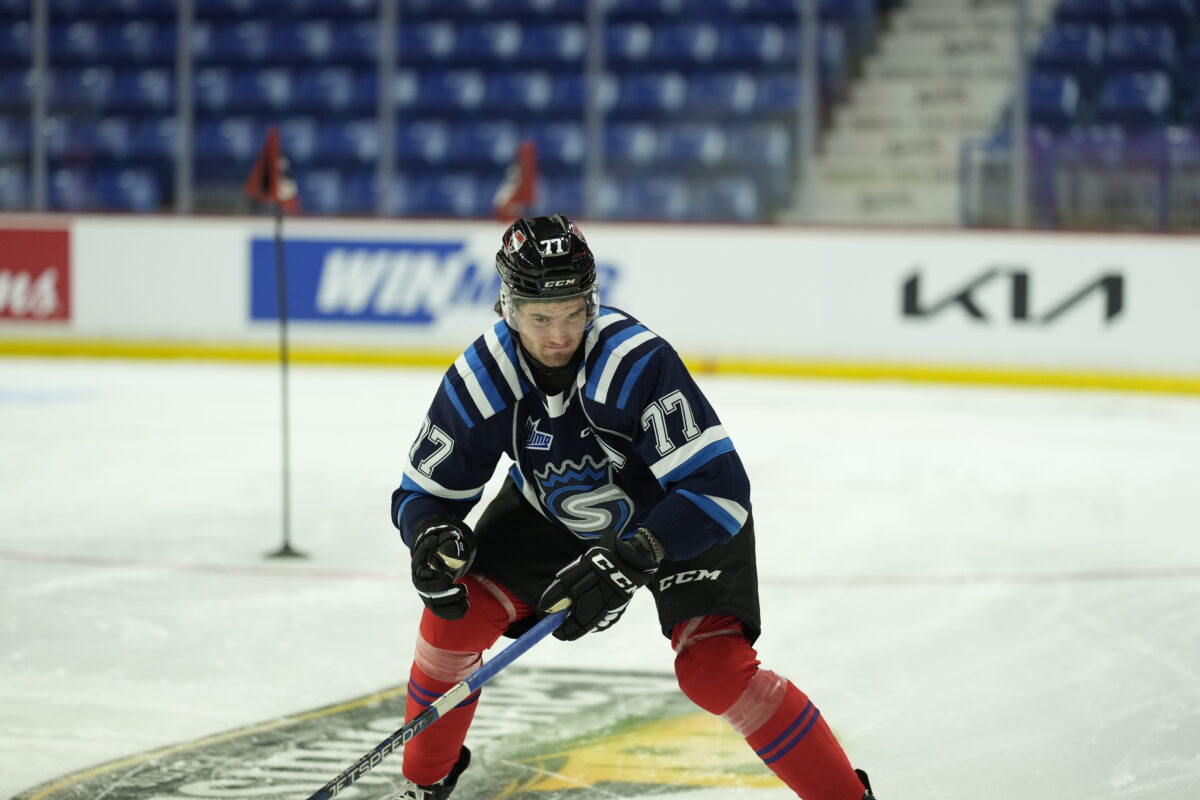 His ability to pivot quickly in all directions allows him to effectively control the gaps and defend the middle. His highly physical style punishes anyone attempting to get into the slot and provides him the tools that allow him to win most of the board battles. He is also very effective in clearing the zone with a quick pass. He won't produce much offence, but he could become a third-pairing NHL defender who can play effectively on the penalty kill.
6. Jan Sprynar, RW, Rimouski Oceanic
Jan Sprynar is an offence-first player who has a pro-level shot that he can release from anywhere but is very effective in close. He has the ability to find quiet areas on the ice, exploiting gaps in defensive coverage where he can use a very quick release for his powerful shot. This skill set makes him an excellent addition to any power play; however, he will need to work on his accuracy. That being said, he did have a productive first season in North America, scoring 23 goals and 40 points in 60 games.
Sprynar is not an elite skater but can be quite fast in a straight line, especially on the forecheck, where he uses his 6-foot-1 frame effectively. Defensively, he works hard but is sometimes out of position and needs to work on his ability to pressure the defenders at the blue line. His biggest issue is consistency, as he has a string of shifts where he controls the play, followed by long periods where he lacks the extra effort necessary. He fits the mould of a "high-risk/high-reward" prospect. If he makes it, he will be an offensive weapon in the top-nine, but there is a good chance he doesn't, making him likely to be selected in the fourth or fifth round.
5. Dylan MacKinnon, Defense, Halifax Mooseheads
Dylan MacKinnon is an excellent two-way defender. The 6-foot-2, 187-pound, right-handed defenseman is the perfect partner for a purely offensive defender. He relishes the physical aspect of the game, willing to give and receive hits to make a play and is highly effective along the boards or in front of the net. He is a very smooth skater with excellent edge control, making him a strong transitional player.
Offensively, he is poised with the puck, able to make a pass through traffic or carry the puck up ice into the offensive zone under control. His offensive game is still evolving, but his 23 points in 61 games was a massive leap forward from the two points he earned in his rookie season. His game projects well into the professional ranks as he keeps his approach simple, making the safest play to complete, making him a safe and effective player who can play in all situations.
4. Tyler Peddle, Center/Left-Wing, Drummondville Voltigeurs
The expectations placed on Tyler Peddle to perform in his draft season were not as high as his own. After an excellent start to the season that saw him added to the 2023 CHL Top Prospects game, his production took a significant dive, with only two points in the first six weeks of 2023. But he tried to play through a nagging injury.
Despite that, he finished third on the team in scoring with 41 points in 65 games. As a net-driving forward, he has the skill set that coaches love, and thanks to his solid skating and overall speed, paired with his aggressive puck pursuit, he is a strong forechecker. Because he played on a weaker team, Peddle was relied on to play a more two-way game, helping him improve his defensive coverage. The former QMJHL second-overall pick is a shoot-first player who plays with some grit and can handle the physical style of a checking forward. He will likely hear his name called in the third or fourth round and projects as a winger at the professional level.
3. Etienne Morin, Defense, Moncton Wildcats
Etienne Morin is a mobile, two-way player who excels in transition. Last season, he averaged just under 21 minutes per game for the Moncton Wildcats; this season, he was a workhorse in all situations, averaging just above 28 minutes. The 6-foot, 183-pound player is a two-way defender who manages his energy levels well, allowing for those heavy minutes. His smooth and efficient skating style accentuates his skills and allows for efficiency of effort, but he does have another gear when necessary. Defensively, he uses his mobility and stick positioning to keep a tight gap on attacking forwards and is able to angle them to the outside. In the defensive zone, he can play physically along the boards and uses his strong footwork to generate space.
---
Latest News & Highlights
---
Offensively, Morin is the main weapon for Moncton, generating most of their offence either in transition or on the power play, finishing tied for first in points on the team, with 21 goals and 71 points in 67 games. His performance in the playoffs, 17 points in 12 games, cements his role as the team's offensive quarterback. He has the potential to be a second-pairing defender whose mobility and first pass fit the mould of the modern NHL defender. However, he needs time to develop his game. Morin, who was a factor in the Kubota Top Prospects game, is a safe choice for any team that wants to add defensive depth to their prospect pool.
2. Mathieu Cataford, Left-Wing, Halifax Mooseheads
Mathieu Cataford entered his draft year after a strong rookie season with Halifax and finished as the Mooseheads' top playoff goal scorer with four goals in five games. In 2022-23, despite playing a middle-six role with minimal power-play time due to a veteran-laden top line, Cataford finished fourth in team scoring, with 31 goals and 75 points in 68 games.
As a strong straight-line skater who attacks the net, his style of game translates well to the professional level. His ability to keep his head up and scan the ice for openings also helps, as he is an effective passer and plays well at a high pace in small-area plays. He has quick hands at the net, with good one-touch finishing ability, and he has a hard and accurate shot to go along with his good passing skills. His intelligence and work ethic allow him to play an effective defensive game with aggressive puck pursuit to cut out space and time from the opposition. His ability to win faceoffs will make him an even more rounded player. His effective two-way play makes Cataford a potential middle-six winger who can add quality depth offence while making life hard on his opponents defensively. He projects as a second-round selection in Nashville.
1. Ethan Gauthier, Left Wing, Sherbrooke Phoenix
Topping the list is Ethan Gauthier, son of former NHL defenseman Denis Gauthier and the only QMJHL prospect to be a consensus first-round pick. As the first overall pick in his QMJHL draft season, it's not a wild surprise to see him continue as the top prospect available in the QMJHL. He continues to play bigger than his listed size of 5-foot-11, 176 pounds, as his physicality is evident. He is highly adept on the forecheck, using his straight-line speed and physical approach to cut off time and space from defenders. He has a controlled approach, helping to create turnovers. Defensively, he is willing to take a hit to win a puck battle or to slow the attackers until support can arrive.
Offensively, he plays a north-south style, taking a direct line of attack to enter the zone. He uses strong strides and edgework to help him curl off the boards and create separation from defenders to attack the slot, where most of his shots are taken, earning him 30 goals and 69 points in 66 games in 2022-23. His six goals and seven points in five games for Team Canada at the Hlinka-Gretzky Under 18 tournament show his potential for good offensive production at the next level.
He doesn't rely on fancy, highlight reel plays to generate offence, instead relying more on his work-ethic and elite intensity – while maintaining emotional control – to make an offensive impact. His hockey IQ and work ethic make him highly coachable. Gauthier has proven he can be trusted in all situations and play heavy minutes and has the potential to become an effective complementary middle-six winger in the NHL.
Quality QMJHL Prospects
If there's one thing you can take away from this list, it's that the QMJHL has no explosive, high-skill talent this year. What the league does have are quality two-way players who can produce offensively, defend, and be counted on to fill secondary scoring and defensive roles.