The Toronto Maple Leafs won a thrilling overtime game over the Tampa Bay Lightning by a score of 4-3. Morgan Rielly scored the game-winning goal just before the end of the first overtime session.
The Maple Leafs had to fight back to win this game. They were outplayed for much of it but showed resilience by taking the punishment and showing character to come back from a one-goal deficit. With time clicking down and trailing by a goal, the team pulled Ilya Samsonov and scored with only a minute left in regulation.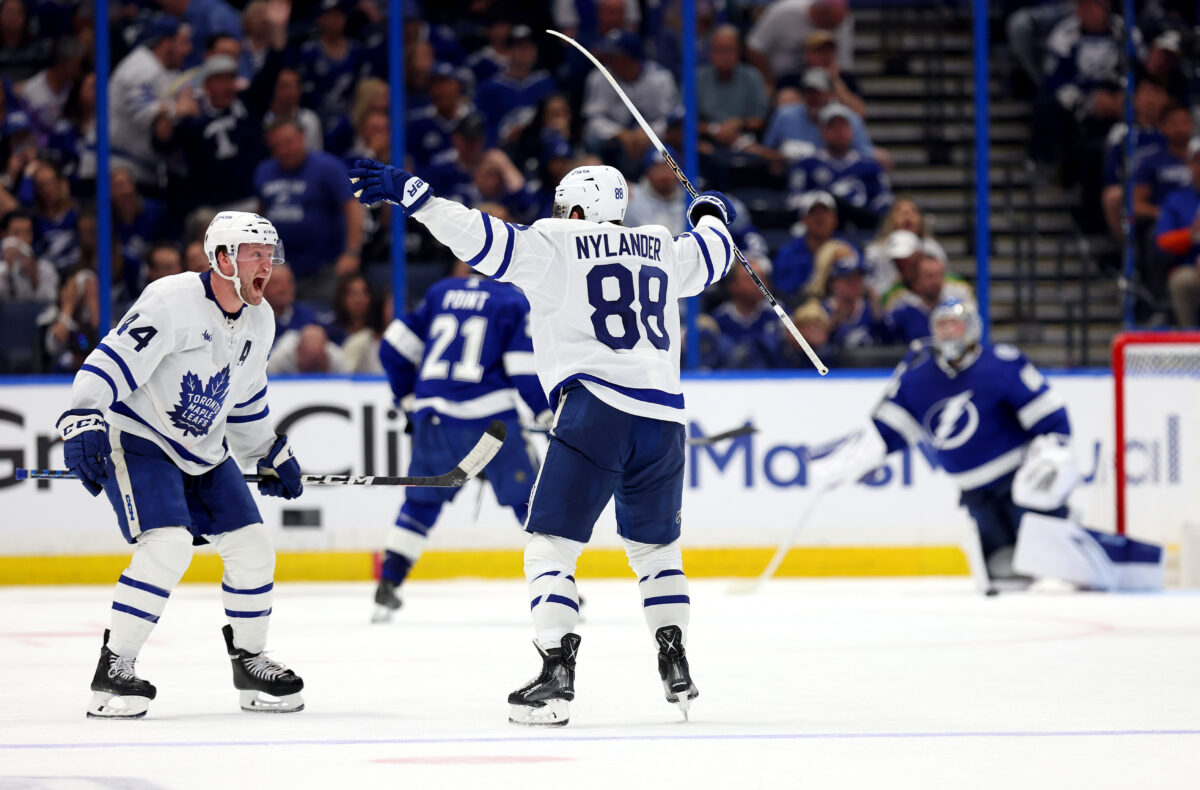 The Maple Leafs also got outplayed – at least in puck possession – in the overtime session as well. However, they found a way with time expiring to hang in there and steal the win. As their head coach Sheldon Keefe admitted after the game, they definitely bent; however, they didn't break.
Even Keefe sounded like he was impressed with his troops. He noted that this is a type of comeback that in the past his team might have lost. On Saturday, they did not. Should these wins keep happening, the team's going to start believing. They seem to have the determination to hang in there and the ability to handle the pressure.
Last season they might have broken; this season, not so much.
Item One: William Nylander Continues Point Streak
William Nylander has been playing well this postseason. He's registered points in all three playoff games thus far. In Saturday's 4-3 overtime win, he took seven of his team's 27 shots. However, he was unable to solve Andrei Vasilevskiy on his own.
Related: Maple Leafs' Best Choice Is O'Reilly at Third-Line Center
---
Latest News & Highlights
---
Instead, Nylander's shot/pass became the assist on his team's game-tying goal with just a minute left in period three. Thus far in the playoffs, he's scored two goals and added two assists. 
Item Two: Noel Acciari Snaps Playoff Goal Drought
The Maple Leafs also got contributions from an unlikely source when Noel Acciari snapped a 25-game playoff goal drought with his first-period goal. The goal came on a nice feed from rookie Matthew Knies and gave the Maple Leafs an early lead. Acciari also led the team in hits with nine for the game.
Interestingly, I learned something in my research for this post. Acciari's last playoff goal came during the St. Louis Blues' run to the Stanley Cup in 2019. However, when I looked it up, I had it wrong in my mind. I thought that Ryan O'Reilly and Acciari had won the Stanley Cup together with the Blues.
Instead, the Blues beat the Boston Bruins that season in the Stanley Cup Final. Acciari was a member of the Bruins that season and played against his eventual teammate O'Reilly.
Item Three: Matthew Knies Impresses in Playoff Debut
Knies not only has been impressive during the playoffs; but, on the telecast after the game, Kevin Bieksa called him the best Maple Leafs' player on the ice. For a rookie, he is making a name for himself in the NHL playoffs. He's been impressing fans with his speed (a bit of a surprise) and strength (not so much of a surprise) on every shift.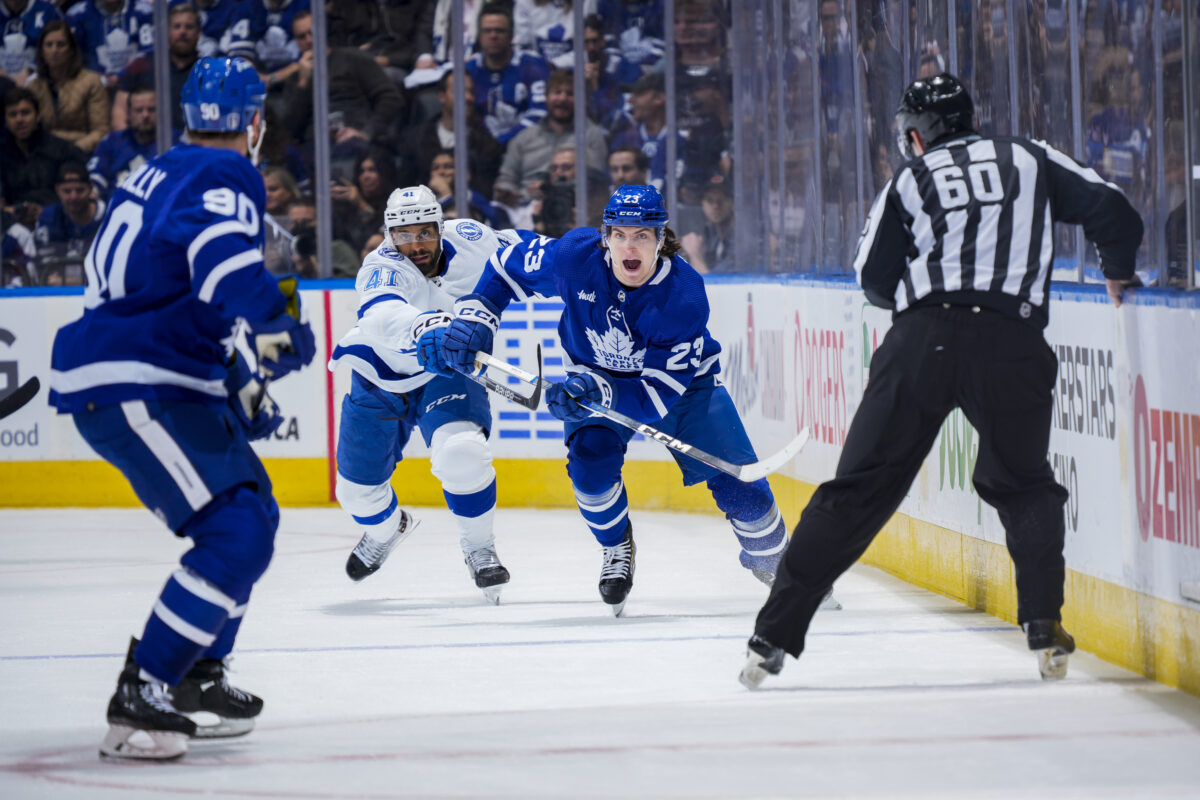 In the team's 4-3 overtime win over the Lightning, Knies registered an assist in 19:15 of ice time. Later in the game, he spent most of the game playing on the team's top two lines. He's not overwhelmed or intimidated after making the jump from NCAA to the NHL playoffs, and there's even talk – already – about him becoming a contender for the Calder Trophy next season if he continues to play at this level. He's making some defensive mistakes, but his offence just won't quit.
Item Four: Did Maple Leafs' GM Kyle Dubas Make the Right Move with Ryan O'Reilly?
It's clear that O'Reilly has been a valuable addition to the Maple Leafs since his acquisition at the trade deadline. In addition to his on-ice contributions, such as scoring the game-tying goal and setting up the game-winning goal Saturday against Tampa Bay, O'Reilly is being praised for his leadership both on and off the ice. 
Related: Maple Leafs Fans May Finally Get Kyle Dubas' Head on a Platter
In an interview after the game, Rielly shared why O'Reilly is such a positive force on the team. He's demonstrated an ability to stay composed under pressure and helps his team stay focused during emotional swings that are common in hockey games. In the locker room, Rielly also noted that O'Reilly is a positive influence, contributing regularly during intermissions. 
Overall, O'Reilly's skill, determination, composure, and leadership have been important assets to the Maple Leafs this postseason. It would seem that this is one of the best – if not the best – trade deadline acquisitions general manager Kyle Dubas has brought to the team.
What's Next for the Maple Leafs?
Overall, Saturday's Maple Leafs win was a testament to the team's resilience and ability to fight back against adversity. Now that home-ice advantage is in their favor, the team will try to build on this performance and continue its playoff push.
The Lightning have to be at least a bit demoralized by the loss. They carried the play and might have deserved a better fate. Sounds like last season's first-round Maple Leafs team a bit.
Related: 4 Lightning Goals That Defined the Eastern Conference Playoffs
Now, it's important that the Maple Leafs stay focused and adapt their game plan to counter Tampa Bay's hard forechecking. Game 4 could be the tipping point for this Maple Leafs' team. It would be sweet to head home with a 3-1 series edge.
---
---