The St. Louis Blues' 2022-23 season was a shocking disappointment for fans and management alike, leading to the team becoming sellers at the trade deadline and ultimately finishing in a draft lottery position outside the playoffs. So, who bears the blames for the team's failings? And who succeeded despite the team's struggles? That's what we'll look to identify in our 2022-23 Blues' Report Cards series.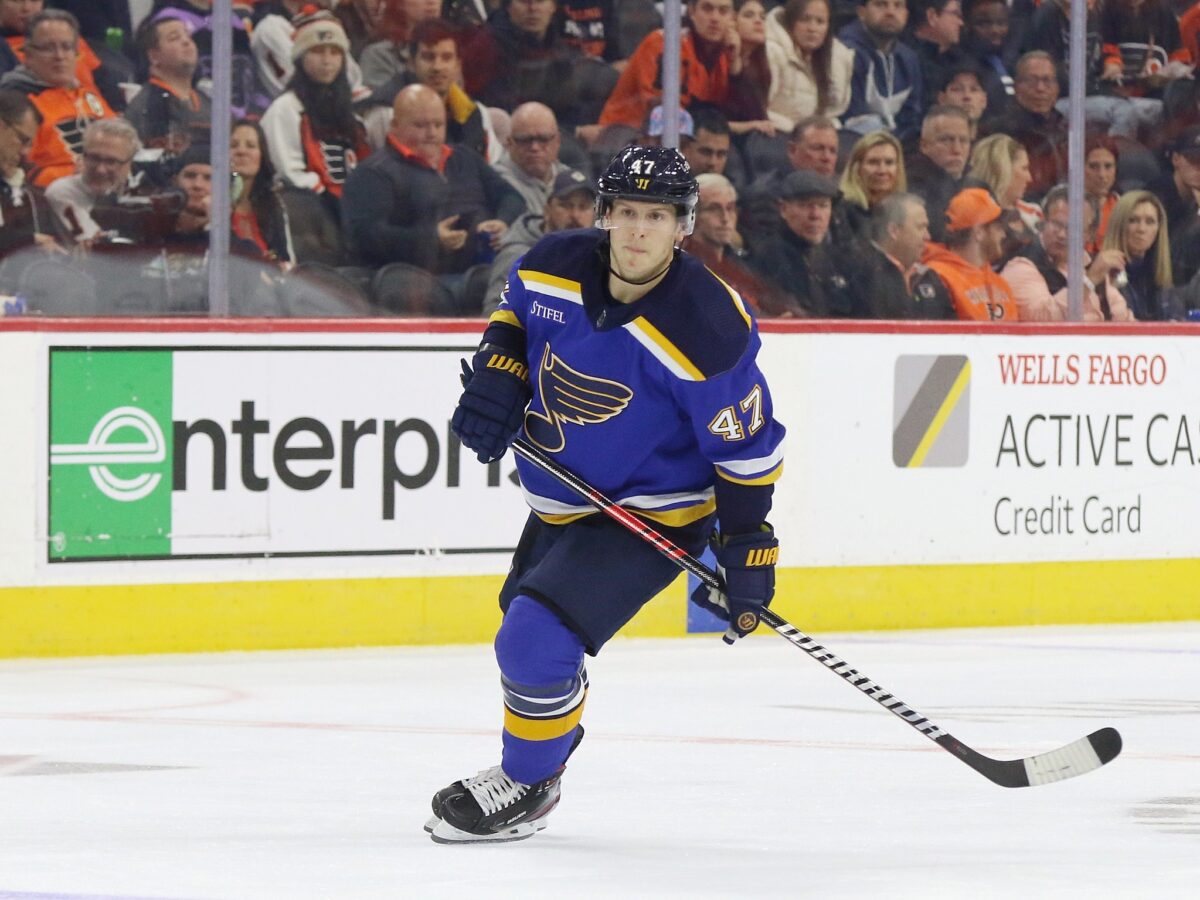 Blues defenseman Torey Krug had another down season. After completing his third year in St. Louis, many are left wondering whether the player fans saw in Boston or the one we are currently seeing with the club is the real player. Krug has become an enigma that many are waiting to reveal his true colors.
What Went Right: Point Production
While it may not be the point production many wanted, Krug's 32 points in 63 games this past season tied for 56th among all NHL defensemen. He managed this feat while still playing nearly three minutes less than the other two (Jake Sanderson (Ottawa Senators) and Mattias Ekholm (Nashville Predators/Edmonton Oilers)), and in 15 fewer games. Over an 82-game season last year, he was on a 42-point pace, while managing to increase the physical side of his game blocking 87 shots, 17 more than last year.
What Went Wrong: Overall Performance
Let's be honest here, Krug has not been the player that the Blues front office and fans alike envisioned when he first arrived in St. Louis. Projected to be a top-pairing defenseman for the club, he has failed to find his footing and chemistry with Colton Parayko on the back end and has yet to live up to expectations offensively and defensively. Once again this season, the 31-year-old failed to play more than 70 games and came close to failing to reach a half-point per game pace. He did a complete 180 in terms of plus/minus from a plus-23 during the 2021-22 season to a minus-26 this past year. Throughout his time in St. Louis, he has yet to secure more than 20 points on the man advantage, a feat he accomplished in all but two seasons during his time with the Boston Bruins.
Related: St. Louis Blues 2023 Offseason To-Do List
---
Latest News & Highlights
---
After completing his third season with the team, a trend has begun to develop recognizing that Krug may not be the player that was with the Bruins and he may never be again. Perhaps the difference in play style and structure is so drastically different that it has affected his ability to manage the puck on the power play and recognize defensive assignments in his own zone. His play this past year was worth that of a player half of his salary and oftentimes left the masses frustrated as he watched pucks slide past him and into his own net.
Key Stats:
Minus-26 rating, tied for eighth lowest in the NHL
2.5 point share rating (2.3 offensive, 0.2 defensive) 
49.9 Corsi-For percentage
18:35 average time on ice, the second-lowest of his NHL career
Final Grade: F
With a lack of offensive production and plenty of defensive lapses, many were willing to give Krug a pass on his first season with the Blues. Even during his second season with the club, multiple injuries and an inability to truly get up to speed before injuring himself once more allowed him an additional pass. However, now having completed three seasons, negative trends have truly come to take shape and matters are not looking good for him.
Too often this season did replays show Krug standing around, lacking defensive awareness, and seemingly giving up on plays that should have seen a higher amount of intensity and hustle. A defenseman who has difficulty defending and running a power play unit while bearing the title of a 'power play specialist' will continue to be behind the eight ball on a nightly basis unless he is willing to correct his behavior.
What's Next For Krug?
The future is truly in Krug's hands. With four years left on his contract, the next two still allow the player full trade protection and control over his own destiny. A small $500,000 bump in his base salary this year will hold steady through the next two seasons until both his salary comes down and his full no-trade clause transfers into a 15-team modified no-trade clause at the beginning of the 2025-26 season. With a similar offensive defenseman in Scott Perunovich set to earn a full-time role with the Blues next season, the future could become murky for Krug as he could be a cap casualty as the team looks to shake up its defensive core, while also creating some cap flexibility.