Scott Douglas Perunovich (born August 18, 1998) is an American professional ice hockey defenseman currently playing with the St. Louis Blues in the National Hockey League (NHL). He was drafted by the Blues in the second round, 45th overall, in the 2018 NHL Entry Draft.
While playing with the University of Minnesota–Duluth, Perunovich was named to the AHCA East First-Team All-American, the NCHC First All-Conference Team, All-Tournament Team, NCHC All-Rookie team, NCHC Offensive Defenseman of the Year, NCHC Rookie of the Year and Hobey Baker Award.
Internationally, Perunovich has represented the United States at the 2015 Ivan Hlinka Memorial Tournament, where they finished in fifth place, and the 2018 World Junior Ice Hockey Championships, winning a bronze medal.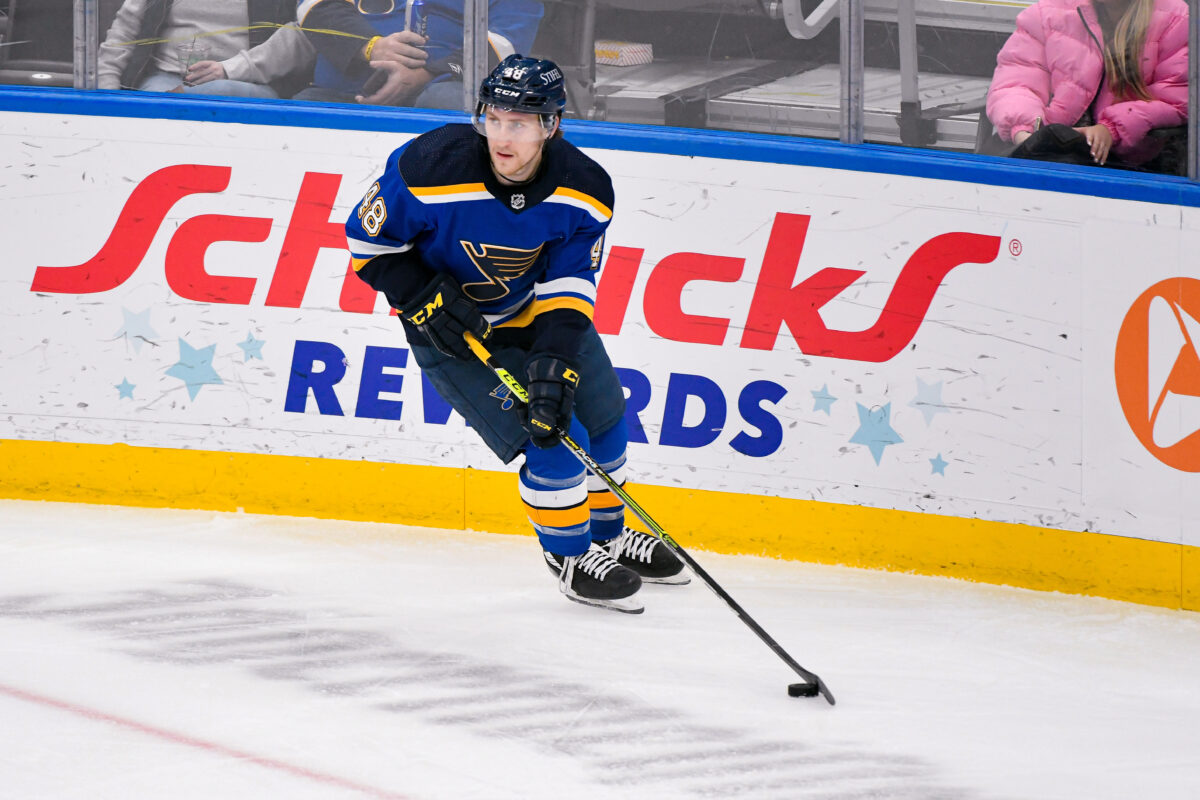 Scott Perunovich Statistics
Deeper Dive
Achievements
NCAA (All-USCHO) First Team (2020)
NCAA (NCHC) Best Offensive Defenseman (2020)
NCAA (NCHC) First All-Star Team (2020)
NCAA (NCHC) Player of the Year (2020)
NCAA (NCHC) Scoring Champion (2020)
NCAA (NCHC) Three Stars Award (2020)
NCAA (West) First All-American Team (2018, 2020)
NCAA Top Collegiate Player (Hobey Baker Award) (2020)
NCAA Top Collegiate Player (Hobey Baker Award) Finalist (2020)
USA Hockey College Player of the Year (Jim Johannson Award) (2020)
NCAA (Championship) Winner (2019)
NCAA (NCHC) Best Offensive Defenseman (2018, 2019)
NCAA (NCHC) Champion (2019)
NCAA (NCHC) First All-Star Team (2019)
NCAA (West) Second All-American Team (2019)
NCAA (Championship) All-Tournament Team (2018)
NCAA (Championship) Winner (2018)
NCAA (NCHC) All-Rookie Team (2018)
NCAA (NCHC) First All-Star Team (2018)
NCAA (NCHC) Rookie of the Year (2018)
NCAA Top Collegiate Rookie (Tim Taylor Award) (2018)
U20 WJC Bronze Medal (2018)
USHS All-USA Hockey First Team (2016)
Sources