The St. Louis Blues' 2022-23 season was a shocking disappointment for fans and management alike, leading to the team becoming sellers at the trade deadline and ultimately finishing in a draft lottery position outside the playoffs. So, who bears the blames for the team's failings? And who succeeded despite the team's struggles? That's what we'll look to identify in our 2022-23 Blues' Report Cards series.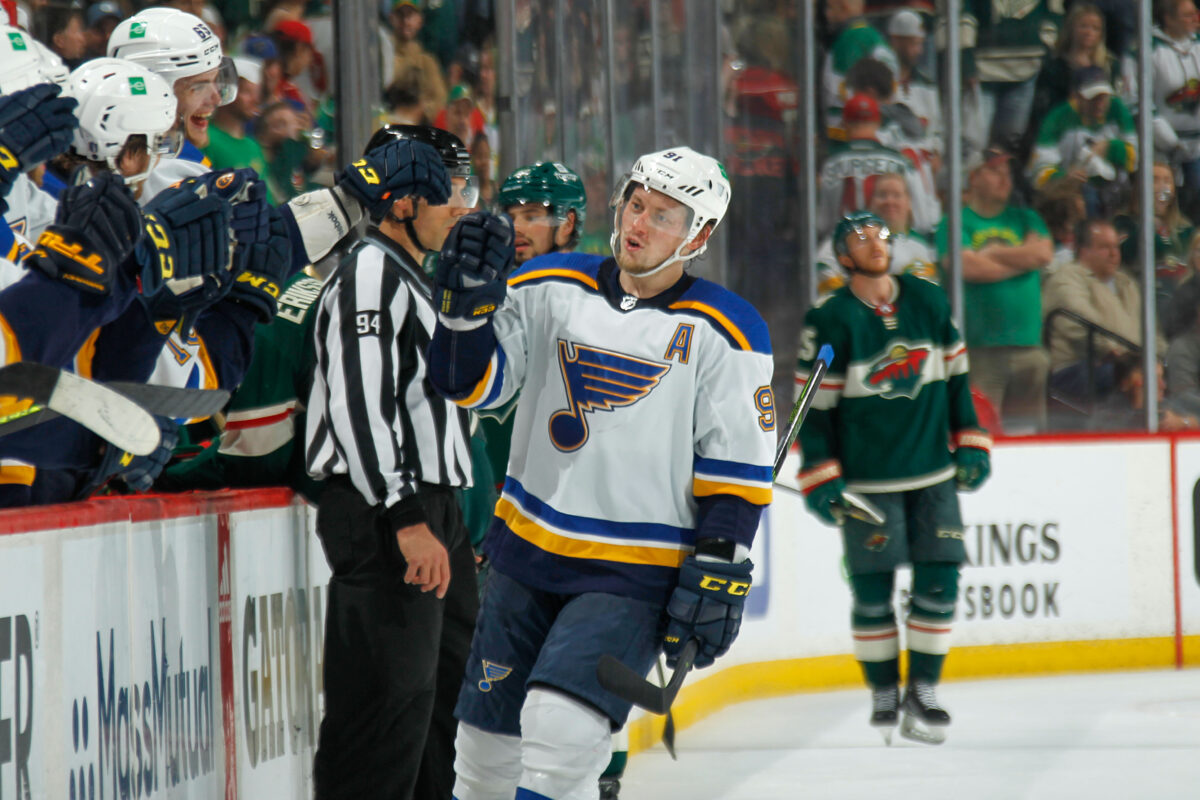 The Blues and forward Vladimir Tarasenko parted ways this past season. Though he did not complete a full season in St. Louis, his final season left a mark for years to come.
What Went Right: The Trade
As terrible as it may still seem, it was the right choice to trade Tarasenko before the trade deadline. While many fans may have wanted No. 91 to stick around until he hung up the skates, the bottom line was that he wanted out of St. Louis. After publically requesting a trade in early July 2021, it was not a matter of if he would ultimately be traded, but when. Before the trade was completed, all of the credit to Tarasenko is due for showing up and doing his job to the best of his ability each night. There are multiple cases of players across the country that have held out and refused to dress for their respective teams until their trade demands were met. Not in this case. Tarasenko came out each night ready to play, averaging 17:31 of time on ice, his highest average since 2018-19. He was a true fighter for the Blues until the very end of his time with the club.
What Went Wrong: Offensive Production
Tarasenko's offensive production this past season was mediocre at best. While he and the rest of the Blues were all in a state of mediocrity all season long, the bread and butter of a player like Tarasenko is his offensive production. His 10 goals over 38 games in St. Louis had the Russian sniper on pace for a very mediocre 21.5 goals over an 82-game season. Should that have come to fruition, it would have been his lowest goal production since his age-22 season when he scored 21 goals in 66 games.
Key Stats:
10 goals and 19 assists with St. Louis this season
Minus-18 rating, the lowest of his career
17:31 average time on ice, highest in five seasons
52.9 Corsi-For percentage
Related: St. Louis Blues 2023 Offseason To-Do List
Final Grade: C
Following Tarasenko's third shoulder surgery, he had the chance to rebound and show there was no longer a concern for his injury history and he was ready to play at full force. However, it was clear that his eyes and attention were focused on what was to come in his next chapter, rather than finishing the one that he was still currently in. He played at a high level while he was in St. Louis, but remained focused on what was to come.
What's Next For Tarasenko?
The world is his oyster. For the first time in Tarasenko's professional NHL career, he is in full control of his destiny and will decide where he will take his talents next. Whether he decides to remain in New York with the Rangers is yet to be seen, but it is almost a certainty that he will not be returning to the Blues franchise next season. His 18 goals and 50 points over 69 regular season games, along with three goals and four points in seven postseason games do not suggest his time in New York has boosted his free agency stock. Multiple teams could utilize his services for the 2023-24 season and beyond, including the Blues' rival, the Colorado Avalanche after the announcement that team captain Gabriel Landeskog will be missing the entirety of next season due to injury.