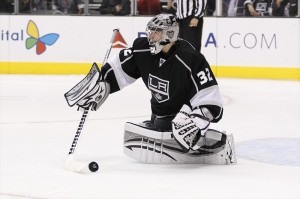 "Go ahead and play the blues if it'll make you happy."— Homer Simpson
At least to this point, up 3 games to 0 and poised for a sweep of their Western Conference Semifinals series, that's exactly how the Kings are feeling at the moment.
Coming to L.A. for game three, the Blues knew they had to dig deep to get back into their series against the Los Angeles Kings. "We've got some looking in the mirror to do, some regrouping — we need to make some changes so that we're better," said Blues captain David Backes, after absorbing a shellacking during game two. "I think X's and O's and film, we've done that to death. It's about intestinal fortitude and coming together as a group."
Unfortunately for Backes and his team, momentum is a very tricky intangible to overcome. The Kings had roared to the finish line at a 12-4-3 clip to capture the eighth seed, and then proceeded to accomplish what many considered unthinkable, knocking out the President's Trophy winning Vancouver Canucks in a five-game stunner. Having clearly gelled at the right time, they then took on the 2nd seed Blues and parlayed a combination of physicality, defense and luck to win the first two games. Taking the early lead was critical: "We got off to a good start (in game two)," said Kings power forward Dustin Brown. "I mean, scoring 30 seconds into a game helps, but we didn't let off the gas at all."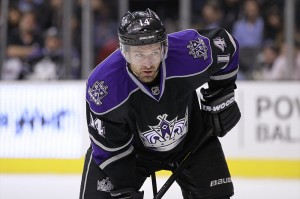 Although St. Louis came out hoping to grab the early lead and stymie Los Angeles' momentum, it was the Kings who scored first. Justin Williams skated down the right boards and had his shot blocked by Barret Jackman. He regained the puck, and then started a picture-perfect cycle, dropping the puck to Anze Kopitar, who fed Drew Doughty. Doughty passed laterally into the slot, where Williams picked it up and fired the puck home past Blues' goaltender Brian Elliott. "Things are going well because guys are working hard," explained Justin Williams. The first period ended with L.A. up 1-0, having outshot St. Louis 8-4.
The Blues struck early in the second. After Roman Polak wiped out Anze Kopitar in the neutral zone, Kris Russell skated in, passed the puck to Chris Stewart who gained the edge on Slava Voynov and closed in on Jonathan Quick all alone. Instead of cutting laterally to his forehand, he surprised Quick with a snap backhanded shot that beat him on the short side, tying the game 1-1. Before the Blues could settle back in after celebrating the goal, the Kings answered, as Matt Greene showed off his extensive knowledge of geometry, banking a perfect pass off the boards that led a streaking Dwight King into the Blues' zone all alone on Elliott, and then proceeded to beat him with a low shot to the stick side for the 2-1 lead.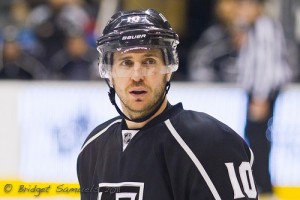 Midway through the second period, and with the Kings on the power play yet again, Mike Richards scored a carbon-copy of his first goal in the series, wristing the puck from a hard angle that managed to deflect off Elliott's leg into the net. "I was just firing it on goal," said Richards. "I got a little lucky there and it squeaked through. It's something that we'll take right now. You're going to need those lucky goals to have success." After two periods, the Kings had a commanding 3-1 lead.
The third period saw the Blues sneak to within a goal, as Chris Stewart scored his second of the game, this time diving to sweep the rebound of an Alex Pietrangelo shot past Jonathan Quick. However, as they have done all series, Los Angeles showed resiliency. No longer content to try to just protect the lead, the Kings turned the offense up, and combined with the pinching of the St. Louis defensemen, it led to an odd-man rush that culminated in a Richards-to-Doughty one-timer in the mid-slot that trickled through Elliott and into the net for the 4-2 advantage with half the period remaining. The goal seemed to visibly deflate the Blues and although they ended up outshooting the Kings 10-4 in the period, scoring chances were at a premium and they were unable to draw closer, ultimately losing the game and finding themselves on the wrong end of a 3-0 series stranglehold.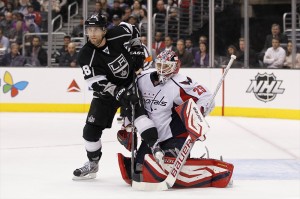 "There is no reason we should be down three games right now," said St. Louis winger Matt D'Agostini. "We are the type of team that is very capable of coming back in this series. There is a lot of promise still in this room and we have a lot of belief in our guys and what we can do, so don't count us out just yet." Jarret Stoll summed up the Kings' attitude as follows: "It was a good 60 minutes for our group. Our third period was pretty darn good; checking, being on top of them, not giving them much. We did a great job of playing whistle to whistle, not getting involved in that (after-the-play) stuff. We don't need to get involved in that stuff. If they do, that's fine. It seemed like they got some penalties tonight and we got a huge power-play goal from Richards. We got that big goal, timely saves from Quick, and we shut them down in the third."
Game three is Sunday afternoon at the Staples Center. St. Louis is a resourceful team, not to be lightly counted out. However, the Figueroa St. Home Depot may want to consider stocking up on brooms before the game.