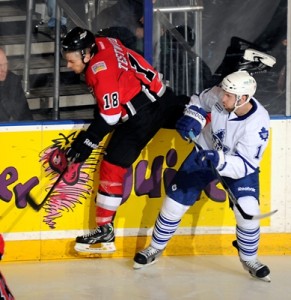 Second time not so lucky for the Abbotsford Heat on Thursday. In a raucous match-up that saw 67 total penalty minutes, it was the home team Toronto Marlies prevailing with a decisive 5-1 win.
It was the first time the Heat have been the losing squad since March 24th and of course, it is their first playoff loss of 2012, bringing a string of four wins to an end.
It certainly started off alright. For the second straight time in the series the Heat got on the board first when winger Jon Rheault notched his third of the playoffs. Rheault banged a loose puck past the Marlies netminder at 10:03.
Later in the first period special teams began to impact the game after a Dustin Sylvester tripping call led to the Marlies equalizing the score at 15:15. They would then finish the period ahead after a Matt Frattin marker made it 2-1.
The Frattin score at the end of the first would combine with two more Marlies' goals early in the second to equal three unanswered tallys over a period of 4:20. The Heat had trouble matching energy throughout the second, but did get an opportunity late when two Marlies ended up in the box simultaneously. Unable to capitalize on the two-man advantage after forty minutes the score remained 4-1 Toronto.
It certainly became a classic playoff affair in the third period, as three misconducts, one major penalty and eight minors were assessed. Despite having three opportunities 5 on 3 throughout the game, the Heat couldn't make them count.
Even with the onslaught of penalties and general dislike among the opponents, this game wasn't decided on the powerplay. The Marlies had the lone PP goal and scored the rest even strength. Albeit their 5th goal was into an empty net on an awkward Heat goalie exchange, it remains the case that 5 on 5 the Heat just weren't up to the task.
Sometimes, losses are individual efforts, but in this case it was a team wide affair. Out of the 18 Abbotsford skaters 13 had a minus next to their name and varied line combinations just seemed to make the Heat break out disjointed and out of sync.
Nonetheless with the series coming out west for games 4, 5, and 6 it can't hurt that the Heat split the opening two. With the AHL format stringing three home games in a row for the lower seed, it should help the Heat if they can get some energy from the home AESC crowd.
Callum Ng covers the Calgary Flames and the Abbotsford Heat for The Hockey Writers. Follow him on twitter @CallumNg