Mike Hoffman's arrival in St. Louis is truly a blessing of the stars aligning. The cap-strapped St. Louis Blues and their general manager/architect Doug Armstrong have been able to parlay the financial outlook of the rest of the NHL, their own bargaining power, and a little bit of luck to create enough cap space to not only get all of their own players under contract but to also add significant pieces to this core.
After two seasons in Florida, Hoffman found himself without a home only days before training camp. No one could offer a reasonable deal for his services in the long term as the winger likely could have garnered at least 1.5 times as much as he has signed for (if not double) on a long-term deal.  After a PTO (Professional Try Out), he signed a one-year, $4 million contract with the Blues, thereby punting on his payday till next season and giving him a chance to compete for a Cup in the short term.
Hoffman will be acting as a sort of mercenary for the Blues. A hired gun who will bring significant offensive upside…and not much else. Well known for his shooting ability and defensive holes, he is not a specialist in his own end by any means. Especially considering the absence of Vladimir Tarasenko for a significant amount of time, Hoffman can step in and be "the guy" who puts pucks in nets for this team, who often time prioritizes defensive efficacy over high volume scoring.
Power Play Specialist
Since entering the NHL, Hoffman has been a consistent offensive weapon. In his first full season in the league, he tallied 48 points on 27 goals and since then he has never had fewer that 56 points. Topping out at 70 in his one full season in Florida in 2018-19.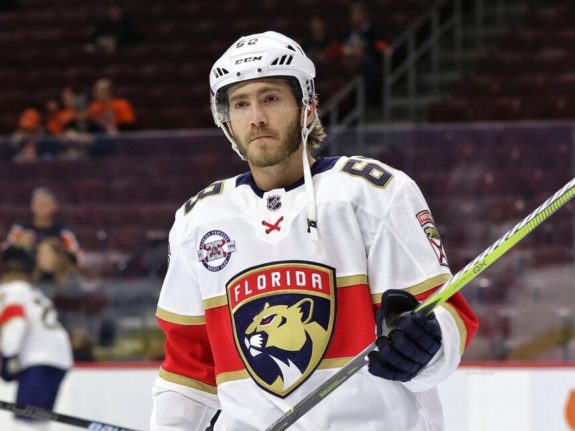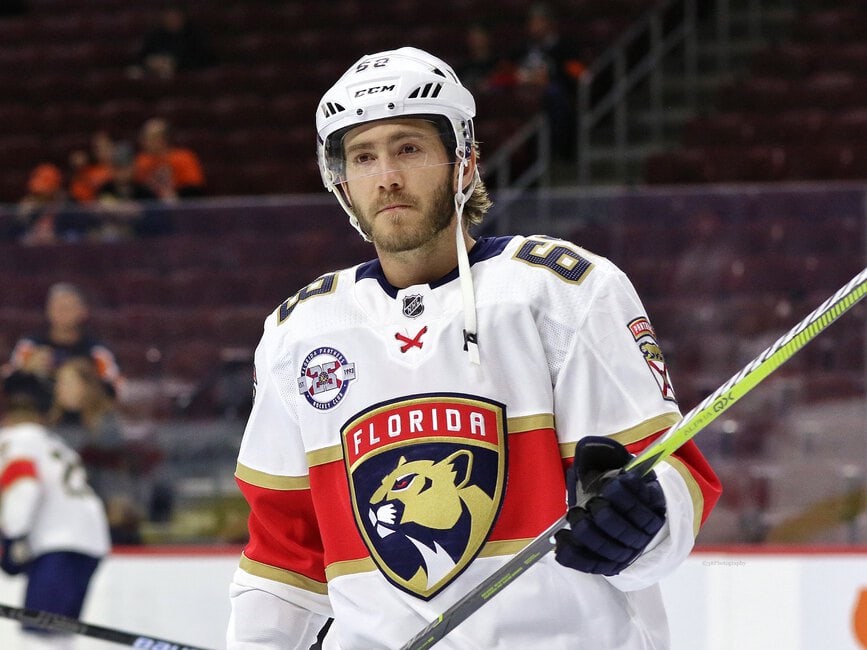 In recent years, he has proved himself to be one of the most efficient producers in hockey when playing on the power play. Becoming a specialist of sorts and looked to for this specific role. In that 70-point season, Hoffman tallied 17 powerplay goals and 18 power play assists for a total of 35 points. In the COVID-19 shortened 2019-20 season, Hoffman had already tabulated 21 power play points.
Hoffman has shown a key understanding of how to find space and use his excellent shooting ability to take advantage of the power play. He is regularly able to get his shot on net and create pressure on opposing goaltenders and defenses, not only allowing for opportunities for himself but for his teammates to clean up rebounds left in front of the net.
For his career total, 53.2% of his shots taken on the power play have found the net without being blocked. He creates pressure that few in the league can; when he has the puck on his stick. Hoffman becomes an immediate threat that can draw the attention of defenses.
The Blues Already Strong Power Play
Last season, the Blues were ranked third in the NHL in power play efficiency. Scoring on 24.3% of chances where they sat only behind the Boston Bruins and the Edmonton Oilers. The Blues will also be adding defenseman Torey Krug to the mix, who helped lead Boston to the second-best power play in the league. Behind those two additions, the team brings back significant continuity to their special teams' lineup.
Adding Hoffman's unique skillset to a deep forward group including Ryan O'Reilly, Brayden Schenn, David Perron, Jaden Schwartz, Robert Thomas, and Tyler Bozak will mean the Blues will continuously roll highly capable scorers and playmakers during power play opportunities. That does not include forward Tarasenko, who will eventually rejoin the team after being placed on Long Term Injured Reserve (LTIR) to open the year after re-injuring his shoulder while trying to play in the bubble.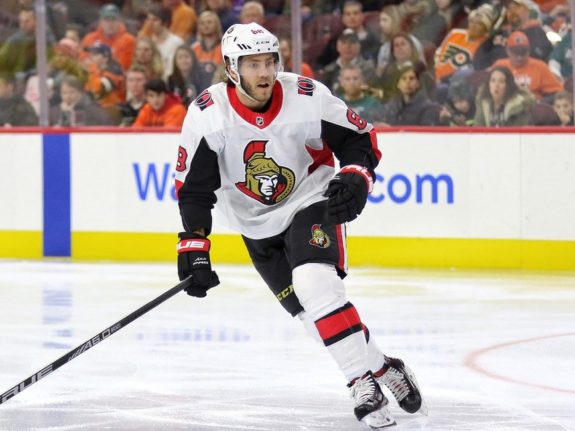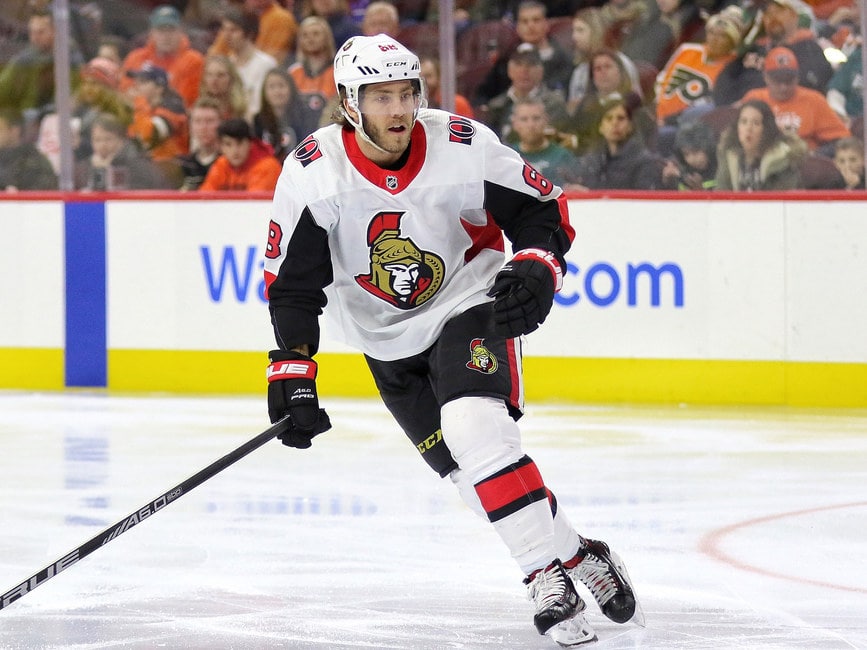 Unlike the defensive end, where you are replacing Alex Pietrangelo with Krug, and you can debate and/or observe how that swap will play out in terms of continuity and efficacy and whether it marks an improvement. The forward group that head coach Craig Berube has to play with is returning all of its strength and familiarity, along with adding a significant new piece who may be the best pure goal scorer of the currently active group.
Potential Impacts
In terms of improvement amongst the ranking of NHL teams, there isn't much higher you can go. Improving from third to first in terms of power-play effectiveness isn't a major jump, but improving upon that 24.3% number internally, could pay dividends for the team. The Oilers scored on just less than 30% of opportunities in the 2019-20 season. If the Blues can approach that number or even surpass it, that would result in as many as 11 more goals a season and could be the difference-maker in multiple close games.
It could also lead to stronger play at even strength. If opponents are less willing to play risky defense and are more passive in their approach, not wanting to risk taking penalties, could lead to more opportunities in regular play. Hoffman and Co. on the power play now become a sort of bogeyman that shows its face…even when not present.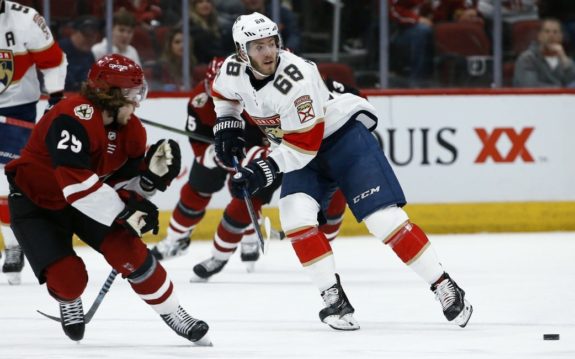 Hoffman joining the Blues is a luxury of circumstance. In a traditional hockey year, he would simply cost too much, and his contract demands would not be amenable to the franchise's sensibilities or abilities. But for a team who believes they can make another Stanley Cup run and bounce back from the disappointing performance in the playoffs last season, Hoffman gives the Blues one extra weapon in the arsenal to help them get to the final goal.
---
---