The New York Rangers kicked off the 2020-21 NHL season on Thursday night against their cross-town rival, the New York Islanders. Coming into the game with lofty expectations and the eyes of Rangers' fans pinned on their exciting, young roster, the team faltered early and often in a 4-0 defeat.
A revolving door at the penalty box made it difficult for the Rangers to sustain any offense, stymied further by the Islanders' stout defensive prowess. In the post-game presser, David Quinn discussed the Rangers' poor start, courtesy of Dan Rosen of NHL.com:
"They did a good job in a lot of areas and we certainly weren't good in many, if any at all. We've got to be quick learners because we play them Saturday and it might be a good lesson, a reminder for a bunch of guys that probably don't instinctively have it in their hockey DNA to play the way that we needed to tonight. The good news for us is a bunch of guys that were here last year did it for long stretches of time, and we've got to do that starting on Saturday."

David Quinn on Thursday's 4-0 loss, courtesy of Dan Rosen at NHL.com
Jack Johnson was a minus-1 and had some egregious mistakes in the first period of his Rangers debut. But he wasn't the only one to struggle, as most of the Rangers' big names failed to perform at the level they had last season.
The good news for the Rangers is that they can have a short memory, as they are back in action at the Garden against the same Islanders on Saturday night.
Rooney Injured
Kevin Rooney took the brunt of an unfortunate collision with Islanders' forward Ross Johnston in the third period of Thursday's game. Rooney looked dazed on the ice, remaining down for quite some time, before being helped by Jim Ramsey to the locker room.
Johnston, who avoided injury on the play, checked on Rooney immediately after the incident. Rooney, alongside his linemates Brendan Lemieux and Brett Howden, looked to be one of the only bright spots in a crushing defeat. They played well and created chances in their limited time on ice.
According to Newsday's Colin Stephenson, Rooney was not on the ice for Friday's practice, signifying the forward might miss some time with an injury.
Collisions involving the head and neck area always warrant additional concern, so hopefully, these are just extra precautions being taken to ensure Rooney's health. Expect Phillip Di Giuseppe to slot in the lineup in Rooney's absence.
Will Quinn Scratch DeAngelo?
Tony DeAngelo drew Quinn's ire after taking a holding penalty followed by an unsportsmanlike conduct penalty caused by his slamming of the penalty box door. DeAngelo's shifts have limited the rest of the third period, capping off what was a forgetful game for the 25-year-old defenseman.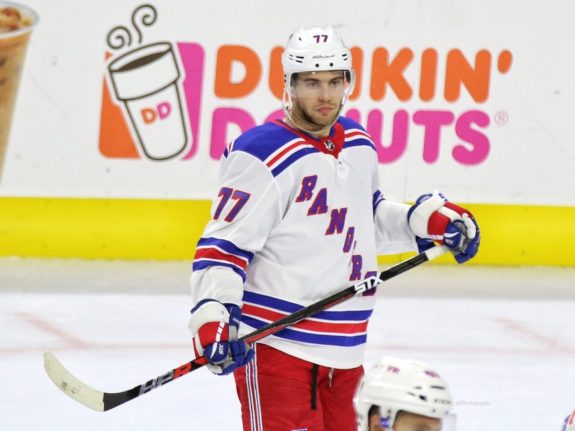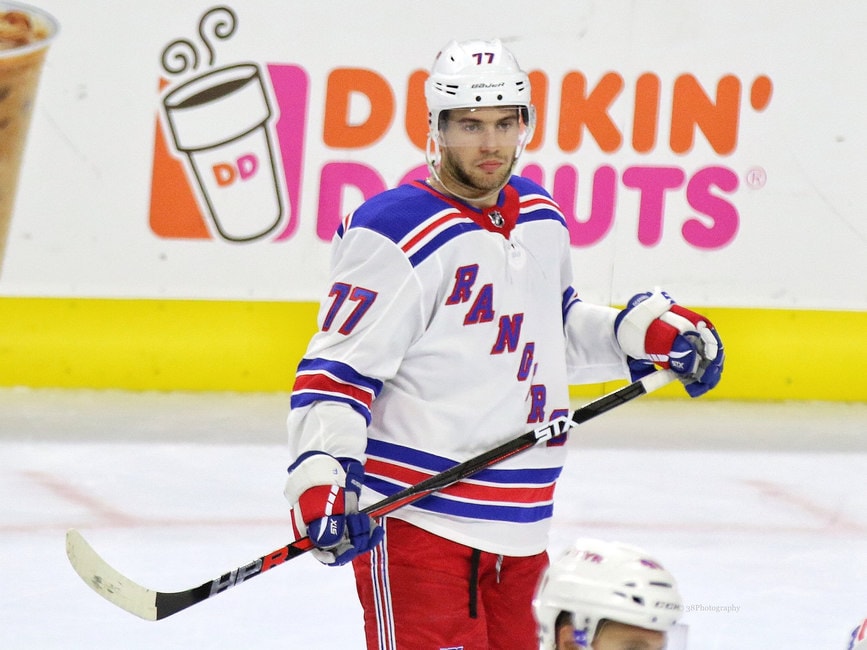 It appears as though Quinn is considering some lineup changes to send a message about discipline, having DeAngelo skate with the taxi squad while putting Anthony Bitetto with the regulars on Friday. The Athletic's Rick Carpiniello tweeted about the developing situation earlier:
This would be a drastic move by Quinn, considering the Rangers' defense looked horrid during Thursday's opener. If DeAngelo does indeed find himself a scratch, Brendan Smith will likely replace him in the lineup.
Shesterkin's Up & Down Start
Igor Shesterkin got the nod against the Islanders, becoming the first opening night goaltender not named Henrik Lundqvist in the last 15 seasons. Shesterkin did not have it early, giving up three first period goals, two of which he'd probably tell you he wants back.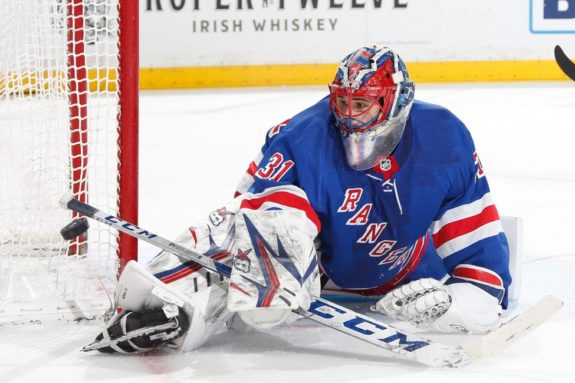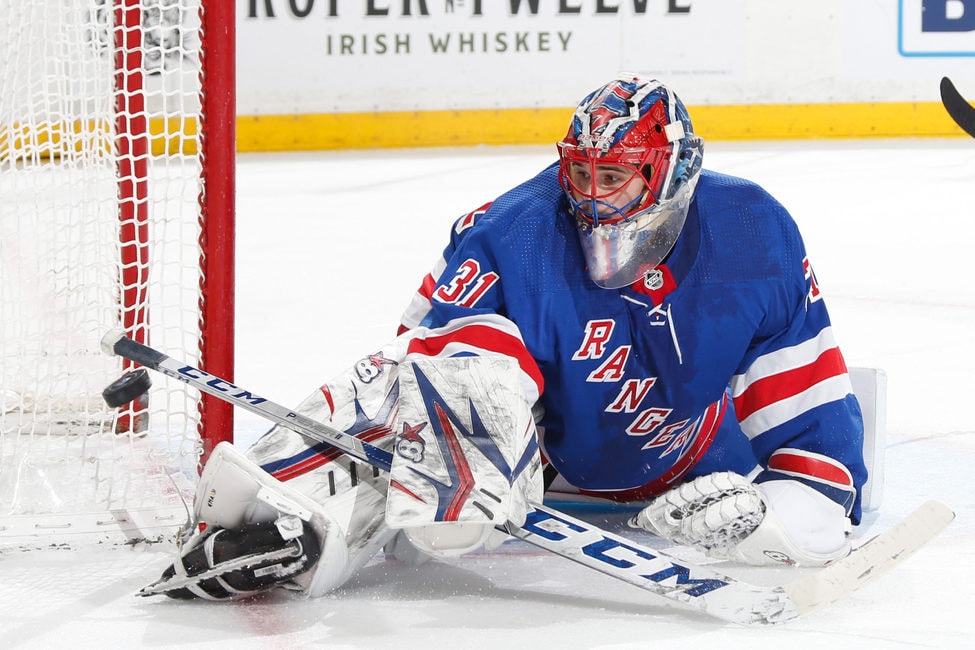 The 25-year-old settled in, allowing just one goal over the next two periods, stopping every shot he faced in the third. After a rocky start, Shesterkin would calm down and hold the fort, a good sign of poise from the young goaltender. He stopped 29 of 33 shots, getting beat twice at even strength and twice on the penalty kill.
His best save of the game came in the third period, sprawling out to stop Mathew Barzal in tight on a breakaway opportunity.
The Rangers defense certainly didn't do him any favors in this one, but Shesterkin would ideally like to bail them out once or twice as well. Look for Alexandar Georgiev to get the start Saturday, before the Rangers turn right back to Shesterkin for their third game against the New Jersey Devils.
---
---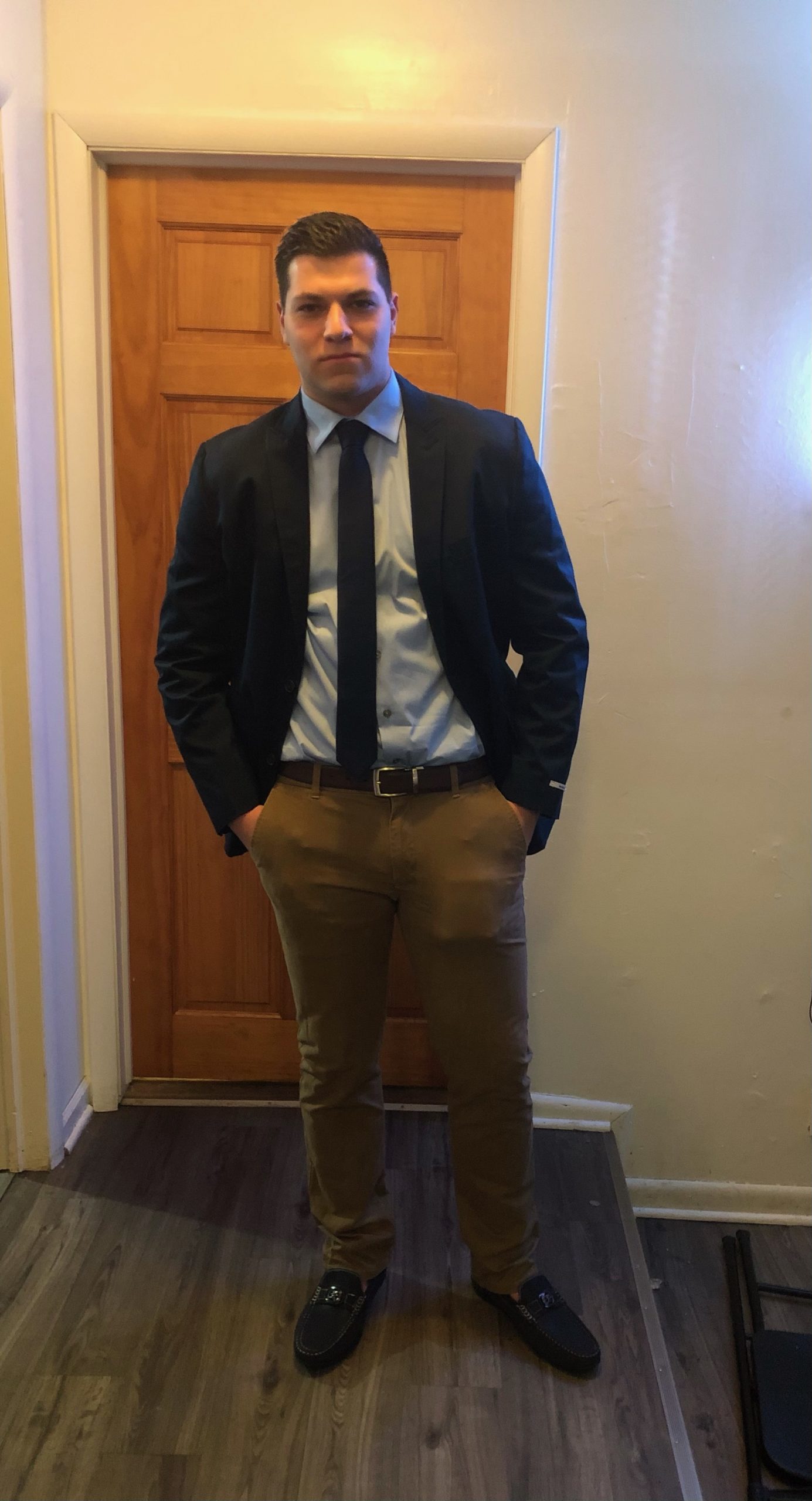 Brendan Azoff is a THW contributor and podcast host dedicated to covering the New York Rangers. His passion for hockey started when he first laced up the skates at three, growing into his love for writing and talking about the greatest sport in the world. His podcast, The Backcheck, breaks down the Rangers, Islanders, and NHL news and can be found on The Hockey Writers Podcast Network and Belly Up Sports. Brendan has been writing about the Rangers and the NHL for over two years, with his content also found on Puck Prose, Blue Line Station, and E2G Sports. If you want to connect with Brendan and stay up-to-date on his posts, follow him on Twitter. He is always available for content ideas and interviews, don't be afraid to ask!