The St. Louis Blues have been devastated by injury in recent weeks, with five of the forwards and two of the defensemen they entered the season with currently on the shelf. Most recently, Jacob de la Rose went down in the Blues' game on Saturday against the San Jose Sharks, and head coach Craig Berube told the media that he will be out "for significant time."
It is the nature of sports that such a severe rash of injuries creates opportunity, and tonight, as the Blues prepare to face the Anaheim Ducks, one young forward is getting just that opportunity. Dakota Joshua, a power forward who entered the season as a fringe Blues prospect at best, will make his NHL debut tonight on the team's fourth line.
Who is Joshua?
Joshua is not originally a Blues prospect. The Toronto Maple Leafs drafted him with the 128th pick in 2014. The Dearborn, MI native had played for the U.S. National Team Development Program and for the Sioux Falls Stampede of the USHL prior to his draft. In the season following his draft year, he registered 44 points in 52 games and notched his only 20 goal season at any level. From there, he moved onto the NCAA program at Ohio State University.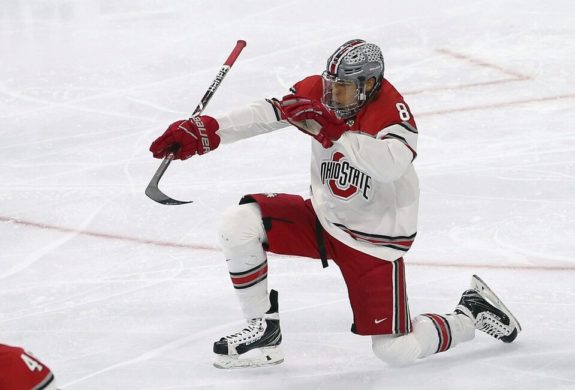 As a Buckeye, Joshua built a distinguished NCAA career. He played all four seasons, competing in 128 games during that time. In that stretch, he managed 41 goals and 100 points while maintaining a physical play style that kept him on the radar of NHL scouts. At the end of his college career, there wasn't an obvious spot for him in the Maple Leafs' system, which was loaded with prospects.
But the Blues were interested enough to take a flyer on him, and they acquired him for future considerations in July 2019. At the same time, they signed Joshua to an entry-level contract, signaling the start of his pro career. He spent his first season splitting time between the American Hockey League (AHL) San Antonio Rampage and the ECHL Tulsa Oilers. Between them, he grabbed six goals and 18 points in 50 games. Entering the season, he was a depth prospect, but the eccentricities of a COVID season and a serious rash of injuries have catapulted Joshua into the spotlight.
What the Blues Should Expect
Joshua didn't have a lot of time to establish himself with the AHL Utica Comets, whom Blues prospects are playing with this season, but he did manage a goal and an assist in his first four games. Then, the Blues called him up, recognizing that their injuries would require all hands on deck.
Though he might not have been expecting NHL minutes so quickly, Joshua still has a lot to offer the Blues in a bottom-six role. He is a big forward, at 6-foot-2, 199 pounds, and he should provide a physicality and a net front presence that St. Louis is lacking right now.
Unsurprisingly, Joshua is excited for the opportunity, telling beat reporter Jeremy Rutherford "I'm very excited. I've been waiting my whole life for this chance. It's a good thing to finally get here and get to it." He went on to explain his game: "I'm a power forward. I like to get in on the forecheck and just do my job and take pucks to the net. On the defensive side of things, play well within the structure and make sure I'm helping get the breakouts clean and get us going the other way." The Blues could use that kind of player, and it looks like Joshua's opportunity might last longer than one might expect.
Berube's Walking Wounded
To say the Blues' are injured is an understatement. Their forward core is devastated, with top scorers Vladimir Tarasenko and Jaden Schwartz both hampered. Their center depth is gutted, with Robert Thomas, Tyler Bozak, Ivan Barbashev, and de la Rose all down for extended periods. And with the notable exception of Tarasenko, who may return on this road trip after a long hiatus since the playoff bubble, none of these players look especially close to returning.
Though that's a tough pill to swallow for fans, it's a positive development for players like Joshua, who now have some time to grow into the team without feeling like they have to make an impression in their one opportunity or risk never getting another. We recently took a look at 5 Blues players who could step up during the injury wave, and Joshua wasn't even mentioned. Of course, that was seven days and two severe injuries ago. It's not a circumstance anyone hoped for, but the Blues' injuries create opportunities for depth forwards like Joshua. Tonight will be his first opportunity to take advantage.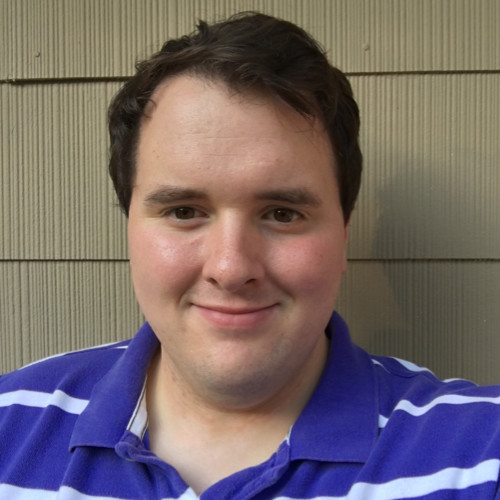 Stephen Ground is a veteran of over three years at THW, focusing on the St. Louis Blues, NHL goaltending, and the annual World Junior Championship. He is the co-host of the Two Guys One Cup Podcast, a hockey podcast focused on the Blues.