The St. Louis Blues are no strangers to injuries. In recent years, the team has lost significant players to injury and the 2017-18 season is following tradition.
The Blues' woes began even before the season started when news broke that Robby Fabbri had re-torn his ACL and would miss the entire season. Fabbri, who provided a much-needed boost of energy during a slump the previous year, was added to the long list of players who would, at the very least, miss the season's start.
Still, St. Louis managed to gain an early lead in the Central Division with help from an onslaught of goals from their defensemen and promising starts from several young prospects, including Tage Thompson, Vince Dunn and Sammy Blais.
Blues Lose Two Key Leaders
The injuries continued in the coming months, with captain Alex Pietrangelo and Jaden Schwartz missing time after blocking shots in a game against the Detroit Red Wings in early December.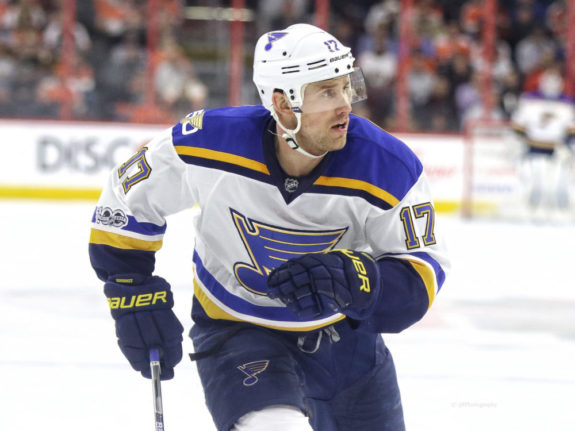 Pietrangelo spent a short time on injured reserve, missing four games. Schwartz, however, was out of the lineup for six weeks which, coincidentally, was around the time the Blues started to fall in the standings.
Before his time on IR, Schwartz was on track to reach season-highs in both goals and points. He was part of what looked like an unstoppable offensive line for the Blues, joining his teammates Vladimir Tarasenko and Braden Schenn on the top scorers' list during the first months of the season.
Wounded St. Louis Defense
Two short weeks after Schwartz returned, defenseman Joel Edmundson was added to the injury list, suffering a broken forearm from yet another blocked shot. Edmundson has a career-high six goals and nine assists this season, along with the third-highest TOI for the Blues before being placed on IR.
Edmunson's injury was a setback for an already struggling defense. "(He's) a big stay-at-home guy, blocks a lot of shots, plays a lot of hard minutes," said goalie Carter Hutton. St. Louis' stats seem to support this, as the Blues have given up a whopping 33 goals without him.
Immediately following Edmunson's injury, the team suffered a seven-game losing streak, during which they also lost Robert Bortuzzo to a knee injury. Bortuzzo returned this past Saturday after missing five games, as the Blues gave up another devastating overtime loss to the Dallas Stars.
As the Blues continue to lack intensity, I can't help but wonder if Edmunson's physical presence would make a difference in the team's level of play. In the middle of his third season with the Blues, the 6-foot-4 defenseman has never been afraid of contributing physically and sticking up for his teammates when necessary – something the Blues lost a little of after trading Ryan Reaves.
More Injuries to Close Out Season
A recap of this season's injuries wouldn't be complete without mentioning Jay Bouwmeester, who has been sidelined with a "nagging injury" after missing the first 21 games. On Monday, the team announced that he has been dealing with a hip injury that will sideline him for the remainder of the season.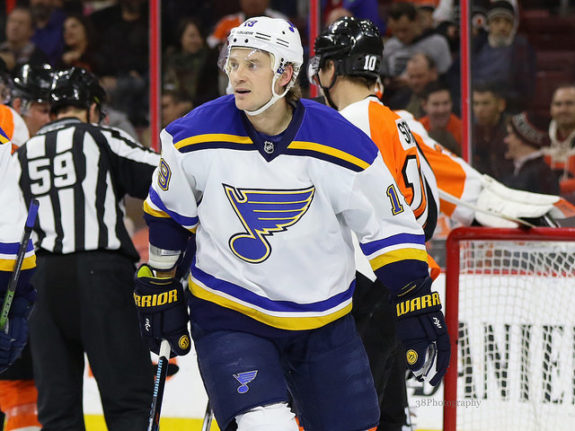 Along with Bouwmeester, the team also announced that Scottie Upshall suffered a knee injury and will be re-evaluated in four weeks. Losing two solid players, from both offense and defense, will do little to help the decline in confidence the team has suffered after the results of the last couple of weeks.
With a little over a month left in the regular season, the Blues are facing a tough battle for a spot in the playoffs. Coach Mike Yeo still has plenty of faith in this team, hoping that they finish the season much like they started with help from some of the young guys.
I am a lifelong St. Louis resident who recently graduated from the University of Missouri – Columbia with a Bachelor's degree in English Literature & Language. Aside from writing for THW, I currently work in the content marketing and copywriting fields and spend as much time as I can at Scottrade Center.