The St. Louis Blues' 2022-23 season was a shocking disappointment for fans and management alike, leading to the team becoming sellers at the trade deadline and ultimately finishing in a draft lottery position outside the playoffs. So who bears the blames for the team's failings? And who succeeded despite the team's struggles? That's what we'll look to identify in our 2022-23 Blues' Report Cards series.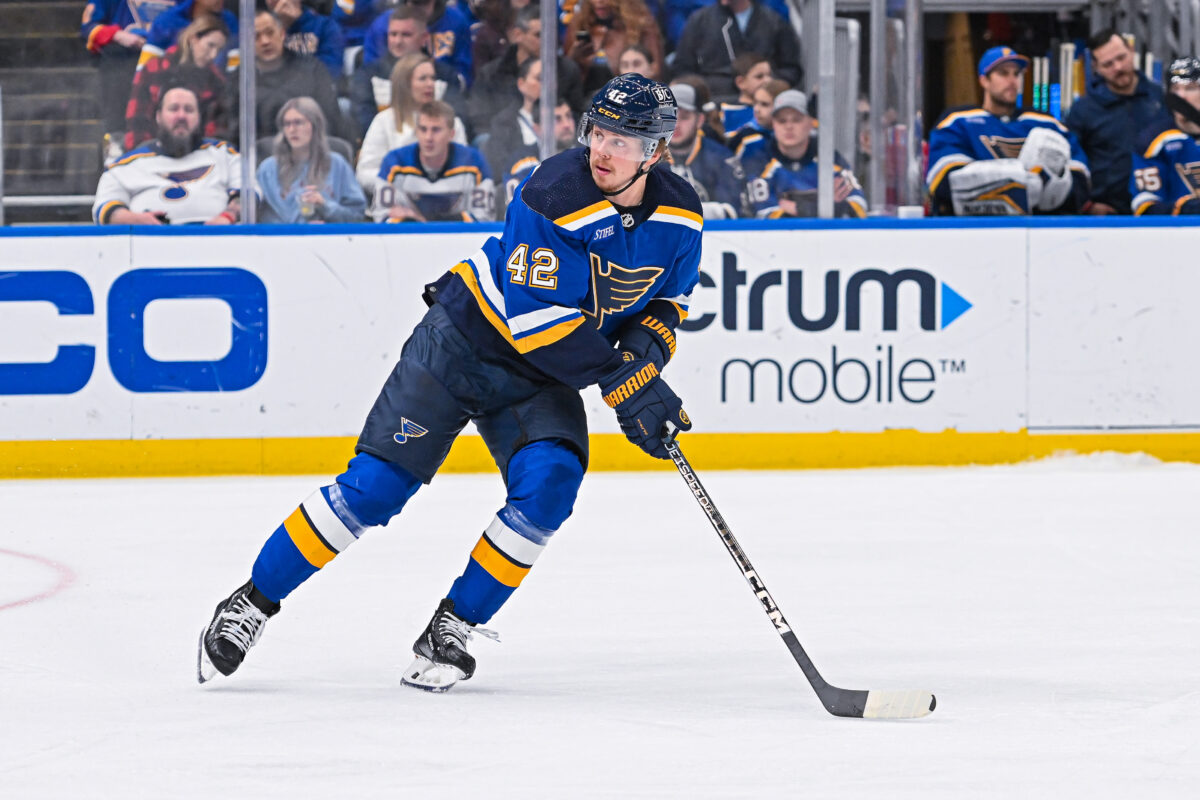 Kasperi Kapanen arrived with the St. Louis Blues unexpectedly after general manager Doug Armstrong claimed him off waivers from the Pittsburgh Penguins. After an up-and-down stint with the Penguins, Pittsburgh decided to cut bait with the 26-year-old forward ahead of the trade deadline, saving some salary cap space in the process. The Blues grabbed him, adding him to an ongoing roster rebuild that also included forwards Sammy Blais and Jakub Vrána. With that infusion of new talent, the Blues had one of their best stretches of the season post-deadline. And while that may have damaged the Blues' odds in the upcoming draft lottery, Kapanen's job was to prove his worth to his new team, and initial returns are very promising on that front.
What Went Right: Fast Start in St. Louis
Kapanen got a quick start to his career with the Toronto Maple Leafs and was viewed early on as a potential top young player. But he stalled out in Toronto and moved on to the Penguins, where he could never quite find his footing. Injuries and inconsistencies plagued his time in the Steel City, and by the trade deadline this season, the Penguins were looking for an escape clause. Armstrong took a chance, knowing he was getting a young player with one more season left on his deal for free. So far, his gamble has paid off.
Related: Penguins Coach Delivers Perfectly Timed Message to Kasperi Kapanen
---
Latest News & Highlights
---
Kapanen quickly found success with the Blues, seeing his ice time jump from 12:02 to 16:45. In that additional time, he was able to score eight goals and add six assists in just 23 games. That quick start to his time in St. Louis is exactly what Armstrong hoped to see. Kapanen used his speed and creativity to make an impact, and three of his eight goals were game-winners. It was a short audition but a promising start for the Finnish forward in St. Louis.
What Went Wrong: Tough End in Pittsburgh
Though it is somewhat outside the scope of grading Kapanen's performance on the Blues, it's worth noting that when players leave a team on waivers, it's usually with cause. And Kapanen's seasons in Pittsburgh were tough. His defensive metrics were and remain problematic, and it's fair to question whether he'll ever be a well-rounded top-of-the-lineup player.
But Kapanen's issues with the Penguins are a thing of the past. Now, he has one season left to prove that he deserves a long-term home in St. Louis. He won't spend any time looking back.
Key Stats
28 goal (50 point) pace in 23 games with the Blues
Ice time in St. Louis increased over four minutes per game
Final Grade: B+
If we're just grading Kapanen's time in St. Louis, then we have to assign him a high grade. There are still concerns about his defense, and whether he will make a long-term impact with the Blues. But early returns were very positive. The 28-goal pace he scored at would be a career-high if he matches it next season. And along with Blais and Vrána, he will become a critical part of the Blues' forward corps for next season.
What's Next for Kapanen?
Next season is all about proving he's earned a place. There is one season left on his contract, and at $3.2 million, his spot will be fairly expensive. He needs to continue to prove he's worth it. In the worst-case scenario, if the Blues repeat their performance from this season, he could be a tradeable asset at the deadline. In the best-case scenario, he'll play well enough to help the Blues take a step forward and sign a contract extension to stay. There's still a lot of uncertainty, but as far as Kapanen's time in St. Louis is concerned: so far, so good.