The St. Louis Blues' main need this summer is a middle-six center. However, the opportunity to acquire a player like Alex DeBrincat could change things. The Ottawa Senators acquired DeBrincat prior to the 2022 Draft and had a weird season in Ottawa in 2022-23.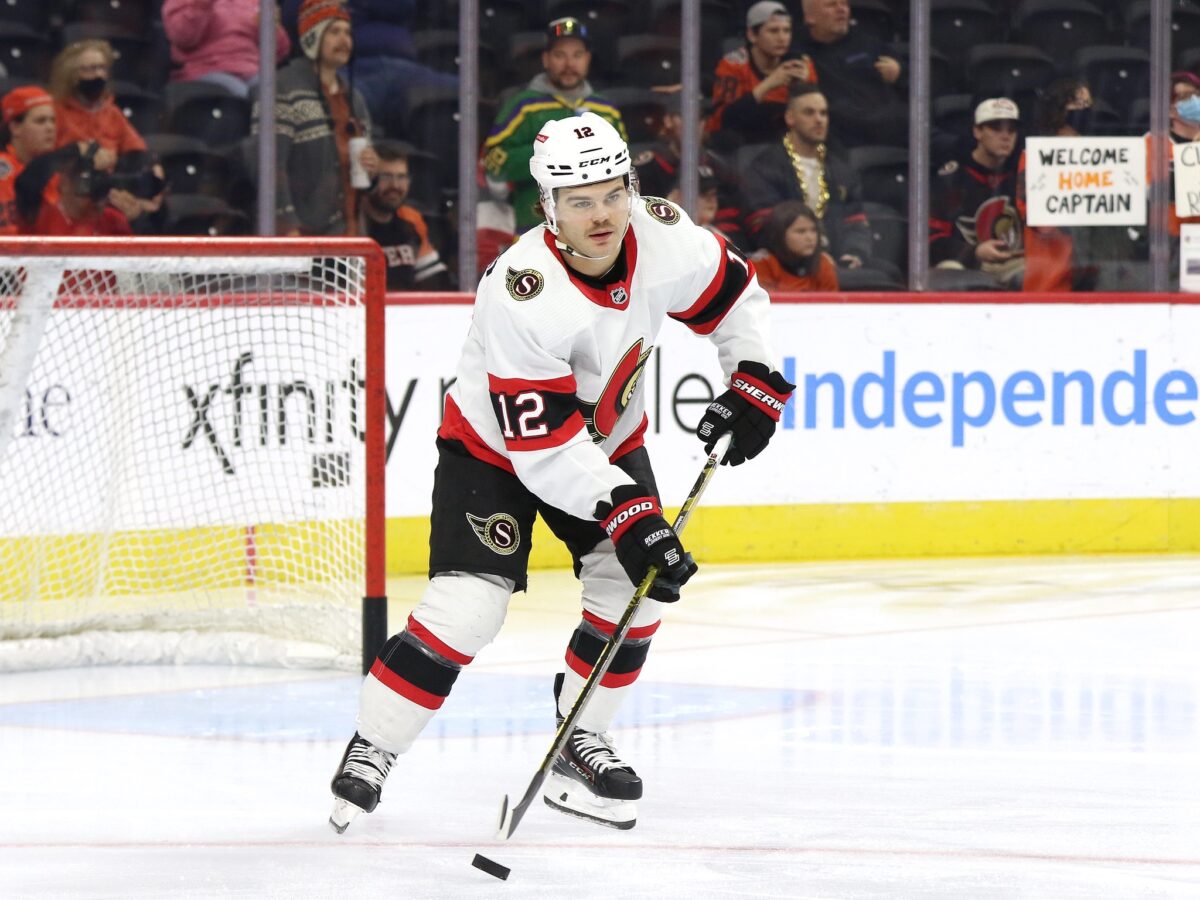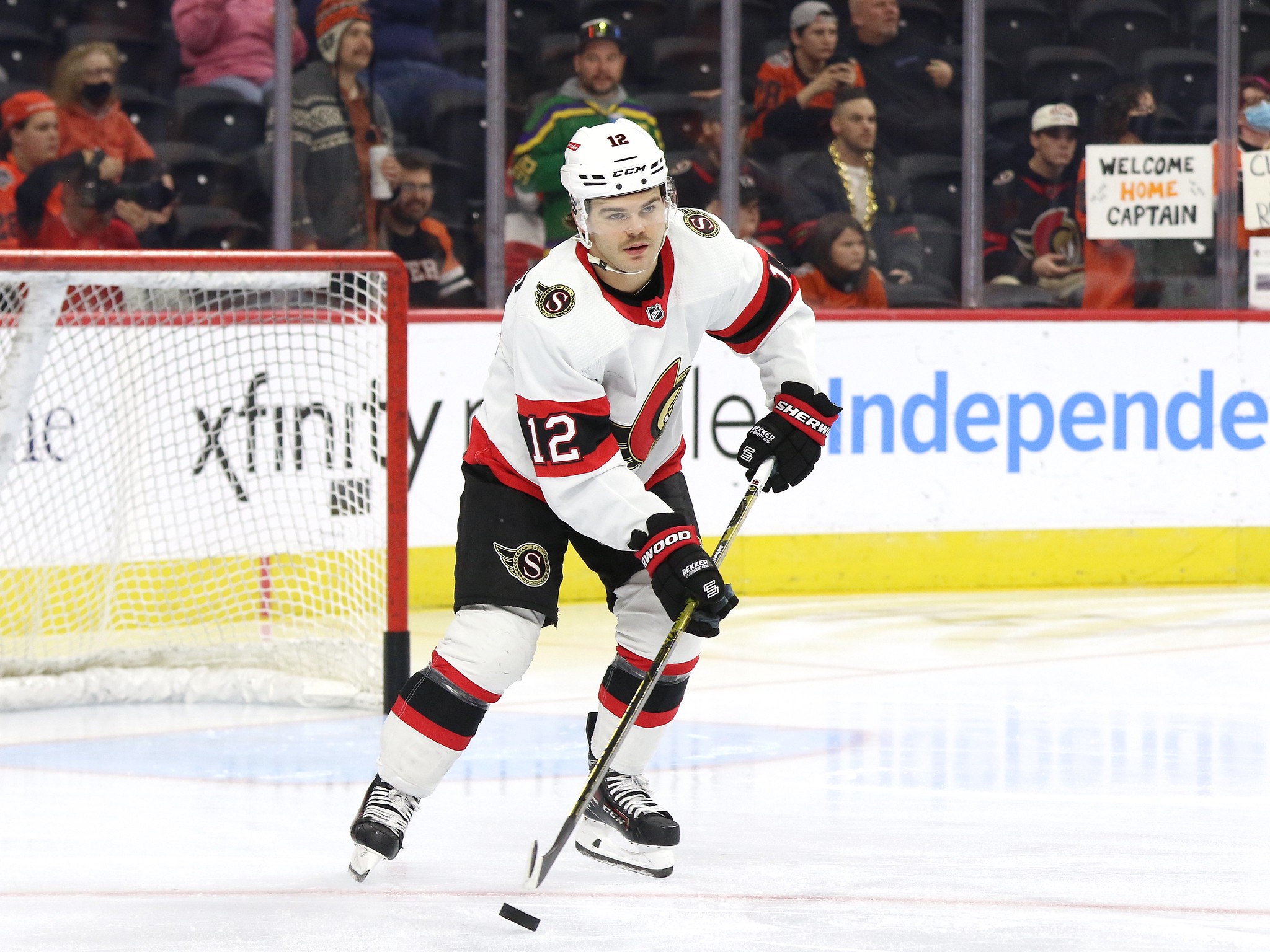 The Senators could be listening to trade offers for DeBrincat this summer, as he's a restricted free agent (RFA) and could command a lot more money than Ottawa is willing to pay. They already have a lot of salary cap space tied up in Josh Norris, Brady Tkachuk, Thomas Chabot, Jakub Chychrun, and Claude Giroux. All five of them will be under contract with the Senators through at least the 2024-25 season and beyond for most of them. It wouldn't shock me to see DeBrincat get traded for a second consecutive summer, which would make him the biggest name on the board if available.
DeBrincat's Career and First Season in Ottawa
After a huge 2021-22 season with the Chicago Blackhawks, DeBrincat was moved to the Senators in exchange for the seventh and 39th overall picks in the 2022 Draft and a third-round pick in the 2024 Draft. This was considered a steal for the Senators, but they didn't reach an extension with him, and his numbers went down in 2022-23. However, he's still a very good player.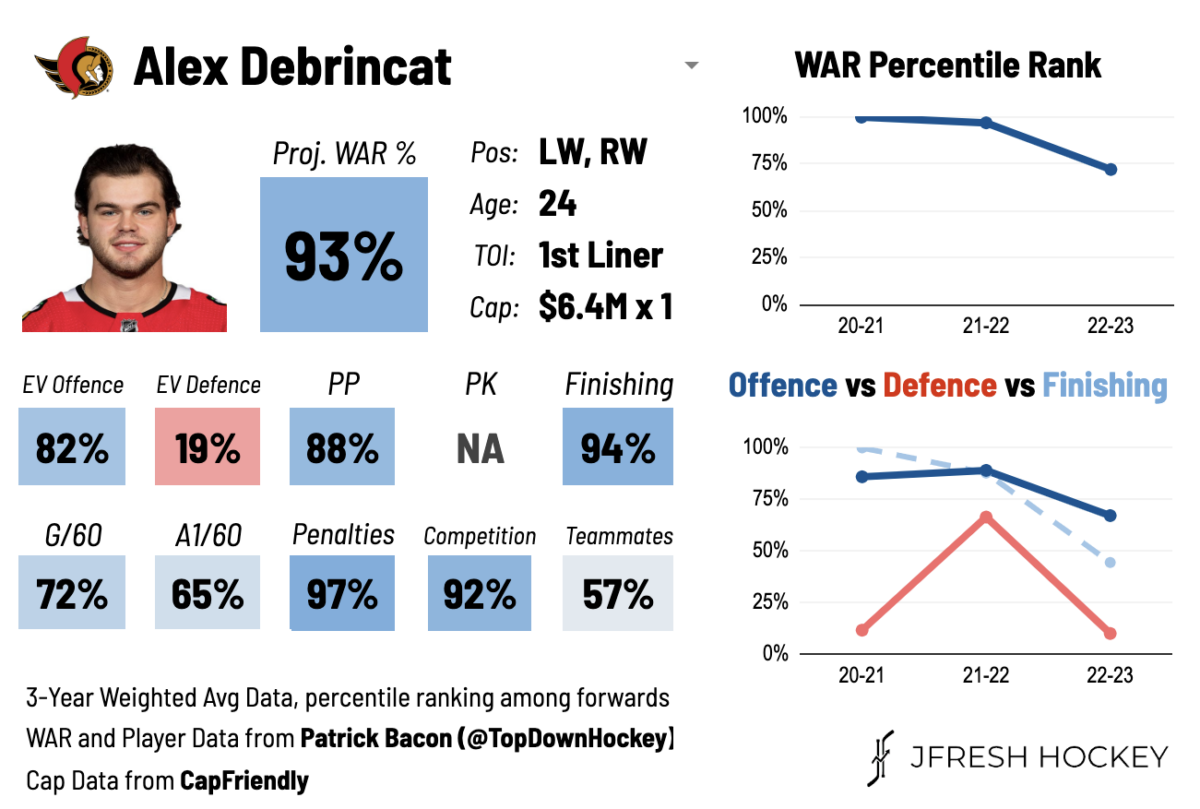 This WAR player card from JFresh shows how valuable he still is on offense. Before his first season in Ottawa, DeBrincat had three seasons of 30 goals or more with the Blackhawks; he had 41 goals and 37 assists for 78 points in 82 games in 2021-22 with Chicago. He's also been reliable with four seasons of 82 games played, including all 82 games in each of the last two seasons. In the shortened 2020-21 season, he played 52 of 56 games and has only missed four games in his six-year career. That's wildly impressive, given his undersized frame. He knows how to protect himself.
In 2022-23 with the Senators, he scored 27 goals and racked up 39 assists for 66 points, a goal total far too low in an 82-game stretch by his standards. He only tallied 16 even-strength goals, down from 27 in 2021-22. I believe that his drop-off in production is more about his fit with Ottawa than his on-ice ability, meaning he could rebound in a big way with a new team in 2023-24.
Ottawa Sun writer Bruce Garrioch seems to think that DeBrincat could get traded at the 2023 Draft, as contract negotiations between him and the Senators are not going well. The Blues have three first-round picks and will likely trade one or two of them on draft night. This feels like a perfect opportunity for Blues general manager Doug Armstrong, who traded for Pavel Buchnevich before the 2021 Draft, to swoop in.
Blues Forward Group Outlook with DeBrincat
Let's break this down from the Blues' perspective. They have plenty of forwards that can play in their top nine. However, their blue line is weak, and they need to outscore their mistakes in 2023-24. Unless Armstrong can make magic happen by trading a defenseman with a pricey contract, they will need to generate a lot of scoring, and this is where DeBrincat fits in.
Related: Senators: 3 Teams That Should Consider an Alex DeBrincat Trade
---
Latest News & Highlights
---
I believe that Buchnevich would be one of the Blues' top three centers if they trade for Debrincat. If they don't deal for him, Buchnevich could instead return to the wing if they sign a free-agent center. He showed the ability to play center, but I wouldn't feel as comfortable with him as one of their top three centers without a trade for DeBrincat. I think the Blues would have a lot of scoring potential with a move like this. Here's where I think he would fit in the team's lineup.
| | | |
| --- | --- | --- |
| LW | C | RW |
| Jakub Vrana | Robert Thomas | Jordan Kyrou |
| Sammy Blais | Pavel Buchnevich | Alex DeBrincat |
| Brandon Saad | Brayden Schenn | Kasperi Kapanen |
| Jake Neighbours | Nikita Alexandrov | Alexey Toropchenko |
Blues Projected Lineup with DeBrincat
With this lineup, I think the Blues' first and second lines would be interchangeable in minutes. I could also see a scenario where Sammy Blais and Kasperi Kapanen or Brandon Saad change spots; the same can be said about DeBrincat and Jordan Kyrou. Plus, the Blues could have a couple of lethal power-play units with this forward group.
Blues' Trade Package for DeBrincat
This is where it gets complicated. Given DeBrincat's RFA status, the Blues would need to sign him to a contract. Whether that's a four or eight-year deal remains to be seen. It could be any length. However, if the Blues are to make this trade, a contract of at least four years makes sense. They gave Buchnevich a four-year deal when they traded for him as an RFA. I am completely guessing what the compensation could be for this deal, but I believe that the Blues will need to move a defenseman in this deal or another. Here's my best guess at the trade package.
| | |
| --- | --- |
| Ottawa Senators Recieve | St. Louis Blues Recieve |
| 2023 1st Round Pick (from Dallas Stars) | RW Alex DeBrincat |
| 2023 1st Round Pick (from Toronto Maple Leafs) | |
| 2024 3rd Round Pick (from New York Rangers) | |
| D Colton Parayko | |
I'm getting weird and potentially unrealistic with this package. I'm not sure if any team wants to take on Colton Parayko's contract, but Ottawa could be desperate enough for a Chabot partner. The other package would replace Parayko with a Blues prospect, anybody outside of Zachary Bolduc or Jimmy Snuggerud. The thing about NHL trades is that none of us know the actual value that general managers view each player with. This could be viewed as an overpay or underpay, and nobody knows what general managers are willing to give up. A great example would be the Tampa Bay Lightning's trade for forward Tanner Jeannot.
Either way, the Blues should do their due diligence on the DeBrincat market. The opportunity to acquire a forward of this caliber is rare. The only player that the Blues could consider trading both of those late first-round picks is DeBrincat (I don't think they should deal the 10th pick for him). The late first-round selections hold plenty of value with the loaded 2023 Draft class. Armstrong has many decisions to make this summer, and I'm fascinated to see what he does.
---
---