When the Boston Bruins brass met with the media on Tuesday (May 9) in their final media availability of the season, team owner Jeremy Jacobs, president Cam Neely, general manager (GM) Don Sweeney, and coach Jim Montgomery took questions about the 2022-23 season looking beyond. It was clear in the body language and their answers that the sudden end to the season in the first round of playoffs at the hands of the Florida Panthers in seven games after holding a commanding 3-1 series lead still stings. In reality, it will sting for a long time and hang over the franchise even as they look to move forward in 2023-24.
Related: Blame for Bruins' Playoff Collapse Spreads Deep in Locker Room
Sweeney acknowledged that there will be changes and the Bruins will have a different look when they gather at Warrior Ice Arena in September for the beginning of training camp. Gone will be a lot of their current unrestricted free agents (UFA) and more than likely, Sweeney will look to trade some players under contract for some salary cap relief. The eighth-year GM did also say that they would like to add some young players to the lineup next season.
"Ideally, I wouldn't be sitting here. I'll be perfectly honest with you. And I think everybody knows that," said Sweeney. "And I take a lot of ownership in the fact that we're sitting here. So, we have a really good group of young players that are committed to this organization in some key positions for our organization. We have to grow and foster some younger players that will play some roles. So, we feel good about if you look at guys who can go and play a top-six role right now. I think we have to fill the bottom part of our roster.
With that said, who are some of the younger players the front office and Montgomery have their eyes on entering next season? Let's take a look at which players could find themselves in the lineup on a nightly basis.
Lauko, Koppanen and Merkulov Headline Forward Options
At different points this season, Montgomery had to dive into the talent pool with the Providence Bruins in the American Hockey League (AHL) when injuries occurred. One of the players that came up and played well, even earning more ice time than he got was Jakub Lauko, who is a restricted free agent (RFA) and needs to agree to a contract, which will more than likely happen. In 23 games this season, the third-round pick in the 2018 Entry Draft had four goals and seven points, while picking up an assist in three games against the Panthers in the postseason. The 6-foot-0, 196-pound wing was physical, strong on the forecheck, and played well when his number was called. He showed his speed and finishing ability when he got to the front of the net. He is at the top of the list of names that could find themselves in the bottom six next season.
Related: Bruins Free Agent Predictions for 2023 Offseason
---
Latest News & Highlights
---
When Tomas Nosek suffered an injury in January against the New York Rangers, Joona Koppanen was brought up and impressed during his five-game stint. The 6-foot-5, 216-pound left shot had an assist, and he played a key role on the penalty kill with his long reach. He was good at the faceoff dot and at 25 years old, if there is a time that the fifth-round pick in the 2016 Draft is going to break through, it's next season. Oskar Steen has been up and down between Boston and Providence for the last couple of seasons. Under former coach Bruce Cassidy, Steen played in 20 games in 2021-22 with two goals and six points. This season he only played three games in Boston and had one goal. He is undersized at 5-foot-10, but he plays bigger. He gets to the front of the net and is a good skater. A fourth-line role next season could very well be in his future.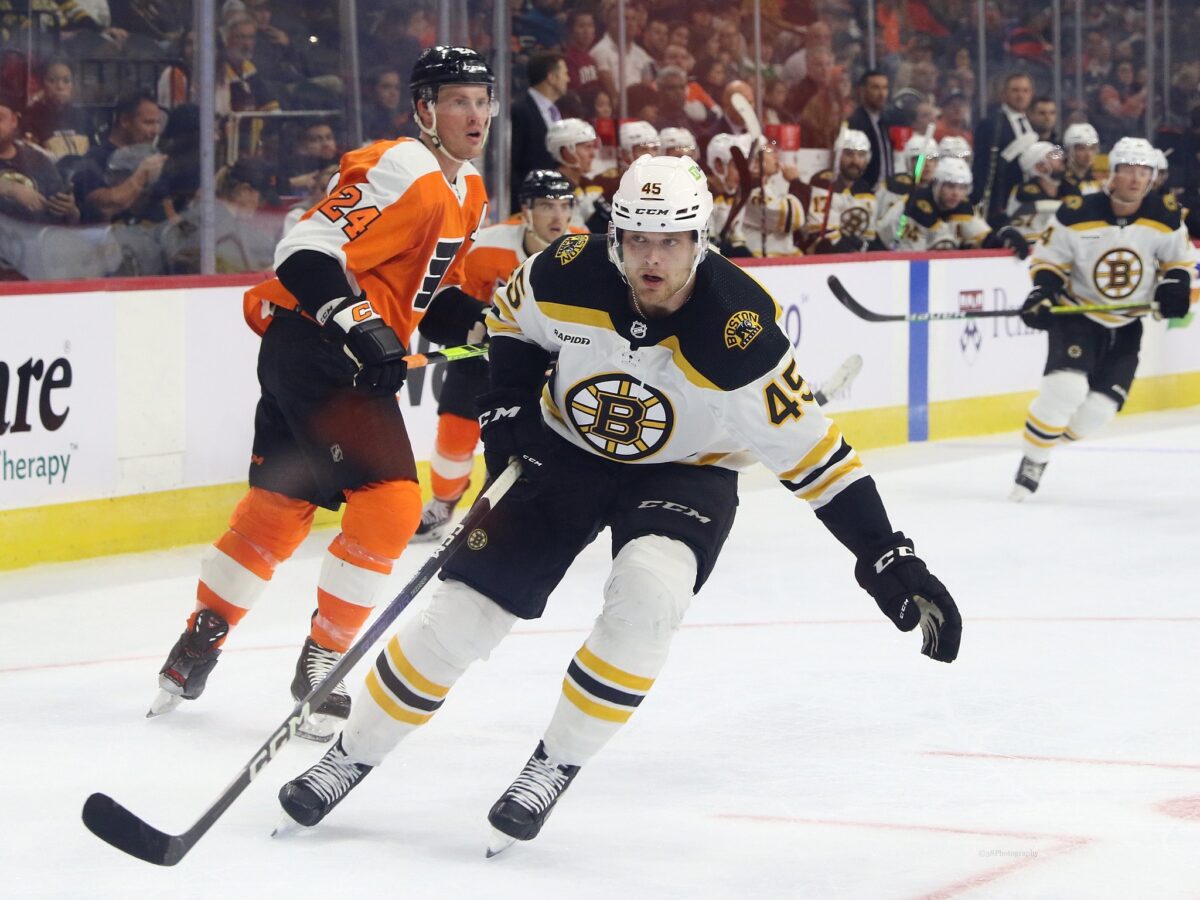 Questions still surround the futures of Patrice Bergeron and David Krejci down the middle, but with Nosek a free agent this summer, the Bruins have John Beecher waiting in the wings with Koppanen to be a bottom-six center next season. In his first full pro season in Providence, he had nine goals and 14 assists, while also being an effective penalty-killer. At 6-foot-3, he's another young center with size, a long reach, and the ability to play in different situations. The biggest wild card in the Bruins' young forward grouping is Georgii Merkulov, an undrafted signing in March of 2022. After a strong freshman season at Ohio State University with 20 goals and 14 assists, he had 24 goals and 31 assists with the P-Bruins. He has a good quick shot and can finish around the net. He should have gotten a shot this season as a call-up and he could be an offensive addition to the bottom six.
Fabian Lysell would be considered a bigger wild card than Merkulov as the 2021 first-round pick had an up-and-down first full pro season battling injuries. His offensive skills speak for themselves, but he is someone who could probably use another AHL season, or start the year there and come up at some point. That will depend on roster decisions made by Sweeney and the front office this summer. 
Zboril and Lohrei Top Defensive Options
Defense is one position that has some guys locked up heading into next season, but it's hard to imagine all of them returning. Dmitry Orlov is certain to be gone and Charlie McAvoy and Hampus Lindholm are locked up, but after that, there are some options to move. On the left side, Matt Grzelcyk, Mike Reilly, and Derek Forbort are the most likely candidates to be moved. Not all three, but two of the three is not out of the question. On the right side, it's hard to envision Sweeney moving Brandon Carlo and Connor Clifton has most likely priced himself out of the Bruins' budget unless he agrees to take a major hometown discount. 
Jakub Zboril spent the majority of the season as the seventh defenseman and only made it into 22 games. Last season, he took big strides in his development, but he suffered a season-ending knee injury in December against the Nashville Predators. He signed a two-year contract last May, but never found a consistent role in Montgomery's lineup. His cap hit next season is $1.3 million and that will be easier for Sweeney to fit into the cap. The 13th overall pick of the 2015 Draft is 26 years old and this sure seems like a big season coming for not only Zboril, but also the Bruins.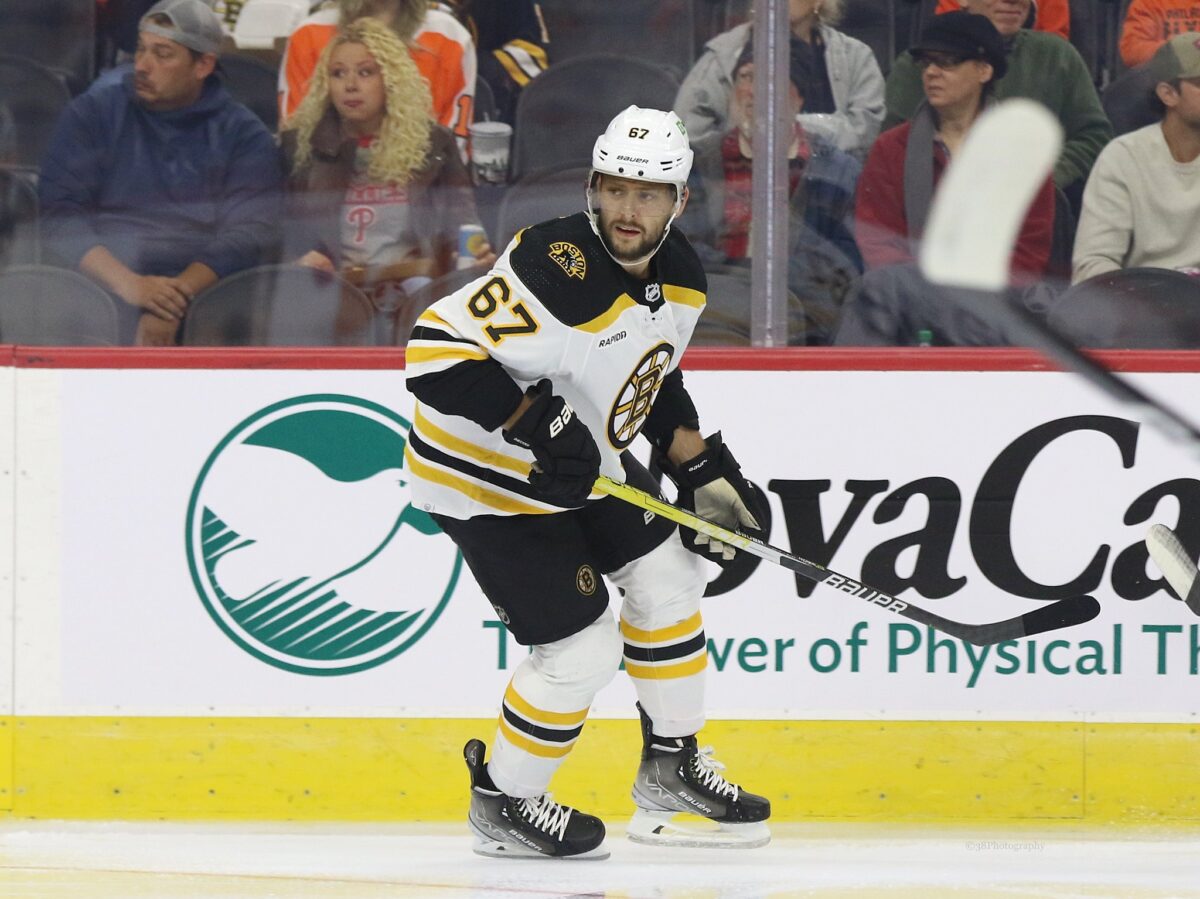 Top defensive prospect Mason Lohrei is a wild card next season for a left-shot spot on defense. After his strong sophomore season at Ohio State, he signed with the P-Bruins on an ATO in March, then signed his entry-level contract on May 10. He has a good offensive game, he's big at 6-foot-4 and 209 pounds and he is strong on zone exits, something that hampered the Bruins against Florida. He is someone worth watching in training camp.
Sweeney made it loud and clear that changes were coming this summer and that the Bruins were not going to be the same team that ended the season. There is expected to be more youth in the lineup and that means letting some bottom-six forwards leave in free agency and trades more than likely coming on defense. Some of the Black and Gold prospects are on the verge of finding an NHL spot full-time and some will have that opportunity next season. There are many different options they could go with and time will tell who they see as part of the next "core group'' in Boston.
---
---