It was a season that the Boston Bruins will not forget for a long time. After putting together a historic regular season that saw them set the NHL record for wins with 65 and points with 135, all of that good feeling went away in the postseason. They followed their historic regular season with a historic postseason collapse that saw them blow a 3-1 series lead to the Florida Panthers who won the final three games, two in overtime and one in a high-scoring affair to pull off the greatest playoff upset.
Now that the dust has settled and the Bruins have cleaned out their lockers, had their exit meetings, and are going their own way for what is going to be one long offseason, the real work looking ahead to the 2023-24 season begins for the front office. General manager (GM) Don Sweeney has some decisions to make as far as putting together a roster for next season and with very tight cap space, it's going to force some tough decisions on players under contracts and free agents. With that said, let's take a look and predict which restricted (RFA) and unrestricted free agents (UFA) will be back in Boston and which have played their final game with the Black and Gold.
Patrice Bergeron – UFA
This decision is up to the Bruins captain on whether or not he thinks he can give it one more shot. Patrice Bergeron is a finalist for the Selke Trophy and odds on favorite to win the award. At 37 years old, he showed that he still has a lot left in the tank and can play at a high level. He took a very team-friendly deal last summer to return and it was loaded with incentives. He played in 78 games and had 27 goals and 31 assists.
Related: Boston Bruins 2022-23 Player Grades: Patrice Bergeron
---
Latest News & Highlights
---
He was injured in the regular season final against the Montreal Canadiens and missed the first four games of the Panthers' series, playing in the final three with a goal and a plus/minus of minus-6. Not how you expect the series to play out when he returned to the lineup. He has been a staple up the middle during his whole career in Boston and the reality of him not being there anymore is not too far off.
Prediction: Bergeron will end up making the tough decision to retire and end his Hall of Fame career. He revealed that he had a herniated disk injury he played through in the playoffs and despite not needing surgery, that's not an injury a veteran wants to play through at the end of his career.
David Krejci – UFA
After leaving for the 2021-22 season to return to his home country of Czechia to play for a season, David Krejci returned last summer and like Bergeron, he did so on a very team-friendly contract loaded with incentives. He formed a very good connection on the second line with Pavel Zacha and David Pastrnak when the trio was healthy and it paved the way for Zacha to set a career-high in goals (21), assists (36), and points (57), while Pastrnak scored 61 goals.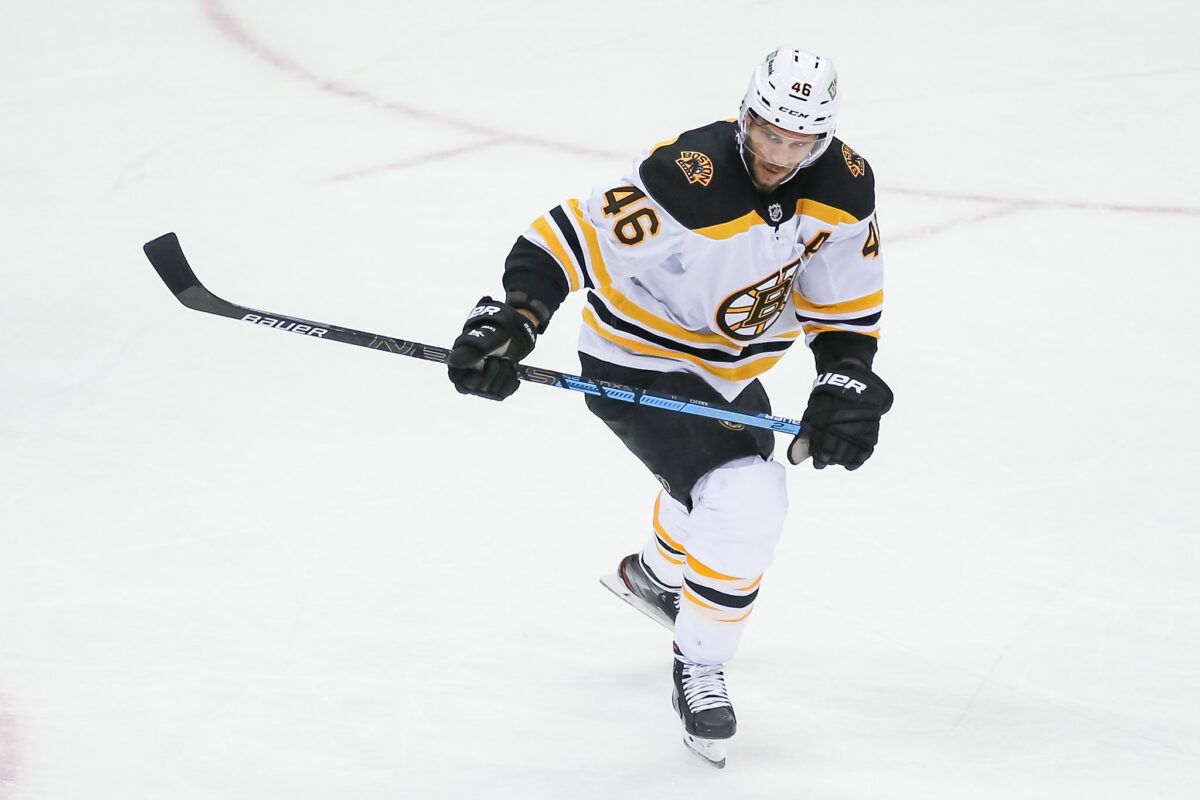 Like Bergeron, he was injured late in the regular season, missed the final couple of weeks before the playoffs, and played in just four games against Florida with a goal and three assists. In 70 regular season games, he had 16 goals and 40 assists and played in his 1,000th career game in January against the Philadelphia Flyers. It was not surprising after the Bruins fired Bruce Cassidy after last season that Krejci returned for one more run wearing the Spoked-B.
Prediction: It was pretty telling after the Game 7 loss to Florida in overtime that Krejci was overcome by emotion and was not made available to the media following the game. He will retire at 37 years old and ends his long run in Boston.
Connor Clifton – UFA
What a season it was for Connor Clifton on defense. He had an opportunity presented to him with Matt Grzelcyk and Charlie McAvoy missing the beginning of the season recovering from offseason surgeries and he took full advantage. The former Quinnipiac University blueliner in 78 games set a career-high in hits with 208 and blocks with 120. He also had career highs in goals (five) and assists (18).
He became one of the Bruins' most reliable defensemen in the regular season, however, he struggled in the playoffs with turnovers in the defensive zone and no bigger than the two in Game 6 that led to a first-period goal and a third-period game-winning goal. He has become a fan favorite, but he is looking at what could be his final big contract in the league at 28 years old.
Prediction: Clifton will get a pretty big bump in pay and it won't be in Boston. Could he come back on a short team-friendly deal? Yes, but it is more than likely other teams will make a run at him and someone will give him a deal money-wise that he will not be able to turn down. 
Nick Foligno – UFA
Talk about a bounce-back season that no one saw coming. After a disastrous first season with Boston in 2021-22, Nick Foligno came back healthy and took on a leadership role both in the locker room and on the ice. He was one of the better bottom-six forwards all season before a knee injury cut his regular season short in February against the Calgary Flames.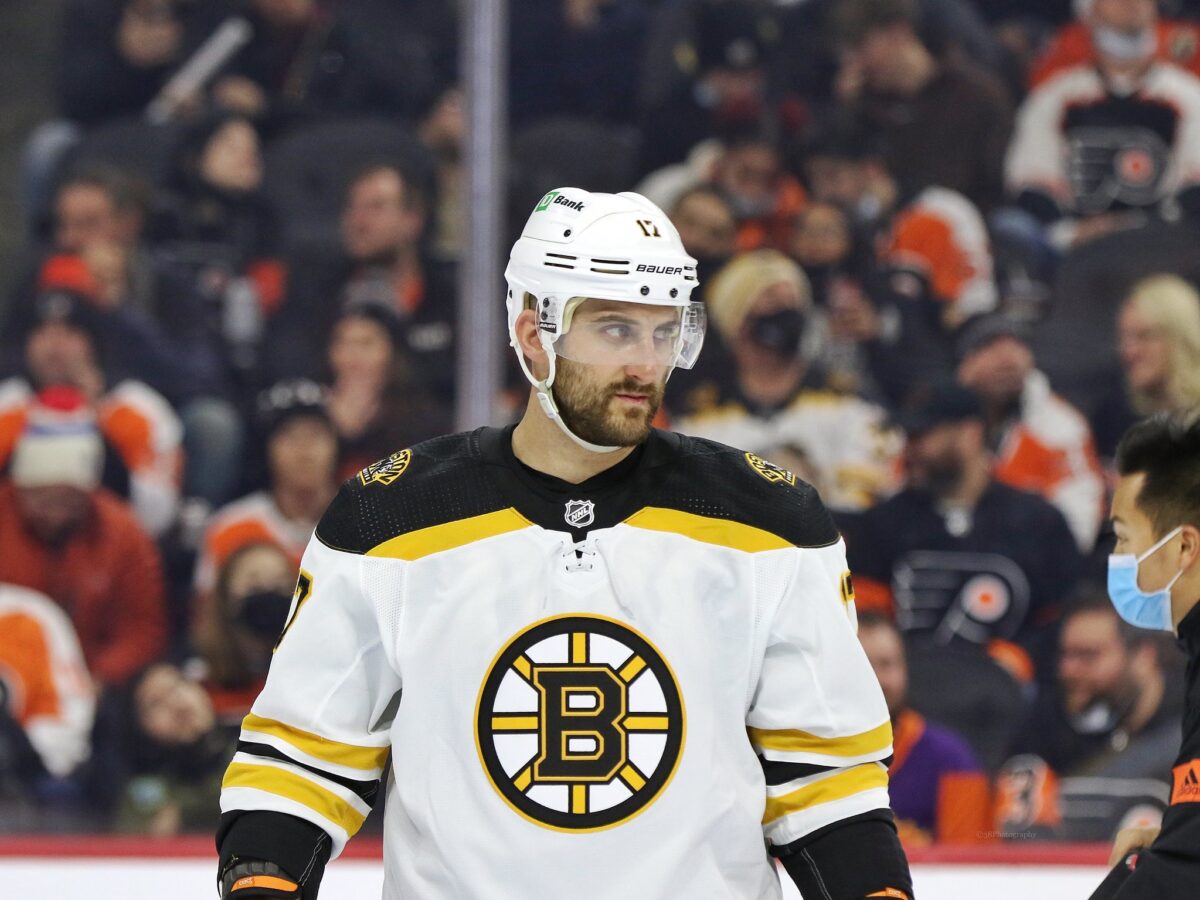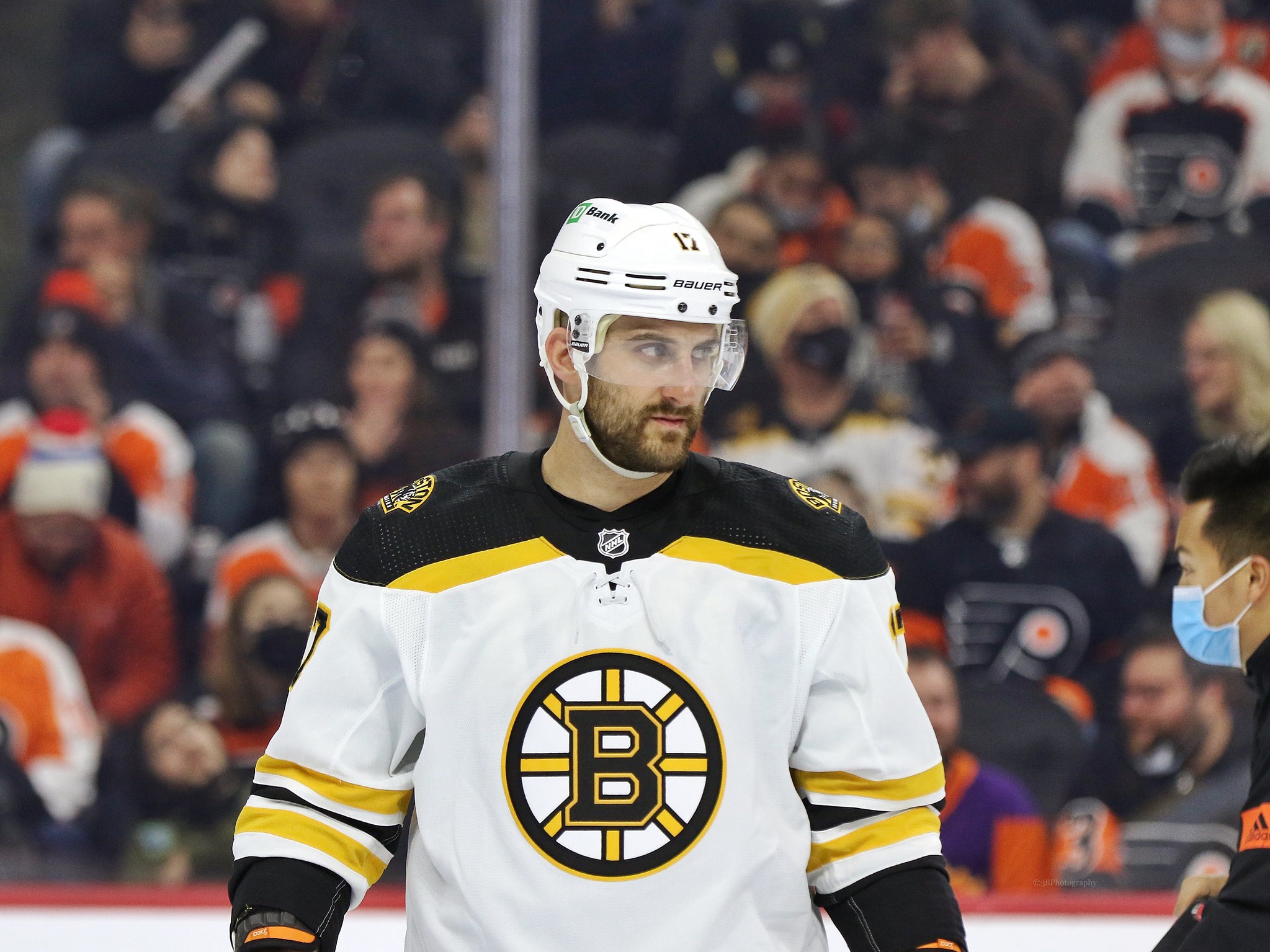 He had 10 goals and 16 assists in 60 games before his injury and looked like the player the Bruins were hoping to get last season after signing a two-year, $7.6 million contract with an average annual value (AAV) of $3.8 million. In six games against the Panthers, he had a goal in Game 3 and seven shots on the net in the series. If he returns to Boston, it will have to be at a cheaper AAV than the first contract he signed.
Prediction: The Bruins will not re-sign him and will look to make the transition to going young in the bottom six next season. The ideal landing spot for Foligno this summer is with the Buffalo Sabres, a young up-and-coming team that needs a veteran presence in the locker room. 
Tomas Nosek – UFA
Like Foligno, it was not a very good first season in Boston in 2021-22, but it was a bounce-back season for Tomas Nosek this season. After three goals last season, he found the back of the net seven times and had 11 assists. He was also strong at the faceoff dot, winning 59.3% of his draws and earning the trust of first-year coach Jim Montgomery in late-game situations as a second center on defensive zone draws. He was also a key part of the league's top-ranked penalty kill.
This is a tough call as he played really well this season, mainly centering the fourth line, and was productive. He signed a two-year, $3.5 million contract with an AAV of $1.75 million in the summer of 2021 and he should get a little bump with a $2 million AAV.
Prediction: He returns on another contract, maybe even a one-year deal, to be a veteran presence in the bottom six and on the penalty kill. NHL-ready center depth in the minors is one area the Bruins are lacking in.
Dmitry Orlov – UFA
What an addition to the defense at the trade deadline Dmitry Orlov was. With McAvoy and Hampus Lindholm, it gave them three potential top-pairing defensemen that allowed Montgomery to mix and match on the backend. He was very good with the Washington Capitals but became available after his agent and the team was not able to reach an agreement on an extension. Sweeney swooped right in and grabbed him.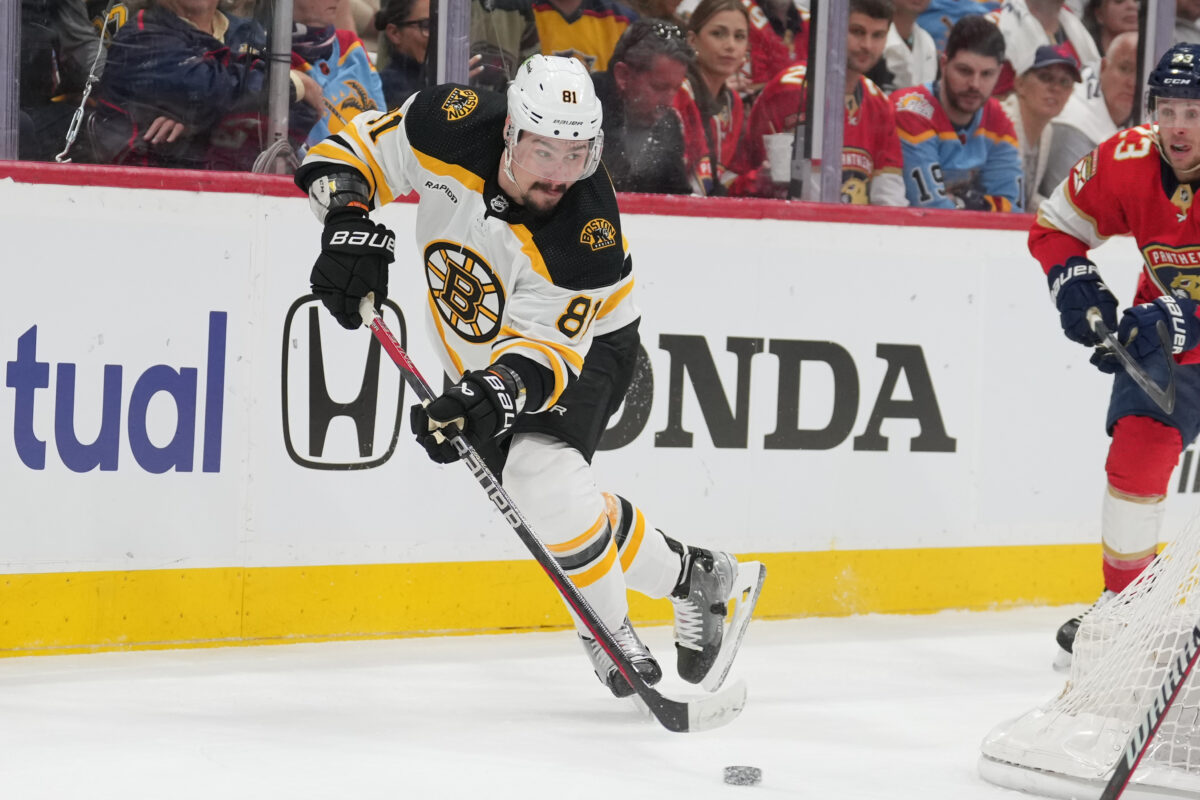 He fit right into the Bruins system and gave them a puck-moving offensive defenseman they were seeking on the left side with Lindholm and Matt Grzelcyk. Like all of the other defensemen, he struggled in the playoffs, He had eight assists and was a minus-3. He logged over 24 minutes a night in Boston and is someone that would fit into the system and be successful going forward.
Prediction: As good of an addition he was for Boston, there just isn't enough money to sign him to the type of contract he wants in what will be the final big payday of his career at 31 years old. A return to Washington is not out of the question or another contender for the next couple of years would make a run at him and overpay. The Bruins won't do it with a long-term deal of four or five years. 
Tyler Bertuzzi – UFA
When Foligno was lost to an injury against the Flames and with Taylor Hall already sidelined with an injury, Sweeney acquired Tyler Bertuzzi from the Detroit Red Wings on March 2. He came to the Bruins and was a depth piece that was slotted anywhere in the middle-six, even getting some shifts in the playoffs on the first line. In 21 regular season games in Boston he had four goals and 12 assists. In the playoffs, he was tied with Brad Marchand in points with 10 on five goals and five assists.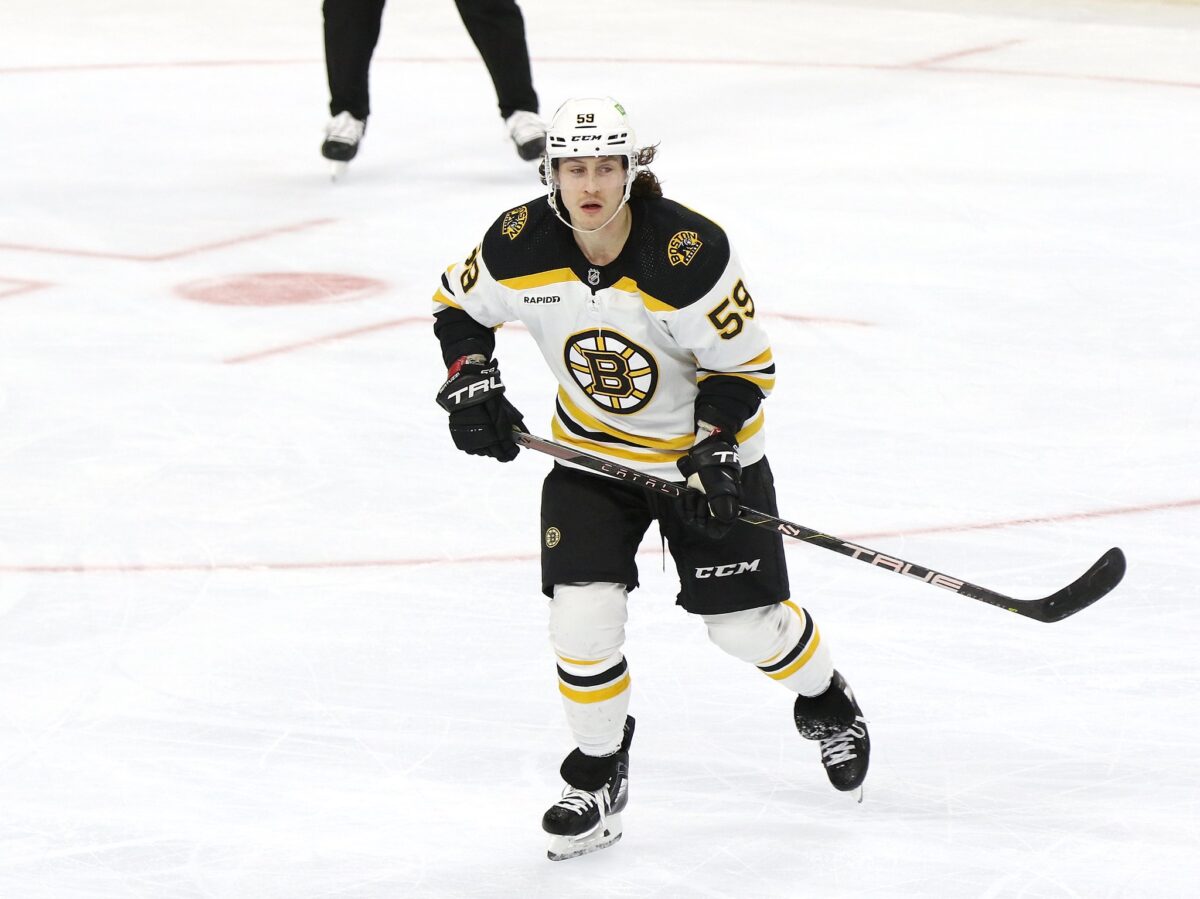 He is a prototypical Bruin with the way he plays, being a physical presence, getting to the front of the net, scoring goals, being a playmaker, and playing a solid all-around game. Like with so many others on this list, money is going to be the big sticking point.
Prediction: Bertuzzi set himself up for a big payday in free agency and it won't be in Boston. It would not be surprising to see him return to Detroit or have a team like the Toronto Maple Leafs or another contender give him the money he deserves.
Garnet Hathaway – UFA
As part of the trade with the Capitals, the Bruins also got Garnet Hathaway and he supplied grinding fourth-line shifts. A physical presence, he sprinkled in some production and made the bottom line difficult to play against. He was an agitator with Washington and he continued that in Boston. Unlike most of the other names on this list, it won't cost a lot to retain him to return.
Prediction: Hathaway returns to the Bruins and continues to play the same type of game next season. It won't take much to retain him and you have to think that Sweeney will make him a priority.
Jeremy Swayman – RFA
After signing in March of 2020 as the COVID-19 shutdown began, Jeremy Swayman's entry-level contract expires, and his $925,000 AAV. He has certainly earned a payday with his play the last two seasons and he has formed a very good duo with Linus Ullmark. This season, Swayman went 24-6-4 with a 2.27 goals against average (GAA) and a .920 save percentage (SV%).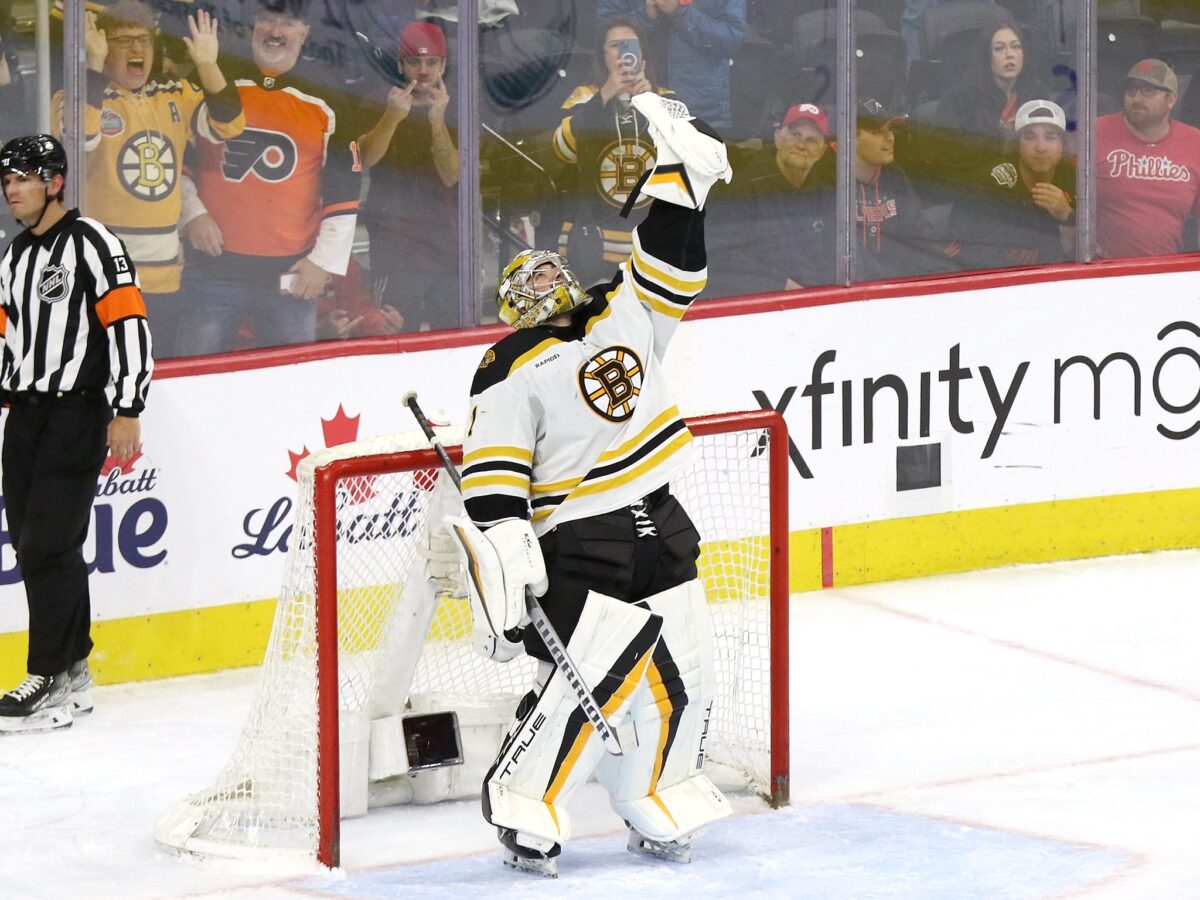 There is very little doubt that Swayman is a future No. 1 goalie and it should be in Boston. Sweeney has a number of ways that he could go with this. He could trade Ullmark or if he feels that he can't sign Swayman, does he move him similar to what the New Jersey Devils did last season with Zacha? That is one of many questions facing the Bruins GM.
Prediction: Swayman and the Bruins go to an arbitrator this summer to agree on a contract and Sweeney finds a way to sign him.
Trent Frederic – RFA
There were many players who benefitted from the coaching change last summer and Trent Frederic ranks right at the top of the list of players. The Bruins have been waiting for him to break out and he did under Mongomery. He set career highs in goals, assists, and points playing mainly on the third line with Charlie Coyle and Hall. He was able to pivot into the middle for Montgomery and play some key shifts as a center.
Related: Blame for Bruins' Playoff Collapse Spreads Deep in Locker Room
Is this sustainable for Frederic moving forward? That's the question that Sweeney must answer. If so, he provides flexibility in the bottom six and is another player that plays with a chip on his shoulder and has shown the ability to score by getting to the dirty areas in the offensive zone.
Prediction: Frederic returns on another short-term deal in the $1.5-$2 million range.
Let's not ignore the elephant in the room and that is that the Bruins have a major cap dilemma on their hands. To re-sign anyone, in reality, contracts are going to have to go out the door in multiple trades. Who gets dealt? That's anyone's guess, but unless the front office and Montgomery want to go young next season behind the players under contract, people are going to have to be moved. In the overall picture, I don't see how the Bruins can bring back many of these players for 2023-24.
---
---