Winnipeg Jets' 2019 first-round pick Ville Heinola has yet to get an extended look in the NHL. Until this point, he has played 35 games over four years and has failed to stick with the big club.
With the trades in the 2021 offseason for Brenden Dillon and Nate Schmidt, along with the ascension of 2017 second-rounder Dylan Samberg, the Jets' defence core has built up quite the log jam. With plenty of questions surrounding the Jets' roster this offseason, Heinola is looking to break through in 2023-24.
Back on Nov. 3, 2022, The Hockey News reported that Heinola was growing frustrated with his lack of opportunities on the Jets' roster. Fast forward a full season and a lengthy opportunity never came for the 22-year-old defender. (From "Ville Heinola Deserves a Longer Look in the NHL: Agent," The Hockey News, 11/3/22)
Heinola is Looking for a Chance with the Jets in 2023-24
In his year-end presser, Heinola expressed that his mental strength was tested this season when he wasn't able to stick up with the Jets for more than 10 games. He told reporters, "This year I feel was kind of tough for me mentally. Kinda hoped to get more games up there, I played some games but really wanted to play more," he related this to improving his mental strength as he needed to keep pushing himself throughout the season in the American Hockey League (AHL).
Heading into a massive offseason for Heinola's development, he stated, "I'm going to give everything I have this summer. When I come out here I've got to perform, I've got to play my best. I just want to show those guys they can't take me out of the lineup anymore."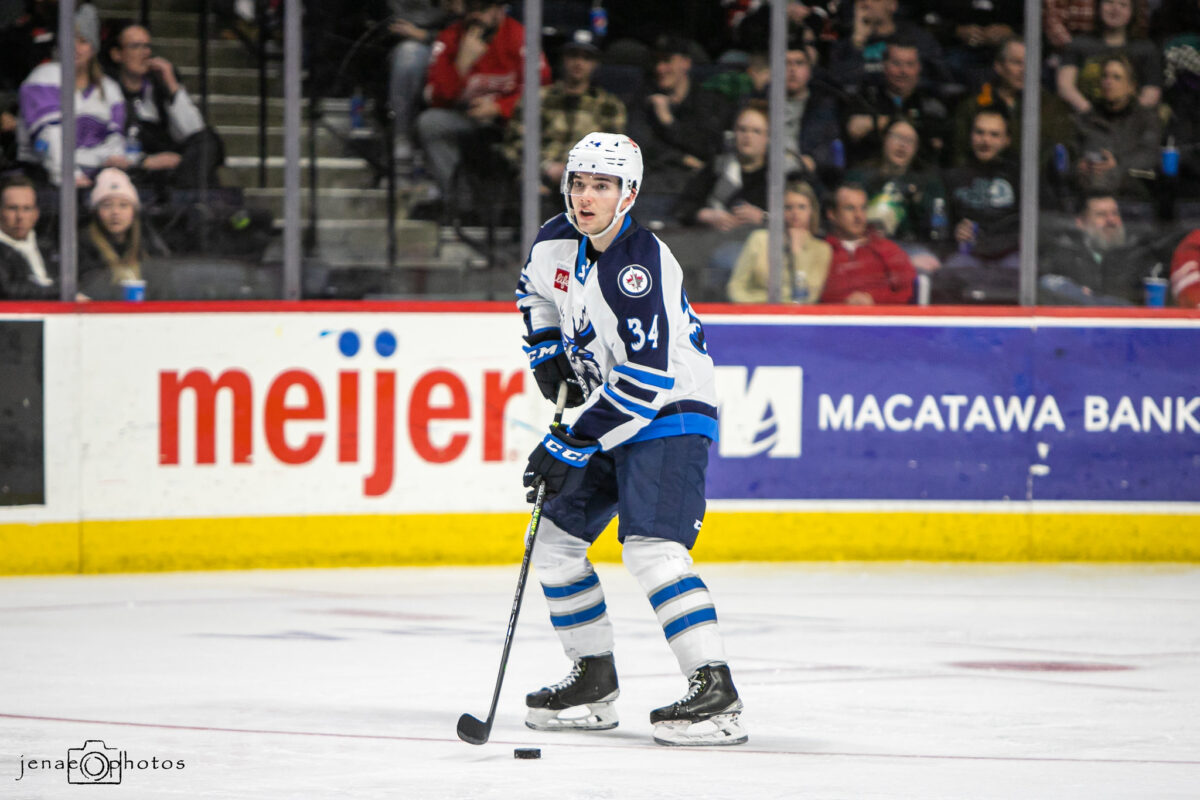 Heinola was phenomenal this season for the Manitoba Moose, putting up 37 points in 48 games and being one of the best puck-movers in the AHL. Heinola's passing and instincts powered the Moose's power play to a top-five mark in the league at 22.7 percent.
When he is given a chance at the next level, it has yet to be an extended look. When asked about that, he explained, "For me I feel like when you get more games in a row it gets easier every game. You get used to the speed that's faster up there." His next step in development is reps at the NHL level, and a prolonged look at the next level may be in the cards for 2023-24.
Yet Another Training Camp Battle Awaits
The clearest path for Heinola to get NHL reps is for him to simply win the job in training camp. With the log jam on the back end, it looks as though he will have to beat an established veteran for a role on the team. Logan Stanley, the current seventh defenceman, requested a trade at the 2023 Trade Deadline and may be looking for the same result this offseason. If Stanley is indeed on the move, that would all but secure Heinola's spot with the Jets, but it remains that he would have to earn his way into the lineup.
Related: Jets Still Have Time to Maximize Logan Stanley's Value
At this stage in his career, there is no reason to believe that Heinola cannot be an effective puck-mover and power-play specialist at the next level. When asked what is holding him up the most from taking this leap, he stated, "I feel like the biggest part is getting my strength up, being able to battle there. Of course, getting faster so I can handle the speed, that's something I really want to focus on."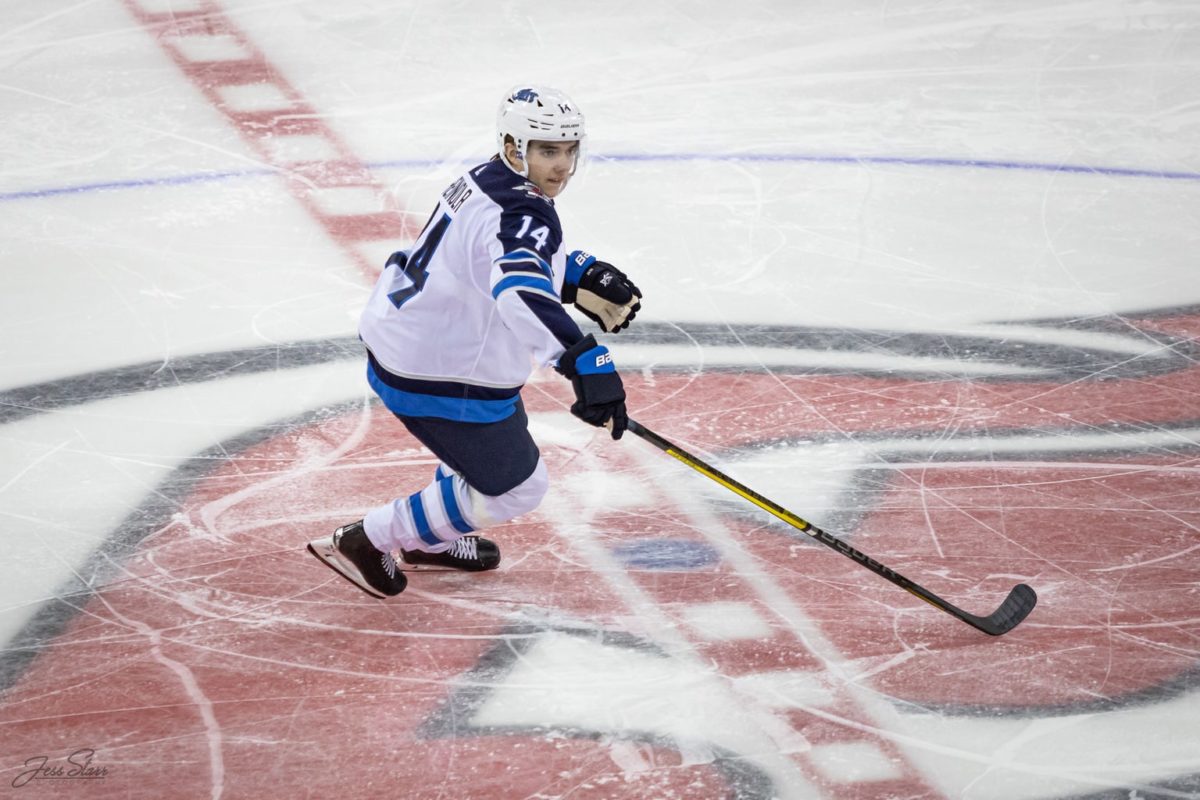 According to NHL.com, Heinola stands at 6-foot-1 and weighs 185 pounds. That makes him taller than Jets defenders Josh Morrissey, Neal Pionk, Nate Schmidt, and Dylan DeMelo. Heinola adjusting to the speed of the NHL will help cover for being traditionally undersized, much like how Morrissey is able to be an incredibly effective player due to his play in transition and the offensive end.
Offseason Questions Remain for Jets Defence
The other way for Heinola to earn a role on the Jets' blue line is if they decide to shake up the back end. With all four of Schmidt, Pionk, DeMelo, and Brenden Dillon slated to return in 2023-24, general manager Kevin Cheveldayoff may want to make some moves going into next season.
---
Latest News & Highlights
---
Heinola is not the only one awaiting an opportunity on the back end either, as 23-year-old, fifth-round selection Declan Chisholm of the Moose has played in two career NHL games. He was an AHL All-Star this past season and racked up 43 points across 59 contests, as well as four points in five playoff games.
Heinola and the Jets organization seem to be at a crossroads, as there is no room on the blue line for the highly drafted defender as it currently stands. With the NHL Draft being June 28, and free agency soon to follow, there is lots of time for the organization to figure out a plan with the young defenceman, which may involve him getting his first extended look in the big leagues.
---
---