The results of the NHL draft lottery are in. The Detroit Red Wings' top pick will be ninth overall, marking their seventh-straight top-10 pick since their playoff streak ended in 2017. This will be the first time they hold the ninth pick since they drafted Michael Rasmussen at ninth overall in 2017.
---
---
Beyond the ninth pick, the Red Wings also hold the New York Islanders' first round pick thanks to the trade that sent Filip Hronek to the Vancouver Canucks. If the Florida Panthers can punch their ticket to the Eastern Conference Final, the pick will move up one spot, going from 18th to 17th overall. In a draft as deep as this one is, having two top-20 picks is a big deal – especially for a team that is trying to put the finishing touches on their rebuild. Throw in the fact that they currently hold three consecutive picks in the second round (picks 41 through 43) and it is clear that the Red Wings will have all sorts of opportunities available to them as we approach draft day.
Related: Red Wings 2023 Draft Coverage
Because of where the Red Wings are in their rebuild and the aggressive nature of their general manager, Steve Yzerman, it is fair to wonder how Detroit will approach this year's draft. In years prior, it seemed pretty simple: make the picks, maybe flip a mid-round pick for immediate help, and then call it a weekend. This time, however, Yzerman will have to weigh his team's need for more quality prospects along with the team's need for star power heading into next season. With five top-50 picks, the Red Wings are positioned to add a ton of talent to their roster, one way or another.
Strategy 1: Red Wings Keep Their Picks
Despite possessing a high number of quality and intriguing prospects, the Red Wings' prospect pool still has a few deficiencies that need to be addressed. Outside of two long-shot prospects, their pool is quite shallow when it comes to right-handed defensemen. They could also use a few prospects down the middle and on the wings that could provide scoring touch and abrasiveness once they develop into NHL players. It also wouldn't hurt to add on to what is already an impressively deep pool of prospects.
---
Latest News & Highlights
---
With the Red Wings continuing to trend upwards in the league standings, the 2023 draft may be their last opportunity to add blue chip prospects from the top of the draft class. They can certainly find them outside of the top-10 picks and even outside of the first round entirely, but there's a reason teams typically don't trade away their picks in this range. Furthermore, given the quality of their two first rounders, the Red Wings might be able to address their biggest needs with just those picks alone – then they can fill in the gaps or even swing for the fences with their second round picks and beyond.
This is perhaps the most boring strategy the Red Wings could utilize – they've been loading up on prospects every year since their rebuild began (the Red Wings have drafted 40 prospects since Yzerman's first draft in 2019.) But, to be fair, that strategy has yielded one of the best prospect pools in the league, and a strong showing in this year's draft could add the final pieces of what will (hopefully) become the team's championship core. This is one of the deepest drafts in recent memory; it will pay off to add as many prospects from this class as they can, even if it denies the instant gratification that some fans are starting to yearn for.
Strategy 2: Trade Up
The ninth and 17th/18th picks will almost certainly yield prospects that will become part of the Red Wings' future. But make no mistake: there is definitely some separation between the top five or six guys and the rest of the crowd. For the Red Wings to acquire one of those guys, they would have to trade up from ninth overall, but that may not be possible simply because the teams picking ahead of them understand the value of their picks just as well as Yzerman does. That being said, if a player like Matvei Michkov starts falling down the draft board, his potential as an offensive difference-maker may pique Yzerman's interest and may be worth trading up.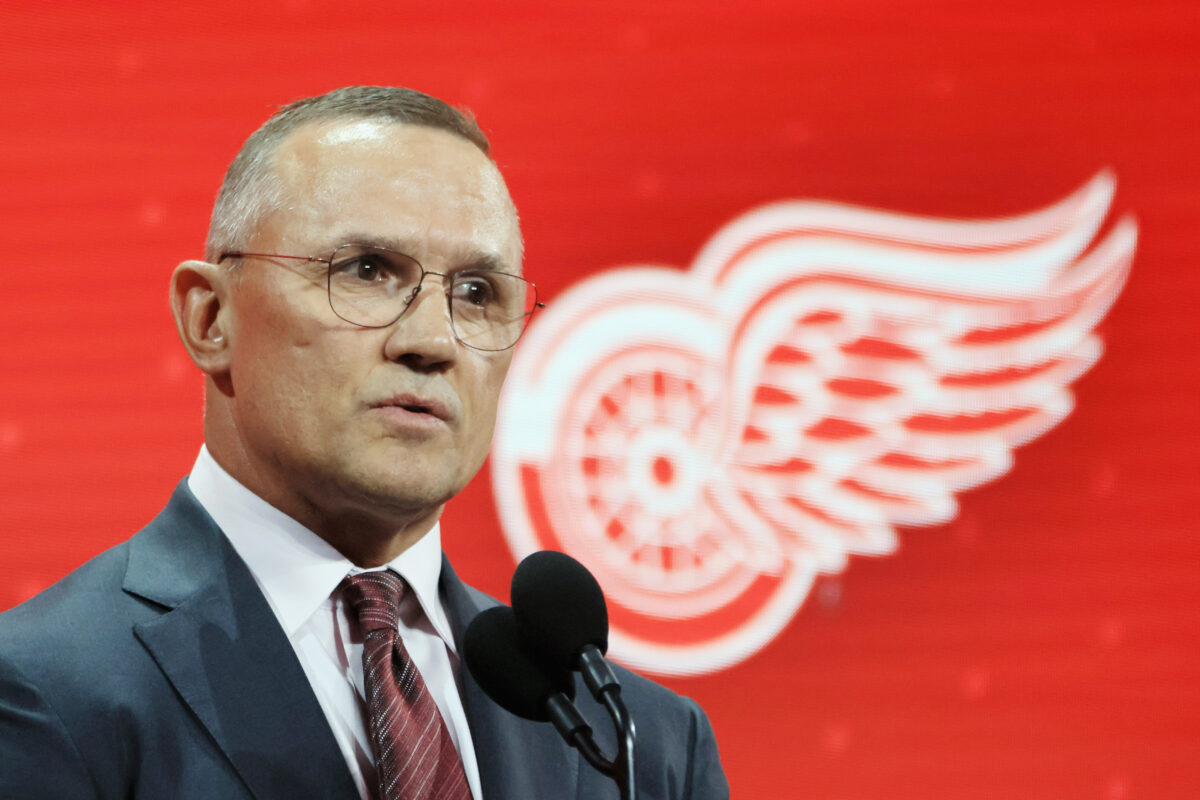 However, if the Red Wings are keen on moving up, they are more likely to move up from 17/18. Making that maneuver would ensure they can add another prospect of the same caliber as what they'll find at ninth overall. It will cost some picks to make it happen, but the price won't be nearly as high as it would be to move up from nine.
In terms of potential trade partners to move up from the Islanders' pick, there are two options that stand out:
Arizona Coyotes (12th overall): The Coyotes acquired this pick from the Ottawa Senators in the Jakob Chychrun deal, and it gives them two picks within the top-12 (they also hold the sixth overall selection.) However, the Coyotes are in the same boat the Red Wings were in two or three years ago: adding a quantity of prospects is just as important as adding quality prospects. With that in mind, Arizona has four third round picks but only one second round pick. If the Red Wings were to offer up the Islanders' pick along with one or even two of their extra second rounders, would Coyotes GM Bill Armstrong be enticed to make the deal?
St. Louis Blues (10th overall): By now you probably know that Yzerman and Blues GM Doug Armstrong like to work with each other. The Red Wings and Blues have connected on trade deadline deals in two consecutive years now, and the two GMs are currently working together as executives for Team Canada's IIHF World Championship run. The Blues had a disappointing year, but they likely aren't keen on undergoing a full scale rebuild. The 10th pick would net them a great prospect, but that prospect likely wouldn't get them back into the playoffs next season. If the Red Wings were to package the Islanders' pick with other assets that St. Louis could use right now, they might be able to make back-to-back picks at ninth and 10th overall.
The Red Wings have extra picks, prospects, and even players that they can use to move up. It's just a matter of if they're willing to be that aggressive, and if they can find a partner in their pursuit of a trade.
Strategy 3: Yzerman Adds More Draft Picks
You know what's better than having five top-50 picks? Six top-50 picks – and maybe even more.
The thing about picking at ninth overall – and 17/18th for that matter – is that you are very much at the mercy of the teams picking ahead of you. When the Red Wings picked fourth overall in 2020, they probably had a pretty good idea of which players would be available to them. The top-three of any draft is usually pretty predictable, with the biggest variable often being who goes at number three. When you're picking ninth, however, multiple variables come into play as the eight teams ahead of you make their own moves to shape their future.
All of that is to say that the Red Wings may not have a preferred pick when it is their turn to make a selection – or maybe they feel confident that the player they want will be available later in the first round. If either of those are the case, they could mimic what Brad Holmes and the Detroit Lions did just last month and trade back from their top-10 pick and add additional draft assets in the process.
Making this move would allow the Red Wings to add even more depth to their prospect pool, and it would also signal that Yzerman and his scouts may think there are a lot prospects in that category between the high-end guys and the prospects that will populate the lower rounds. This strategy is probably the one the Red Wings are least-likely to take, but it's not the only strategy that would see them abandon the ninth pick….
Strategy 4: Go Get a Star
Above all else, what the Red Wings lack is pure star power. Dylan Larkin has asserted himself as a top center, and Moritz Seider looks like a future Norris Trophy contender after just two seasons in the NHL, but the Red Wings won't be able to keep up with the best teams in the NHL until their list of stars grows a lot longer. Sure, players such as Lucas Raymond, Simon Edvinsson and Marco Kasper all seem to have star potential, but potential doesn't help the team today. If the Red Wings want to become a legitimate threat in the Atlantic Division and the Eastern Conference as a whole, they need star power right now.
The bad news is that Yzerman will probably have to make a trade to add a star to the Red Wings' lineup. The good news is that he has plenty of assets to get a deal done, and his best trade chip is the ninth pick in this year's draft.
In order to trade for star power, another team has to have it for sale. On that note, some teams to keep an eye on are the Coyotes, Philadelphia Flyers, San Jose Sharks and the Washington Capitals. There is also the possibility that the Winnipeg Jets take drastic measures to shake up their locker room, but it may be wise to avoid what they have to offer.
Making this move would put an impetus on next season's team to make an honest push for the playoffs. It is never a good look when a team invests high picks into a player and they end up right back in the draft lottery the next season. But if the right fit is out there – a needle-mover that is young enough to become part of Detroit's core moving forward – Yzerman will almost certainly do his due diligence. With the Senators and Buffalo Sabres both moving up in the Atlantic Division, the pressure is on the Red Wings to do something to keep up.
Red Wings Have Time to Decide
The caveat with all of this is that much can change between now and June 28, the first night of the NHL Draft. What seems like the right strategy today may not seem like it tomorrow. Like the teams picking ahead of the Red Wings, there are many variables that must sort themselves out between now and then.
Related: 2023 NHL Draft Guide
The Red Wings' front office and scouts are already hard at work putting together their own internal draft rankings and identifying which players they would like to add late in June. The layout of the NHL may change as they go through that process, and it will be up to them to adapt their strategy where and when it is needed. But they don't have to worry – they are in a position of strength. The ninth pick is a strong asset to have, and it should provide the Red Wings with a quality player one way or another.
If there's one overarching theme of this article, it's that the Red Wings are in desperate need of players that can become difference-makers on the NHL roster. Like any good "choose your own adventure" story, they have multiple ways of accomplishing this depending on how much patience for this rebuild remains in the front office. While we cannot be certain of how they will approach this year's draft, one thing seems all but guaranteed:
The 2023 Draft seems destined to become a turning point in the Red Wings' rebuild.
---