Montreal Canadiens prospect Owen Beck and his Peterborough Petes are now playing for the Ontario Hockey League (OHL) title. With him still active, he has remained in the news and view of NHL scouts. Over the season, a former NHL scout and a former Stanley Cup-winning NHL head coach have floated the point of view that Owen Beck is projected to be a better professional player than Shane Wright. 
Related: Canadiens' Owen Beck Takes Advantage of His Opportunities 
It's an opinion that smacks in the face of previous narratives. With Wright, the then consensus first overall pick, being compared to Patrice Bergeron before the 2022 NHL Entry Draft while Beck was a relatively obscure prospect. 
Scouts Making Predictions 
The comparisons of Beck – who is eight months younger – to Wright began just after both players helped Canada win a gold medal at the 2023 World Junior Championship (WJC) in Halifax, NS.
That may seem far-fetched, but it isn't an isolated point of view as it was stated to Bob Hartley by more than a couple of NHL scouts. 
Wright has had an up-and-down season. After playing only eight games (with an average 8:29 of ice time per game) for the Seattle Kraken between October and mid-December, he joined Team Canada at the WJC, then was sent to the OHL's Windsor Spitfires. His production there exploded, scoring 37 points in 20 games played. Despite Windsor being seen as a powerhouse expected to make their way to the OHL Final, they ended up being swept in the first round by the Kitchener Rangers led by Canadiens prospect Filip Mesar. Wright had only been able to produce three points in the four games and was unable to raise his level of play to help his team. He was then sent to the American Hockey League (AHL)'s Coachella Valley Firebirds. Coachella Valley is entering the third round of the AHL Playoffs, and Wright has only played eight games, scoring one goal and three points as he continues to watch from the press box. Not abnormal for a 19-year-old rookie, even one drafted fourth overall. 
The Comparison 
Once Owen Beck was selected in the second round, 33rd overall by the Canadiens, he began to show why he was so well-liked by scouts. He arrived at rookie camp with an "aw-shucks" attitude then turned in a dominant performance.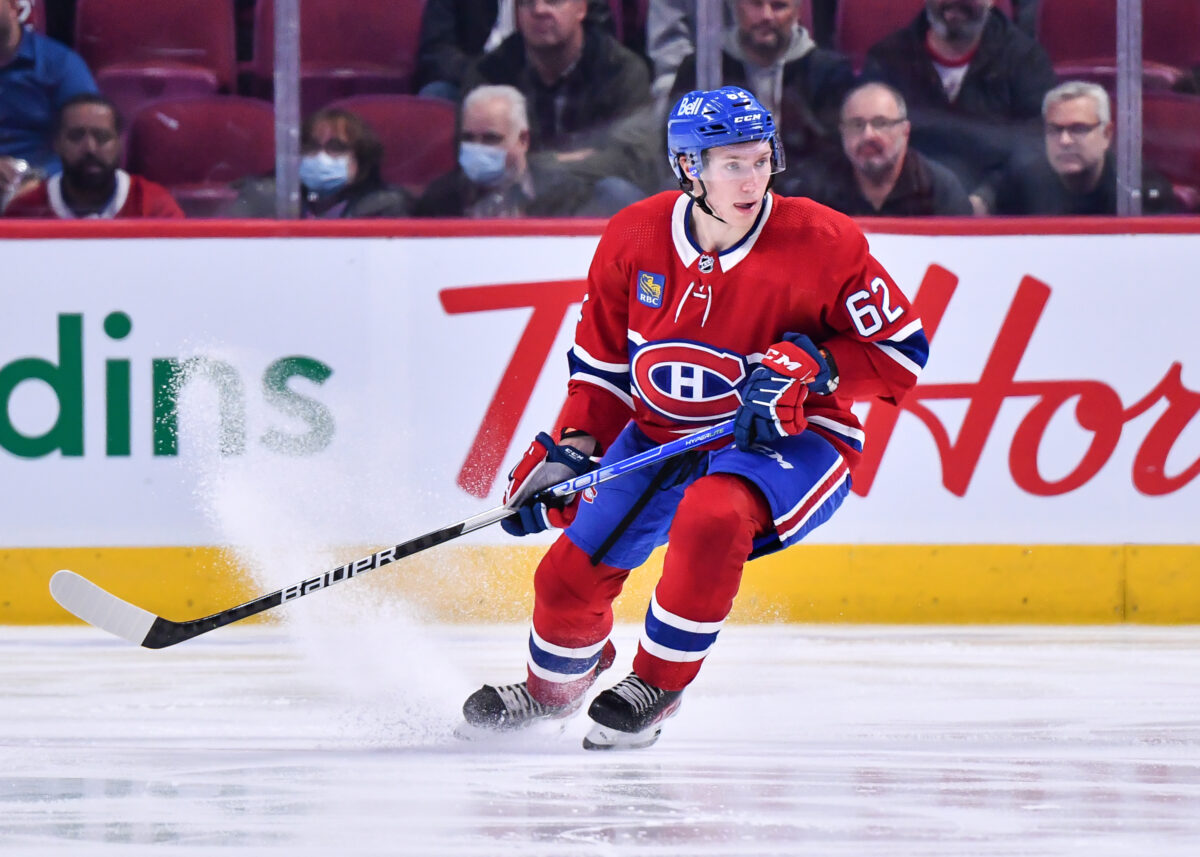 This earned him an invitation to the Habs' main training camp where he continued his excellent play, eventually earning himself an entry-level contract (ELC). Beck may not have had the opportunities he had to start if not for the injuries to Sean Monahan and Nick Suzuki, but he seized the opportunity provided. Based on his play during camp, it is fitting he wears No. 62 as he has some of the same habits as the last player to wear the number for Montreal, Artturi Lehkonen. 
"He is like a Swiss army knife. He can play (and excel) in all situations and has an extremely well-rounded skill set. This includes being one of the draft's most dynamic skaters. Beck's ability to create separation with his feet makes him extremely dangerous in transition, however he shows an ability to make sound decisions and skilled plays at full speed, a trait that not all draft eligible speedsters exhibit."

– Brock Otten, McKeen's Hockey 
Like Wright, Beck is a right-handed center who is known for his two-way game, but Beck excels in the faceoff circle, having led the OHL in faceoff win percentage over the last two seasons. He began his season with Mississauga Steelheads as the team's top center playing in every situation. In his 30 games played as a Steelhead, he scored 17 goals and 41 points (a 93-point pace) before joining the Petes via trade. Yet since his trade to Peterborough following the WJC, his production dipped to 25 points in 30 games (a 55-point pace). That dip in production makes sense when his new role is considered. Beck was relied upon to play a more defensive role, as a shutdown center playing in the top six. A role he excelled at.  
In the OHL Playoffs, his production remained steady, scoring six goals and 13 points in 17 games. Yet with the importance of his role as a shutdown center in the top six all while scoring important goals in pressure situations. 
The Petes will face off against the London Knights, and Canadiens prospect Logan Mailloux, in the OHL Final with the winner moving on to the Memorial Cup tournament. In those first three rounds, Peterborough has only scored an average of three goals per game, so production will be low, but they are a team built on playing a stingy defensive style, and Beck fits that style well. He also plays a key role on the penalty kill (PK), with the Petes at 89.4% on the PK after three rounds, placing them second in the playoffs (behind the eliminated Ottawa 67's at 90.6%).  
---
Latest News & Highlights
---
Beck is a high-quality prospect and one of the best ones in the Canadiens' system. He has a high hockey IQ that allows him to read plays quickly. He is an elite skater, which allows him to play at a very high pace. He has a very mature defensive game that makes his floor that of a third-line center. A bonus for the Habs, who have problems in the faceoff circle, is that he's excellent on faceoffs. His work ethic and consistency tie all of his skills together. He has the potential to be a very good second-line center, playing a style similar to that of Tomas Plekanec. 
As to the comparisons made above to Wright, how does he match up? Well, Wright has the high-end potential of a player capable of playing as a first-line center but will likely become the second-line center on a Kraken squad led by Matty Berniers on their top line. So far in their junior careers, Beck has been the one that has made a difference when it matters most, in the playoffs.
Both Wright and Beck play a direct, two-way style, capable of leading a team in transition. They generate offense by getting pucks on the net with an accurate shot or pass and they play with pace. But Wright has a higher ceiling. However, Beck is seen as the one that will make more of an impact at the NHL level. If this is the case, and Beck is equal or superior to Wright, then the selection of the behemoth, skilled winger in Juraj Slafkovsky in 2022 by general manager Kent Hughes worked out for Montreal as they also were able to get an equally talented two-way center, filling two desperate needs in Montreal, size and center depth.
---
---