The St. Louis Blues have lost some high-profile free agents over the last five seasons or so, with both Alex Pietrangelo and David Backes departing. Jaden Schwartz is another example of a longtime Blue that was drafted by the club.
While he won't demand the same amount of money as Pietrangelo, it will still cost the Blues a pretty penny, as well as the fact that if he hits the open market, plenty of teams will have interest in a top-six forward like him.
1. Perfect Fit for the System
Schwartz exemplifies what a forward should do in the system the Blues run; despite being a smaller forward, he is a great two-way player that does almost everything well.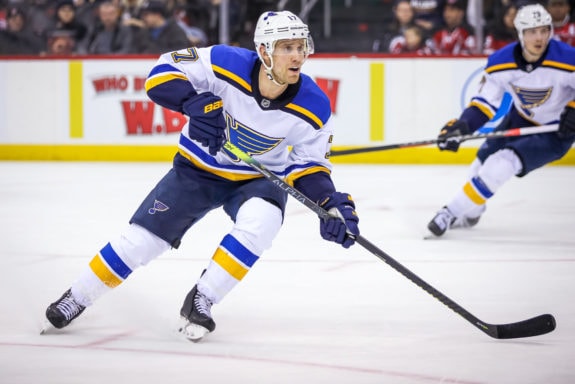 In his first full season under head coach Craig Berube, Schwartz put up a huge bounce-back season with 22 goals and 35 assists after a lackluster 2018-19 season with 11 goals and 25 assists.
He does everything well within the system; he's great against the wall despite his size, and he is solid defensively. He can score goals, and he can dish the puck. While being able to do both of those things, it's the little things that he does well that benefit the team the most.
His puck possession metrics are solid as well, with a Corsi for percentage (CF%) of 54.1 for his career, which means the Blues control the puck more often than not when Schwartz is on the ice.
He has been playing on the top power play unit for most of this season, but it wouldn't surprise me if he was put on the second unit at some point with Mike Hoffman on the team. And that would work fine because Schwartz can play on either unit and make things happen.
2. The Loyalty Factor
This may not be a good reason for some, but with the Blues losing two former drafted captains in Backes and Pietrangelo over the past five seasons, it would be nice for them to hold onto a longtime drafted star for a change.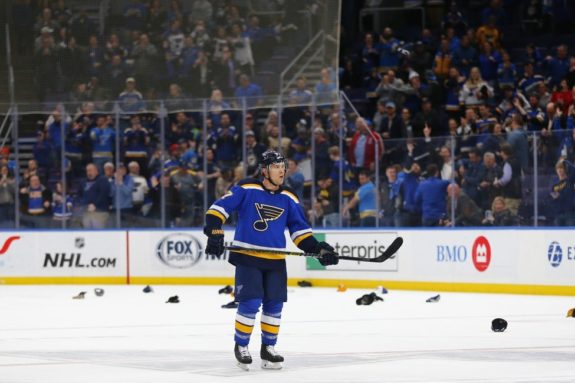 He signed his last contract in 2016, a five-year extension worth $26.75 million, which is $5.35 million per season. This would be his fourth contract signed in St. Louis, counting the entry-level deal as well.
The club drafted Schwartz with the 14th overall pick in the 2010 Draft, another first-round choice that season with Vladimir Tarasenko going before Schwartz. Both of them are large pieces of the Blues' core.
His role has expanded every season he's been here, and he is more important to the top-six group now more than ever. He has had some injury issues and hasn't played a full season, but he's played more than enough games per season to prove his reliability.
It would not be a good thing for the Blues to lose three heart and soul players to free agency in the last five years, so they need to do whatever they can to keep Schwartz around.
3. Great Chemistry With Brayden Schenn
The Schenn and Schwartz duo is the perfect top-six line with this team and system. They play a 200-foot game and are able to hound the puck and score it.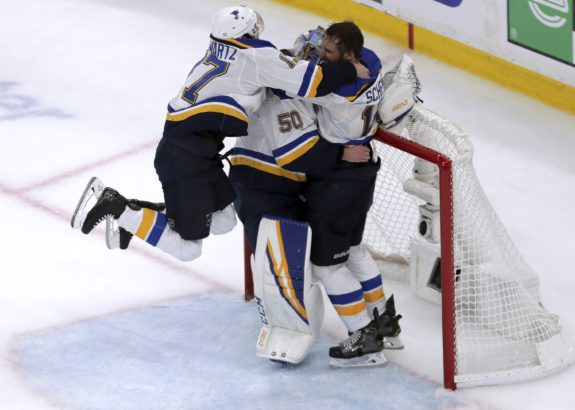 While it is preferable to keep Schwartz and Schenn together, Schwartz is flexible and can play on any line and contribute. He's good at sticking within the system and making smart, winning plays.
Both of them had great seasons in 2019-20 and spent most of it on the same line, as they were extremely productive. When they are together, it feels like the Blues play as a far more connected unit.
Since Schenn arrived in St. Louis, Schwartz has scored 58 goals and 156 points over the last 208 games. He had a down season in 2018-19, but still managed to have great numbers since 2017-18.
If you look at what the contract will be for Schwartz, my guess is something around five years and $5.75 million to $6 million per season for him. So he would be in St. Louis for five more seasons and get a solid raise.
That deal would likely be a steal, which is why I would worry that he would get a lot more money in the open market, but it all comes down to how he plays this season. Either way, the Blues should try their best to keep Schwartz in town.
---
---