Though the Blues weren't able to extend their season high six game winning streak to a seventh game, they did give fans reason to hope this year's playoffs may be a different story. In a weird game that saw several odd bounces lead to changes in momentum and scoring the Blues were able to make a game out of some poor turnovers and lack of foot movement without the puck.
 Taking Note(s)
Despite the disappointing loss to a non-playoff team the Note showed their resiliency, and quite a sense of urgency, before ultimately losing the contest 7-4 in Calgary on Monday night. This was very refreshing to see as the team has really 'mailed it in' in previous years when being faced with similar scenarios, which has translated to a lack of heart and drive in the postseason. However, last night's game showed that the team does have heart, and can regain focus mid-game to at least give themselves a fighting chance at a comeback.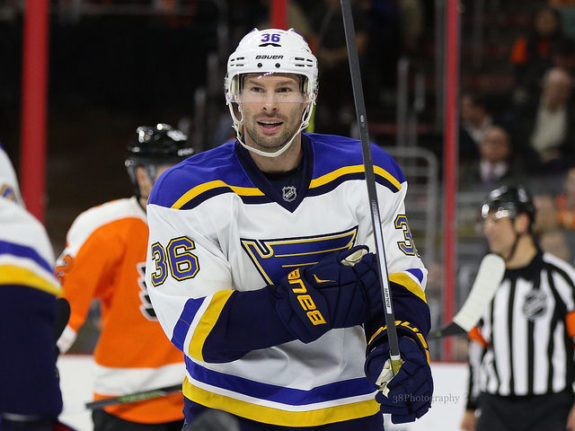 Last night the Blues were down 5-2 with a little over 16 minutes left in regulation, but were able to find their stride and score a couple of goals to get back in it. Unfortunately the Blues had a continued learning curve that led to too many odd man breaks to Calgary's top players (especially while shorthanded) which they did not miss on. Had the disallowed goal where captain David Backes was cross-checked onto Flames goalie Joni Ortio counted, the Blues would have actually tied the game at five off of Paul Stastny's second tally (Personal Note: It's interesting that I can't find any video of this disallowed goal, which makes me wonder if the NHL knows they got the call wrong). The biggest learning lesson for the Blues is to manage their gaps, keep their heads on a swivel, and keep their feet moving to make sure opposing teams can't slip behind their fore-check for easy breaks.
"We were too casual with the puck. That's six breakaways in two games…just too many mistakes with the puck that hurt us." – Ken Hitchcock

"You can't give up seven goals…this one is on us…we know that wasn't us (out there)." – Alex

Pietrangelo
Moving Forward
If the Blues were to play this game in the postseason they may very well have found a way to comeback to force an overtime, or they would've been able to use this game as a strict, 'what not to do' lesson that would give them an edge in the series moving forward. That should be the takeaway the team sees from this game, as Calgary has been playing streak-buster all season. They broke Chicago and Florida's winning streaks earlier this season, and managed to continue that trend on Monday night.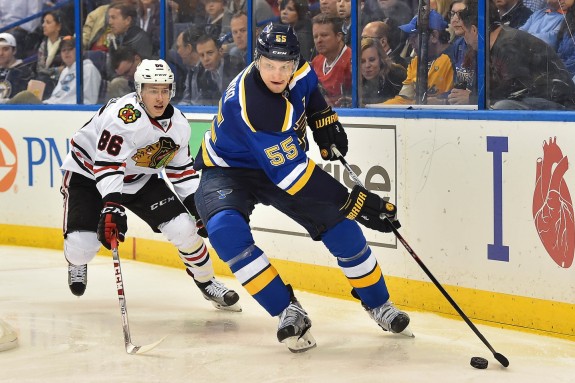 Fans also need to remember that Monday's affair was the Blues' fourth game in just six days, and the only one that wasn't against a top-tier opponent. That takes quite the toll on player's bodies, especially when they've been so banged up throughout this season. Also, with the Note averaging just 2.60 goals per game after one day of rest (t-20th) this season, it was impressive to see them continue to score at a high rate against the Flames on Monday.
"Our focus during play can be better…this is on our shoulders. We didn't bring it with 20 guys tonight and I'll take the blame for that. We've learned a hard lesson today, it's not a good feeling but we have a chance in 48 hours to get back on the ice and show we can get back to winning ways." – David Backes
Yes Monday's game was a tough pill to swallow as it was the first time in several games where the Blues really managed to beat themselves, but the team should be ready to respond in a big way on Wednesday when they visit Connor McDavid and company in Edmonton. Everyone will be able to see how deep this heart and resiliency goes once the puck drops against the Oilers. Hopefully the Note will be able to control their gaps, keep their feet moving, up their on-ice communication, and dictate the pace of play against another young team chock full of rising talent.
Past the Oilers the Blues will face almost exclusively playoff teams through the end of the regular season, which will award them plenty of opportunities to play the game the correct way. With the pace they've kept throughout this season that should lead to some very exciting hockey heading into the postseason, and will hopefully give them the momentum they need to make it through round-one and beyond.
Like what you've just read? Follow me on Twitter: @pep30
***
Can't get enough hockey? Want to talk about it with our writers, and fellow fans? Join The Hockey Writers Group on Facebook today!