Last night the St. Louis Blues fell to the Dallas Stars in a 3-0 shutout performance by Kari Lehtonen. In the loss Brian Elliott made key saves throughout the night that kept the Blues in the game.
In fact, the veteran net minder for St. Louis was rather impressive, stopping 36 of 38 shots against. Some of his saves were borderline unbelievable and his performance was essentially the only highlight of the night against the division-leading Stars. The game rather perfectly told the tale of no. 1's season in net thus far.
Limited Offense
Once again Elliott played exceptionally well, but received little to help up front. In total the Blues had only 22 shots on goal in their losing effort, with few legitimate scoring chances against the Dallas net.
That's hardly the recipe for success against a team like the Stars with speed and offensive skill at their forefront. St. Louis struggled to get any offense going as they suffered from defensive turnovers and a lack of help from their special teams.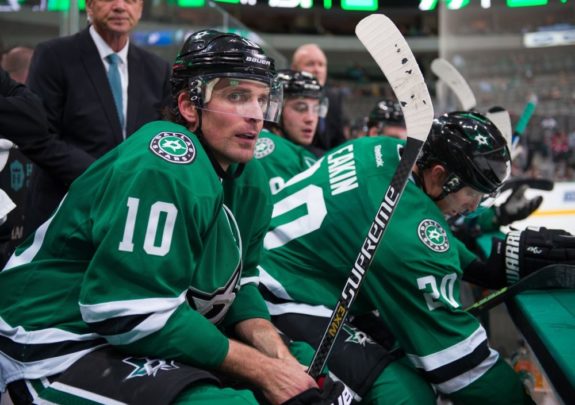 They went 0-for-2 on the man advantage and fueled the Stars' offense surrendering two power play goals before giving up an empty-netter with Elliott on the bench late in the third.
Solid Performance in Net
In his 14 games played Elliott has a mediocre record going (5-4-2) despite boasting a 2.36 goals against average and a .916 save percentage. His record doesn't add up to his play on the ice and it's rather disappointing that the veteran gets no help from the team in front of him.
While it's important for goaltenders to instill confidence throughout the line-up, Elliott's play should've done just that last night. He made key stops that kept the Blues in the game, but the team couldn't use the big saves as momentum changers. One of his best in the losing effort was this goal line glove grab on Dallas' Ales Hemsky:
Moving Forward
While the Blues can attribute their lack of offense to having played the night prior or travel, they have to be able to score to match the effort in net. Elliott is both the back-up goaltender and the go-to if Jake Allen were to suffer from any injuries down the line and it's vital that they learn how to play in a way that compliments his style.
While the hope is for the entire roster to stay healthy, it's essential that the team rallies to put forth better efforts when no. 1 is defending the crease.