A few seasons ago, the St. Louis Blues were considered to have one of the best farm systems in the NHL. But top prospects like Robert Thomas and Jordan Kyrou have graduated, general manager Doug Armstrong traded Dominik Bokk, and the herd has quickly thinned. Still, there are some bright spots in the team's future. This article will look at the top 10 prospects still in the team's pipeline.
To qualify as a prospect, for the purposes of this article, you must not have played more than half of a season's worth of career NHL games. Therefore Kyrou, who has played 44, will not be considered. We will also limit our scope to players 24 years of age and under, so American Hockey League goaltender Ville Husso, who may join the Blues as a full-time backup in 2020-21, is also off the list.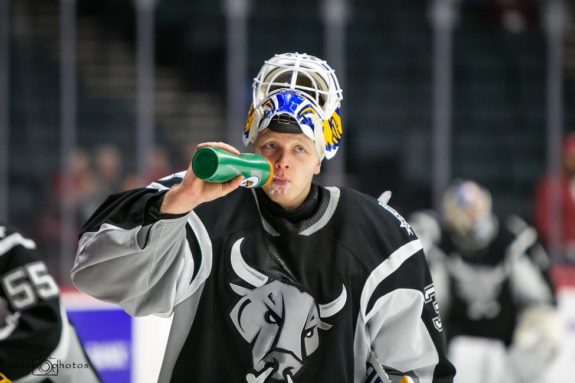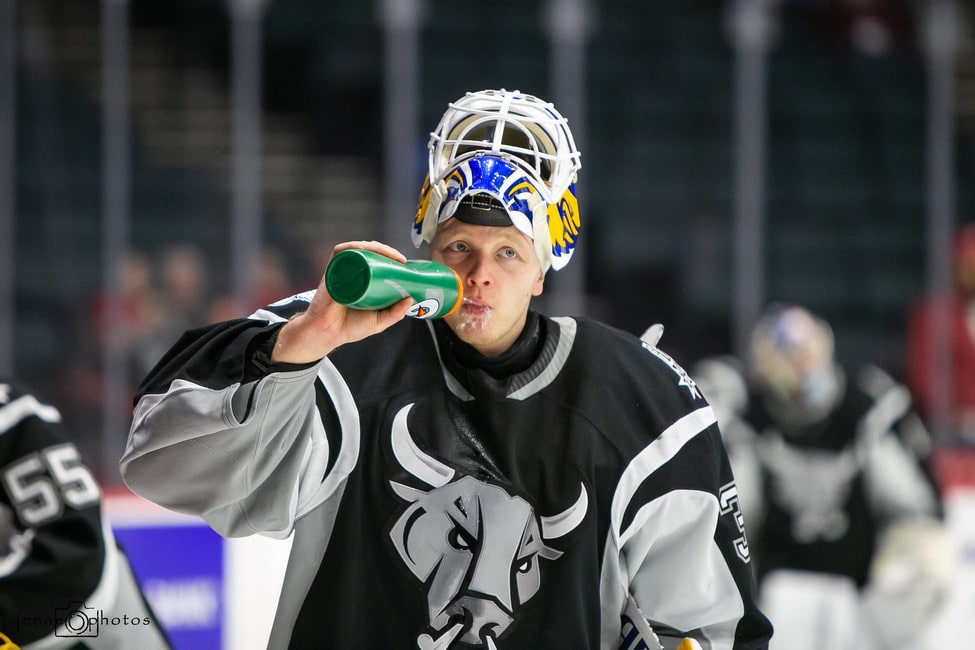 Of the players remaining for consideration, only one is a first-round draft selection. The rest are cobbled together from later rounds: two from the second round, two from the fourth round, two from the fifth, one from the sixth, and one from the seventh. The final prospect on the list was signed as a college free agent. Though this list isn't loaded with top-end skill, it is a testament to Armstrong's ability to find talent deep within a draft class. We will list players by their current age and the league in which they played last season.
10) Mathias Laferrière (20, QMJHL)
2018 sixth-round pick Mathias Laferrière is something of a vexing prospect for Blues fans and even many evaluators. He is a high-skill player, but the consistency is lacking. The 2018-19 season seemed to be a breakout campaign, as he tallied 74 points in 68 games and added 10 in 11 playoff games. And he was on his way to a repeat performance in 2019-20, adding 48 points in 40 games, before COVID-19 forced the cancellation of the QMJHL season.
Still, Laferrière receives mixed reviews from scouts and analysts. Scott Wheeler of The Athletic offers one instance of a common critique: "Laferrière's one of those prospects who has always confused scouts — and I'm no different. I've seen him play games where he completely takes over… I've seen him play other games where he's not moving his feet… If he puts it all together, I think the Blues might have a useful, middle-of-the-lineup, complementary forward" (from 'Wheeler's 2020 NHL prospect pool rankings: No. 27 St. Louis Blues," The Athletic NHL, Jan. 17, 2020).
9) Hugh McGing (22, NCAA)
If size was a disqualifying factor for an NHL prospect, Hugh McGing of the Western Michigan University Broncos would never have been drafted. But Armstrong saw something in the 5-foot-9 forward, and took him in the fifth round in 2018. Playing in the NCAA, McGing had thirty points in both 2017-18, his draft year, and 2018-19. He was named captain for the 2019-20 season, and finished with 35 points before the season was postponed.
McGing is the kind of player Blues fans would love, a gritty, determined forward who never gives up on the play. "He plays the game like a ball of energy," writes The Athletic's Corey Pronman. "He's a very good skater with a compete level that's just as good" (from "2019 NHL farm system rankings: No. 19 St. Louis Blues," The Athletic NHL, Aug. 20, 2019). McGing will likely need seasoning at the Blues' new AHL affiliate, the Springfield Thunderbirds, but he has the potential to develop into a high-energy bottom-six player with penalty killing and depth scoring to offer.
8) Tyler Tucker (20, OHL)
There wasn't a ton of information available about Ontario Hockey League (OHL) defenseman Tyler Tucker when the Blues drafted him at spot 200 in the 2018 NHL Draft. Even so, the team's scouting director, Bill Armstrong (no relation to Doug) was abundant in his praise of their last pick, saying in his post-draft interview: "this kid's all character. He's old school d-man. He'll fight. The one thing about him is he has a will to make a difference in the game, his compete is off the charts… he's a warrior out there."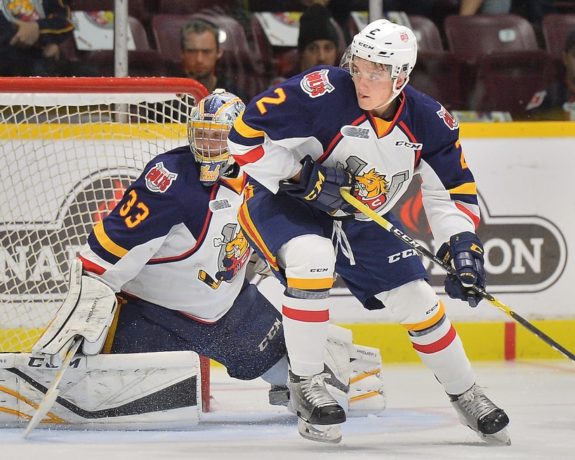 What neither Armstrong could have predicted was the explosion of point output by Tucker in his next two seasons. In 2018-19, he collected 59 points in 68 games, even while logging 105 penalty minutes (PIMs). The following season, he managed 56 points in just 55 games before the season ended early. That included a midseason trade to the Flint Firebirds.
Now, Tucker is expected to graduate the OHL and join the Thunderbirds. He'll need to continue growing there, but if he does so like he has the last two seasons, he may well have a future in the NHL, an impressive achievement for any seventh-round pick. The Blues have a wealth of left-handed defensive prospects, but Tucker has a chance to make a name for himself even still.
7) Alexei Toropchenko (21, AHL)
Big Russian forward Alexei Toropchenko is hard to pin down. Physically, he looks like a professional hockey player, standing 6-foot-3 and weighing over 200 pounds. He is a good skater and can make offensive plays, yet last season, he had just nine total points in 59 AHL games. That was a disappointing fall after an impressive career with the OHL's Guelph Storm, where he emigrated after the Blues drafted him out of Russia in the fourth round of the 2017 Draft.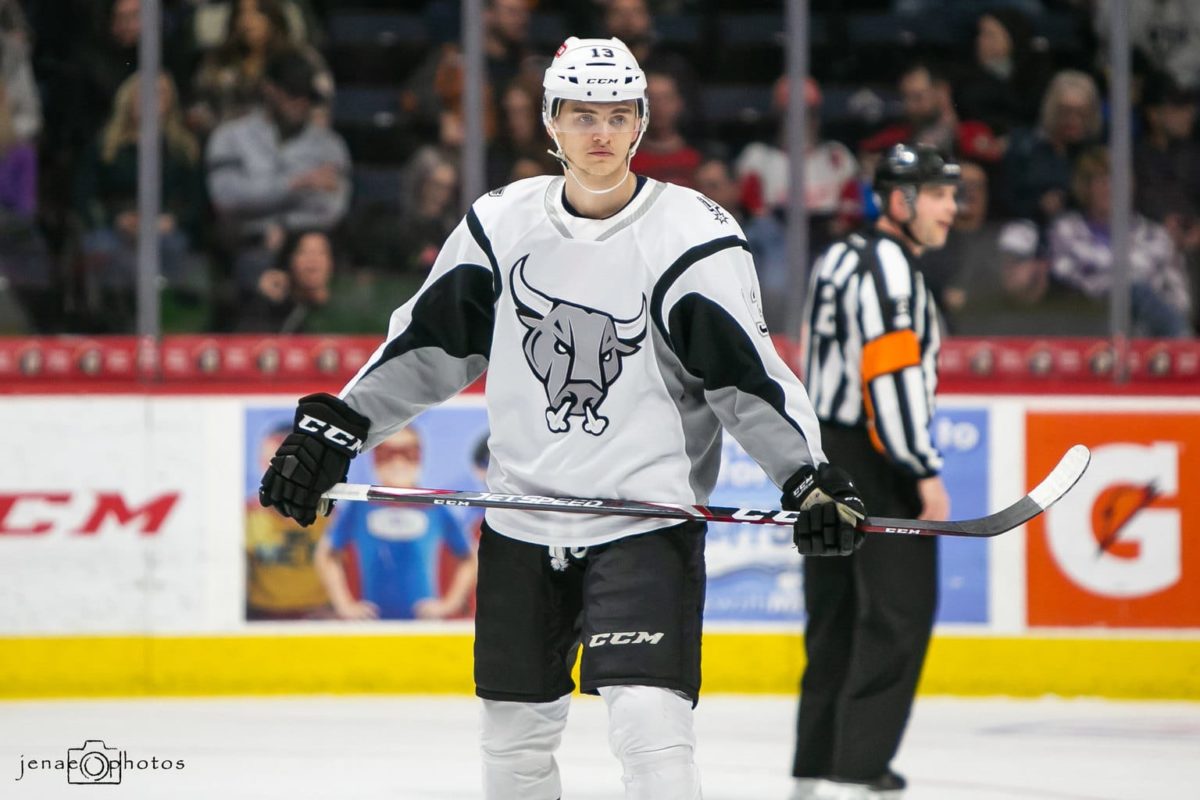 And yet, despite the paltry season, some evaluators like Wheeler remain optimistic: "if there's one kid in hockey who has created a performance bias for me, it's probably [Toropchenko], in that whenever I watch him he's always creating, getting on the scoresheet and making high-skill plays that should translate [to the NHL]." If Toropchenko can find some consistency and develop a little more offensive punch, he still has a bright future. At just 21, he's got plenty of time to mature.
6) Mitch Reinke (24, AHL)
Like Toropchenko, former Michigan Tech University defenseman Mitch Reinke is a little hard to project. The Blues were glad to sign him as a college free agent in 2018, after piloting his team to back-to-back NCAA (WCHA) championships. In fact, their defense was so thinned by injury at the time, he actually made his NHL debut immediately in one game, the only he's played at that level to this point.
It was in the following season where Reinke particularly shined, though. As a rookie with the San Antonio Rampage of the AHL, he scored 45 points in 76 games, breaking a franchise record for points by a rookie defenseman. That record was set by Keith Yandle, who has since amassed 573 points in 976 NHL games. Reinke was also selected for the AHL all-rookie team that season.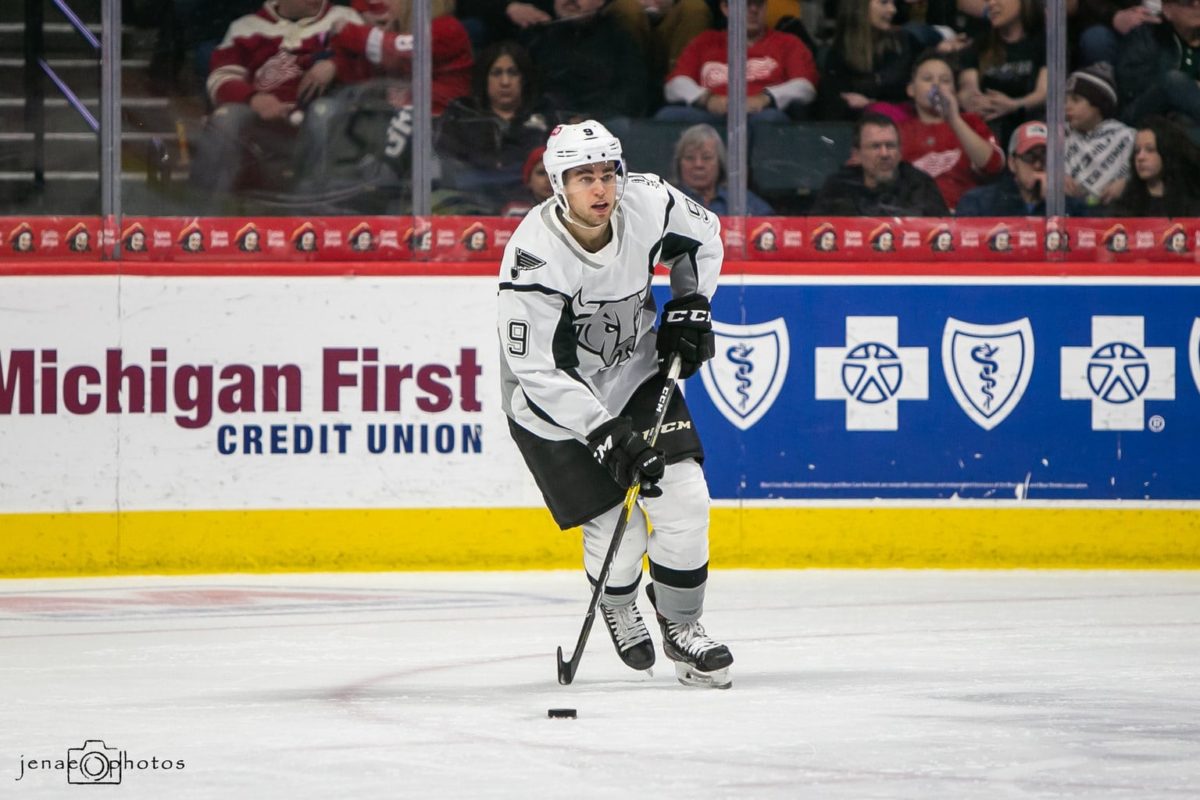 But Reinke took a massive step back in the 2019-20 season, scoring just 22 points in 46 games before the season's cancellation. That was a down season for the AHL squad as a whole, so perhaps his struggles can be attributed to systemic issues. But it certainly muddied his seemingly clear path to the NHL. Still, he may have a longterm role. Particularly if team captain Alex Pietrangelo leaves in free agency after the 2019-20 season, Reinke, also a right-handed defenseman, is likely to get the first look on that side on the bottom pair.
5) Niko Mikkola (24, AHL)
Niko Mikkola is never going to be a serious point producer for an NHL team, but that is about the only thing that keeps him a mid-tier prospect. He is otherwise a very mature defenseman who is more than ready to make the next step to the NHL. In fact, he did just that in the 2019-20 season, making his debut on Jan. 7, 2020. He looked good enough in five games that many Blues fans believed he ought to stay longer, but the eventual trade for Marco Scandella made that unnecessary.
Even so, Mikkola is likely to be a fixture in the NHL going forward. He signed a two-year, one-way deal in 2020 the same day as fellow Finnish prospect Ville Husso. And he has proved his worth at the international level, helping Finland win gold at the 2016 U-20 World Junior Championship, and helping his country win gold again at the 2019 World Championship, where he was named a top-three player on the team.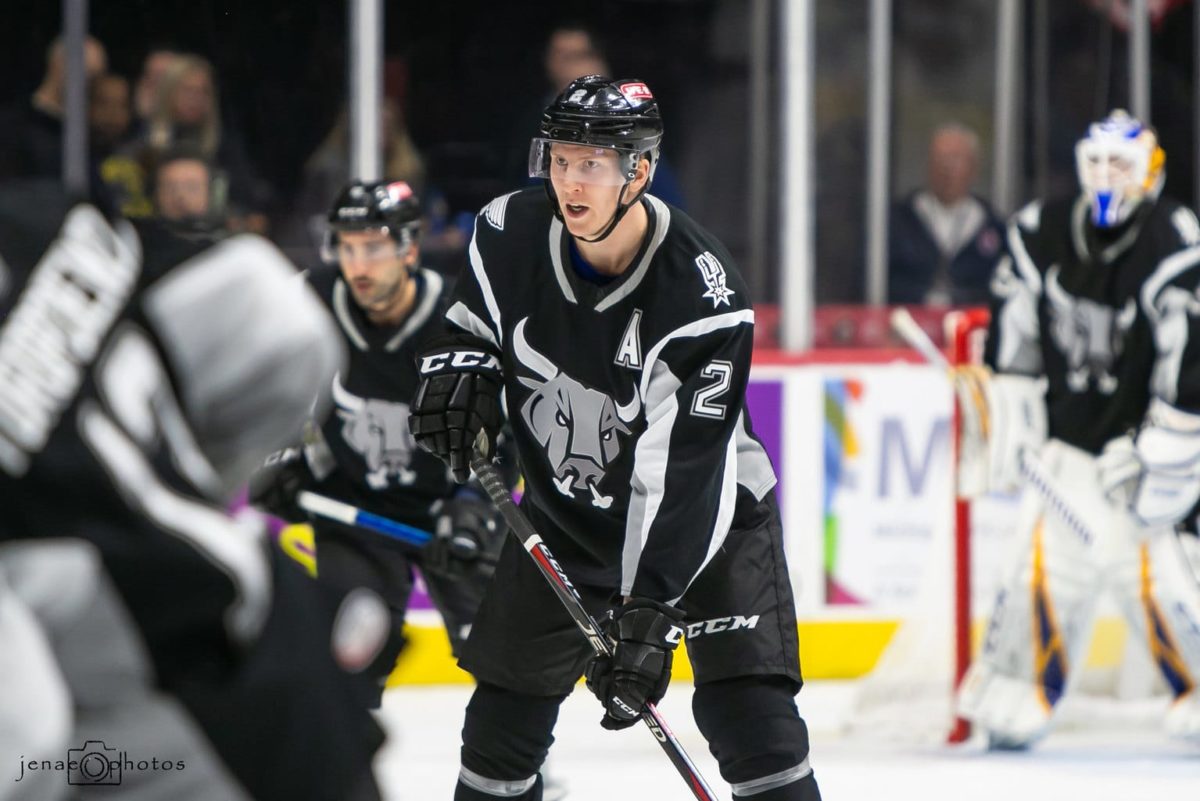 Except for the lack of scoring, Mikkola is looking like a steal from the 2015 fifth round. Even though Pronman has some reservations, he admitted, "when you are 6-foot-4, skate well for that size, play hard and can make a good first pass, I think that's enough to project to play at the top level" (from "2020 NHL organizational rankings: No. 20 St. Louis Blues," the Athletic NHL, Aug. 31, 2020). That seems a fair description of Mikkola, and if Vince Dunn leaves as a restricted free agent, he'll be at that level sooner than later.
4) Nikita Alexandrov (19, QMJHL)
A German-Russian import playing in Quebec, Nikita Alexandrov will always hold a unique place in history: he's the first player the Blues drafted after winning their first Stanley Cup. They did so with the 62nd pick, lacking their first-round pick after the trade they made to acquire Conn Smythe winner Ryan O'Reilly.
There was debate even then on Alexandrov's value, with some analysts suggesting he was taken too high, and others believing he had sunk to bargain territory. Wheeler was always a believer: "If you followed my draft rankings last year, you'll know that I was really high on Alexandrov." He justified that faith by scoring 23 goals and 54 points in 42 games on a low-scoring Charlottetown Islanders team.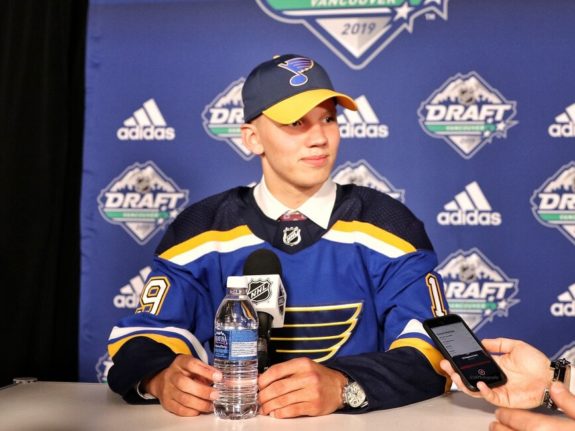 Like so many Blues draft prospects, Alexandrov displays high awareness and high hockey-IQ. But he also has something you can't teach: a wicked shot. It's a long road to the AHL for a 19-year-old in the QMJHL, but if he continues to develop, the Russian has a chance at being a middle-six forward who is a significant power play contributor.
3) Joel Hofer (20, WHL)
No prospect in the Blues' system did more for his stock last season than Joel Hofer, which is saying something, considering someone else on this list won college hockey's top individual award. Hofer's rise is thanks to the goaltender's breakout performance at the World Junior Championship. He arrived as an arguable third of three goalies on the depth chart, and by the end of the tournament, he was leading Canada to gold over Alexandrov's Russia, and he won the WJC award for best goaltender.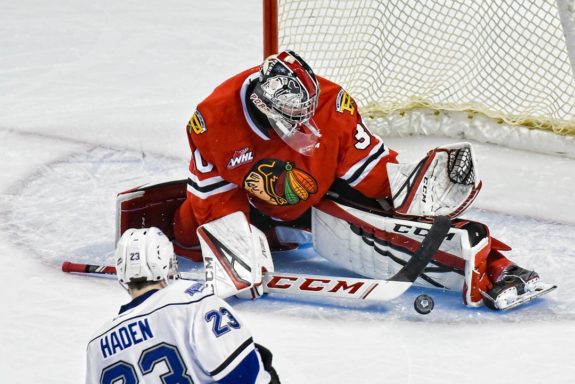 Hofer finished that tournament with a stupefying .946 save percentage (SV%) and a 1.30 goals-against average (GAA). He also shined with the Portland Winterhawks of the Western Hockey League (WHL), with a 2.49 GAA and a .915 SV% in 48 games, making the WHL Second All-Star Team. After all that, Wheeler numbered him in the top-10 NHL goalie prospects (from "Wheeler: The top 10 drafted NHL goalie prospects ranking, 2020 edition," The Athletic NHL, Jul. 7, 2020.) He also ranked 29th overall on Craig Button's list of NHL-drafted prospects.
Hofer should graduate to the AHL in the 2020-21 season, and if Husso also jumps a level and ends up in the NHL after the trade of Jake Allen to the Montreal Canadiens, he may be looked at as the top netminder at that level. At this point, it's beyond question that he's the top young goalie in the system. The Blues will likely evaluate Husso and Jordan Binnington in the meantime to see who they want to bridge the gap to Hofer, who stands a chance to be a true number one goalie at the NHL level.
2) Klim Kostin (21, AHL)
The 2020-21 season will be a critical one in the development of Blues' Russian prospect Klim Kostin. He was a late first-round steal in 2017, a pick received when the Blues traded Ryan Reaves to Pittsburgh Penguins. At the time, most analysts believed Kostin deserved to go much higher; however, a shoulder injury torpedoed much of his draft season. Even so, the Blues took a chance and brought him to the AHL for the 2017-18 season.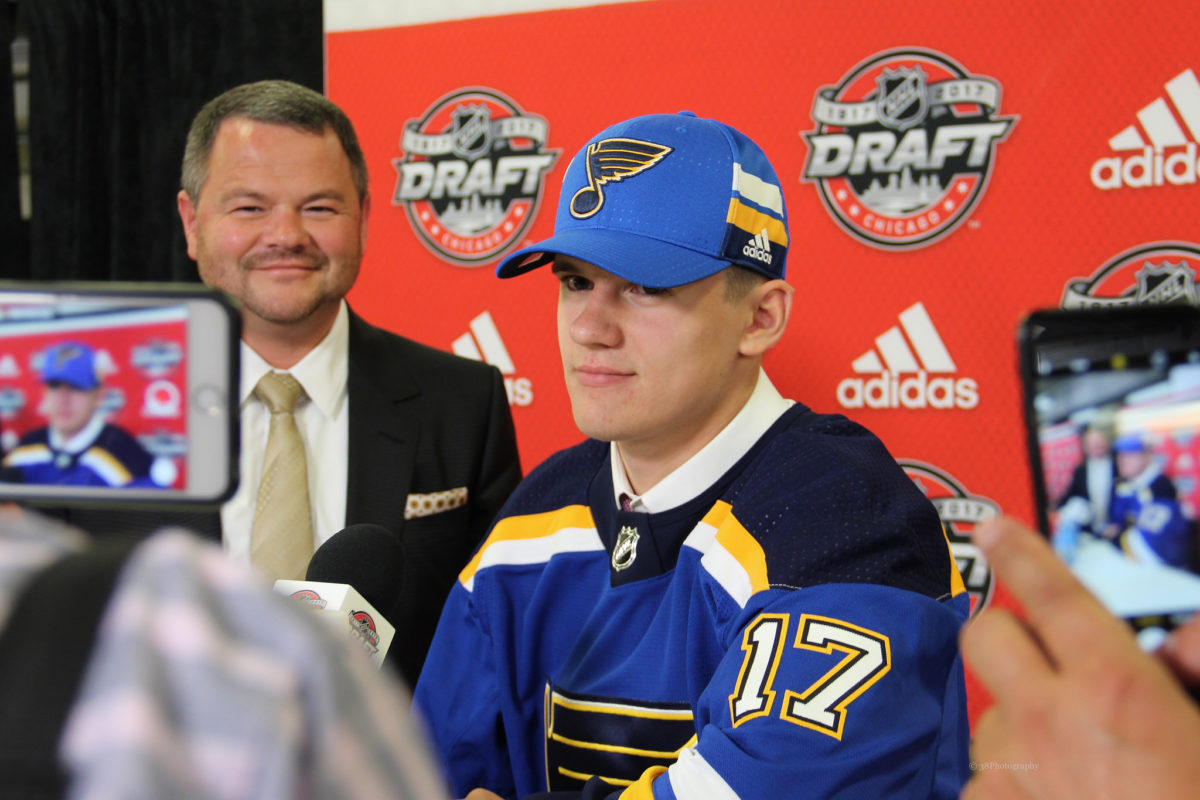 Perhaps because of his youth (he was just 18 in a league where most players are at least 20), perhaps because of some instability in the Blues' organization at the AHL level, perhaps simply because he was recovering from his shoulder injury, Kostin struggled to establish himself in his first two professional seasons. In his first two campaigns with the San Antonio Rampage, he tallied 52 points, just 16 of them goals, in 133 games.
But 2019-20 seemed to be an evolution for the youngster. He managed 13 goals and 17 assists (30 points) in 48 AHL games before the season was canceled, although he still took far too many penalties (with 59 PIMs). He even made his NHL debut, looking strong in four games and scoring his first goal at that level on Nov. 23.
Now, 2020-21 needs to be his best season yet. With Vladimir Tarasenko injured and likely to miss time in the early months, and with players likely to be moved off the offense to clear salary cap space to re-sign Pietrangelo, the Blues' roster will likely have an open spot for Kostin. But he needs to make the most of it. Some evaluators are still split on whether Kostin can be a high-end contributor at the NHL level, and with good reason. Inconsistency has plagued him. But if he can put it all together, he could be the best of these prospects by far.
1) Scott Perunovich (22, NCAA)
Earlier, we mentioned that one player on this list won college hockey's top individual award. That would be Scott Perunovich, who took home the 2020 Hobey Baker Award for the best overall player in the NCAA. That he earned by collecting 40 points in 34 games. Unfortunately, COVID-19 forced the NCAA to cancel its season, preventing Perunovich from trying to lead his University of Minnesota-Duluth Bulldogs to a third consecutive NCAA title. Even with that bitter taste in his mouth, Perunovich forewent free agency and signed with the Blues, who drafted him in the second round in 2018.
At just 5-foot-10, Perunovich is clearly undersized. And as he is not an elite skater, there are those who worry his game will not translate cleanly to the top level. But others like Pronman aren't concerned: "Perunovich stands out whenever he has the puck on his stick," he said in his recent organization depth article. "His offensive instincts are elite. He's able to make exit passes with the best of them, and has great creativity and vision from the blue line. His ability to find seams and hold pucks for extra seconds are clear NHL-level skills."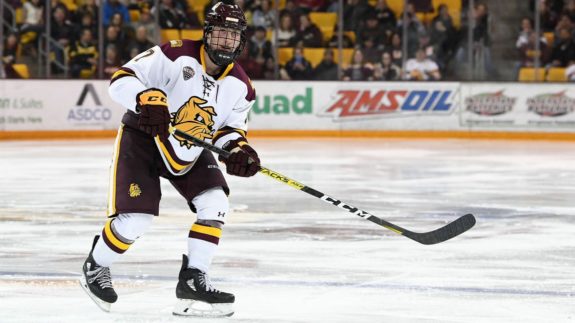 The Blues have tons of depth on the left side in their defensive pipeline, including Mikkola and Tucker, whom we've already discussed. But Perunovich is clearly head-and-shoulders (in skill if not in stature) above them. There is an argument that Armstrong can afford to move on from Dunn this fall because their profiles are so similar.
Related: St. Louis Blues' Future Needs Both Dunn and Perunovich
Whatever the defense's future, Perunovich figures to be a big part of it. He has the potential to be the elite power play quarterback that even Pietrangelo never quite has been, and he ought to stick with the Blues for a very long time. The team was so fond of him that they stitched his name on his jersey at the draft, even though that is rare for a second-round selection. It looks like their faith has already paid off, and it should only get better from here.
The Blues' Bright Future
The Blues are at a franchise crossroads. If Pietrangelo does depart, they will need to reevaluate their whole roster and continue whether their Stanley Cup window is still open or whether it's time for a mild retool. But even if they have to go that route, they already have a strong foundation with these players, as well as young players like Thomas and Kyrou. Though there is a championship in their immediate past, the Blues' future may be even brighter.
---
---