The St. Louis Blues have nine games left on the 2022-23 schedule. At this point, it's all about getting through this season and moving on to the 2023-24 season.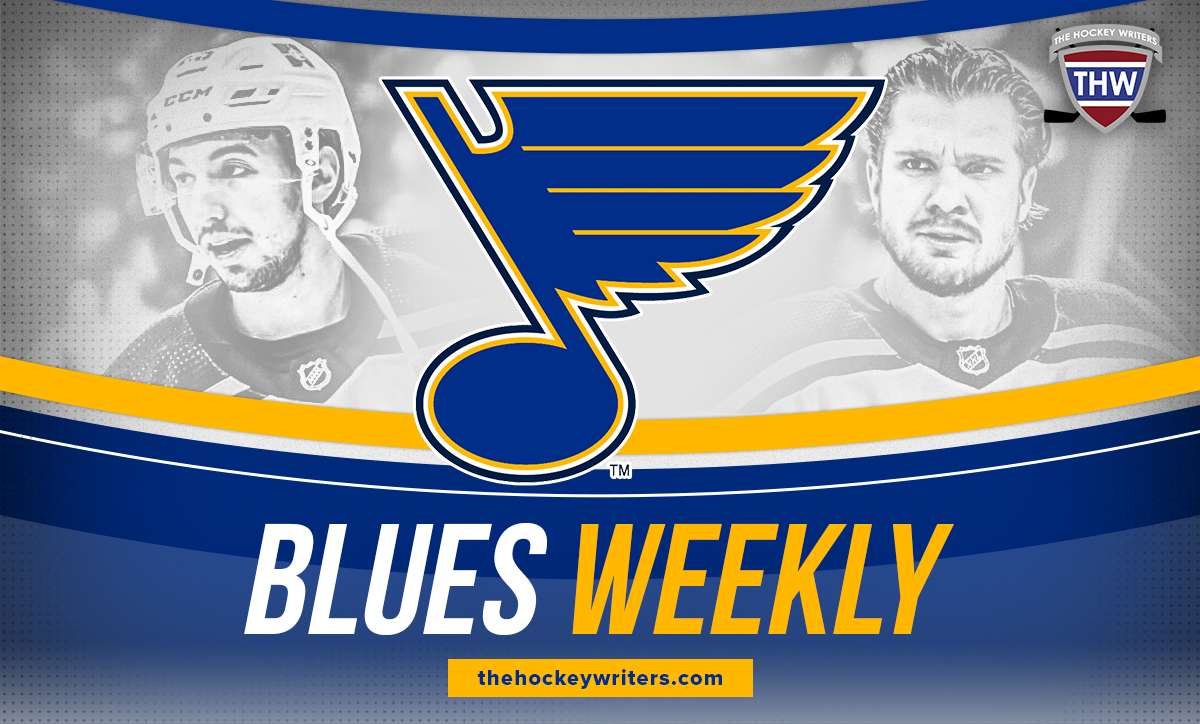 The Blues went 2-1-1 last week with wins over the Detroit Red Wings and Anaheim Ducks. They lost in a shootout to the Red Wings in their first matchup of the week and suffered a 7-6 loss to the Los Angeles Kings on Sunday night. Let's look at their first game of the week. It was a 3-2 loss to the Red Wings in a shootout. The most bizarre thing about this game was that the Blues' only goals came from defensemen Robert Bortuzzo and Marco Scandella. Goaltender Joel Hofer saved 28 of 30 shots and stopped the first three attempts in the shootout before Lucas Raymond won it for Detroit. The Blues and Red Wings played in Detroit on Thursday in the second half of the home and home.
The Blues went down 2-0 in that game but scored four unanswered goals. The shocking hot streak continued for Bortuzzo, who had two assists in this game. The third game of the week was a win in Anaheim over the Ducks by a score of 6-3. This game showcased the issues the Ducks have with keeping the puck out of their own net. The Blues went down 2-1 early but drove play after that to get a 6-2 lead. The Blues forward additions prior to the trade deadline showed out in this one. Sammy Blais had a goal and an assist, Kasperi Kapanen had two goals and an assist, and Jakub Vrana had a goal and an assist. Also, defenseman Colton Parayko had three assists in a shocking turn of events.
The Sunday night loss to the Kings was a wild one. Hofer got jumped on early in the game, as he allowed five goals in the first period. Jordan Binnington relieved him with 12 saves on 14 shots. The Blues made a late push to come back with two goals from Jordan Kyrou, but they fell short. The Blues' penalty kill was horrific in this game. They allowed four goals on five opportunities. It was a crazy week for the Blues.
Hofer Sent Back to the Springfield Thunderbirds
After his performance against the Kings, the Blues sent goaltender Hofer back to the American Hockey League (AHL). I think this was their plan all along, and rightfully so. The Springfield Thunderbirds are preparing for a run in the Calder Cup playoffs that begin on April 17. It's the right move for the Blues to let Hofer start in the playoffs for Springfield. He needs to get these reps as the season dwindles down in the NHL. It's a well-known fact that Hofer will be the Blues' backup going into the 2023-24 season.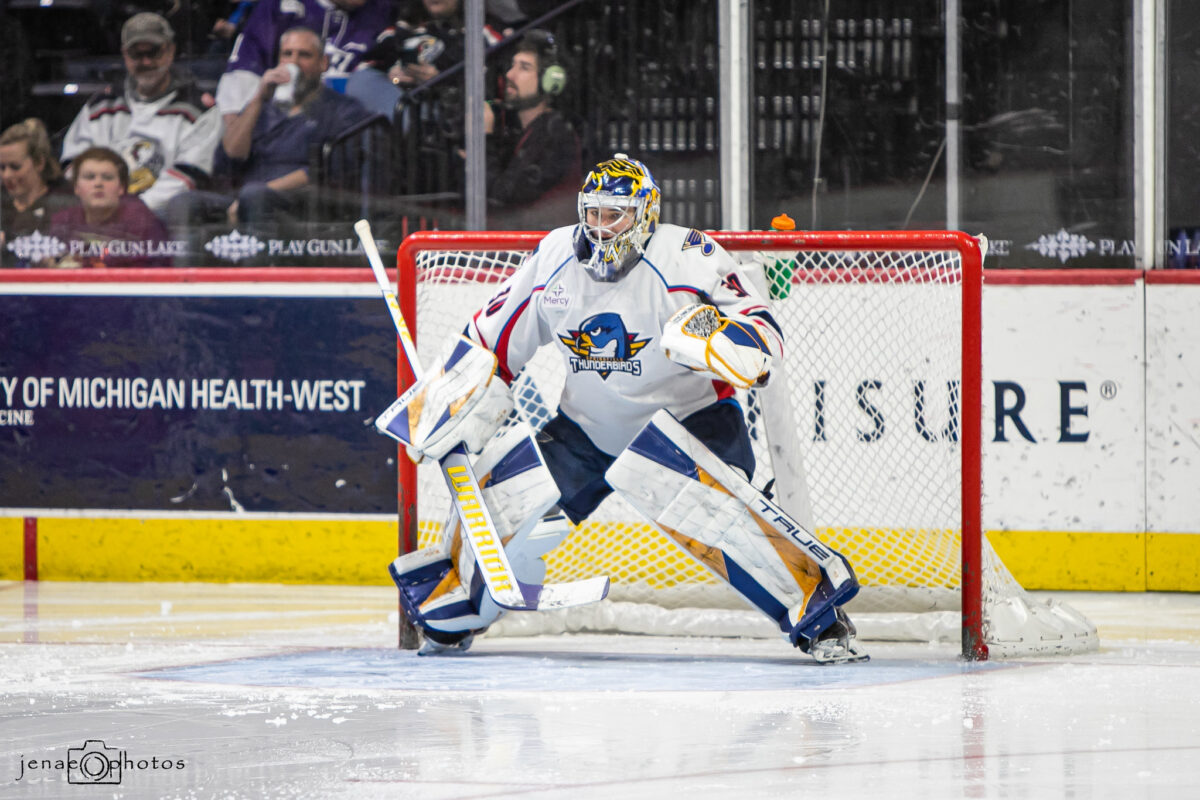 By the numbers, Hofer has been terrific at both levels this season. He made five starts for the Blues this season with a 3-0-1 record and a save percentage (SV%) of .915. He's been even better in the AHL. His record is 22-14-4 with a SV% of .920. Hofer's AHL playoff run will be a terrific experience for him. Last season, he appeared in 10 playoff games and went 6-4-0 with a .934 SV%. Goaltender Charlie Lindgren played eight playoff games for the Thunderbirds last season. Hopefully, Hofer gets even more playing time in the 2023 playoffs.
Neighbours Has Taken a Step Forward
On the ice in 2022-23, it's become clear that Blues 2020 first-round pick Jake Neighbours has taken a step forward. His playing time has been scattered and he dealt with an injury, but his game looks sharper. In 34 games while averaging less than 13 minutes of ice time, Neighbours has five goals and four assists for nine points. He's likely to factor into the Blues' top-nine forward group next season and his minutes should rise. The best part for Neighbours is that he's still so young and has time to grow.
Related: Blues Drafted Hidden Gem in Neighbours
---
Latest News & Highlights
---
I fully expect Neighbours to have a breakout season in 2023-24. There are signs of that coming with his play this season. He looks noticeably stronger with or without the puck. It wouldn't surprise me to see a 40 to 55-point season for him next season playing second or third-line minutes.
Two Blues Prospects Facing Off in Frozen Four
The NCAA Division I Men's Hockey Tournament is down to the Frozen Four. The four schools remaining are Minnesota, Boston University, Michigan, and Quinnipiac. Minnesota will face off against Boston on Thursday afternoon for a national audience on ESPN2 to see. There are two Blues prospects in this game. Minnesota has Blues 2022 first-round pick Jimmy Snuggerud, while Boston University has 2020 third-round pick, Dylan Peterson.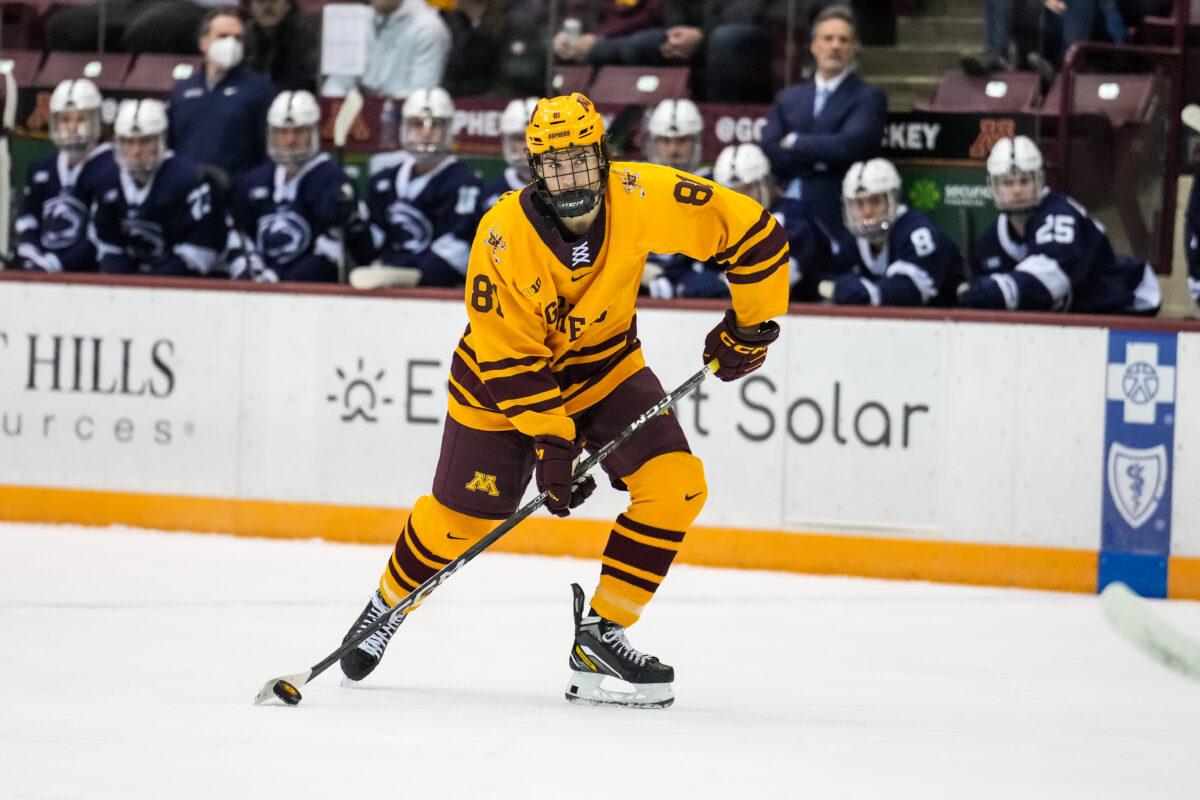 Minnesota is the favorite to win the entire tournament. They won the Big 10 conference and had a 28-9-1 record going into the tournament. Snuggerud has had a terrific season on the best line in the country, alongside Logan Cooley and Matthew Knies. Snuggerud had 21 goals and 50 points in 38 games. They're an exciting team to watch.
Boston University finished first in the Hockey East standings with an overall record of 29-10-0. They beat Cornell and Western Michigan to reach the Frozen Four. Peterson is in his third season for Boston University and had 18 points in 38 games. I hope Blues fans can tune in to watch these prospects in these important games. Don't only watch it for Snuggerud and Peterson, watch it for the exciting hockey that the Frozen Four always provides.
Blues' Week Ahead
Tuesday: vs. Vancouver Canucks (34-34-5, 73 points), 7 PM
Thursday: at Chicago Blackhawks (24-43-6, 54 points), 7:30 PM
Saturday: at Nashville Predators (36-28-8, 80 points), 12 PM
Sunday: vs. Boston Bruins (57-11-5, 119 points), 2:30 PM (TNT)
It's another four-game week for the Blues. The first three games are against potential non-playoff opponents. The fourth is against the clear-cut best team in the league, Boston Bruins. As I said earlier, the remaining games in 2022-23 are all about just getting it over with. Hopefully, players like Blais, Kapanen, and Vrana can carry their current play into next season. The 2022-23 season is almost over for the Blues, thankfully.
---
---