The St. Louis Blues entered seller mode at the 2023 NHL Trade Deadline and are in the midst of a roster retool. They won't make the playoffs this season, and next season feels unlikely as well, but that doesn't change the importance of some players on their roster. They've already decided to build their forward group around Jordan Kyrou and Robert Thomas with eight-year extensions that kick in next season.
Related: New Blues Providing Life After Trade Deadline Fire Sale
Looking ahead to the 2023-24 season, the Blues will need their top nine to provide a lot of offense. Given the salary cap issues, the defensive unit will not likely improve this off-season. Let's look at a few of the Blues' most important players for next season.
Pavel Buchnevich
If Pavel Buchnevich is going to play center next season, that makes him even more crucial to the Blues' operation. He's been the team's most consistent scorer over the last two seasons since the trade. I envision him playing the wing next season, but he has the versatility to switch if needed. It'll be dependent on whether the Blues bring back Ryan O'Reilly after trading him to the Toronto Maple Leafs or sign a different center in free agency.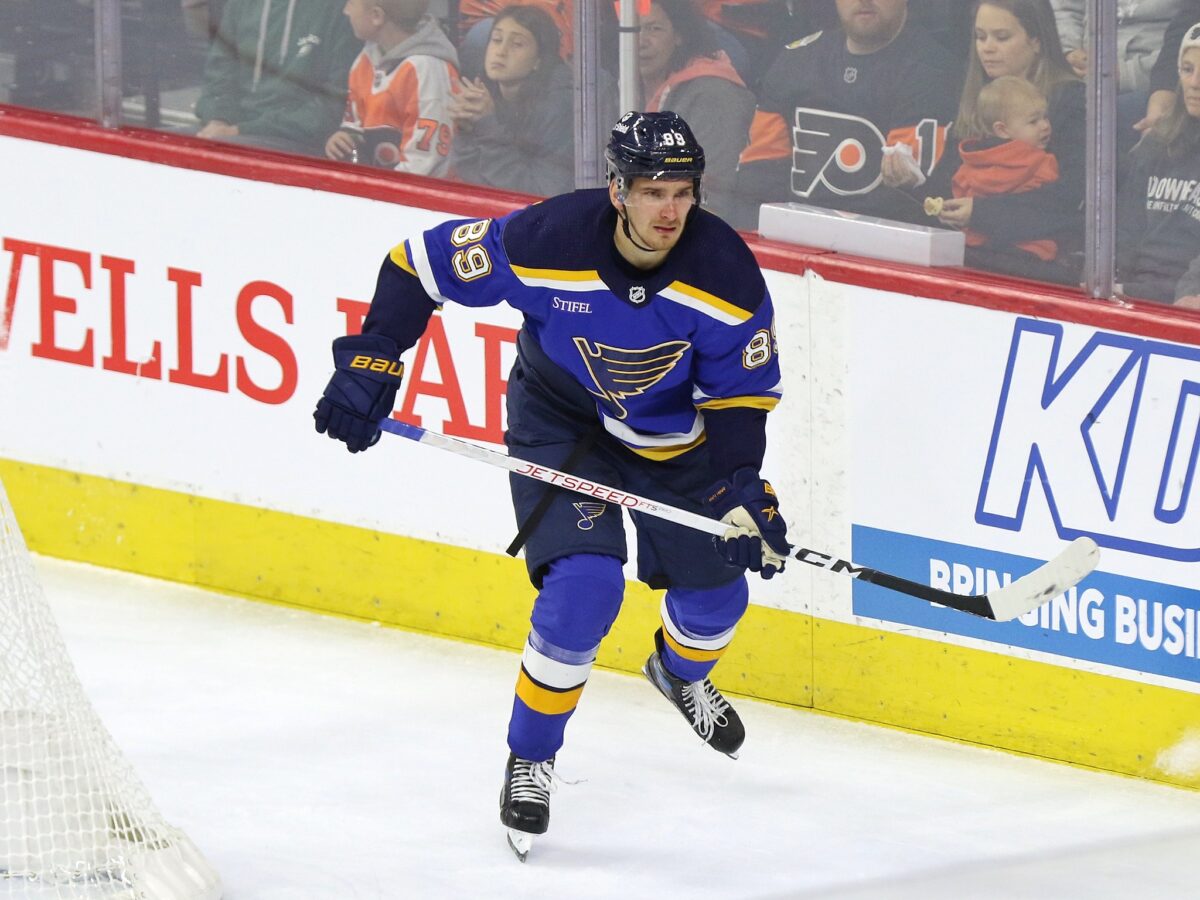 Through 56 games this season, Buchnevich has 23 goals, 39 assists, and 62 points. Despite missing 15 games, he is second on the Blues in scoring behind Kyrou. Last season, Buchnevich had a career-high 76 points in 73 games and has been a perfect fit in head coach Craig Berube's system. I think Blues general manager Doug Armstrong should look to extend him sometime in the summer or during the 2023-24 season since his contract expires after next season.
Robert Thomas
Thomas is set to be the Blues' number-one center for many seasons to come, one of the most important positions in the NHL. He's been improving his two-way ability over the past couple of seasons, but his biggest improvement might be in the faceoff circle. He's over 53 percent right now after 49 percent last season and 42 percent in 2020-21. He's already won 27 more faceoffs in 67 games this season than he did in 72 games last season. I'm a firm believer in the Thomas extension being a great move for the Blues now and later.
---
Latest News & Highlights
---
His adaptability with linemates is apparent as well. Whether it's Jakub Vrana, Kasperi Kapanen, Kyrou, Buchnevich, or any other skilled winger with him, they produce. Thomas has 44 assists this season and 101 assists in 139 games over the past two seasons. He is the future of this franchise, and it wouldn't surprise me to see him as the Blues' captain somewhere down the road.
Colton Parayko
Colton Parayko's defensive partner next season may be more important than him. The Blues could benefit from getting a left-handed veteran defenseman next to Parayko. They have seven seasons left with Parayko under contract after 2022-23, and they need to get more from him. That's why he will be so important next season. Just a few seasons ago, Parayko was the Blues' top right-handed shutdown defenseman alongside Jay Bouwmeester. The Blues rode that pairing in the most crucial moments of their 2019 Stanley Cup run. But after a couple of injuries and the retirement of Bouwmeester, Parayko has struggled mightily.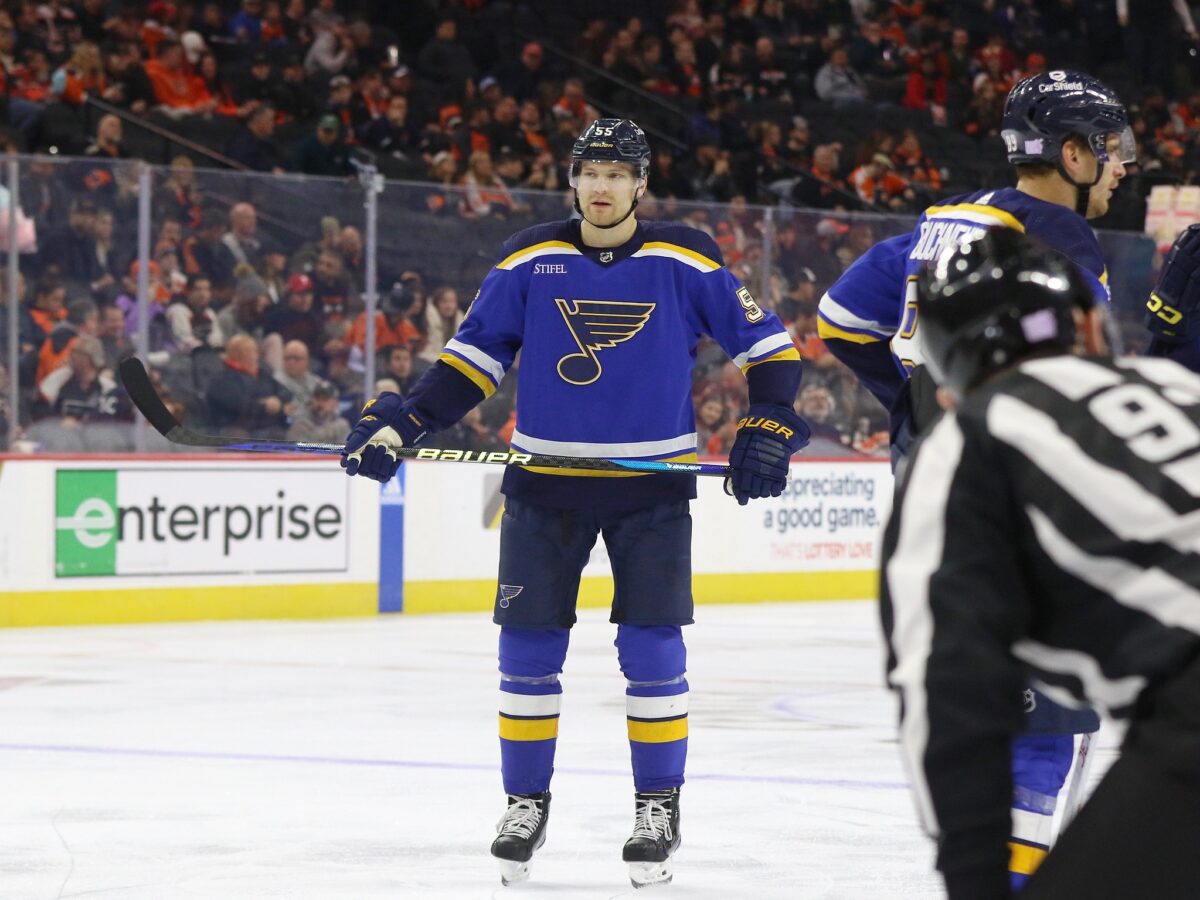 Parayko has played 68 of 71 games this season, but that hasn't resulted in better play. While plus/minus isn't fully indicative of elite play, he's a minus-20. That ranks as the second-worst plus/minus among Blues defensemen and fourth on the team overall. He has lacked a steady defensive partner since Bouwmeester, and while it appeared that Marco Scandella could fill that void, that hasn't come close to working out since before the pandemic. Getting a veteran like Vladislav Gavrikov, Dmitry Orlov, or another cheaper option could go a long way in fixing Parayko. It might be too late, but the Blues have to try something in the summer to help him out.
Jordan Binnington
Similar to Parayko, it's been a tough couple of seasons for goaltender Jordan Binnington. After a terrific run before COVID-19 suspended the 2019-20 season, he's been wildly inconsistent. As his on-ice antics ramp up, his play has mostly gone in a downward spiral. I'm not going to fully blame him, though. The Blues' defensive unit is one of the worst in the NHL. Still, Binnington's downward trends have been tough to ignore over the past few seasons.
| | | | |
| --- | --- | --- | --- |
| Season | Save Percentage (SV%) (NHL Rank) | Goals Against Average (GAA) (NHL Rank) | Goals Saved Above Average (GSAA) (NHL Rank) |
| 2019-20 | .912 (27th) | 2.57 (13th) | 3.30 (27th) |
| 2020-21 | .910 (26th) | 2.65 (24th) | 2.56 (27th) |
| 2021-22 | .901 (42nd) | 3.13 (44th) | -6.44 (49th) |
| 2022-23 | .892 (47th) | 3.39 (45th) | -19.70 (66th) |
Source: Hockey Reference
As the table above shows, his numbers over the past two seasons have been horrific. He still has four years left on his contract after this season, with a cap hit of $6 million. He has a no-trade clause next season and a modified no-trade clause in the final three years of the deal, so he's not going anywhere with that contract.
The Blues need him to find his game and fast. Getting more competent personnel on the blue line and a better defensive structure would help. The only problem is that the Blues already have over $28 million invested in their blue line for next season. The cap is a disaster for the Blues in a number of areas right now, and that's a big reason why they aren't in the position to make the playoffs this season or next.
The Blues aren't likely to be good next season. However, these four players will go a long way in determining how the season plays out. Three of them are locked up long-term, and Buchnevich should be extended soon. Kyrou is another player in it for the long haul that will be a huge part of next season's results as well. It's time for the Blues to let the kids play as much as possible and embrace the future of the franchise.
---
---