With a 5-1 loss against the Colorado Avalanche on Monday night, the Anaheim Ducks are down to their final eight games of the 2022-23 season. The Ducks will play four of their next five games on the road before rounding out the year with a three-game homestand.
Related: 3 Takeaways from Ducks' 3-2 Loss to Jets
---
Latest News & Highlights
---
On today's Ducks News & Rumors, Adam Henrique and Jamie Drysdale have returned to practice. As nice as it is to see them both back, Henrique is much more likely to return to game action this season. Additionally, Nikita Nesterenko scored his first NHL goal in his third career game, and the coaching staff is showing a lot of trust in the young winger. Finally, we'll take another look at the standings, as recent losing streaks have created distance between the bottom four teams and the rest of the league.
Henrique, Drysdale Back on the Ice
The Ducks have received good news on the injury front, with both Henrique and Drysdale returning to the ice last week. Henrique, who has been out since Feb. 21, was on the ice before practice on Friday and participated in the morning skate on Saturday. Even with the clock ticking on the season schedule, he intends to return to the lineup at some point before it ends. "I think it's just more for me to get a couple of games where it's more peace of mind really. I'm not trying to rush back for anything," he told Lisa Dillman of The Orange County Register. That peace of mind would include putting his knee through game action before the long offseason (from, "Ducks Adam Henrique: 'I Want to be Healthy Going into the Summer,'" The Orange County Register, Mar. 25, 2023).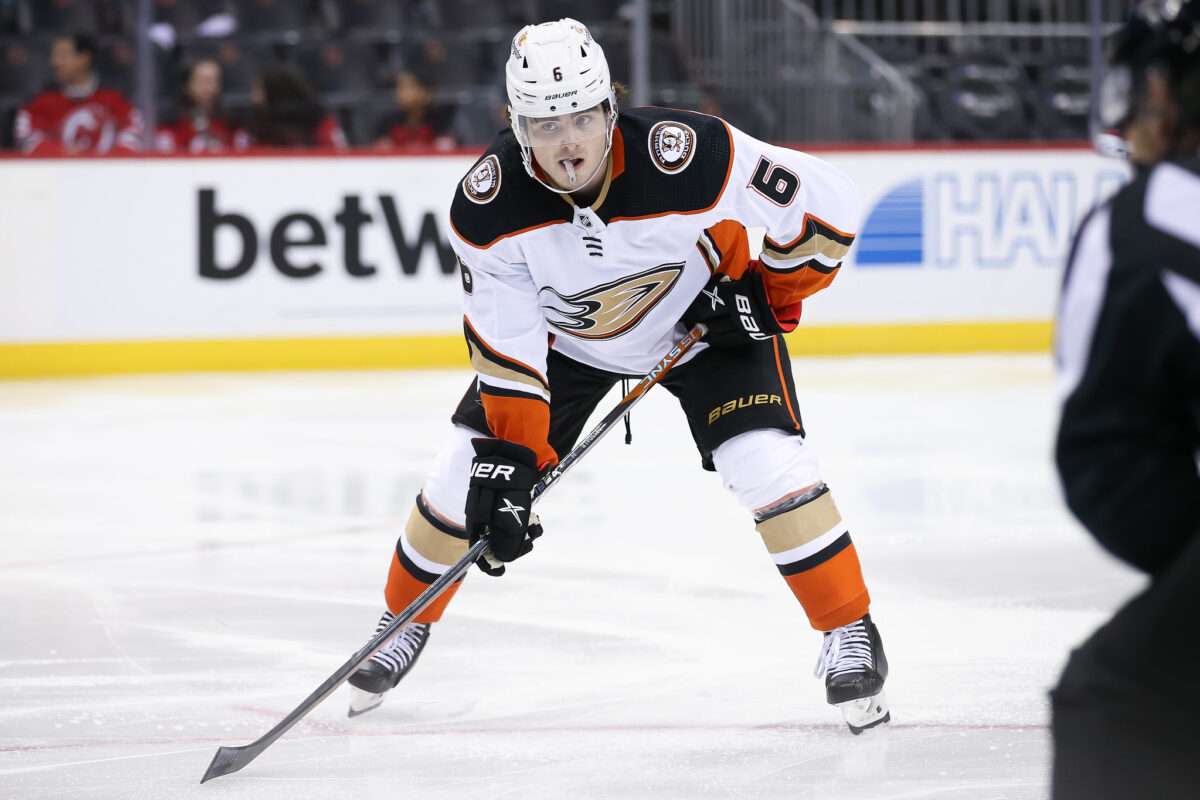 Drysdale only appeared in eight games before going down to a shoulder injury that required surgery. His injury is one of the bigger letdowns for the Ducks, as this year was seen as a crucial development year for the 20-year-old. As encouraging as it is to see him back on the ice, it would be unlikely for him to see any game action before the season ends. Not only would it be a matter of conditioning, but Anaheim has little to play for in these final eight games. Drysdale is a restricted free agent after this season.
Nesterenko Nets First NHL Goal vs. Blues
Nesterenko has been impressive in his short NHL tenure. After his first two career games were under limited minutes with more defensive players like Isac Lundestrom and Jakob Silfverberg, he was bumped up to the second line on Saturday night (Mar. 25) against the St. Louis Blues. Early in the first period on Saturday, Mason McTavish delivered a tape-to-tape pass to Nesterenko, who banged the puck through Blues' defender Torey Krug and behind goaltender Jordan Binnington for his first NHL goal.
This was the only highlight of the night for this line as the third member, Troy Terry, exited the game in the second period and didn't return due to personal reasons. While it is such a small sample size, it is encouraging that Nesterenko was able to capitalize on his chance after a great pass. Finishing talent is hard to find on this roster after Terry and Trevor Zegras. Anaheim's coaching staff has often made younger players take their lumps on the bottom six before any meaningful promotion, but Nesterenko has vaulted into a top-six role almost immediately. If he becomes a reliable option at the NHL level, it would be a massive boost to Anaheim's depth at wing, and it would change how the John Klingberg trade is evaluated.
Standings Update
We're in the home stretch of the season, and the bottom four teams have separated themselves from the rest of the league. Anaheim (23-41-10, 56 points) remains in 29th place, but their five-game losing streak has created a 10-point gap between them and the 28th-place Montreal Canadians. Only three points separate the bottom four, with the Chicago Blackhawks (24-43-6, 54 points), Columbus Blue Jackets (23-42-7, 53 points), and San Jose Sharks (19-39-15, 53 points) all in position to finish with the league's worst record and a guaranteed top-three pick in this year's NHL Draft.
Anaheim's next game is Thursday night (Mar. 30) against the Seattle Kraken.
---
---