Gordie Howe's Son: A Hall of Fame Life in the Shadow of Mr. Hockey
, by Mark Howe with Jay Greenberg (2013, Chicago: Triumph Books. Hardcover. Pp. 336. $25.95. ISBN 978-160078-847-5)
[NB: Throughout the review I refer to the author and his father by their first names. This is for the sake of clarity and is not meant to imply familiarity with the family.]
In the 1998 edition of Total Hockey, writer Glen R. Goodhand notes that "family trees have been just as integral to Canada's national game as ice and skates." He cites around eighty examples of fathers and sons who have played in the NHL, although only one among them, Gordie, Mark and Marty Howe, actually played together at the same time.
After reading Mark Howe's memoir Gordie Howe's Son, it's clearly no coincidence that at the age of 45, Gordie would skate alongside sons Marty (19) and Mark (18), and do so with great success for several years. Rather, it testifies not only to the hearty athletic genes of the Howe family, but also to their work ethic, their toughness, and further, to the extraordinarily strong Howe family bond.
Mark Howe, the Player
"Mark Howe was arguably the best defenseman in Flyers history [and] the best defenseman never to win the Norris Trophy." David Sherman, Philadelphia Flyers Encyclopedia 
Mark Howe played 22 seasons of professional hockey in a career stretching from 1973 to 1995. A six-time All-Star (in two leagues), before that he won a silver medal in the Olympics and the Memorial Cup in his only season in Major Junior. In his 16 stand-out seasons in the NHL, Mark scored 19 or more goals in six seasons and in 1985-86, he led the NHL in plus/minus with +86, finishing his NHL career a +400, good for 12th all-time.
His point totals don't quite speak for themselves. In 426 regular season World Hockey Association (WHA) games, Mark scored 206-296-504 points, or 1.18 points per game. In 929 regular season NHL games, he scored 197-545-742 points, or .799 points per game. The difference?
In the WHA he mostly played forward. In the NHL, he was a defenseman. His 742 points from the blue line are good for 22nd all-time among D, while his .799 points per game is good for 11th all-time. Among the top 25 scoring NHL defensemen of all time, only two played fewer than 1,000 games, Mark Howe and Bobby Orr.
In other words, while for Mark being a Howe meant enjoying some hockey-related privileges—like using Terry Sawchuck's goalie gear in street hockey games, or having the ice at Olympia Stadium in Detroit all to himself on more than a few occasions—Mark's achievements as a hockey player are entirely his own.
 Mark Howe's Book – "Gordie Howe's Son"
Mark Howe's hockey career under any other name would still be as sweet and as Hall of Fame-worthy. His life as detailed would also be memoir-worthy, at least from the perspective of a hockey fan, so the fact that he's Gordie Howe's son only serves to make it of interest to a substantially wider audience.
To that end, in Mark's newly published hockey memoir, written with the help of renowned hockey journalist Jay Greenberg, he writes about Gordie with all the loyalty of the good son. From virtually every anecdote involving Gordie it's clear that he idealizes his father.
The portrait he paints does not deviate one iota from the image of Gordie Howe we all have and have always had: uncommonly gifted athlete, humble hard-working legend of pro hockey, wonderful husband, father, friend, and occasionally, when necessary, the meanest bastard you'll ever meet on a sheet of ice.
But this is not a book about Gordie Howe, and its narrative arc reflects both title and subtitle in that it traces the evolution of the author from undeniably being Gordie Howe's child, to proudly being his linemate, to becoming Mark Howe, and finally, to being both Mark Howe and the son of legend Gordie Howe–and what that final designation means.
THE WHA YEARS
In part because he was skating with his dad and brother, in the book Mark writes rather glowingly about his years in the World Hockey Association, even as so many little events seemed to try and take the dignity out of the league. When the three Howes signed with the Houston Aeros in 1973, the league had a single season under its belt and was far from being a smoothly run operation (something it would in fact never become).
For example, following the warm-up skate before their first ever Houston Aeros home game, the three Howes were returning to the locker room when Marty noticed that the back of his dad's jersey read, "Goride Howe." Two years later, after winning their second Avco Cup, the team was on the tarmac at the Houston airport when tired teammate Larry Hale accidentally dropped the Cup and it shattered into pieces.
He writes of having to play some games in barns connected to malls where maximum capacity was 2,000, on ice that wasn't uniformly flat, at rinks with no visitors' dressing room, and against teams with rosters stocked by goons. Yet he also warmly recalls how much he enjoyed and appreciated the opportunity to play nightly on a line with Gordie, and that Gordie himself considered it the greatest thrill of his celebrated hockey career.
After six years in the WHA, Gordie and Mark finished #7 and #8 respectively among all-time leading scorers, and on the all-time playoff points leaderboard for the WHA, Gordie is fourth and Mark, number one.
The NHL Years
Mark reached the NHL in 1979 following the WHA-NHL merger as a member of the New England Whalers, rechristened the Hartford Whalers. In the book he tells how in his fourth NHL game and to his great surprise, he was made a defenseman.
He doesn't mince words when it comes to his time with Hartford, relating that the organization treated him and his entire family so poorly that after three seasons he demanded a trade. The middle section of the book is devoted to his celebrated decade as a Philadelphia Flyer. It begins with an anecdote from the first day of Flyers' training camp, where Mark watched, stunned, as Glen Cochrane broke Ilkka Sinisalo's collarbone: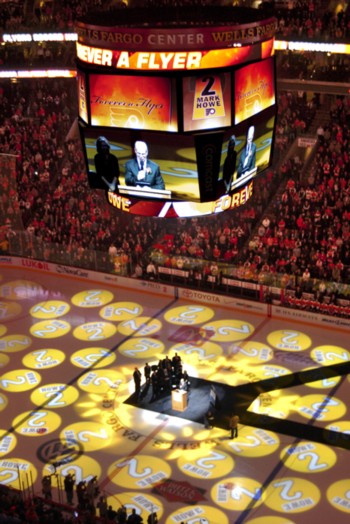 The Flyers [beat] the tar out of each other in practice. Guess I wasn't in Hartford anymore. 
It's at this point in his book that Gordie Howe's son grows out of that name and beyond that shadow. His detailed descriptions of life as a Flyer, of living under the daily unpredictability of Iron Mike Keenen, playing alongside the likes of Bobby Clarke, Brian Propp, Tim Kerr, Pelle Lindbergh, Ron Hextall, and Dave Poulin, occupy the middle portion of the book and probably account for a slim majority of its contents.
This is also where, temporarily, Gordie vanishes. He might appear once in the section, but no more than that. No matter, since by now Mark Howe and Jay Greenberg have sold you on all the makings of a compelling and readable hockey book.
Until this point, Mark had been on something of a winning streak: Raised well and with the privileges of having a 1960's hockey star father (meaning not raised in extreme wealth but certainly comfortable), Olympic medal, Memorial Cup, playing in Houston with Gordie, Avco Cups, gets married, becomes a father, and so on.
A highly competitive player who hated to lose, when Mark joined the Flyers he saw an opportunity to get what he wanted most, a Stanley Cup.
He got that opportunity, twice. And lost both times. But it's other losses that stand out, ones he had no control over and that clearly take their toll on him as much as his mounting, and at times astonishing, list of injuries: notably, the drunk-driving death of goalie Pelle Lindbergh, and the death of teammate Tim Kerr's wife Kathy just days after giving birth.
The 'Return' to Detroit
Mark played his final three seasons with the Detroit Red Wings, the franchise Gordie brought to glory during his initial 25 year playing career, although it's clear from the outset that the Wings' decision to sign him had nothing at all to do with his last name and everything to do with helping a talented but direction-less team turn things around. He describes a Red Wings team loaded with talent (Yzerman, Fedorov, Konstantinov, Coffey, Lidstrom) but desperate for leadership and direction, a team divided by cliques, a team where
… the entire bench stood to cheer Steve Yzerman's goals and only half rose when Fedorov scored …
Being reunited with his former defense partner and best friend in hockey Brad McCrimmon was likely one of the highlights of Mark's time in Detroit. Over two decades of pro hockey injuries began had taken their toll, and at the end of the shortened 1994-95 season and without a Stanley Cup, Mark hung up the skates.
His contract with Detroit had assured him of a job in the Wings organization for at least two years post-retirement. When Gordie retired from Detroit he was extended much the same thing, but whereas Gordie's experience was a sour one, in 1995 the Wings made Mark a scout. Almost two decades later, today he is the club's director of pro scouting.
In this section Mark also painfully recalls the car accident that so badly injured three Red Wings just days after the team's first Stanley Cup in 42 years; the decline of his mother's health from Pick's disease and her eventual death, and its impact on Gordie, himself, and his own children; and learning of the death of Brad McCrimmon in the Yaroslav plane crash. Finally, he touches on his failed marriage in a way that suggests that in this aspect of life he had wanted to follow directly in his father's footsteps; and that he didn't or couldn't remains a source of some regret.
Closure
"[Mark Howe] holds practically every single season and career scoring record for Flyers defensemen, and will be remembered as the greatest defenseman ever to wear the orange and black." Flyershistory.com
The book is richly illustrated with three separate sections of photographs, each chronicling different phases of Mark's life. It is also populated with the kinds of anecdotes you would expect from such a book, including:
Recollections of "the dirtiest game I have ever seen", the final game of the 1972 Winter Olympics between Czechoslovakia and the USSR;
Walking in Montreal with Dave Keon and passing a homeless man sleeping on the streets whom they recognized as the legendary Canadiens defenseman Doug Harvey;
Revealing for the first time that a gag gift given to Bobby Clarke that so outraged the Flyers captain was in fact from him;
Watching Paul Holmgren seize Mike Bullard by the throat and slam him against a wall before game five of their Conference Finals series against Montreal in 1989;
Listening to Slava Fetisov tell him from the hospital that he, Vladimir Konstantinov and Sergei Mnatsakanov feverishly pounded on the glass divider in a failed effort to wake up their limo driver before the vehicle slammed into a tree.
Watching Gordie exact retribution on Robbie Ftorek for putting Marty in the hospital with a slash to the face brutal enough to be called "the worst thing I ever saw [Gordie] do."
With Gordie Howe's Son, Mark Howe has written a stand-out hockey book that should do what twenty-two seasons in professional hockey and a Hall of Fame induction couldn't: Move him out of his father's shadow in the great history of hockey and place him where he belongs– right alongside Gordie as one of the sport's most celebrated players.
…

…
According to the publisher, Howe will be in person doing book signings on the following dates and locations: