This summer, Triumph Books offered The Hockey Writers the opportunity to review their recently published book, Gordie: The Legend of Mr. Hockey. And having just reached my one-year anniversary with THW, I was happy to do so.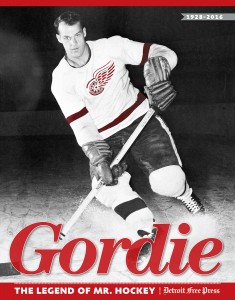 When Gordie Howe passed away on June 10, fans, journalists and hockey professionals everywhere shared personal accounts of interactions with Howe. Everyone was connected to Mr. Hockey in some way—whether they met him in an autograph line at the Joe or in the check-out line at Kroger. Gordie: The Legend of Mr. Hockey pays tribute to Howe's life by sharing stories that the general public may not have had the good fortune to hear previously.
In this collection of Gordie Howe narrations and anecdotes, several Detroit Free Press writers recount Howe's NHL career, quotes of his home life, and endless humble moments Mr. Hockey shared with fans across North America. Adding insight to the journalists' narratives were former teammates and opponents, including Bobby Orr, Wayne Gretzky, Ted Lindsay and even Howe's son, Hall of Fame defenseman Mark Howe. Their contributions included personal moments with the legend no magazine or newspaper had the ability to cover without bugging Howe's home, the Detroit Red Wings' bench, and train cars heading to and departing from away games.
Among the countless private tales verbalized throughout the book, Mark Howe details life growing up watching the elder Howe dominate the NHL with the Red Wings, evenings spent at the dinner table with his father and the likes of Bill Gadsby and Frank Mahovlich, plus father-and-son fishing trips across Canada. The younger Howe often reflected on his dad's humor:
---
I saw him lose patience in public only three or four times. When, instead of asking nicely, someone would demand an autograph with a 'sign here!' Dad would usually sign the word 'here.' That's his sense of humor.

-Mark Howe, Gordie: The Legend of Mr. Hockey
---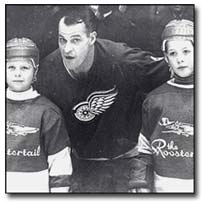 Mr. Hockey's life through the viewpoint of his son surely demonstrates the humble and caring nature of hockey's greatest player, which included Howe sharing harmless jabs with unsuspecting fans with grace and a wink.
To obtain a copy of Gordie: The Legend of Mr. Hockey and read the hundreds of recollections for yourself, visit www.triumphbooks.com/gordie to make your purchase.
What was your favorite personal anecdote with Detroit Red Wings legend Gordie Howe? Comment below to share your memory.